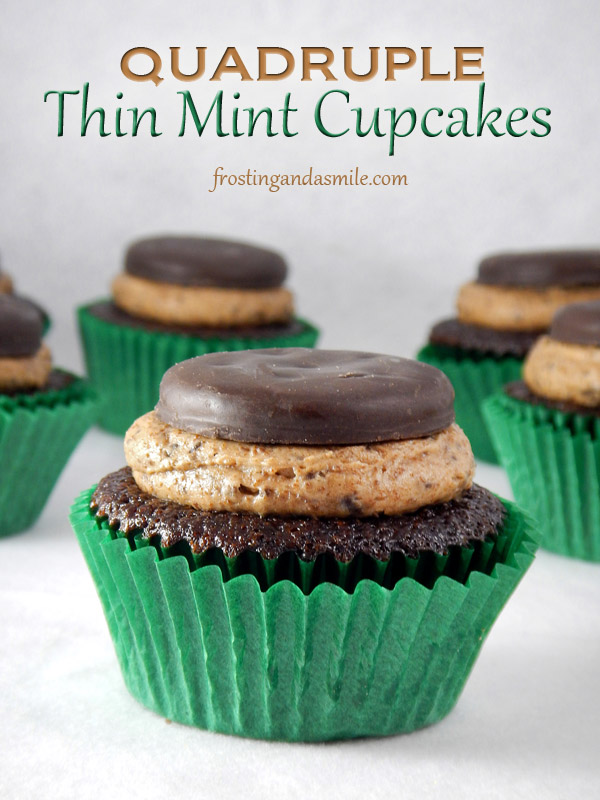 Quadruple Thin Mint Cupcakes –
When you show up to a party with these cupcakes, people will want to give you a kitchen queen, or king, merit badge. The Thin Mint extravaganza starts with cookie-infused cake batter. The cake is so simple your biggest challenge will be to get the pans in the oven before you eat half the batter. Once the cupcakes cool, stuff them with rich Thin Mint truffle filling. Swirl on creamy Thin Mint Cookie buttercream. Crown the creation with a whole Girl Scout Cookie.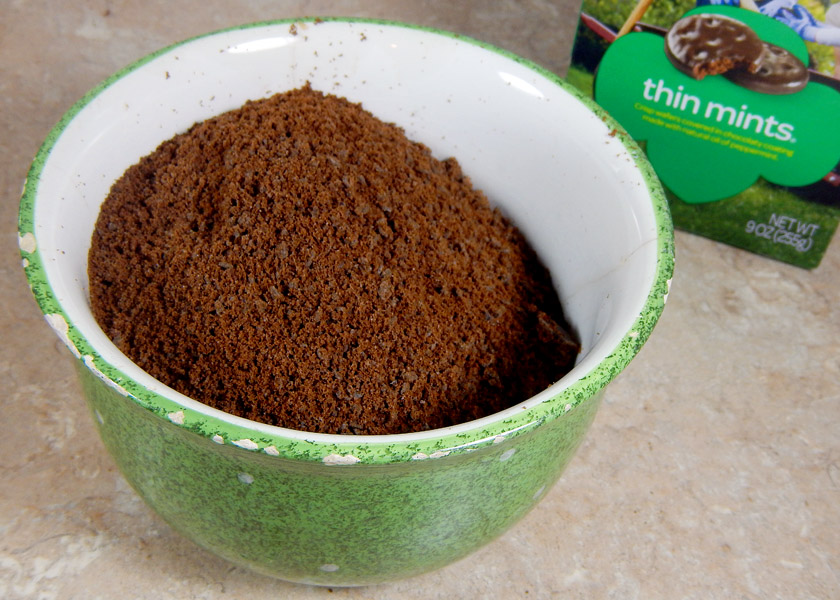 You will need crushed cookies for the batter, filling, and frosting. If you make all three and include the cookie on top, you will need three boxes of Thin Mints. If you leave off the garnish, you will need two boxes. If you already inhaled this year's Thin Mint stash, you can use Keebler Grasshopper Cookies.
Thin Mint Truffle Filling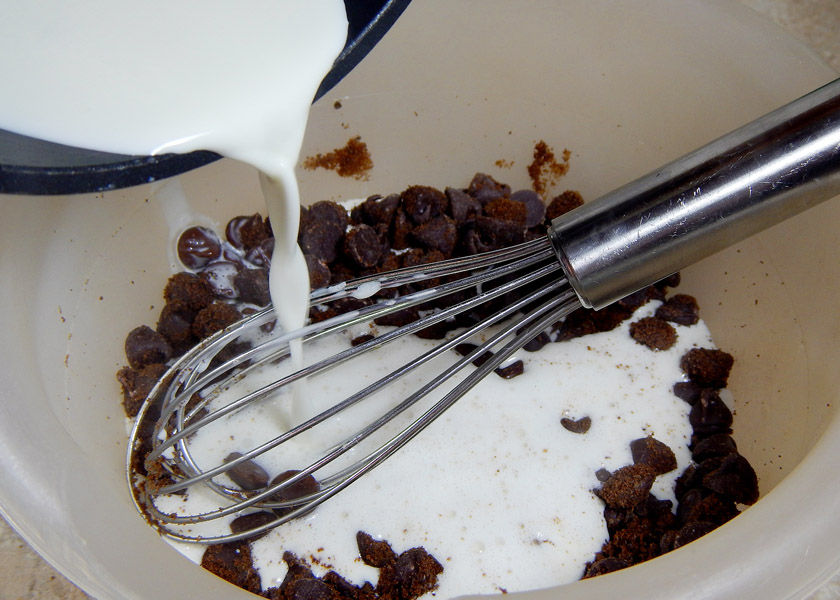 Start with the filling so it has time to cool while you put together the cake and frosting. Just pour hot cream over crushed cookies and chocolate chips. Then whisk it all together. The mint chocolate smell might lure you to come running with a spoon. Luckily, you can focus on finishing the recipe as a distraction.
Thin Mint Cupcakes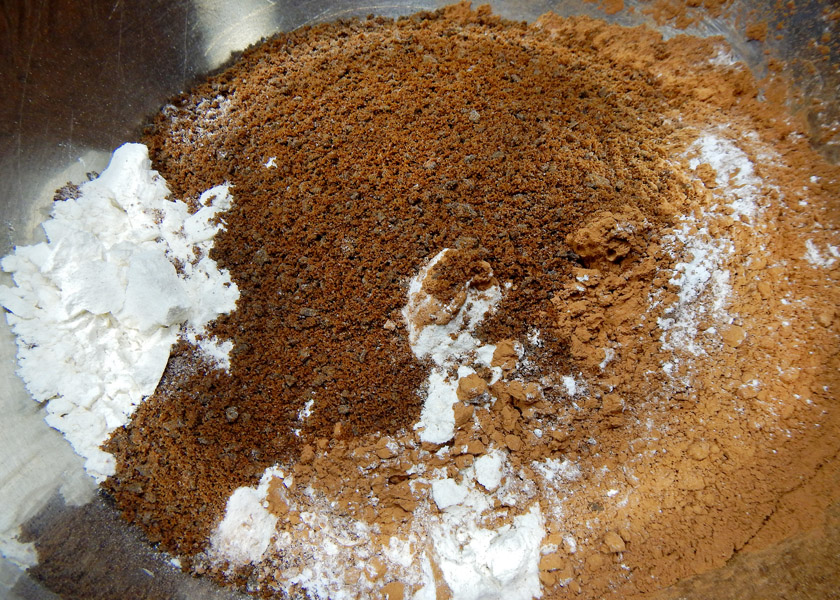 I adapted the cake portion of this recipe from Hershey's Perfectly Chocolate Cake. That's the recipe my mom made when I was a kid, so of course it's one of my favorites.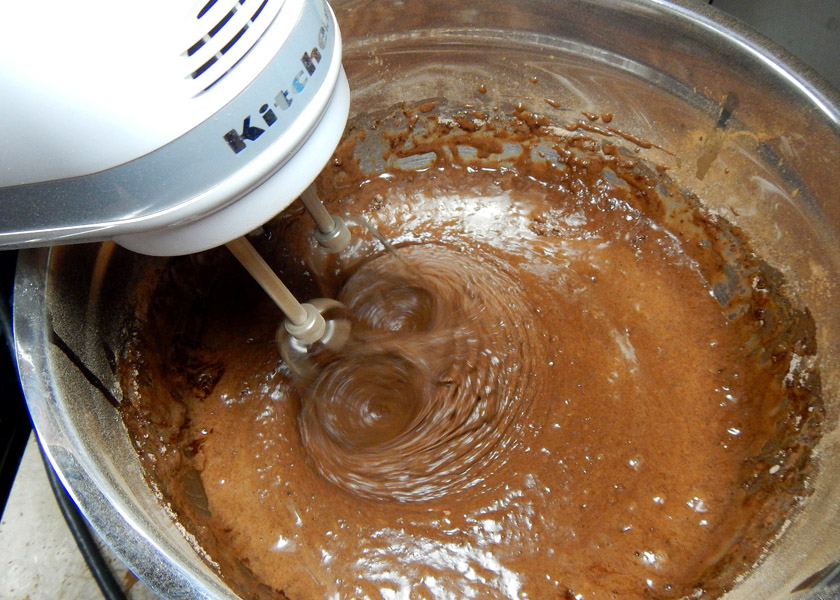 After you combine the dry ingredients in a large bowl, beat in the eggs, oil, sour cream, milk, and vanilla.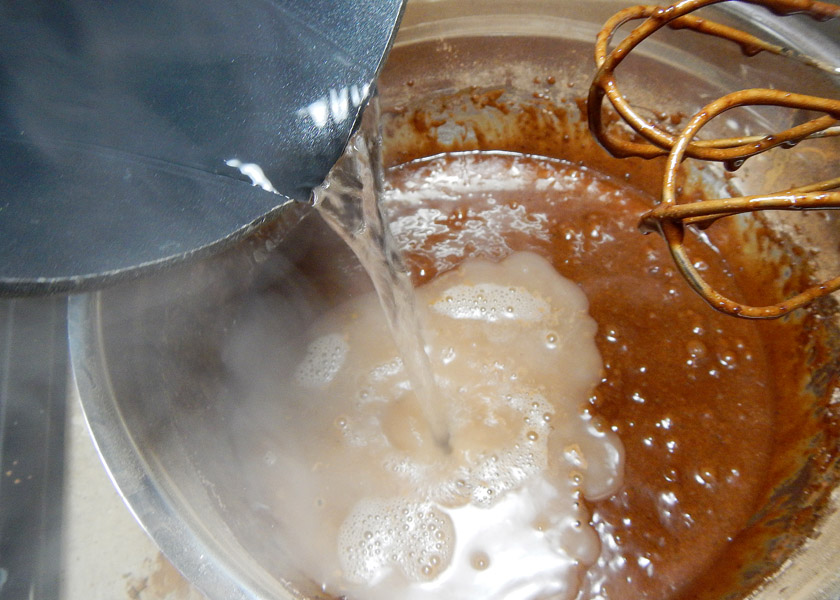 Add boiling water. Don't worry if the batter seems thin. The first time I made this chocolate cake base, I thought I did something wrong but it's supposed to be that way.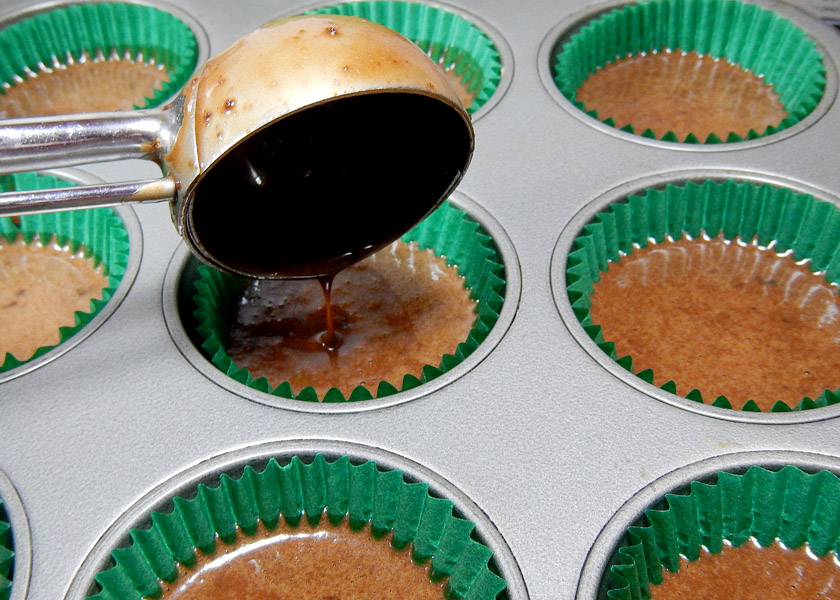 Scoop your batter into cupcakes tins. I love how these liners match the Thin Mint box color. I got them at a little bakery called Kitchen Chemistry.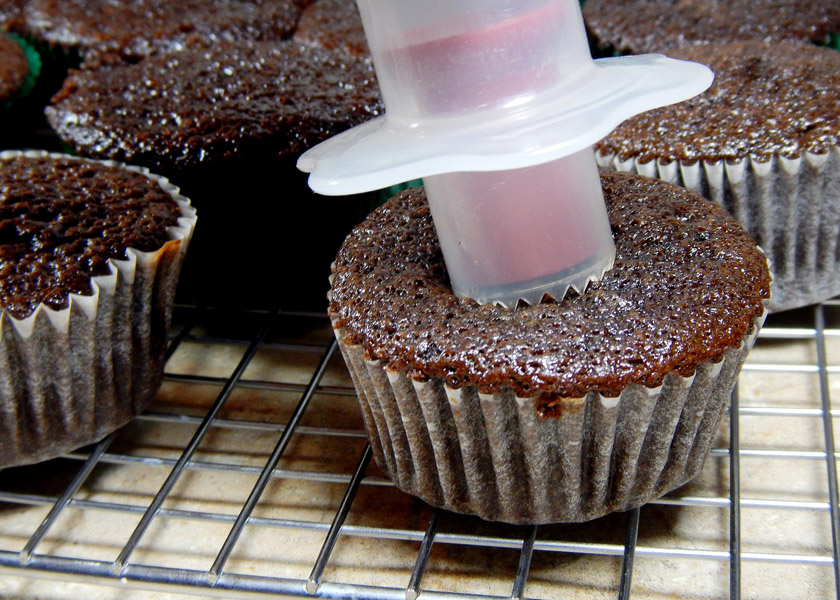 Once the cakes cool, remove the centers. I use this awesome cupcake corer I got from Amazon. It's definitely worth the $5. If you don't have one, you can use a knife or a small spoon. I've even heard of some people using apple corers.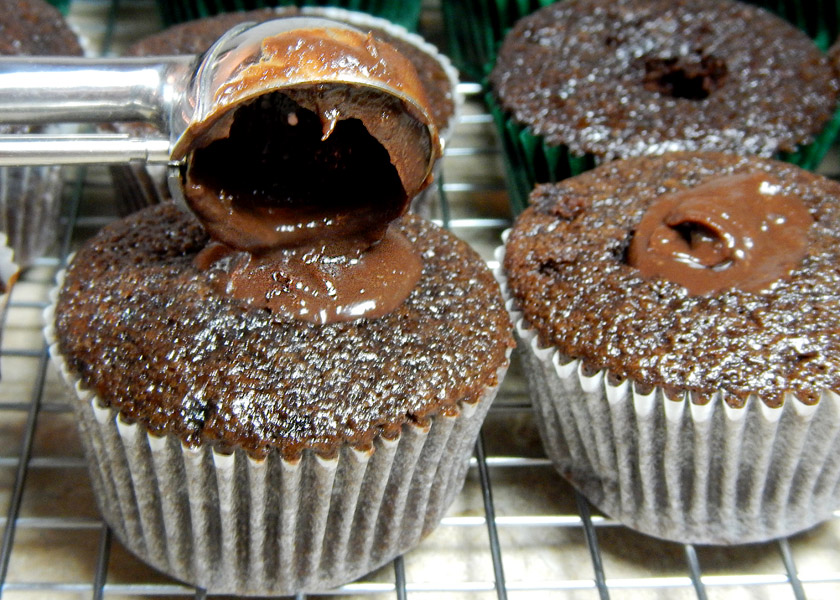 Scoop cooled truffle filling into the center of each cake.
Thin Mint Frosting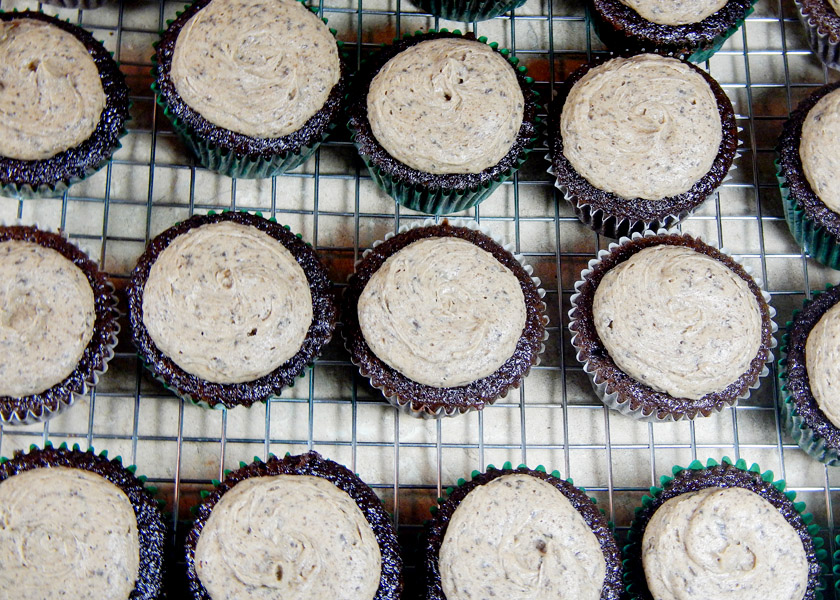 Mix all of the frosting ingredients in one large bowl then ice the cakes quickly before you decide to have a bowl of frosting for lunch. Cookie bits can clog small pastry tips so use an extra large round tip or a bag without a tip to swirl on the frosting. You could also skip the bag and spread the frosting with a spoon.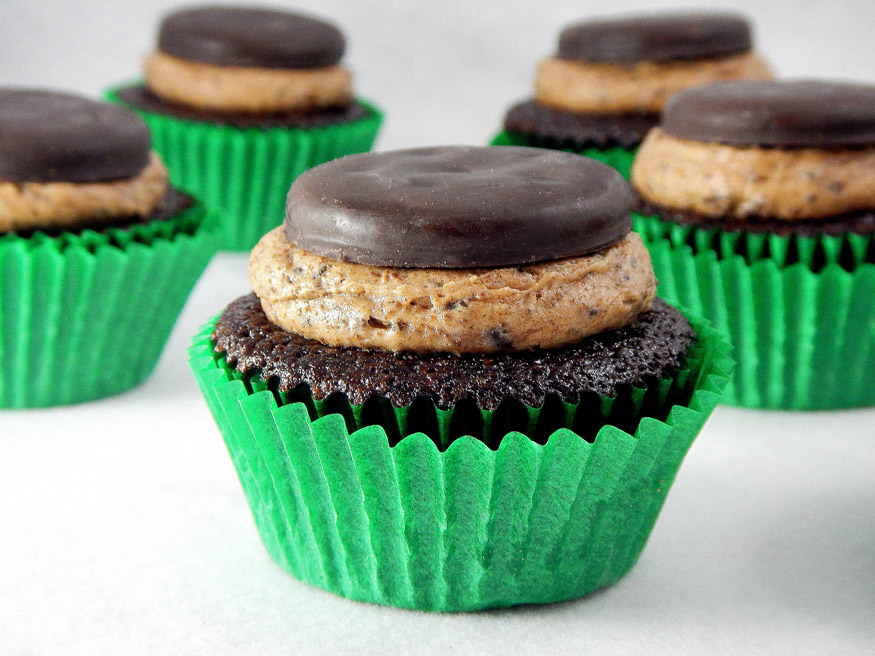 I originally wrote this recipe for Parade. People who liked these, also enjoyed my Thin Mint Cookie Cheesecakes.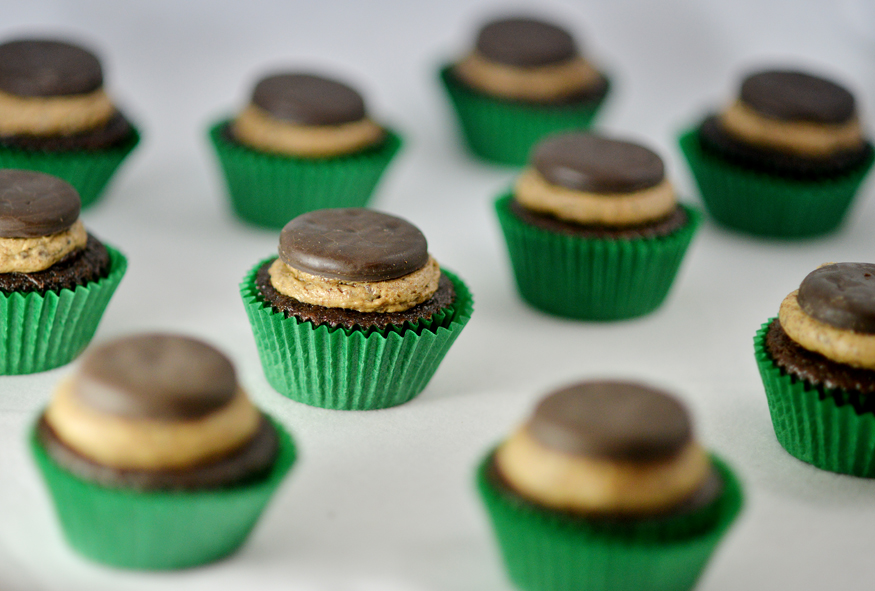 Want more fun recipes and kitchen craft ideas? You can follow me on Facebook, Twitter, or Pinterest. You can also sign up for a free email subscription.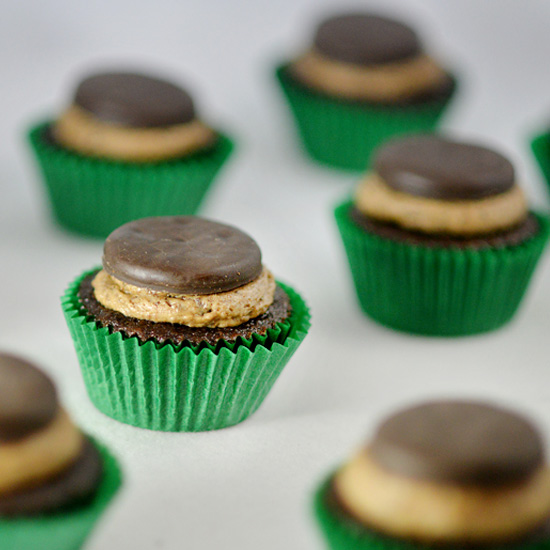 Quadruple Thin Mint Cupcakes
2014-03-15 11:49:10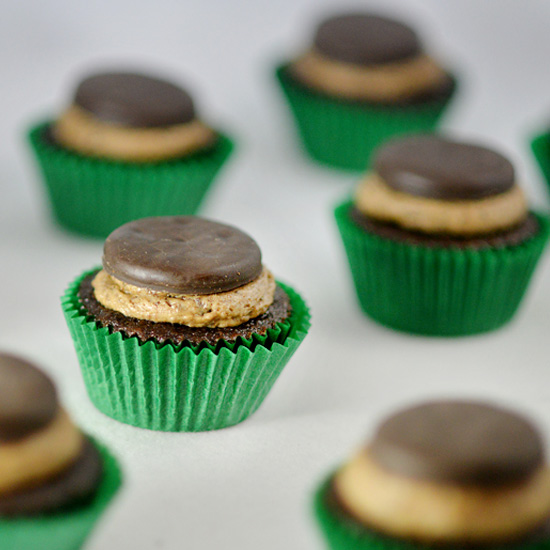 Thin Mint Cupcakes with Thin Mint Truffle Filling and Thin Mint Buttercream Frosting
For the filling
1 cup heavy cream
1 cup semi-sweet chocolate chips
½ cup finely crushed Thin Mint Cookies
For the cake
2 cups sugar
1¾ cups all-purpose flour
1 cup finely crushed Thin Mint Cookies
¾ cup cocoa
1½ tsp baking powder
1½ tsp baking soda
2 eggs
1 cup sour cream
1 cup milk
½ cup vegetable oil
2 tsp vanilla
1 cup boiling water
For the frosting
3 sticks unsalted butter, softened
2 tsp pure vanilla extract
4 cups powdered sugar
2 cups finely crushed Thin Mint Cookies
¼ tsp salt
33 Whole Thin Mint Cookies
Instructions
In a medium bowl, combine cookie crumbs and chocolate chips. In a small saucepan, heat heavy cream over medium heat until it just boils. Carefully stir cream into chocolate mixture. Cool at room temperature for one hour. Place in refrigerator to cool completely. During cooling, prepare cupcakes and frosting.
Preheat oven to 350 degrees. Place cupcake liners in a standard-size cupcake/muffin tin.
In a large bowl, combine sugar, flour, cookie crumbs, cocoa, baking powder, baking soda, and salt. Add eggs, sour cream, milk, oil, and vanilla. Beat on medium speed for two minutes. Carefully stir in boiling water. The batter will be liquid.
Fill cupcake liners halfway. Bake for 18-20 minutes until a wooden pick inserted into the center comes out clean. Cool in pans for one minute. Carefully remove cupcakes to wire rack to cool completely.
Remove about two teaspoons of cake from each center using a cupcake corer or a knife. Spoon two teaspoons of filling into each cake.
In large bowl, beat butter with vanilla until light and fluffy. Gradually beat in powdered sugar, cookie crumbs, and salt. Beat in heavy cream until smooth and fluffy.
Spoon or pipe (using a large round tip) a two tablespoon circle of frosting onto each cake. Top with whole Thin Mint Cookies.
Notes
One box of Thin Mint Cookies makes 2 packed cups of crumbs. This recipe requires three boxes of Thin Mints. If you leave off the cookie garnish, you will need two boxes.
If you don't have Thin Mints you can use Keebler Grasshopper Cookies.
The cake portion of this recipe is adapted from Hershey's Perfectly Chocolate Cake
Frosting and a Smile http://frostingandasmile.com/