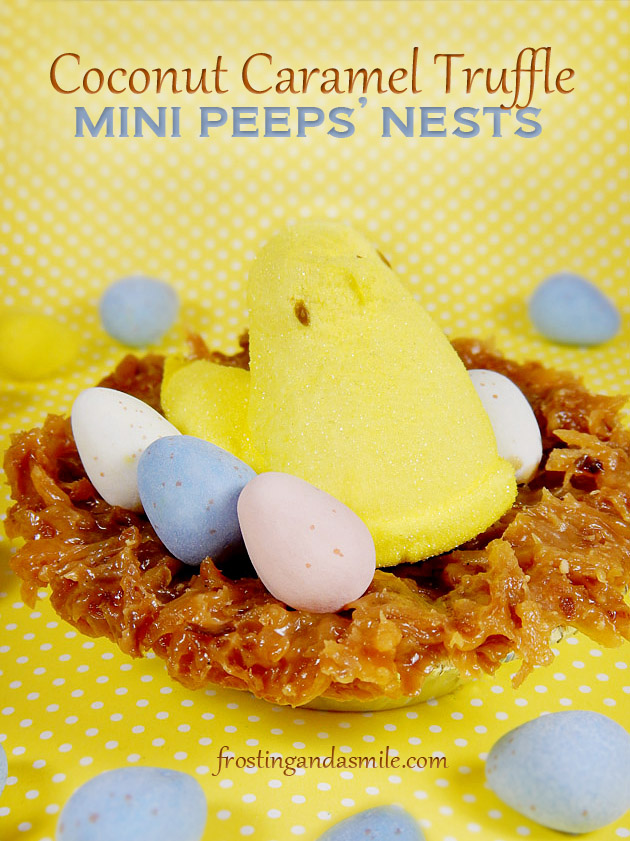 Coconut Caramel Truffle Mini Peeps' Nests –
It's time to hatch another Peeps Week recipe! This rich chocolate truffle pie has a coconut caramel topping that tastes like Samoa Girl Scout Cookies. The decadent treat is the third of four in the series. We started with Peeps Whipped Cream Frosting then dug into Peeps Truffle Pie. We'll end the Peeps party with Peeping Bunny Cupcakes. If you don't want to miss out, sign up for a free email recipe subscription.
Peeps Truffle Filling
This is a chocolate ganache. It's a simple no-bake filling that people will think you spent a long time putting together. Don't worry, your secret is safe with me! If you'd like to learn more about it, you can visit my post on how to make ganache.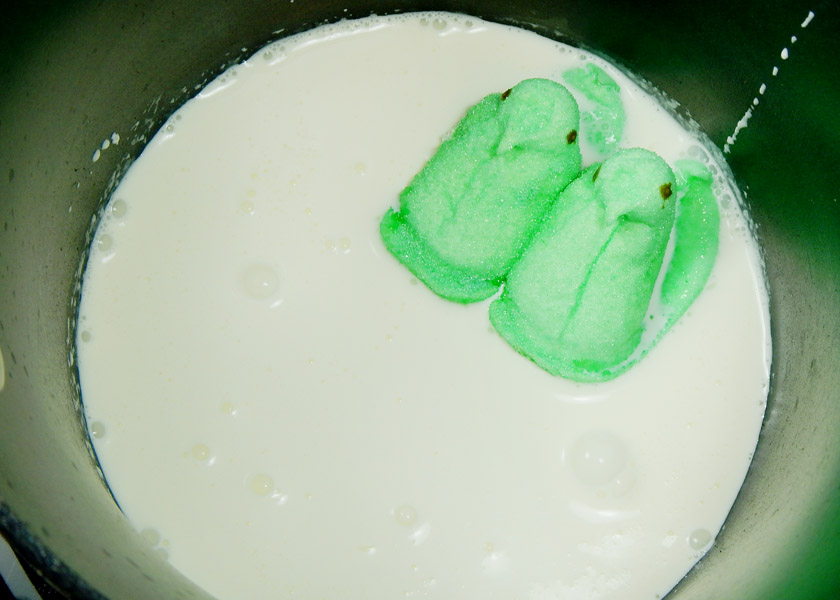 The truffle filling starts with Peeps melted in heavy cream.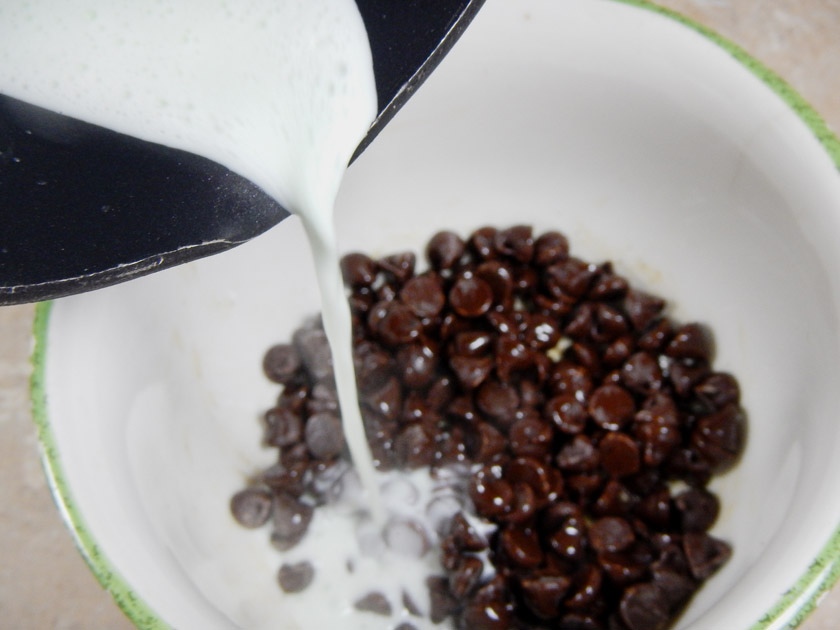 Pour the hot cream mixture over chocolate chips. Let the mixture sit for a few minutes, add some vanilla, then whisk it all together.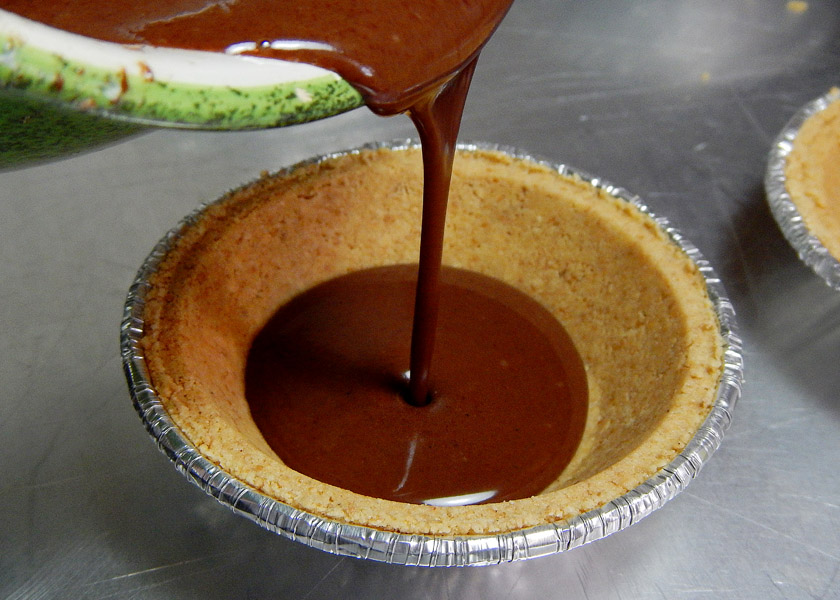 Pour the mixture into mini graham cracker pie crusts. You can make your own or use store-bought. Let them cool until set, at least two hours.
Coconut Caramel Topping
*Warning –This topping is dangerously good. I could have easily eaten the whole pan by myself. I think I need to bottle it and sell it as an ice cream topping, or brownie topping, or cookie dip. I could put a little spoon on the side of the jar and a label that says, "Open after you've had a rough day." Do you think anyone would buy it?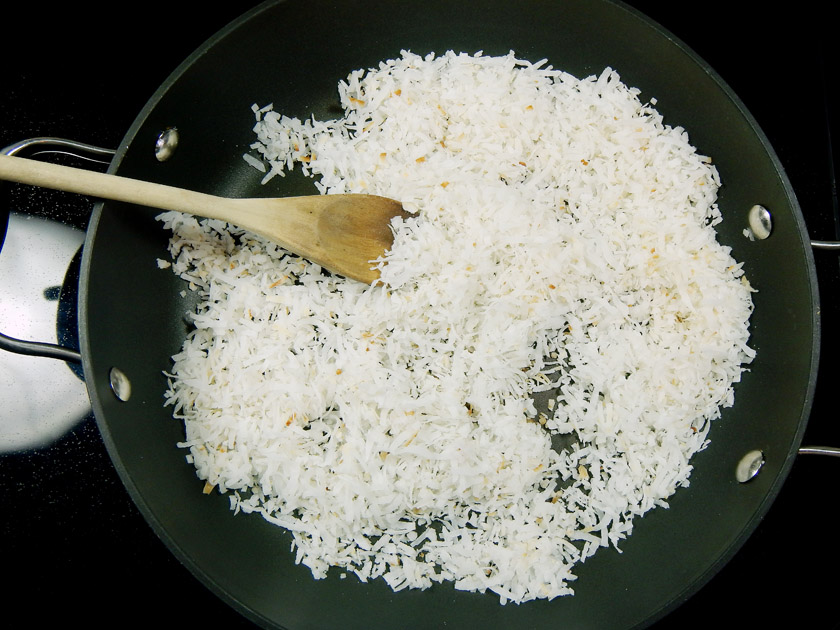 Toast coconut over medium heat. Mmm, I love how my kitchen smells when I toast coconut.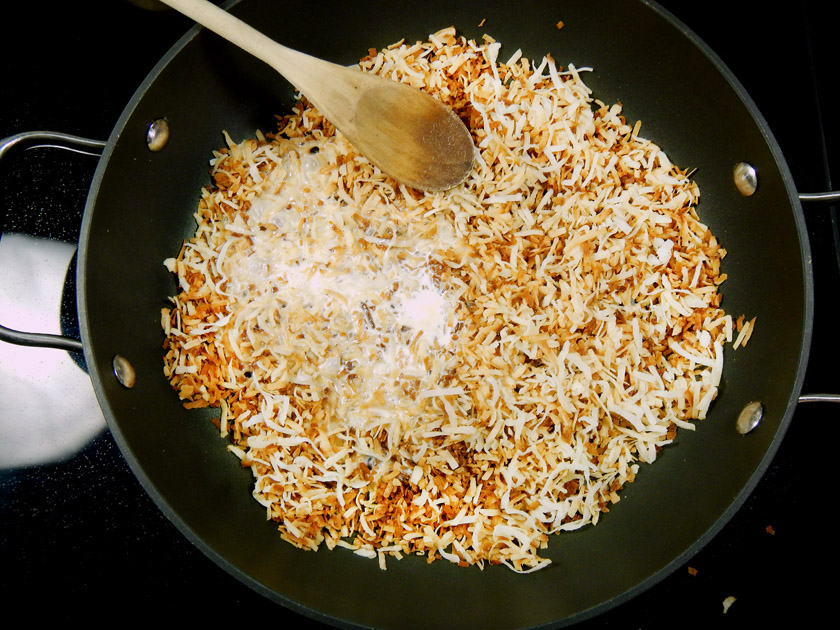 Once it's nice and brown, add heavy cream.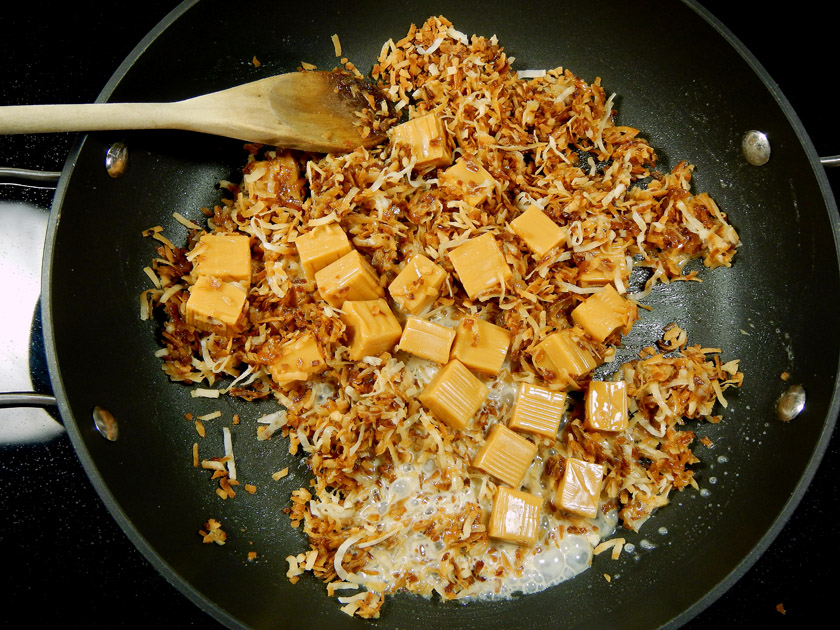 Add caramels and vanilla. Stir until melted. Let this mixture cool until you can handle it without burning yourself. I have a small scar on my wrist from getting impatient with hot caramel when I was young.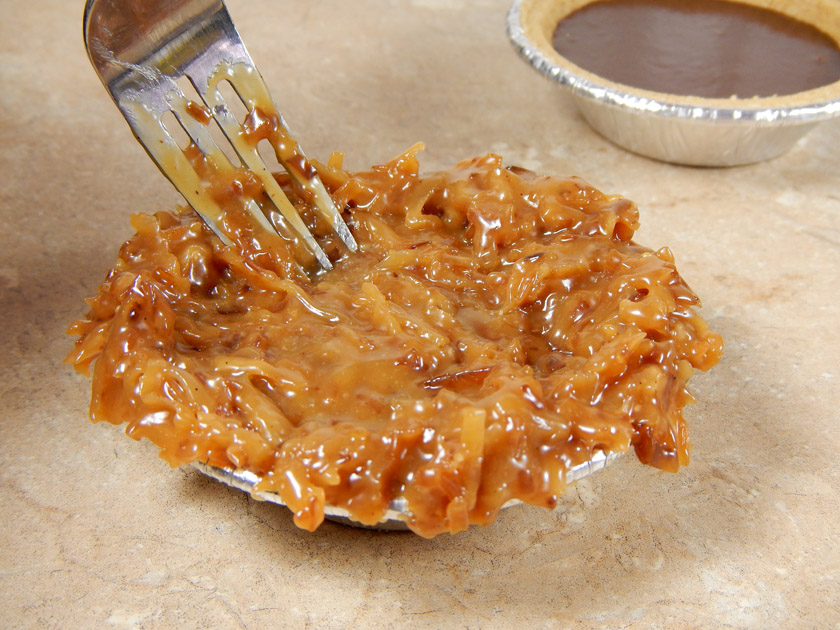 Top your pie with the caramel coconut mixture. Use a fork to pull the edges into bird nests shapes.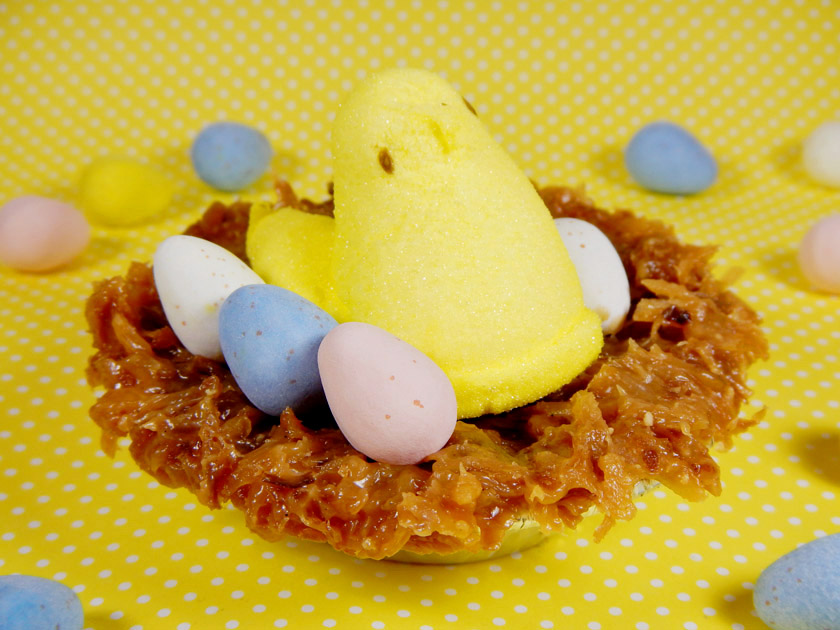 Once your Coconut Caramel Truffle Peeps' Nests (That is a mouthful, a delicious mouthful though!) are ready, it's time for the Peeps to fly home. Place one Peep in each nest then add candy eggs.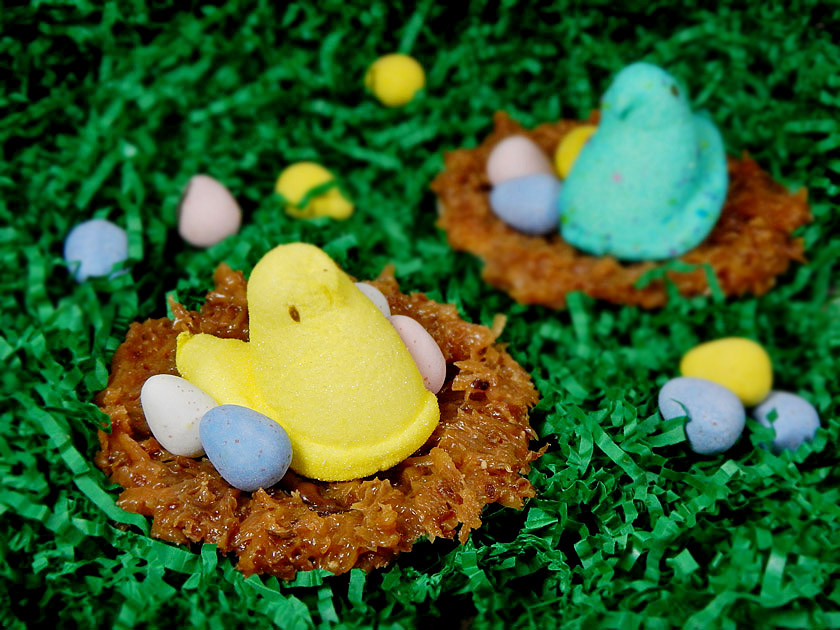 They're almost too cute to eat, almost.
Want more fun recipes and kitchen craft ideas? You can follow me on Facebook, Twitter, or Pinterest. You can also sign up for a free email recipe subscription.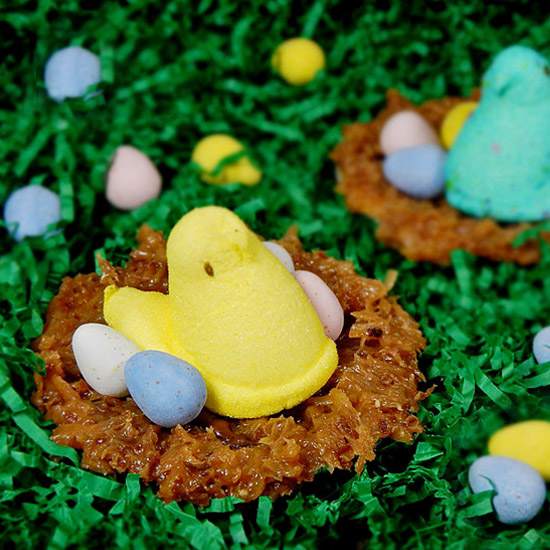 Coconut Caramel Truffle Peeps Pies
2014-04-11 19:11:14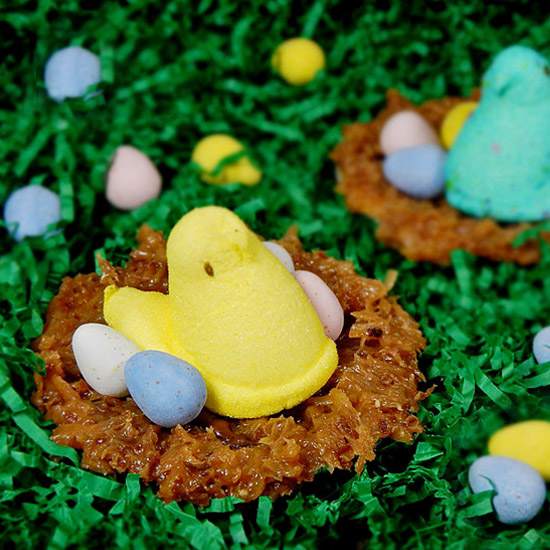 These adorable nests have a rich truffle filling and coconut caramel topping.
Ingredients
6 mini graham cracker pie crusts
Truffle filling
1/2 cup heavy cream
2 marshmallow Peeps chicks
1/2 cup semi-sweet chocolate chips
1 teaspoon vanilla
Coconut caramel topping
2 cups sweetened coconut
1 cup heavy cream
24 unwrapped caramels
1 teaspoon vanilla
Decorations
6 Peeps chicks
30 small candy eggs
Truffle filling
In a medium saucepan, combine heavy cream and Peeps. Cook over medium heat, stirring occasionally, until Peeps melt. Pour hot cream mixture over chocolate chips. Let sit five minutes. Add vanilla. Whisk gently until smooth. Pour into pie crusts until each crust is 3/4 full. Cool until set, at least two hours.
Coconut Caramel Topping
In large pan, toast coconut over medium heat, stirring frequently. Add heavy cream, caramels, and vanilla. Stir until caramels melt completely. Cool one hour. Spread mixture on top of pies. Top with Peeps chicks and candy eggs.
Notes
Store in refrigerator for up to two days.
Frosting and a Smile http://frostingandasmile.com/