Grandma's Raspberry Crumb Cake –
If you have ever lost someone you love, you know the feeling, the emotional punch that certain scents or sights trigger. Grief grips your stomach then claws its way up to your throat. You try to fight it, but the darkness swells into your face and forces tears down your cheeks. This cake brought me to one of those moments.
I knew making this raspberry crumb cake might be difficult before I even took the mixing bowls off the shelf. It was my Grandma Jane's recipe. She died unexpectedly four years ago. I planned to bake it for a charity walk her community held in her memory.
Grief is a dragon. You can chain it in a deep cave of the soul but when that beast senses an emotional fissure, it roars out of its dungeon breathing fire. Over time, you learn to forge stronger chains. None are ever quite strong enough.
My focus on measuring and mixing kept the monster at bay for a while. Then, the heat of the oven sparked memory's most volatile fuse, scent.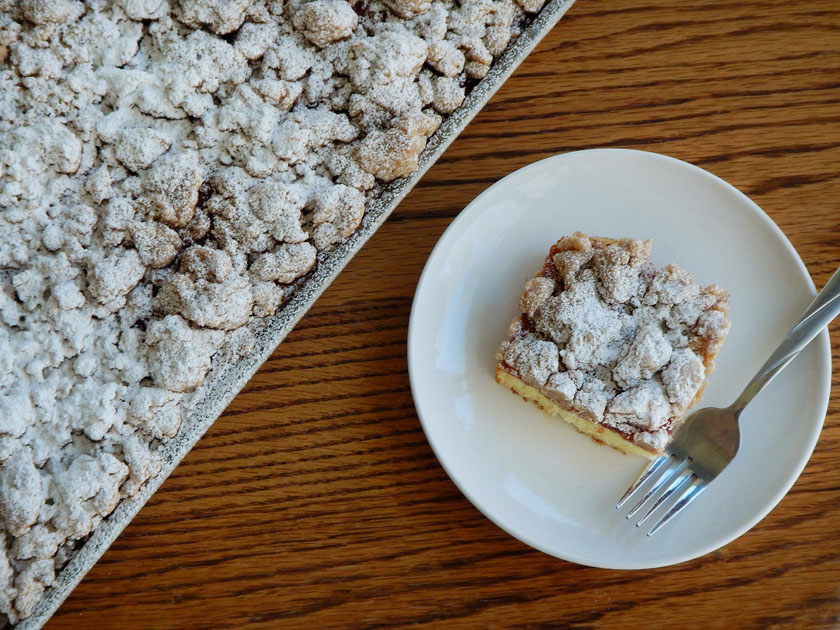 As I opened the oven door, the dragon's chain broke. A wave of cinnamon and vanilla plunged my senses right back to Grandma's house. It dredged the sadness I had buried in my soul back to the surface.
I closed my eyes. Then, I stood on her old linoleum floor, elbow-to-elbow with her in the tiny kitchen. To the right, Grandma's dining table was stacked with cut out recipes to make "someday" and piles of magazines with bent pages to mark even more baking ideas. To the left, pastel teddy bear salt and pepper shakers peered at me from a cluttered counter top silently asking, "Did you cherish this moment? Did you tell her enough how much you cared? Did you make her proud?"
My spirit cracked like an egg on the side of a glass bowl. The tears seeped slowly at first. Then they raced from my eyes down to my chin.
I can almost hear Grandma's voice calling, "Lau, Lau," her nickname for Laurie.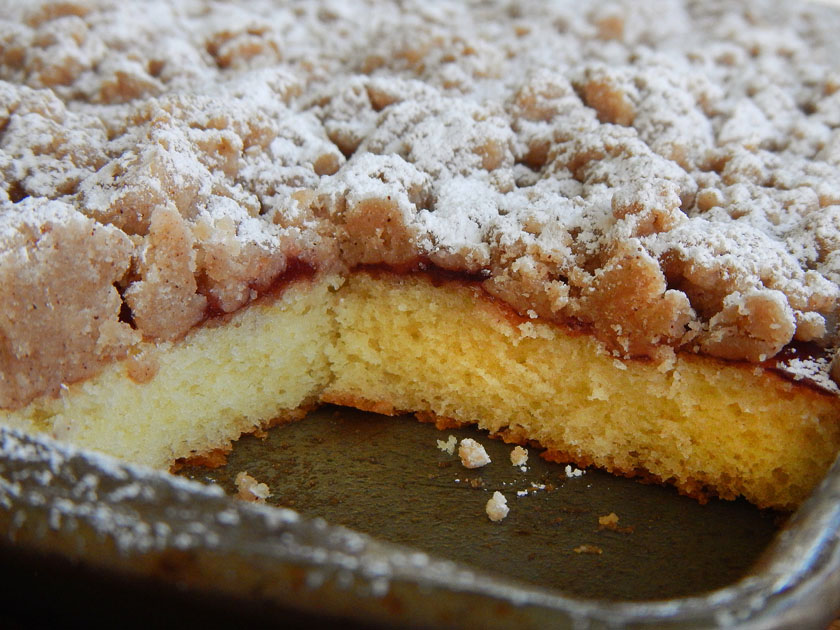 A small voice broke through the torrent. "Mommy, I need milk," squeaked my son, CJ.
It was back to reality, back to the little boy who she won't see grow up. She won't know how proud he was to stand on his little stool and "help" me spread crumbs on the cake. CJ's help mostly consisted of sneaking crumbs into his mouth when he thought I wasn't looking. She'd love that. She'd love the powdered sugar smeared on his lips. She'd love the gleeful smile declaring, "It's deeelicious." She'd love it all.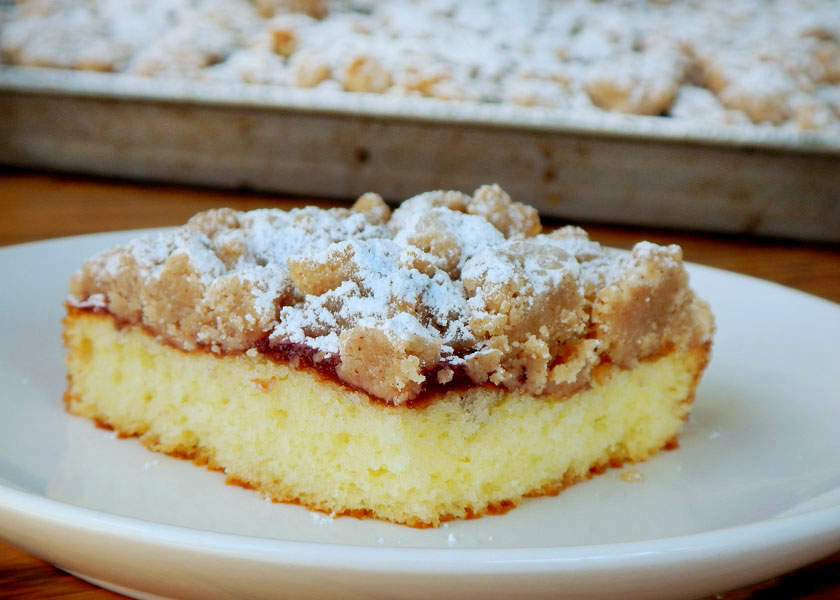 I realized then, that while Grandma wasn't there in person, she was in my kitchen. She was in my heart and I was giving giving my son a gift she gave me: The recipe for a life full of love.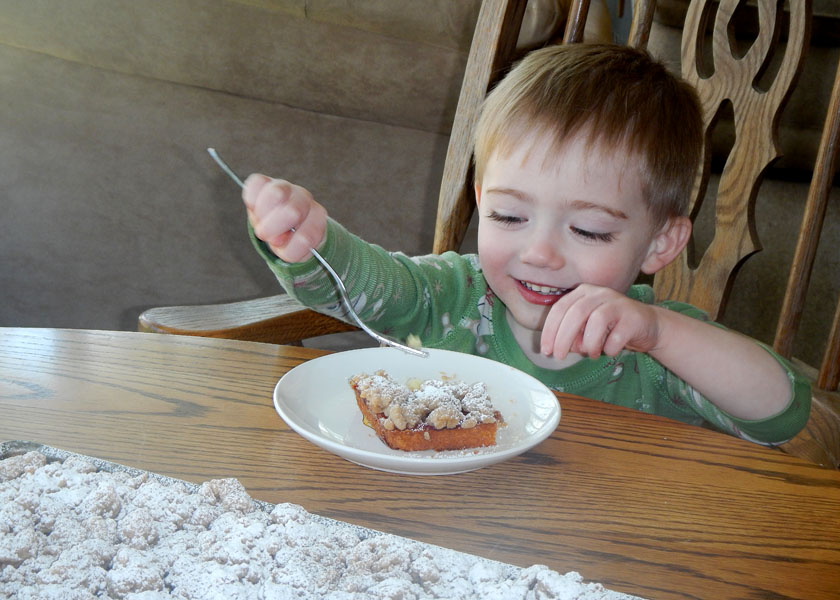 Baking in Grandma's kitchen was never about what we were making for dessert. It was about making time for each other and making people happy.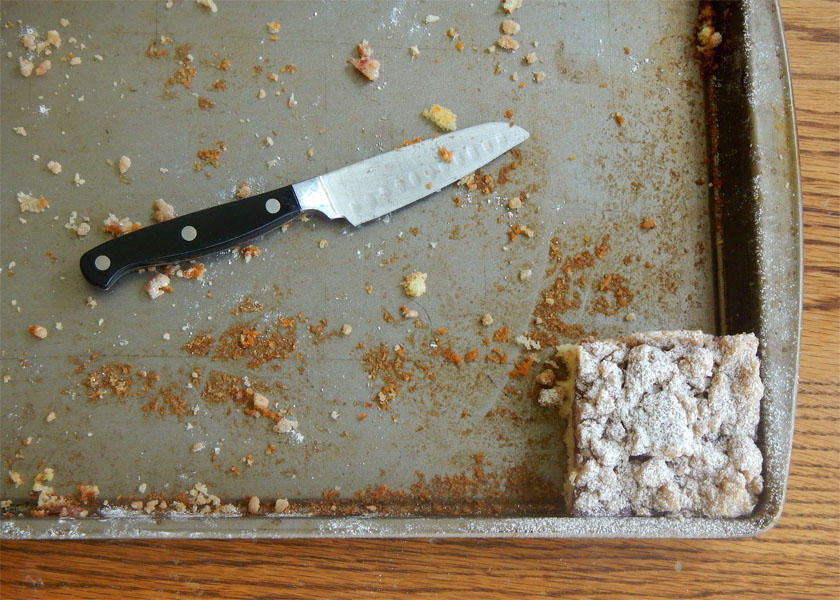 Today, you can do that. Bake this cake for someone you love. Bake it with someone you love. Bake it in honor of my dear Grandma Jane.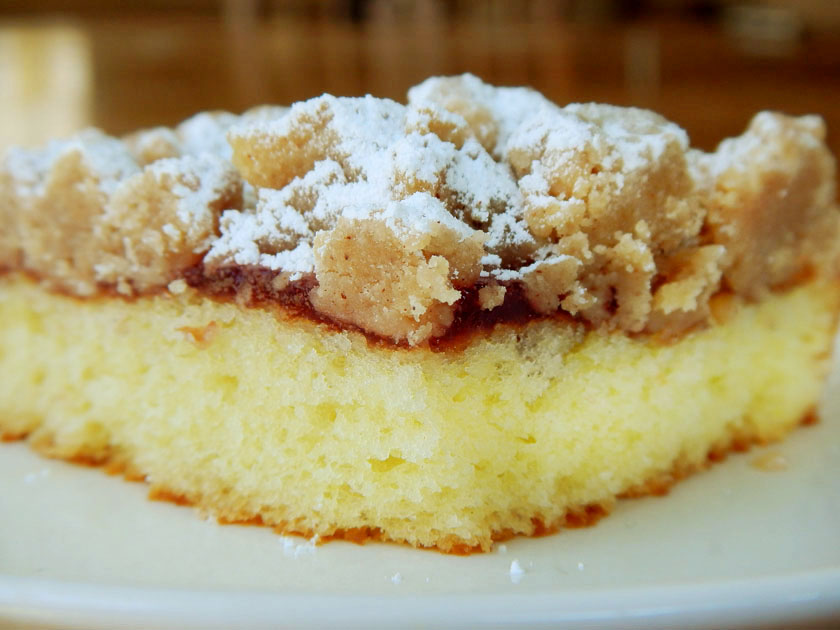 Do you have a special recipe that reminds you of someone you love? I'd love to hear about it. Please share your story in the comment section at the bottom of this page.
You can also find me on Facebook, Twitter, or Pinterest.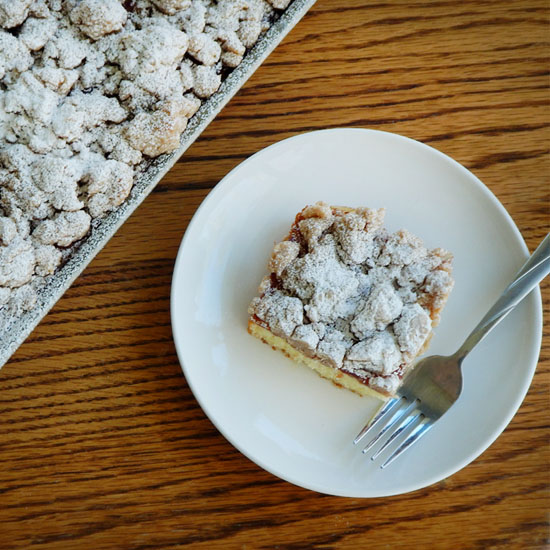 Raspberry Crumb Cake
2014-08-30 19:30:53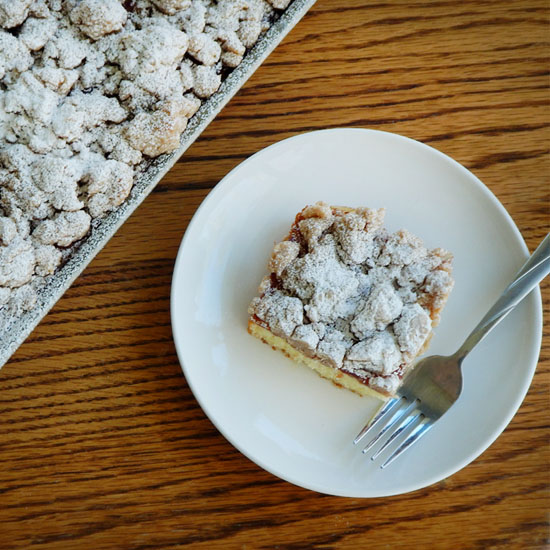 Serves 15
A buttery cake topped with raspberry jam and giant cinnamon crumbs.
For the Cake
1 box butter cake mix
4 eggs
2/3 cup milk
2/3 cup oil
1 and 1/2 teaspoons vanilla
1 cup seedless raspberry jam
For the Crumbs
4 cups flour
2/3 cup brown sugar
2/3 cup granulated sugar
1 tablespoon cinnamon
2 sticks melted margarine
1 stick melted butter
1 tablespoon vanilla
1/2 cup powdered sugar for topping
For the cake
Preheat oven to 350-degrees. Grease 11 X 17 inch baking pan.
In large bowl, beat cake mix, eggs, milk oil, and vanilla. Pour into prepared pan. Bake for 15 minutes. Cool completely.
For the Crumbs
In large bowl, combine flour, brown sugar, granulated sugar, and cinnamon. Set aside.
In medium bowl, combine melted margarine and melted butter. Stir vanilla into butter mixture. Slowly pour butter mixture into the flour mixture while stirring until large crumbs form. You may need to use your hands to form crumbs.
Assemble
In small microwave-safe bowl, microwave jam on half power for thirty seconds. Stir. Repeat until the jam is easy to spread. Be careful, the jam will be very hot. Spread the jam over the cooled cake.
Place crumbs on top of jam. Bake for 15 minutes.
Cool on wire rack. Dust with powdered sugar.
Notes
Store tightly covered for up to three days.
Frosting and a Smile http://frostingandasmile.com/
To make sure you don't miss any new recipes you can sign up for a free email recipe subscription.