Vanilla Buttercream Frosting –
Once you make your own buttercream, you will never want to go back to the preservative-filled canned frosting. This is the best basic buttercream frosting. It takes just five minutes and five ingredients to whip together. Bonus; They're all real ingredients that you can actually pronounce, no polysorbate or partially hydrogenated vegetable oil here.
Update: I have a special gift for all of you who have requested more flavors. My Chocolate Buttercream Frosting recipe is now posted!
Best Buttercream Frosting Recipe –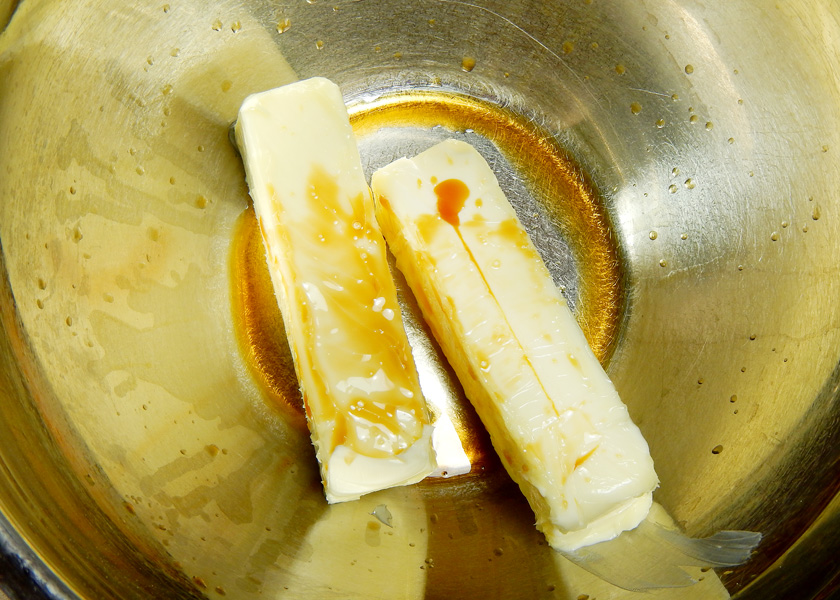 Start with unsalted butter and vanilla. I know some of you are wondering why I use unsalted butter then add salt to the recipe. When we add our own salt, we know exactly how much we are using. The amount of salt in butter varies.
Your butter should be soft and spreadable but not melted. It's best if let it soften naturally at room temperature for at least half an hour before you plan to make the frosting. You can cut it into small pieces to speed up the process.
How to Soften Butter in the Microwave
If you're in a hurry, you can do this in the microwave but you have to be very careful. I've accidentally melted more butter than I care to admit. Set the microwave to defrost (30% power) and microwave for ten seconds. Press your finger into the butter. If your finger leaves an indentation, your butter is soft. If the butter is still hard, microwave at 30% power for another ten seconds. Continuing checking at ten second intervals until the butter is soft.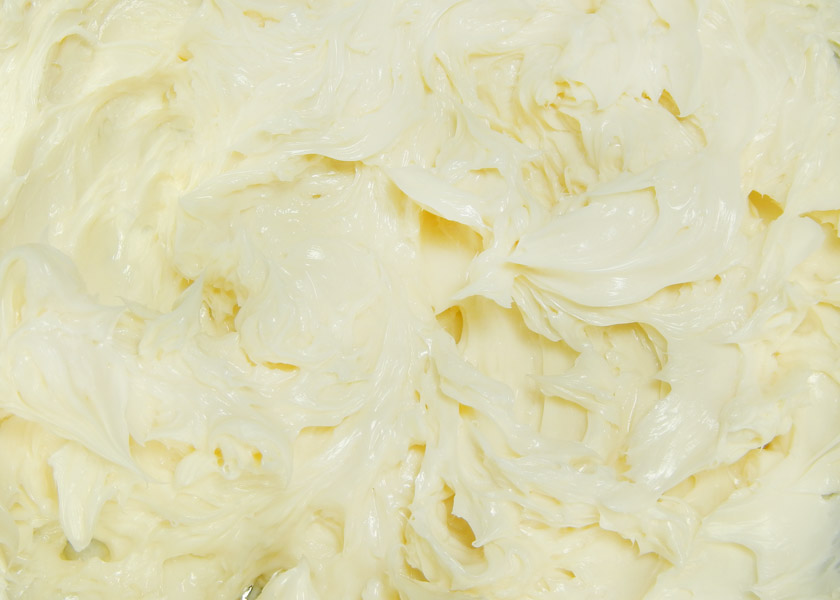 Beat the softened butter and vanilla until the mixture is smooth and shiny.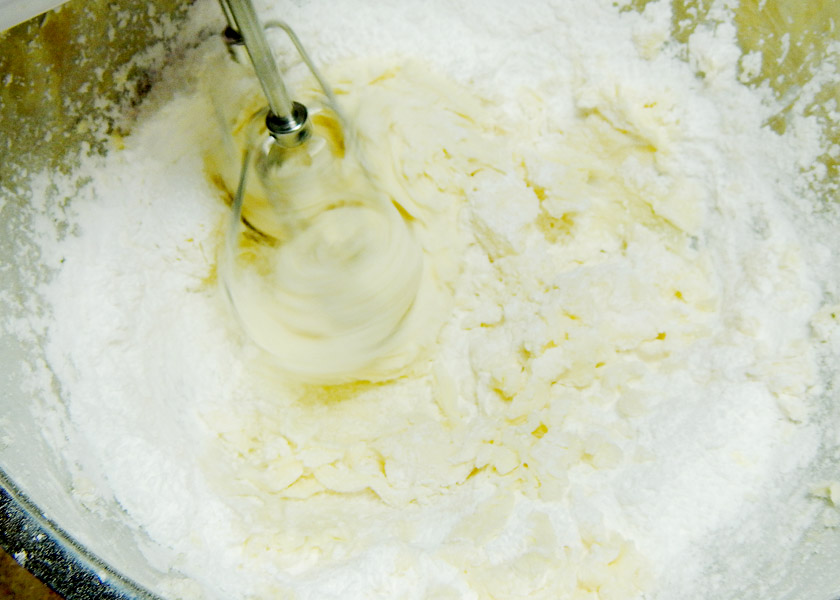 Gradually add powdered sugar. Do this on low speed so you don't end up with a sugar-shower. I've been there and it's not pretty.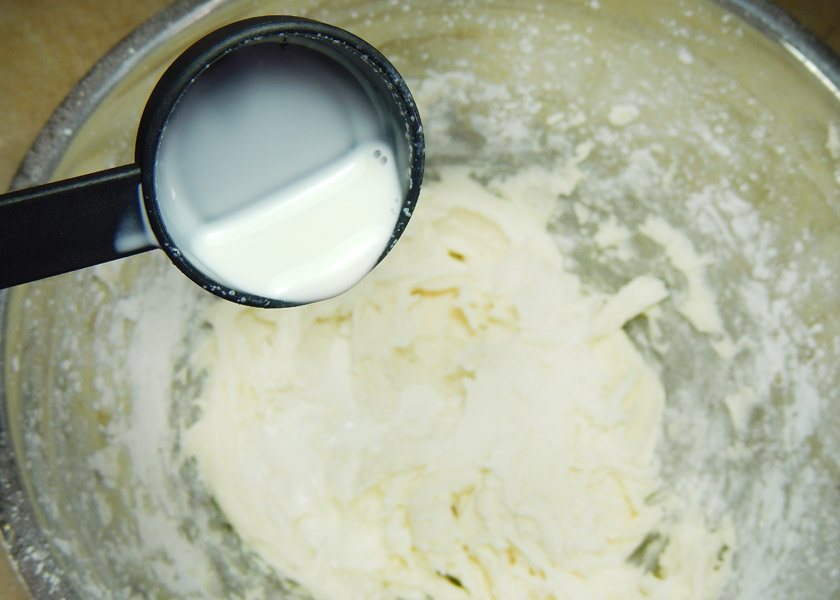 Beat in heavy cream one tablespoon at a time. You could use milk or some other liquid but nothing else will give you the luxurious feel that only real cream provides.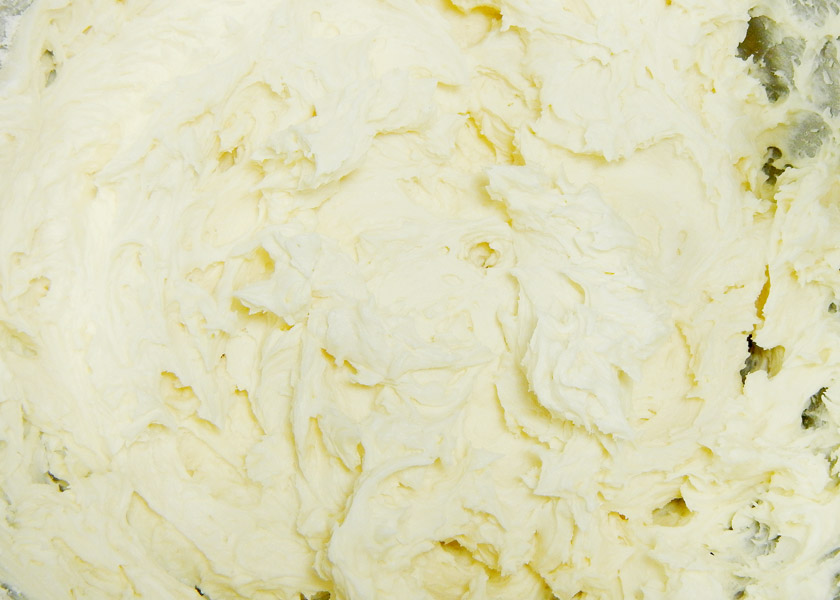 Beat the frosting until it's light and fluffy. This is where I have to turn my willpower dial up to high. I need to get this on cupcakes before I "taste-test" too much and have to make another batch.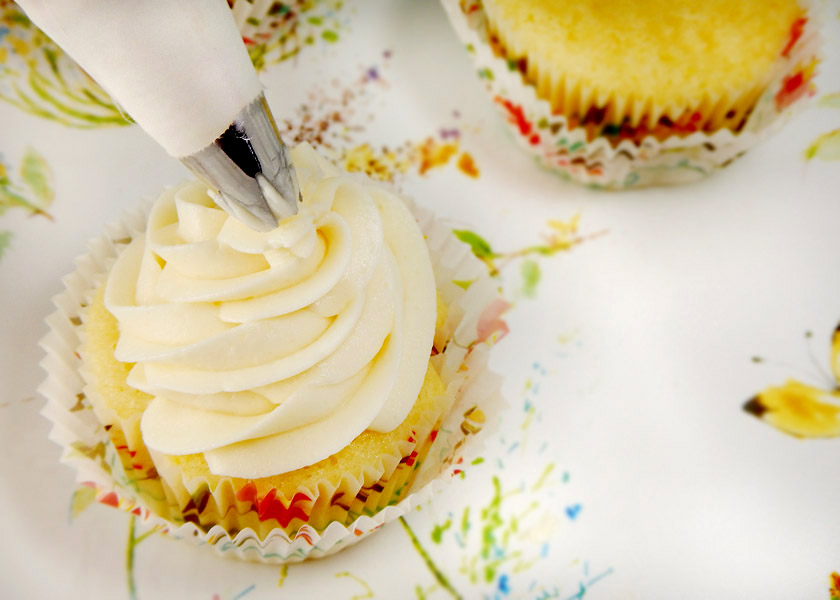 This pipes beautifully. I like to use a Wilton 1M tip for big swirls.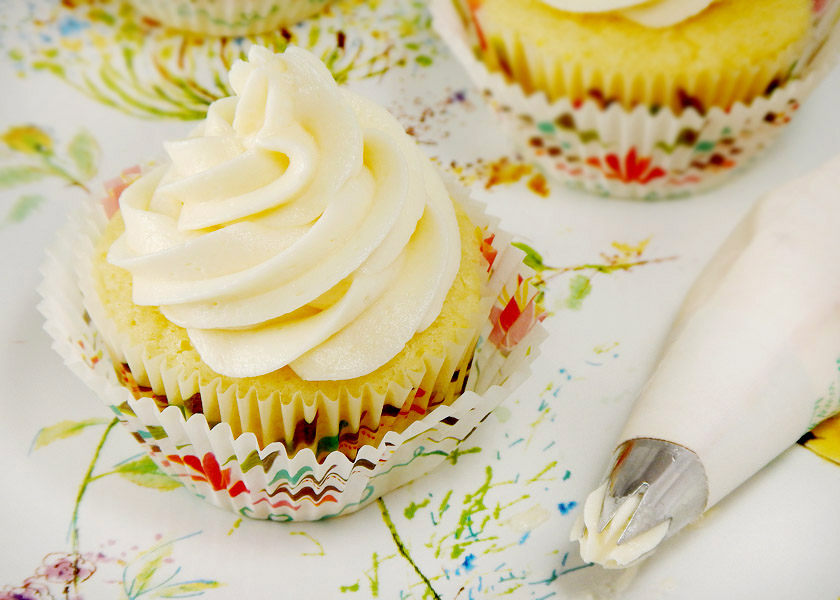 This topping pairs well with vanilla cake, chocolate cake, lemon cake, strawberry cake, pretty much any cake flavor you can dream up. I'd love to hear what you use it on in the comment section.
This basic buttercream recipe is an excellent flavor canvas for you to experiment with. You can add different flavorings, almond extract is one of my favorites. You can also try mixing in candy or even sprinkles to make your own Funfetti Frosting.
Want more fun recipes and kitchen fun ideas? You can follow me on Facebook, Twitter, or Pinterest. You can also sign up for a free email recipe subscription.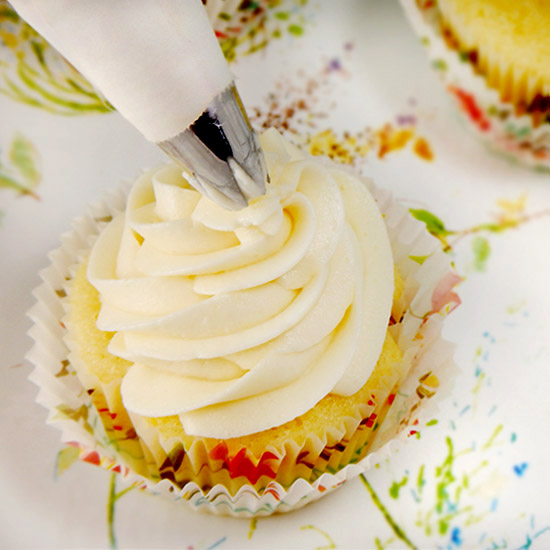 Vanilla Buttercream Frosting
2014-04-27 14:09:57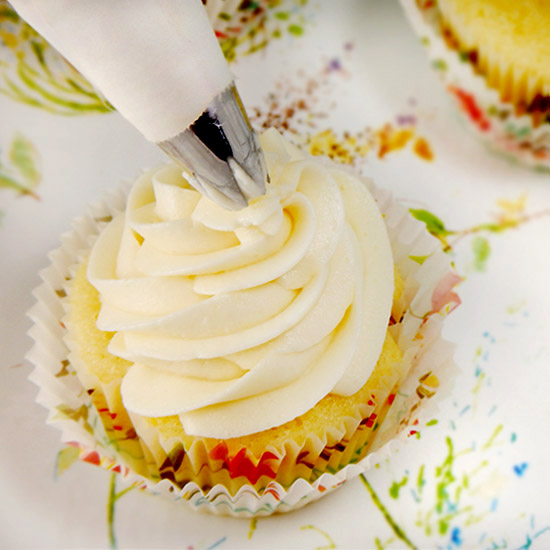 A simple creamy homemade vanilla frosting.
Ingredients
2 sticks unsalted butter, softened
1 tablespoon vanilla
3 1/2 cups powdered sugar
1/8 teaspoon salt
1/4 cup heavy cream
Instructions
In large bowl, beat butter and vanilla until smooth. Gradually beat in powdered sugar and salt. Mix in heavy cream one tablespoon at a time. Beat until light and fluffy.
Notes
This recipe will generously frost 12 cupcakes or an 8-inch layer cake.
If you need thicker frosting for piping decorations, add half a cup of powdered sugar.
If you prefer thinner frosting, add more heavy cream, 1 tablespoon at a time, until you reach the desired consistency.
Frosting and a Smile http://frostingandasmile.com/