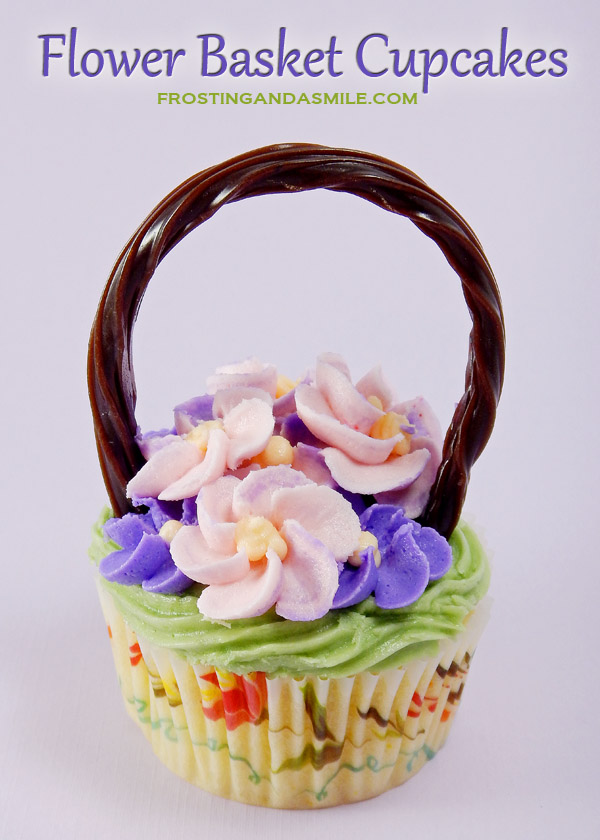 Flower Basket Cupcakes –
These pretty flower basket cupcakes will dress up your spring table. They make adorable gifts for Easter, Mothers Day, or a spring birthday celebration. You can use any cake and homemade white frosting flavor you like. Canned frosting won't hold its shape. I made these with lemon cupcakes and a double batch of my vanilla buttercream frosting.
What you Need
12 baked cupcakes
6-7 cups medium consistency buttercream frosting
Wilton 4B open star tip
Wilton 2D drop flower tip
Wilton 2 round decorating tip
Green gel food coloring
Purple gel food coloring
Pink gel food coloring
Yellow gel food coloring
12 chocolate Twizzlers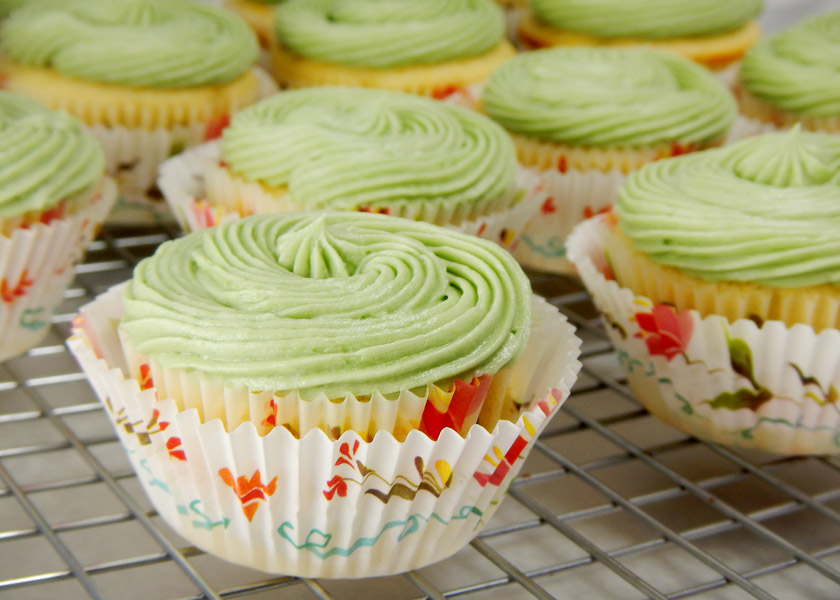 Dye half of your frosting light green. I used Wilton's juniper green. Pipe a swirl onto your cupcakes with the 4B tip. It doesn't have to be perfect. We're going to cover most of it with flowers.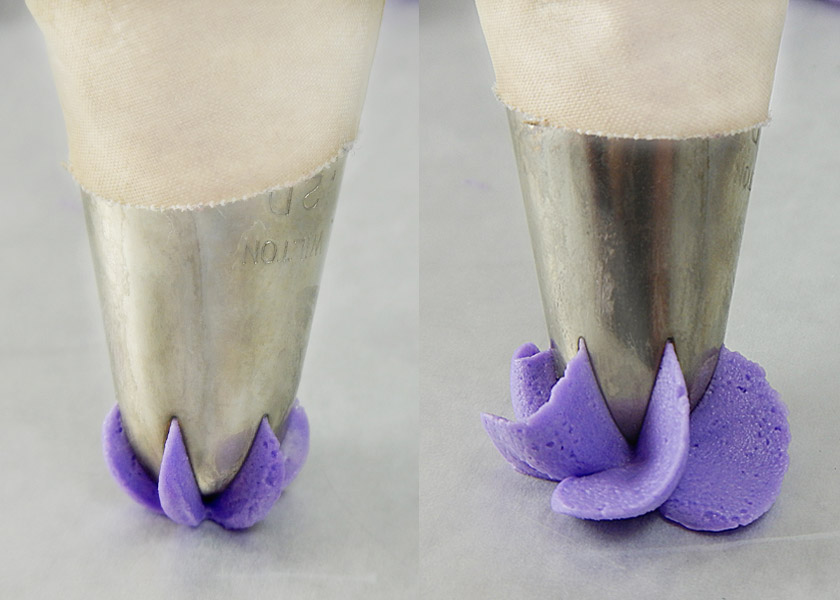 Now for some blooms. These are the first frosting flowers I learned to make in my first cake decorating class. You might mess up a few at first but once you get the hang of it you'll be turning them out like a pro.
Dye half a cup of frosting light yellow then set that aside. Divide the remaining frosting in half. Color one batch purple and another batch pink.
Cover a cookie sheet with wax paper or parchment paper. Place a 2D tip in your piping bag. Fill with frosting. Hold the bag straight up with the back of your hand facing away from you. Place the tip just a bit above the paper. Gently squeeze with even pressure as you rotate your wrist toward you. Once the flower is complete, stop squeezing and lift the bag straight up.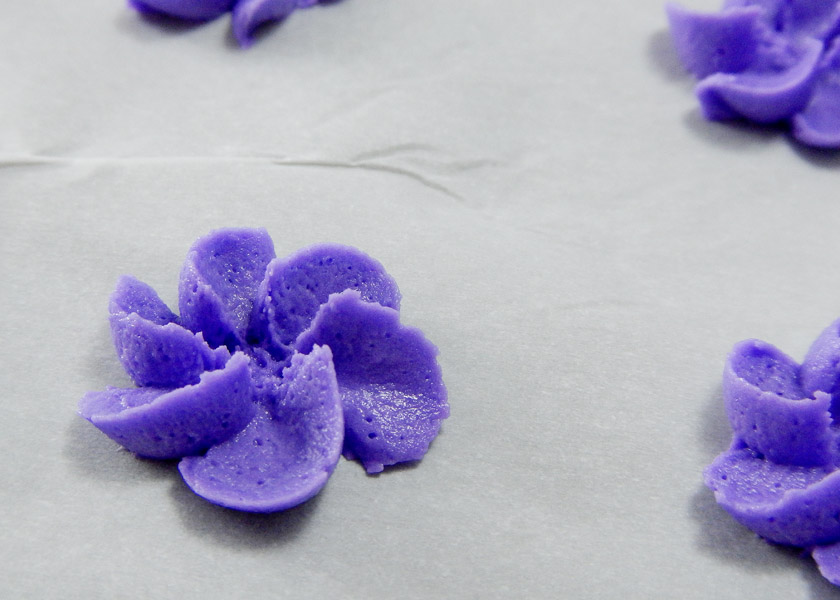 For this project, I made half solid color and half two-toned flowers. For the double-color look, I piped the purple flowers then added the pink frosting to the same bag without washing it out in between. If you want them all to be two-toned, you can put two colors in your piping bag side-by-side.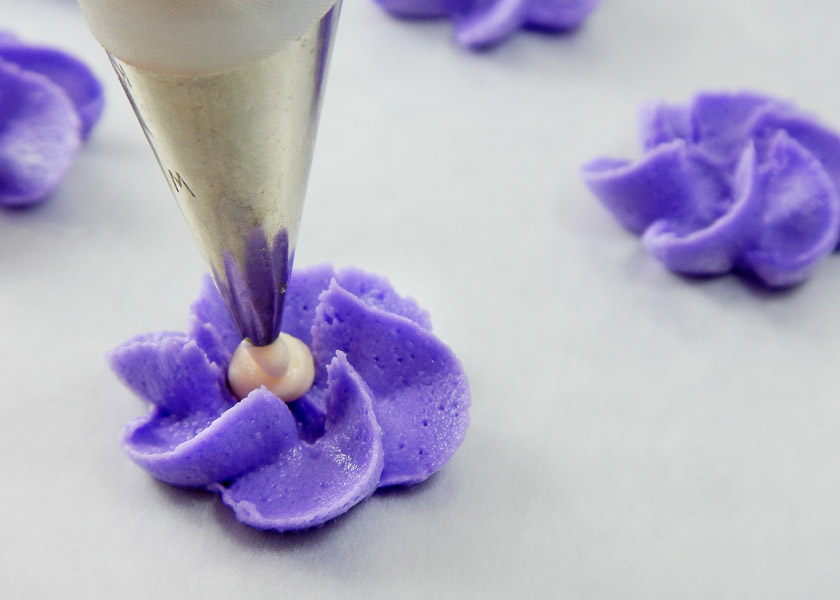 Use your yellow frosting to pipe dots into the center of each flower. Place the small round piping tip just above the center of the flower. Gently squeeze with even pressure until the dot fills the center. Stop squeezing. Lift tip away. Freeze completed flowers for ten minutes. This will make them much easier to handle. If you prefer, you can make these with royal icing, which sets up hard.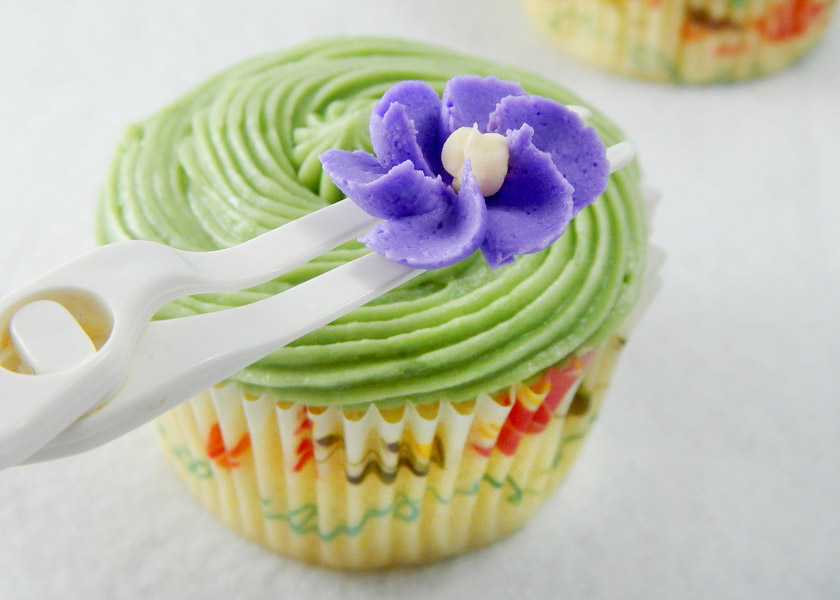 Pile flowers on the cake. I started with the plastic decorating scissors but eventually switched to my fingers. The scissors are helpful if your flowers are very soft but since I froze mine, it was easier to use my hands.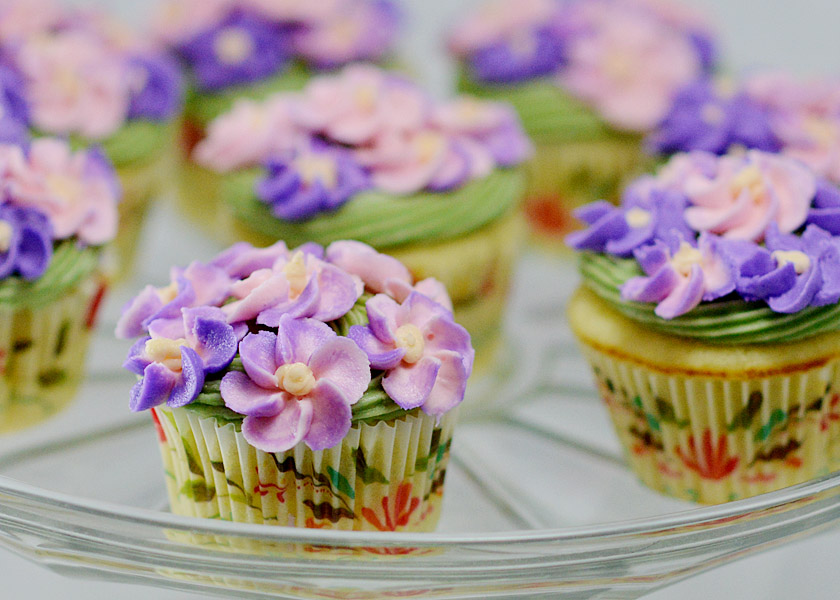 You can serve your masterpieces just like this or add the decorative Twizzler handle.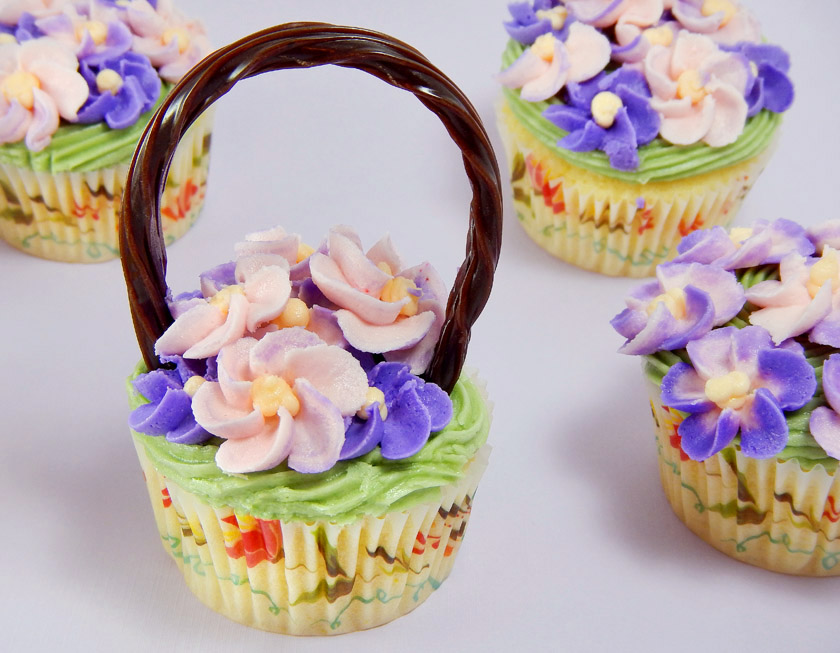 I hope you have fun making these flower basket cupcakes! I'd love to hear about the occasion you make these for. Please let me know in the comment section.
Want more fun kitchen crafts and recipe ideas? You can follow me on Facebook, Twitter, or Pinterest. To get new posts first, sign up for a free email recipe subscription.