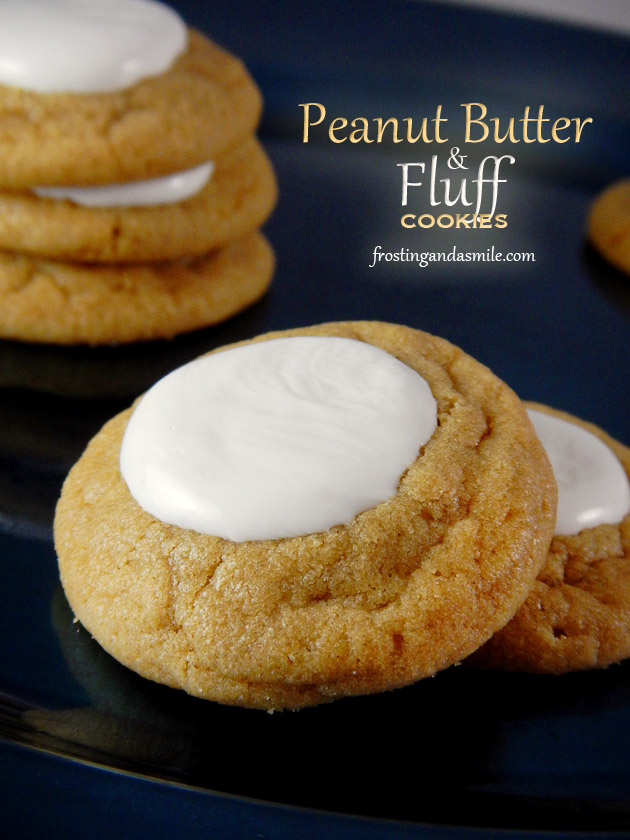 Peanut Butter and Fluff Cookies
At twelve years old, I swore I had the most difficult life ever. My middle-school-self decided my life was impossibly unfair because my mom often packed peanut butter and jelly for lunch. Never mind that there was more food in my lunch bag than some kids get in an entire day. I was clearly deprived because of my lunch time rut.
Then, one glorious day I unfolded my crinkly brown paper bag, pulled out my sandwich and saw a layer of white peaking out of the bread. This was lunchtime nirvana; salty peanut butter dancing with the sugar rush of marshmallow creme. That was one day I didn't try to trade away my sandwich. Since it was basically like eating dessert for lunch, mom didn't pack it often. It was a special treat then, like it is now.
This recipe captures all the fun of Fluffernutter in a cute little dessert. The soft peanut butter cookies hold sweet marshmallow puddles. You're going to love them and if you pack them in your kids' lunch boxes, they are going to love you even more!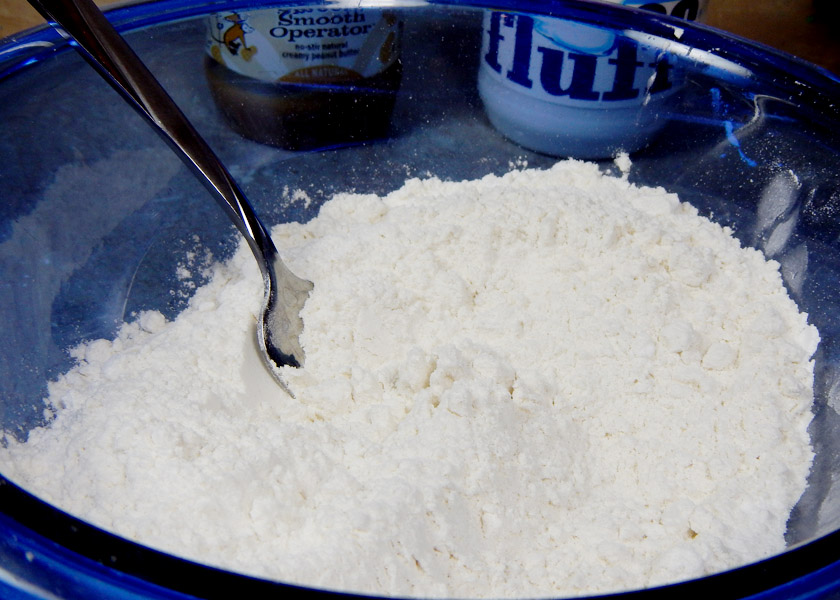 To start, combine your dry ingredients in a small bowl. I use cornstarch to help the cookies hold their shape and keep them soft.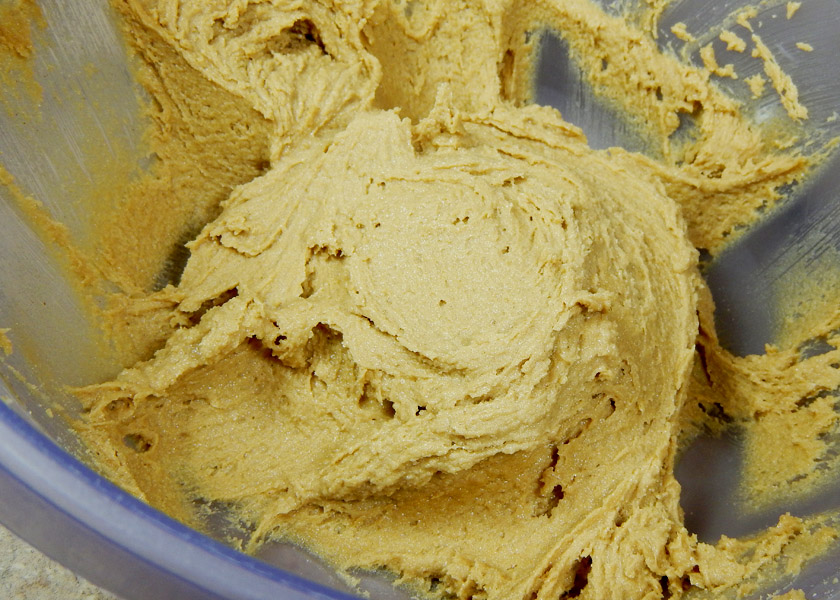 Beat butter, peanut butter, brown sugar, and white sugar until smooth and fluffy.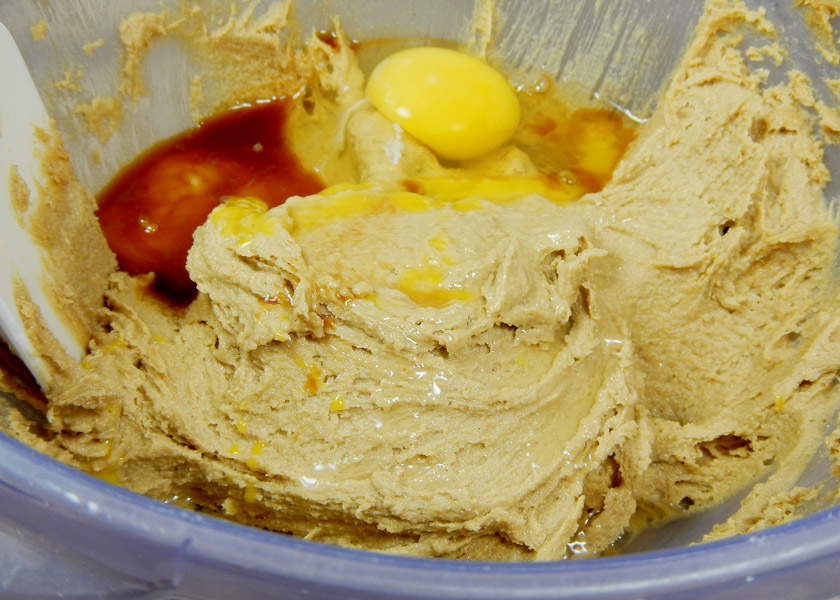 Add egg, egg yolk, and vanilla.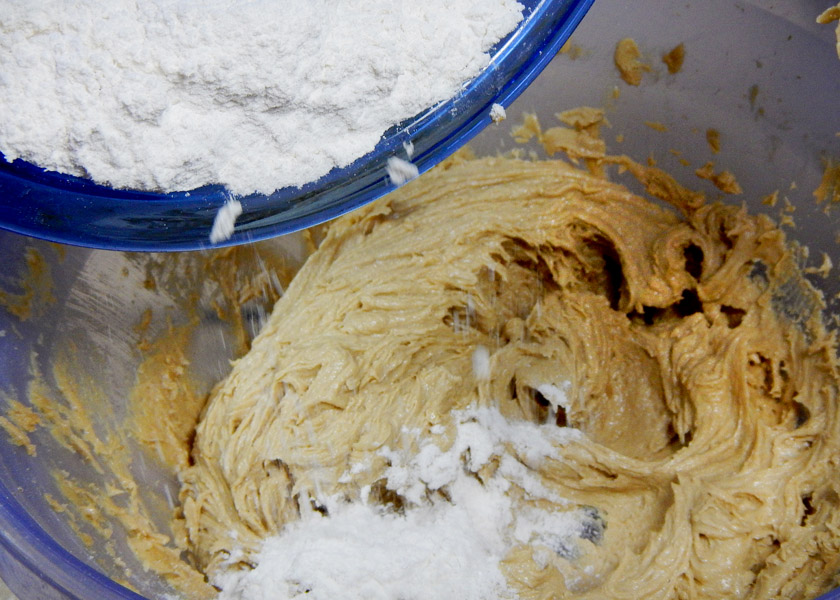 Gradually beat in the dry ingredients.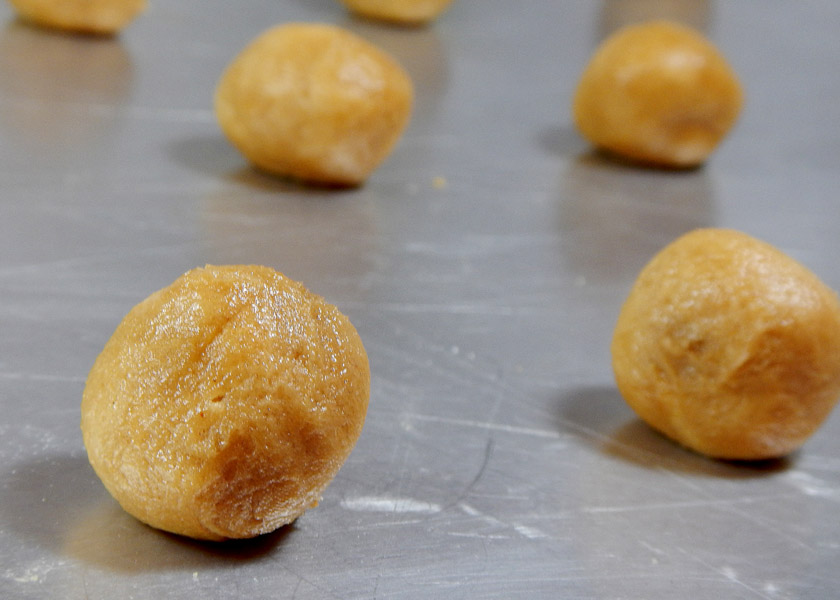 Chill dough for at least one hour. That helps all the flavors meld and prevents the cookies from spreading too much. Roll the dough into balls, then bake them.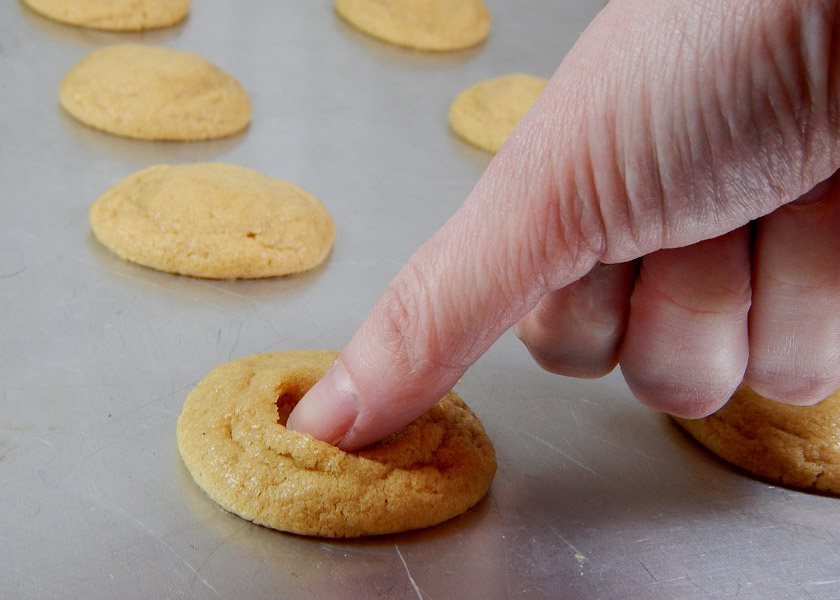 Cool on pans for five minutes then press an indentation into each cookie with your thumb. Kids like doing this part. In the first few drafts of this recipe, I made the thumbprints before I baked the dough but they didn't hold the shape very well.
Fill each cookie with melted fluff. Hint – spray your spoon with cooking spray so the marshmallow slides off easier.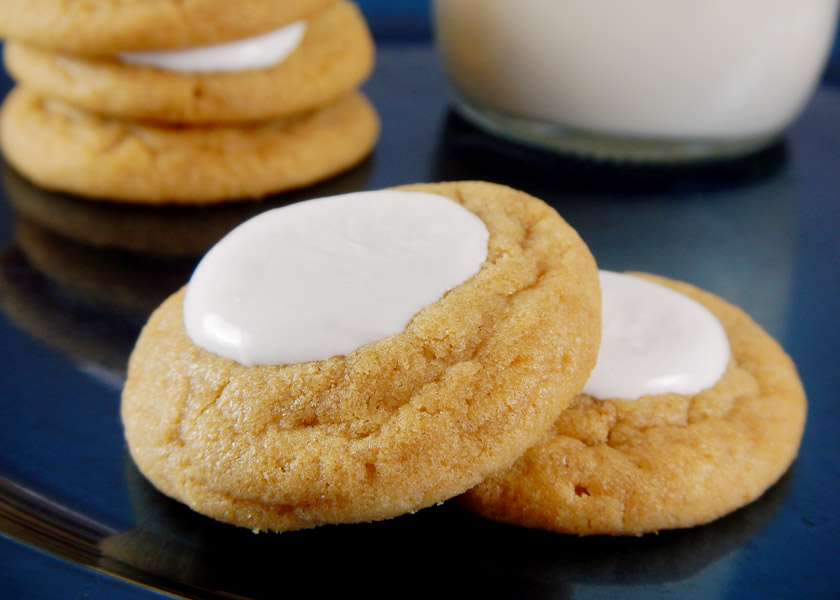 Store these in a single layer in an airtight container for up to three days. If you stack them, they get stuck together (learned that while taking photos). They'll still taste great, but it will get kind of messy.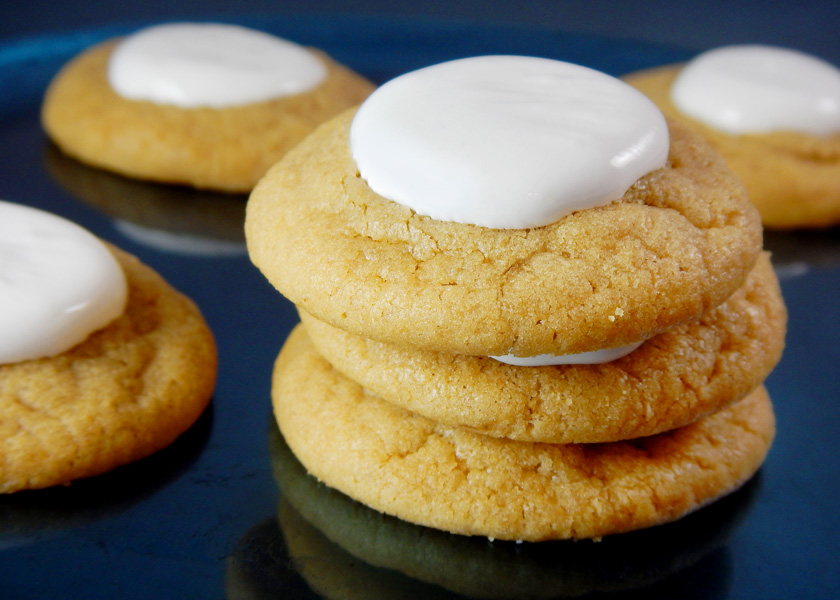 There's a sweet way to jazz up your kids' (or even your own) lunchboxes.
Now that I'm grown with a son of my own, I wish my problems were as simple as having a boring lunch! Isn't it funny how our perspectives change? What did you think was torture as a kid that you find funny now? Let me know in the comment section.
Want more fun recipes? You can follow me on Facebook, Twitter, or Pinterest. You can also sign up for a free email recipe subscription.
I originally wrote this recipe for Parade.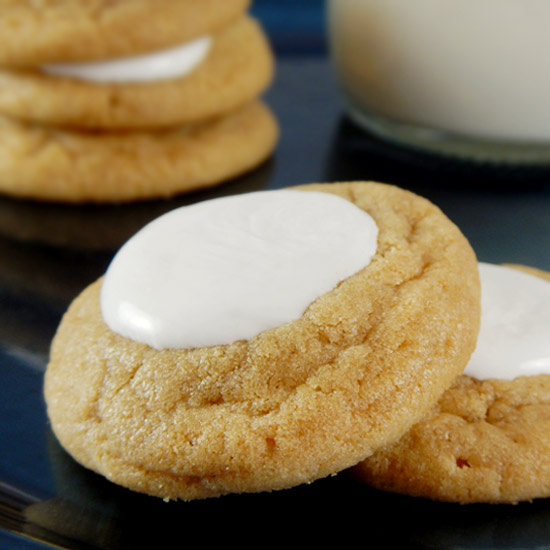 Peanut Butter and Fluff Cookies
2014-05-18 09:40:00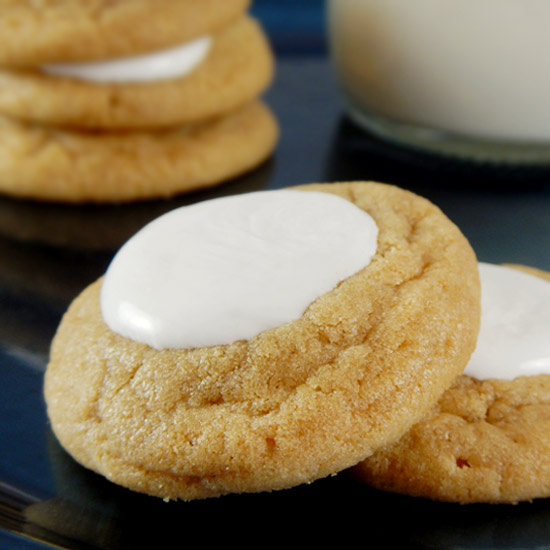 A soft, chewy peanut butter cookie topped with marshmallow fluff.
Ingredients
1 cup flour
2 teaspoon cornstarch
1 teaspoon baking powder
½ cup butter, softened
½ cup dark brown sugar
½ cup white sugar
¾ cup creamy peanut butter
1½ teaspoons vanilla
1 egg
1 egg yolk
1 (7.5-oz) container marshmallow creme
Instructions
Preheat oven to 350 degrees. In small bowl, mix flour, cornstarch, and baking powder.
In large bowl, beat butter, peanut butter, and sugars until light and fluffy. Add vanilla, egg, and egg yolk. Beat until smooth. Gradually beat in dry ingredients. Chill for at least one hour.
Roll into balls containing two teaspoons of dough each. Bake for 8-10 minutes until the edges are set. Cool on pans for five minutes. Gently press indentations into the center of each cookie. Cool on pan two more minutes. Place on wire rack to cool completely.
Place marshmallow creme in medium bowl. Microwave on high for 30 seconds. Stir. Microwave on high for 30 more seconds. Stir until smooth. Carefully spoon hot marshmallow over cookie indentations. Cool completely.
Notes
Store these cookies in a single layer in an airtight container.
Frosting and a Smile http://frostingandasmile.com/