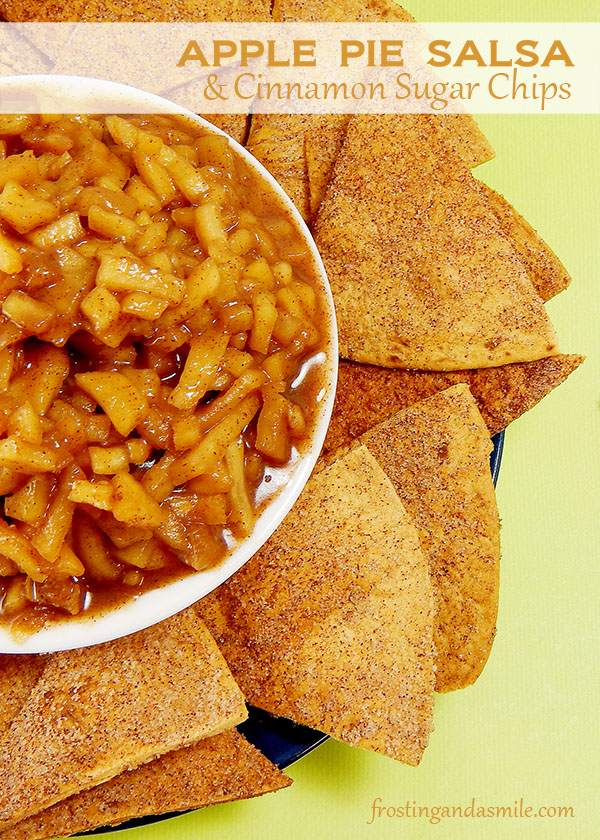 Apple Pie Salsa With Cinnamon Sugar Tortilla Chips –
Warning: You may devour an entire bowl of this warm apple salsa on your own. My dad would say it's a recipe you need your "eating pants" for.
Cooked brown sugar gives the apples a hint of caramel flavor while cinnamon and nutmeg add a warm fall touch. Why does pumpkin spice get all the love when apple spice is just as good (if not better)?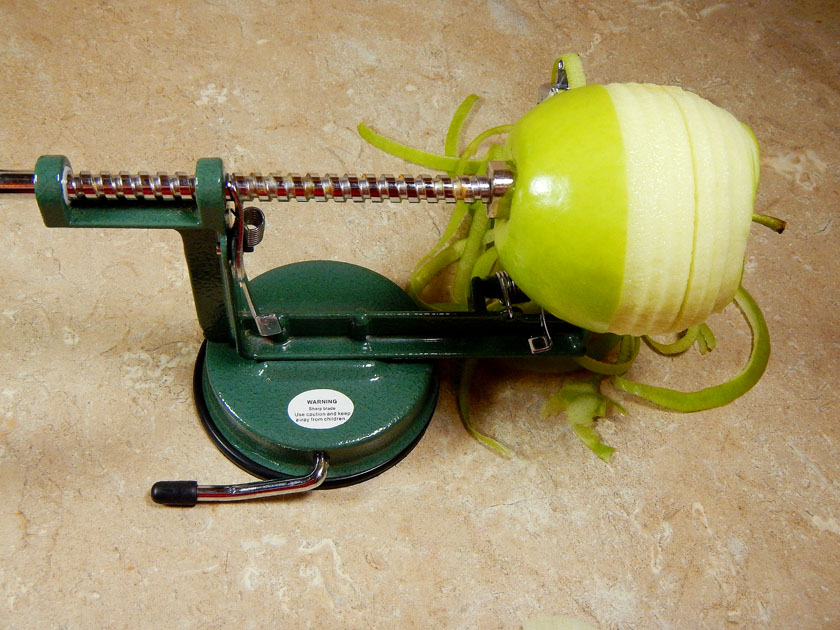 To start, peel four medium Granny Smith apples. Granny Smiths are generally the "go to" apple for pies, so they were my "go to" for this fruit salsa. They have a nice sweet-tart balance. Honeycrisp apples would work well too.
An apple peeler comes in handy here because it can peel, core, and slice the apples all at once. After spending a long night together peeling dozens of apples by hand, a friend bought me one. I'm forever grateful. You can find them on Amazon.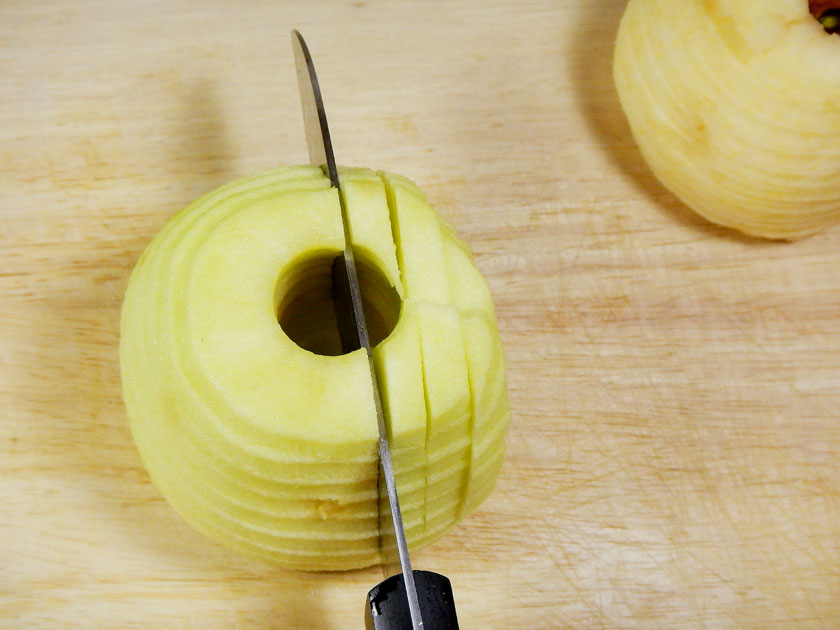 Now, it's time to dice those apples. If you used the peeling machine, the apple will already be sliced through the center so it's easy to finish. Just make slices from the top of the apple through the bottom.
Then, turn it and make slices down the other side and see the diced pieces fall away. It's fun!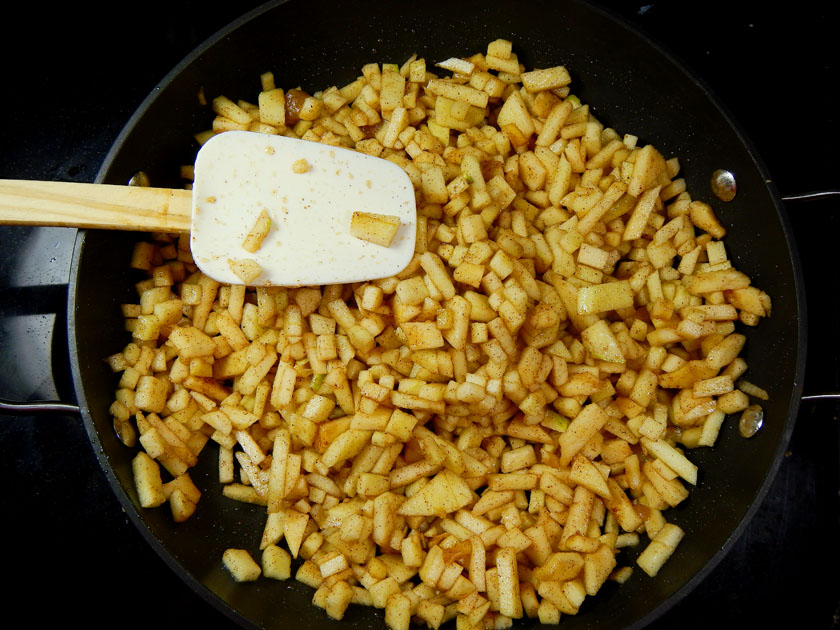 Combine the diced apples with 1 cup light brown sugar, 2 tablespoons of butter, 2 teaspoons of lemon juice, 1 teaspoon of cinnamon, and 1/4 teaspoon of nutmeg. Cook it all over medium heat for twenty minutes. Stir occasionally. Your kitchen will smell all warm, cozy, and fall-like.
After 20 minutes, stir in two tablespoons of cornstarch. Cook and stir for two more minutes until the salsa is thick. Take it off the heat and stir in two teaspoons of vanilla.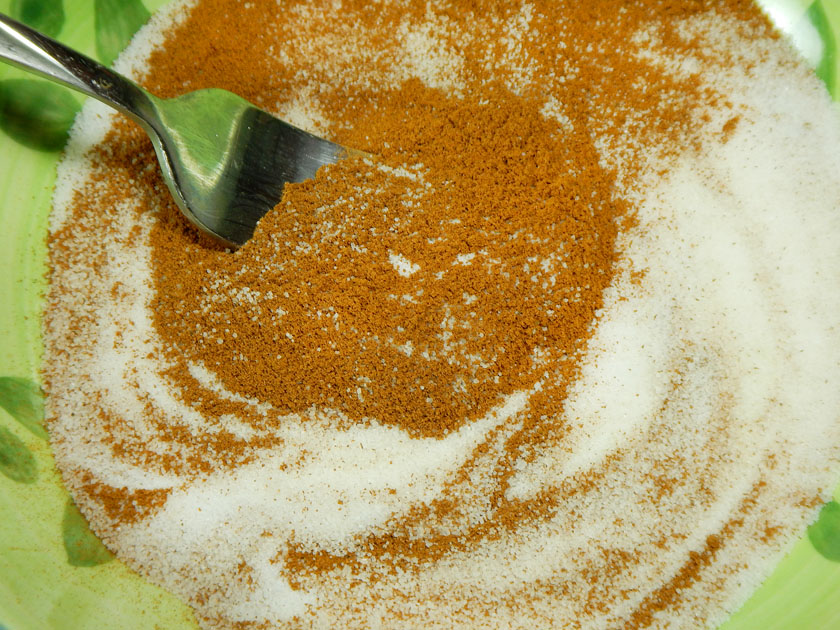 While your apples simmer on the stove, you can get started on the chips. The cinnamon-sugar topping is so simple! Just mix 1/4 cup of sugar and a tablespoon of cinnamon in a bowl.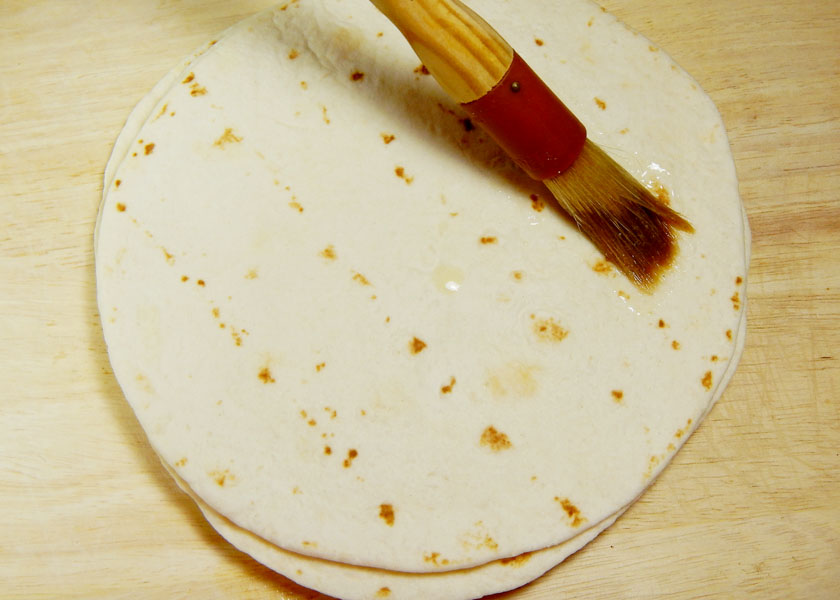 Brush both sides of five flour tortillas with melted butter.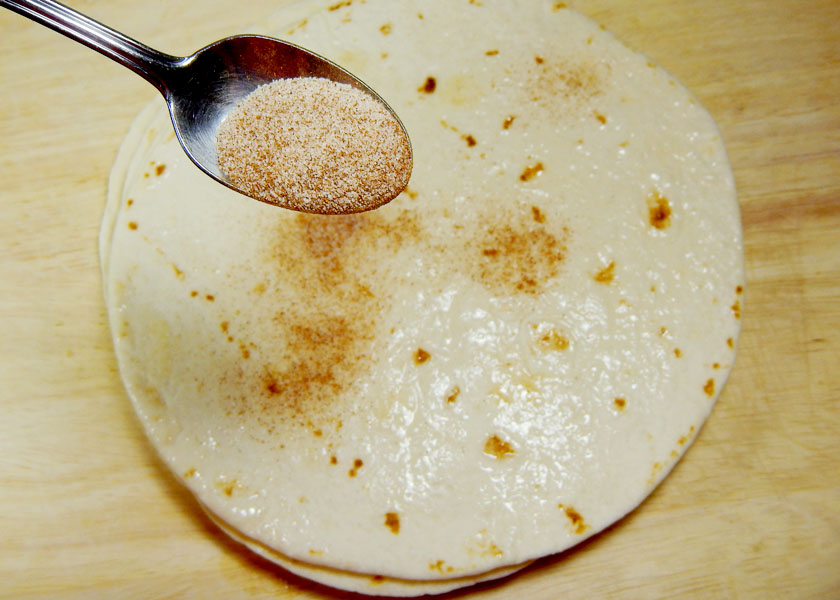 Sprinkle your cinnamon sugar on both sides.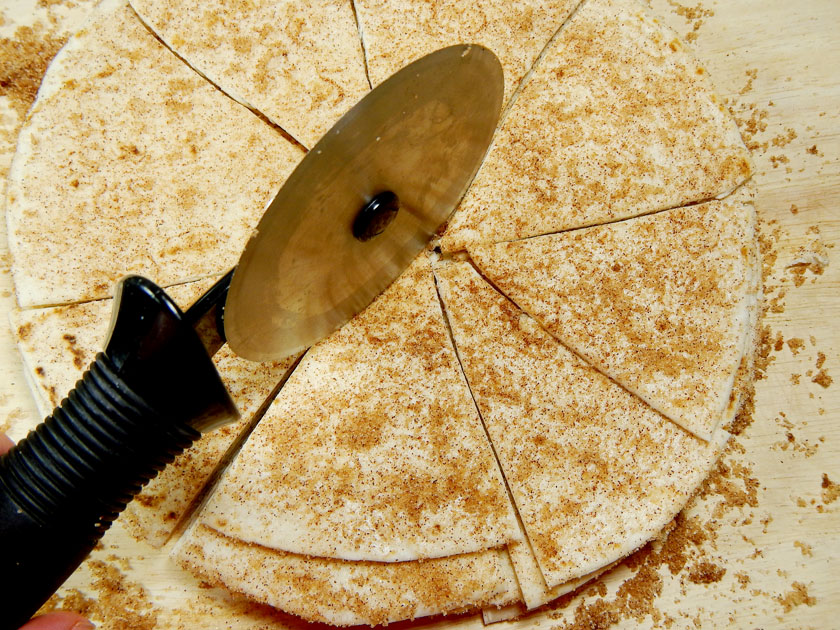 Slice those bad boys into triangles. A pizza cutter makes quick work of this.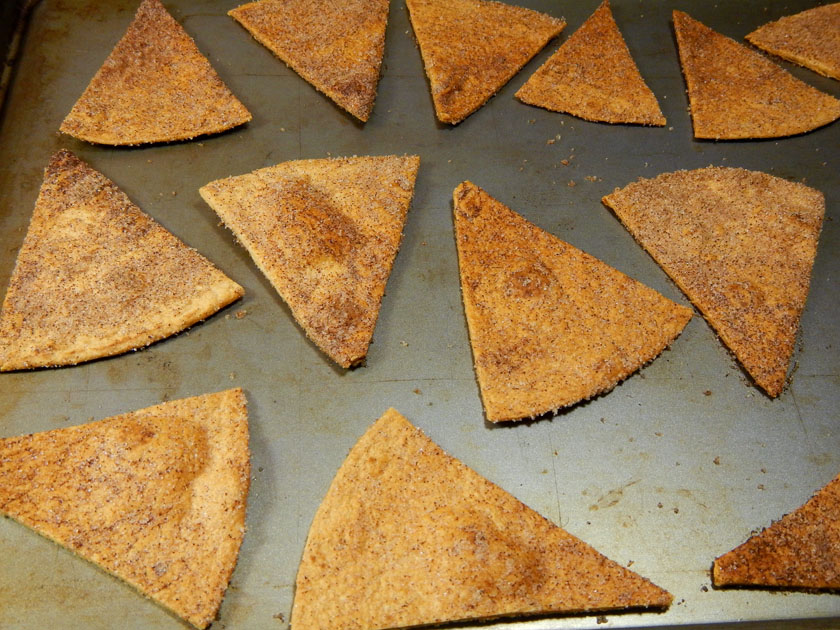 Bake in a 350-degree oven for 14-16 minutes until crisp.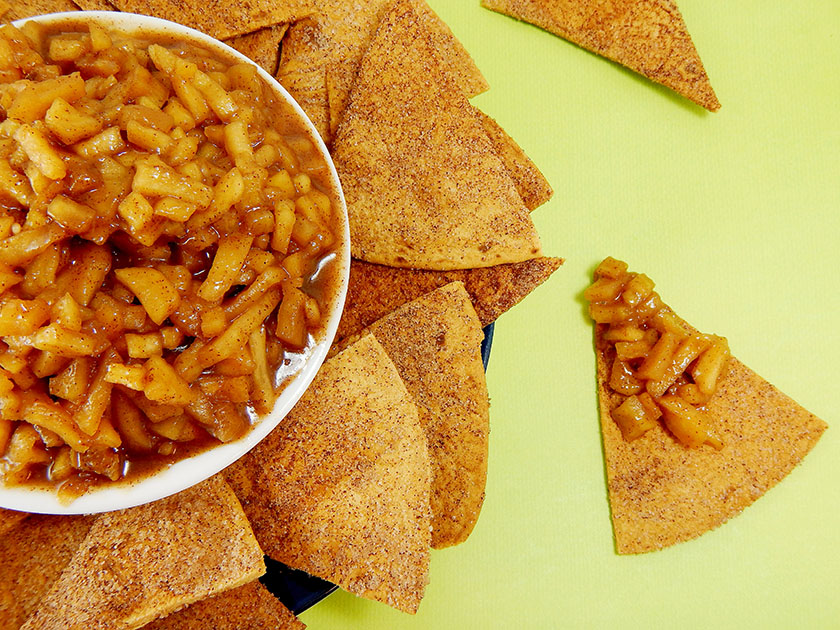 Now, it's time to eat! The crunch of the chips complements that gooey apple pie salsa perfectly.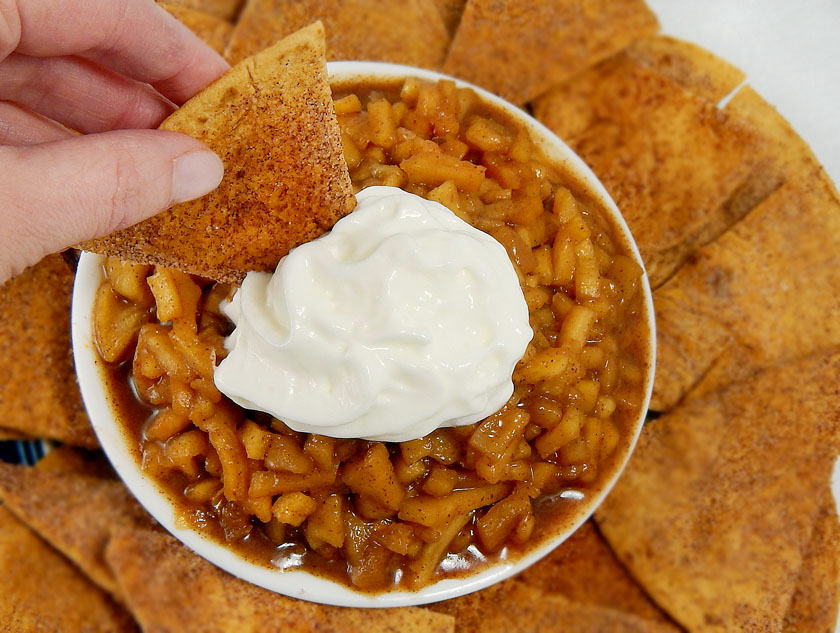 For an extra special touch, top it off with my homemade vanilla whipped cream.
This apple pie salsa with cinnamon sugar chips makes a fun dessert to bring to football parties, Halloween parties, or even Thanksgiving dinner. It's just the perfect way to use your apple picking bounty.
To make sure you don't miss out on any fun dessert and snack recipes, you can follow me on Facebook, Twitter, or Pinterest. You can also sign up for a free email recipe subscription.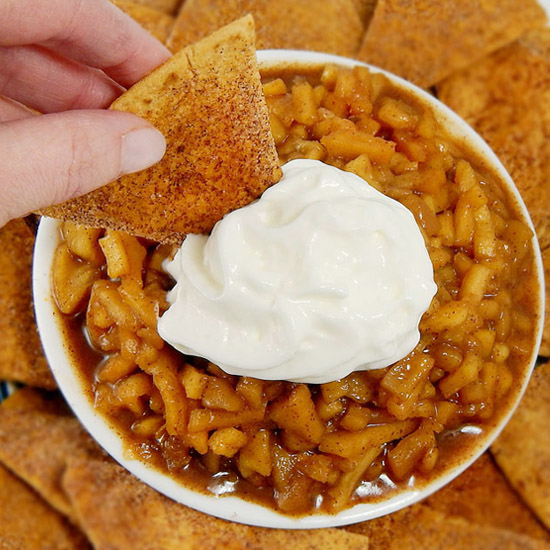 Applie Pie Salsa With Cinnamon Sugar Tortilla Chips
2015-02-23 18:23:21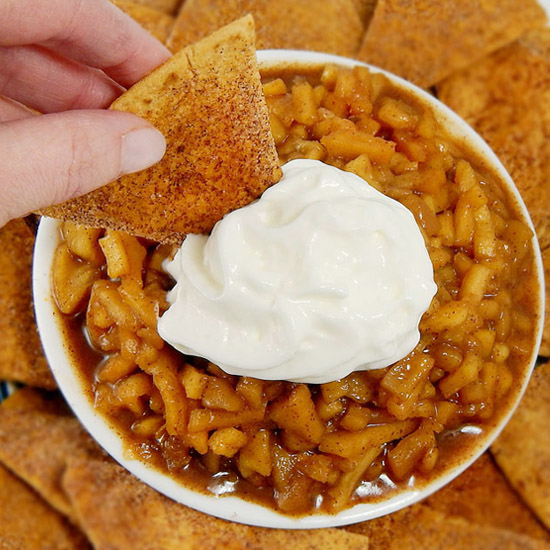 Serves 4
A fun dessert featuring spiced apples and sweet tortillas.
For the Salsa
4 medium Granny Smith apples, diced
2 teaspoons lemon juice
1 cup light brown sugar
2 tablespoons butter
1 teaspoon cinnamon
1/4 teaspoon nutmeg
1 tablespoon cornstarch
2 teaspoons vanilla
1/2 cup whipped cream (optional)
For the Cinnamon Sugar Chips
1/4 cup sugar
1 tablespoon cinnamon
5 flour tortillas
2 tablespoons melted butter
For the Salsa
In large sauté pan, combine apples, lemon juice, brown sugar, butter, cinnamon, and nutmeg. Cook over medium heat for 20 minutes, stirring occasionally. Stir in cornstarch. Cook for two minutes, stirring occasionally. Remove from heat. Stir in vanilla. Serve warm. Top with whipped cream just before serving.
For the Cinnamon Sugar Chips
Preheat oven to 350 degrees.
In small bowl, combine sugar and cinnamon.
Brush both sides of each tortilla with melted butter. Rub cinnamon-sugar mixture onto both sides of each tortilla. Cut tortillas into wedges. Place on ungreased baking sheet. Bake for 14-16 minutes until brown and crisp. Cool on wire rack.
Notes
Salsa is best served warm.
Salsa can be stored tightly covered in refrigerator for up to two days then reheated in microwave. Chips do not need to be refrigerated.
Frosting and a Smile http://frostingandasmile.com/