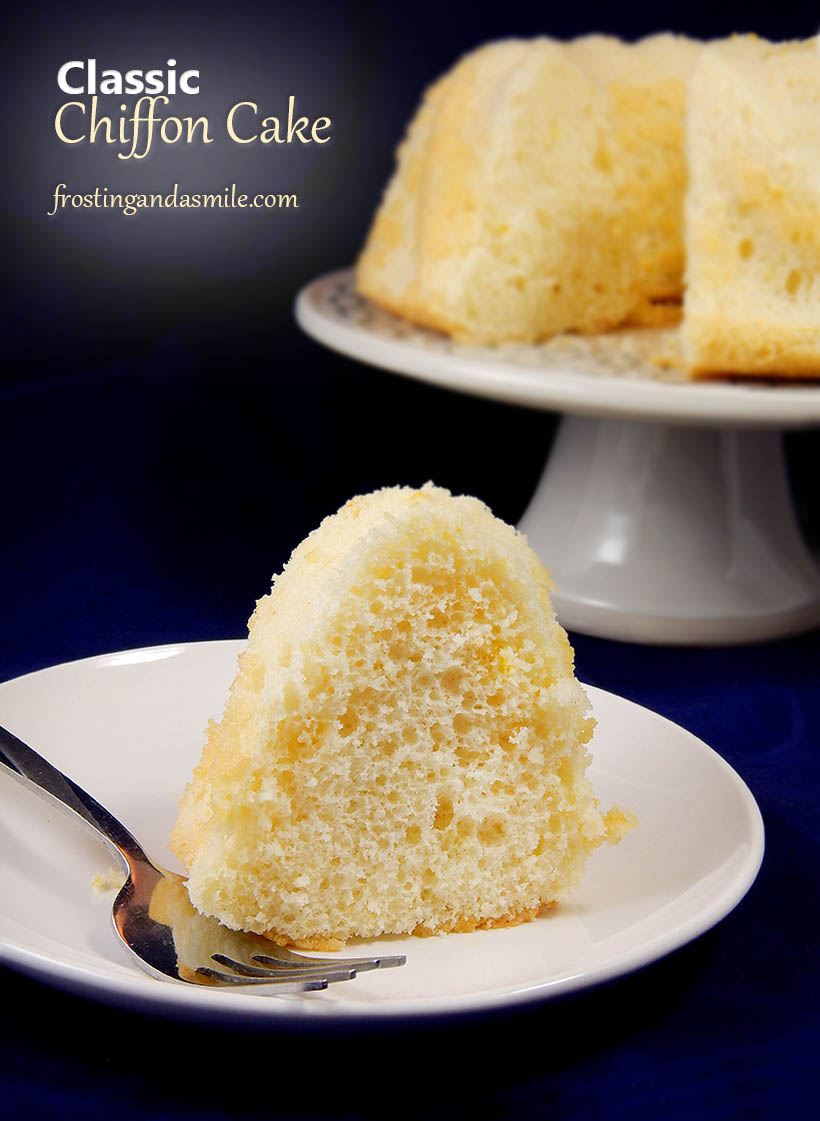 Original Chiffon Cake Recipe –
You have finally found it! This is the chiffon cake recipe your grandma used to make. I have been on a quest to create a light and fluffy cake made from scratch for months. I wanted something as light as an angel food cake but with more richness. I tried and failed. Then, tried and failed some more. Along the way, I discovered someone else created the cake I've been imagining generations ago!
When Harry (Baker) Met Betty (Crocker)
Many sources credit insurance salesman Harry Baker with inventing the original Chiffon Cake in 1927. It rose to fame as the legendary Brown Derby restaurant's signature dessert. Hollywood movers and shakers flocked to sample the light and airy cake. If they had the internet back then, the Kardashians would have posted selfies with this retro dessert status symbol.
Baker sold his recipe to General Mills. In 1948, the company created a Betty Crocker cookbook filled with many Chiffon Cake variations.
Betty Crocker's Original "Chiffon Cake Recipes and Secrets"
If you Google "Chiffon Cake" you get about 1,700,000 results in 0.19 seconds. Even with all of that chiffon info at my fingertips, I just had to have the original cookbook. I know some of you cookbook junkies out there understand.
It was much harder than I expected to find. I had no luck on Ebay and nothing came up in an Amazon used book search. However, a Google image search showed there was actually one listed on Amazon! [Insert recipe geek dance.] I snagged it for just about $7!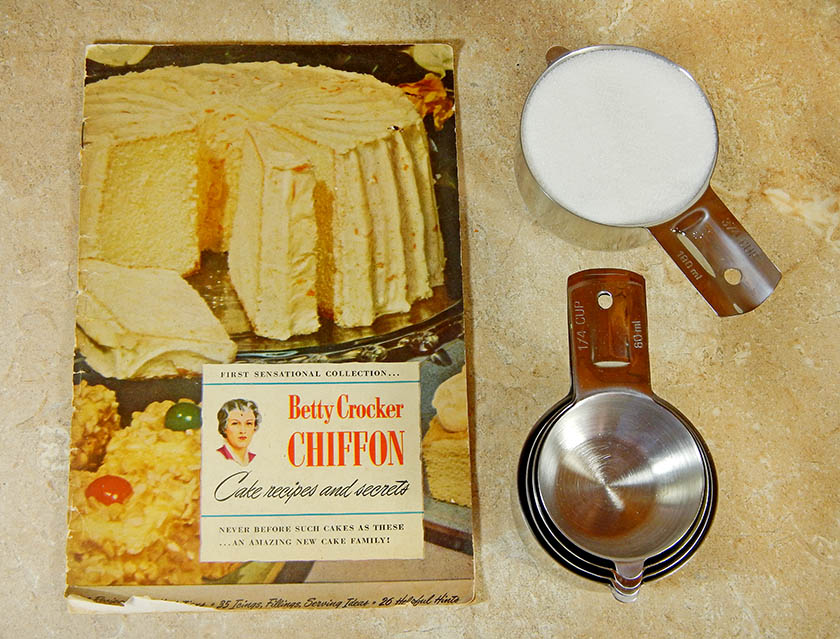 The vintage pamphlet calls Chiffon Cake, "The biggest cake-making news in a century!" It also claims, "Even the beginner can produce a luscious Chiffon Cake." Apparently the standards for easy beginner baking were a lot different in 1948.
As years passed, Americans abandoned kitchen traditions in favor of instant, quick, and prepackaged processed foods. Now, many of us our getting back to our homemade roots. We want to eat more real food and to make it ourselves so we know where it is coming from.
Won't you join me as I take a step back in time to make an original chiffon cake? No June Cleaver pearls required.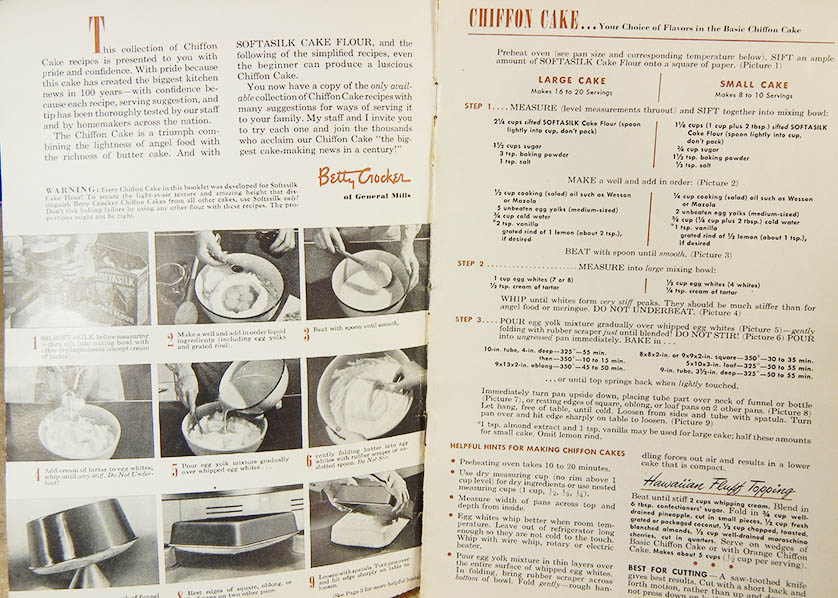 The pamphlet includes instructions for different types of pans and pan sizes. Here, we will use the small 9-inch tube pan version.
How to Make Chiffon Cake Step-by-Step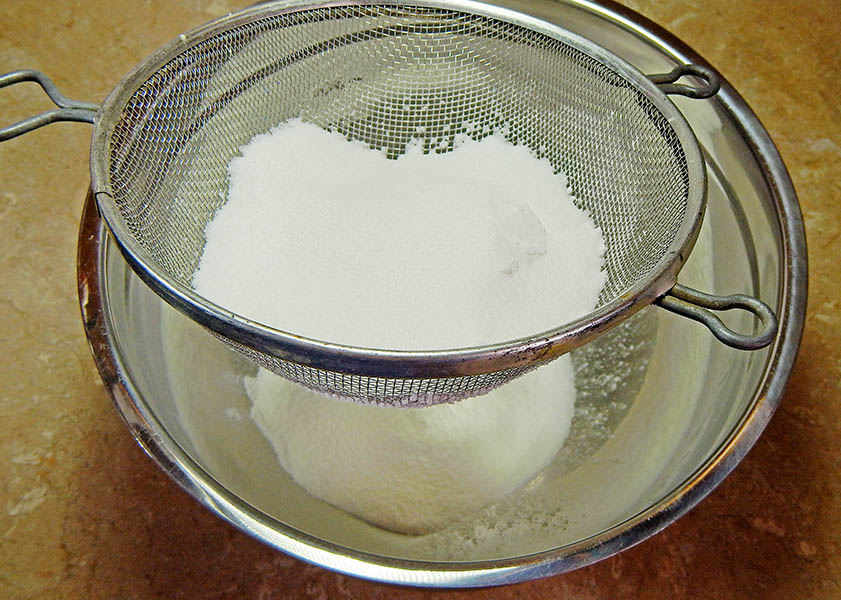 In a large bowl, sift together 1 cup plus 2 tablespoons of sifted cake flour, 3/4 cup sugar, 1 and 1/2 teaspoons of baking powder, and 1/2 teaspoon of salt.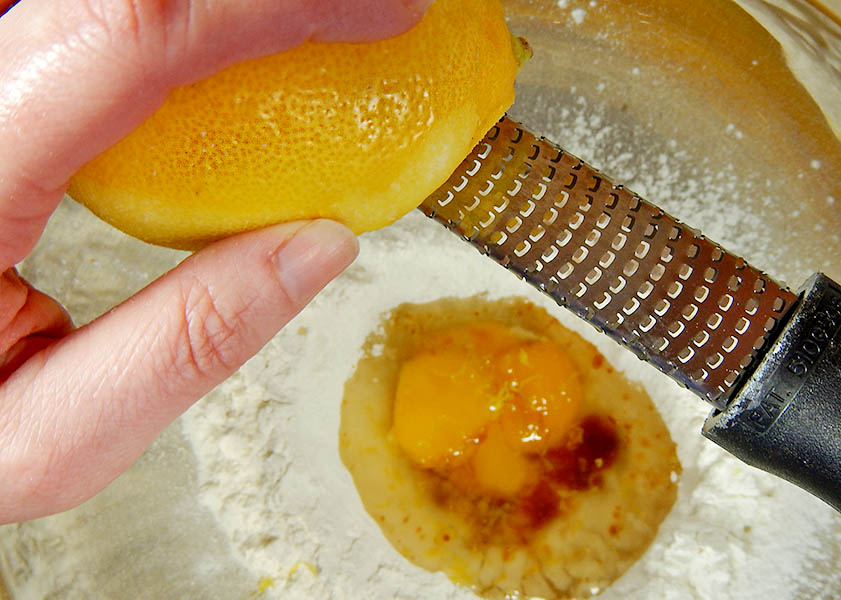 Make a well in the center of your dry ingredients. Pour 1/4 cup cooking oil (I used vegetable oil), 2 unbeaten medium-sized egg yolks, 1/4 cup plus two tablespoons of cold water, and the zest of 1/2 a lemon into the well. Beat this with a spoon until it's smooth.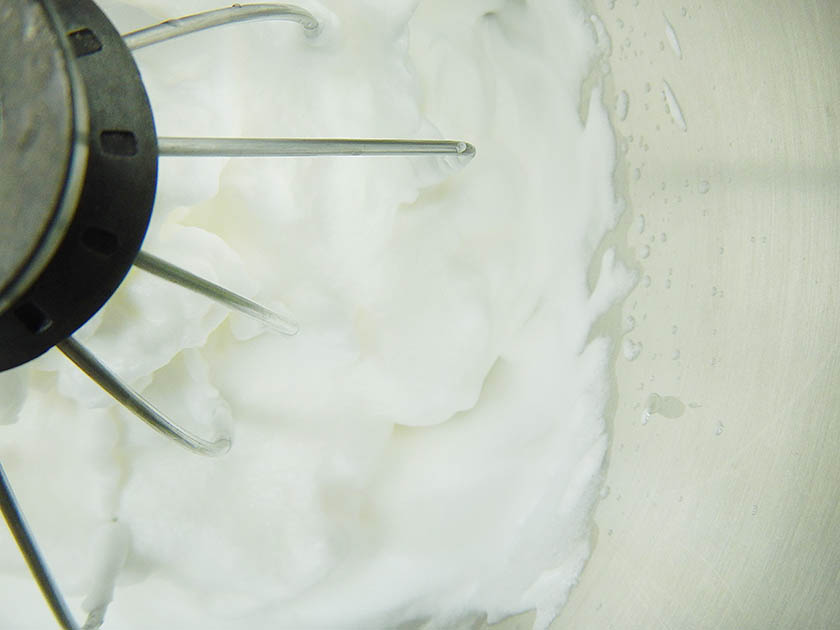 In a separate large bowl, beat 1/2 cup (that's about 4) egg whites with 1/4 teaspoon cream of tartar. Your beaters will get a workout here. You want the whites to be even stiffer than you would use for an angel food cake or meringue. When done, they will look shiny but not dry. If you cut a line through the beaten whites with a wooden spoon, it should leave a sharp groove.
Tip: Egg whites beat better at room temperature. You can set them out before you preheat the oven to get a head start.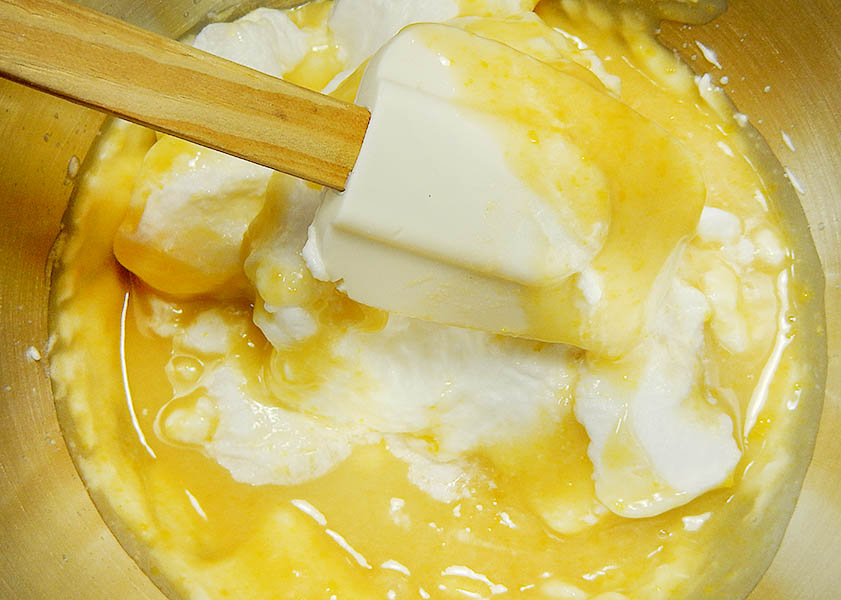 Pour the batter over the egg whites. Then, ever-so-gently fold everything together. To fold, bring a rubber scraper across the bottom of the bowl then gently pull it up and over the top of the batter. You want to keep as much of the air that you beat into the eggs as possible. Fold until you reach a uniform color with no streaks.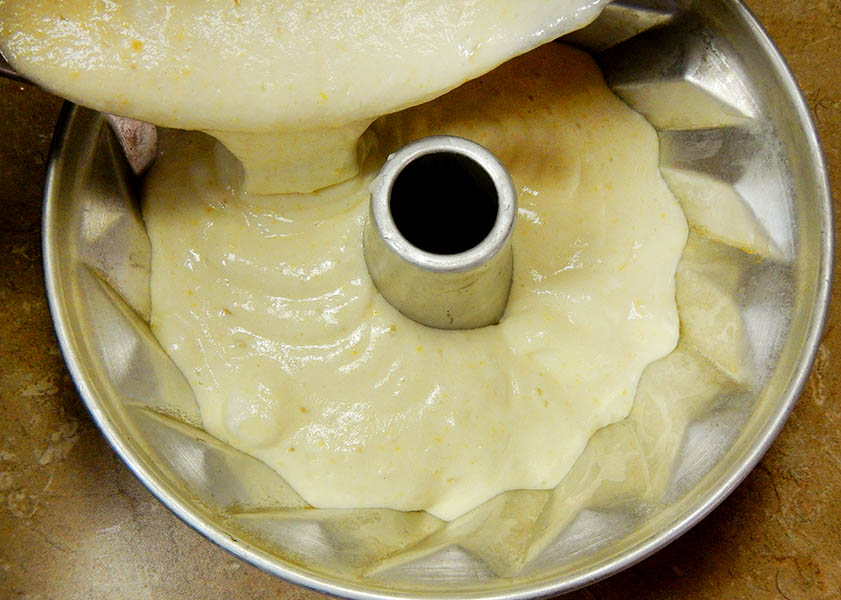 Pour the batter into an ungreased tube pan. I know, it sounds unusual to leave the pan naked but doing it this way helps the cake climb up the side of the pan and form that nice light texture. Bake at 325-degrees for 50-55 minutes.
The original Betty Crocker cake instructions say you will know it is done when the top springs back after a gentle touch.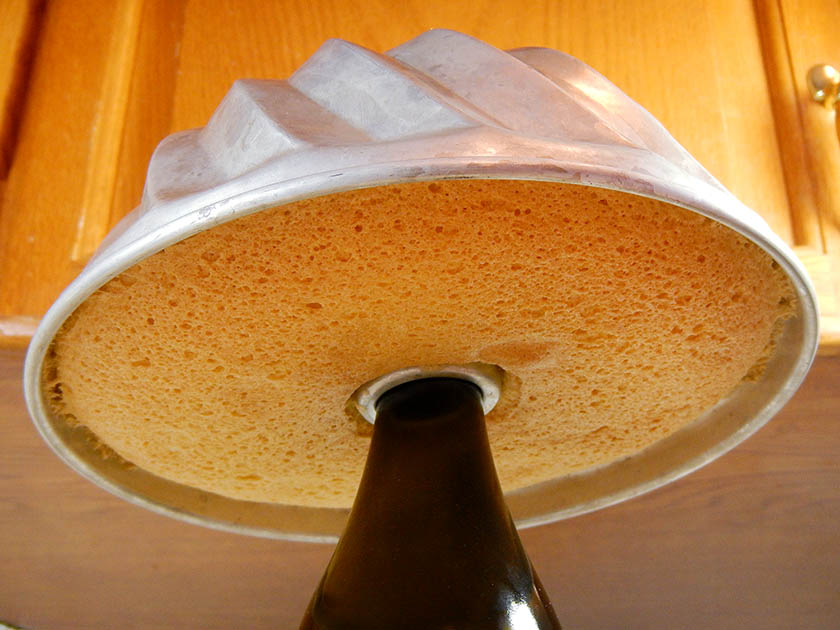 Immediately turn your pan upside down onto a bottle or a funnel. Please be careful. Oh please, please be careful. I confess, I had to do the kitchen walk of shame to a cold running faucet because I wasn't so careful myself. The small burn scar on my left thumb proves it. Ouch! I don't know how Harry Baker came up with the idea to balance a blazing hot pan upside down but apparently this step is key to prevent a cake collapse and to get just the right texture.
Let that hang out until it's completely cool. Run a spatula or small knife around the edge and tap the pan on the counter to remove the cake. You may have to gently pull to remove it completely.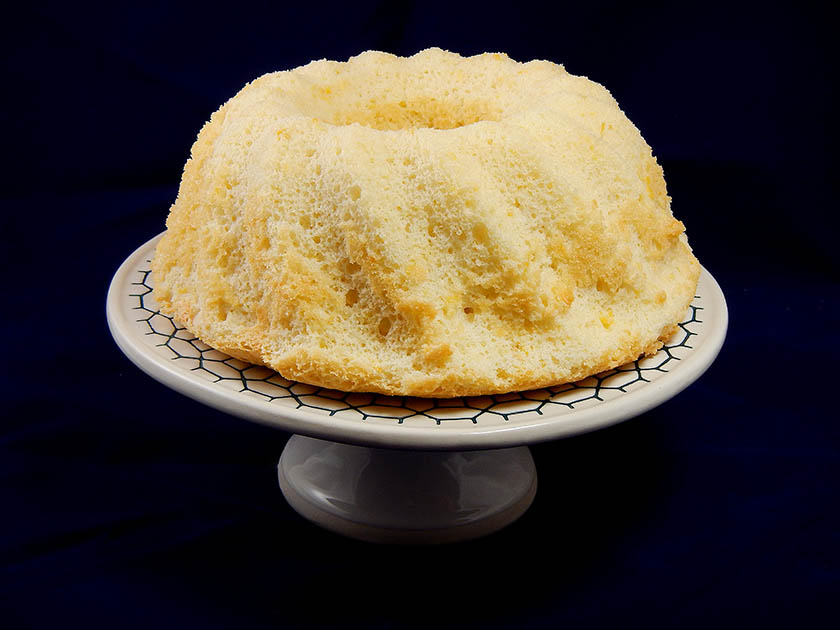 There it is, a light and fluffy cake just like your Grandma used to make!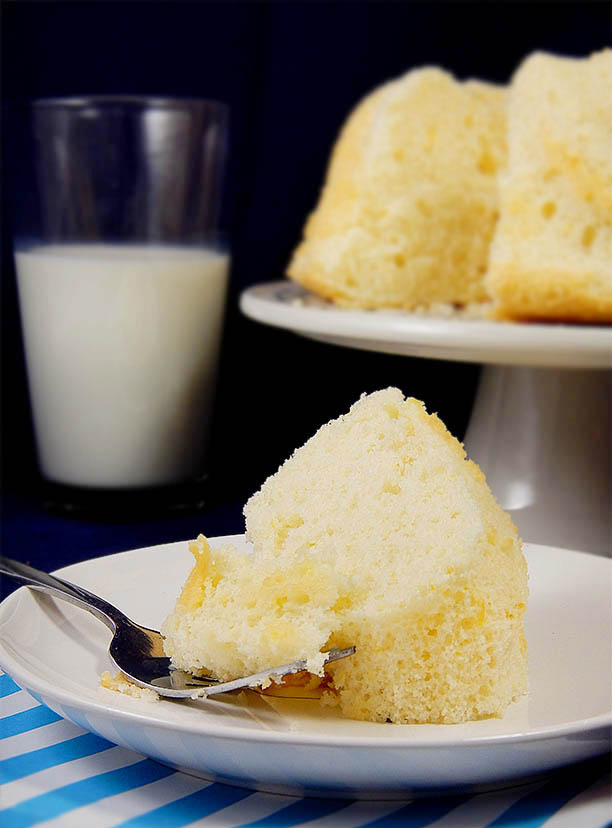 This is best served with some sort of whipped topping or ice cream. It is fantastic with my homemade vanilla whipped cream.
In the 1940s and '50s hosts served Chiffon Cake with Betty Crocker's Hawaiian Fluff Topping.
For more fun dessert recipes and kitchen tips follow me on Facebook, Twitter, or Pinterest. You can also sign up for a free email recipe subscription.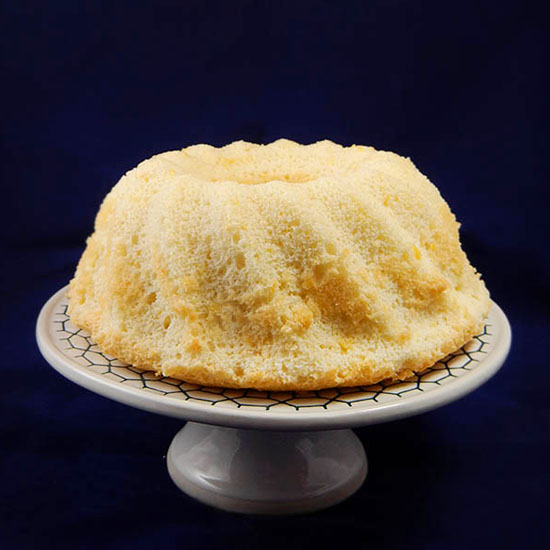 Classic Chiffon Cake
2015-03-08 12:05:46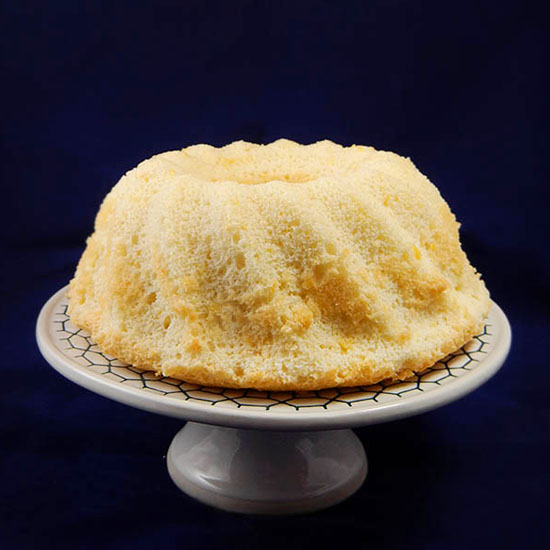 Serves 8
The original Chiffon Cake recipe makes a fluffy cake with a light lemon flavor.
Ingredients
1 cup plus 2 tablespoons sifted cake flour
3/4 cup sugar
1 1/2 teaspoons baking powder
1/2 teaspoon salt
1/4 cup vegetable oil
2 unbeaten medium egg yolks
1/4 cup plus 2 tablespoons cold water
1 teaspoon vanilla
Grated zest of 1/2 lemon (about 1 teaspoon)
1/2 cup (about 4) egg whites
1/4 teaspoon cream of tartar
Instructions
Preheat oven to 325 degrees.
In large bowl, sift together cake flour, sugar, baking powder, and salt.
Make a well in the center of the dry ingredients. Place cooking oil, egg yolks, cold water, vanilla, and lemon zest into well. Beat with a spoon until smooth.
In another large bowl, combine egg whites and cream of tartar. Whip until very stiff peaks form.
Pour the batter over the whipped egg whites. Gently fold until all streaks disappear.
Pour into an ungreased 9-inch tube pan. Bake for 50 to 55 minutes. You will know the cake is done when it top springs back from a gentle touch.
Turn pan upside down onto the neck of a bottle or funnel to cool completely. Use a spatula to gently loosen the edges, then tap the pan on a table to remove the cake.
Notes
Serve with whipped cream or ice cream.
Store tightly covered for up to two days.
Frosting and a Smile http://frostingandasmile.com/