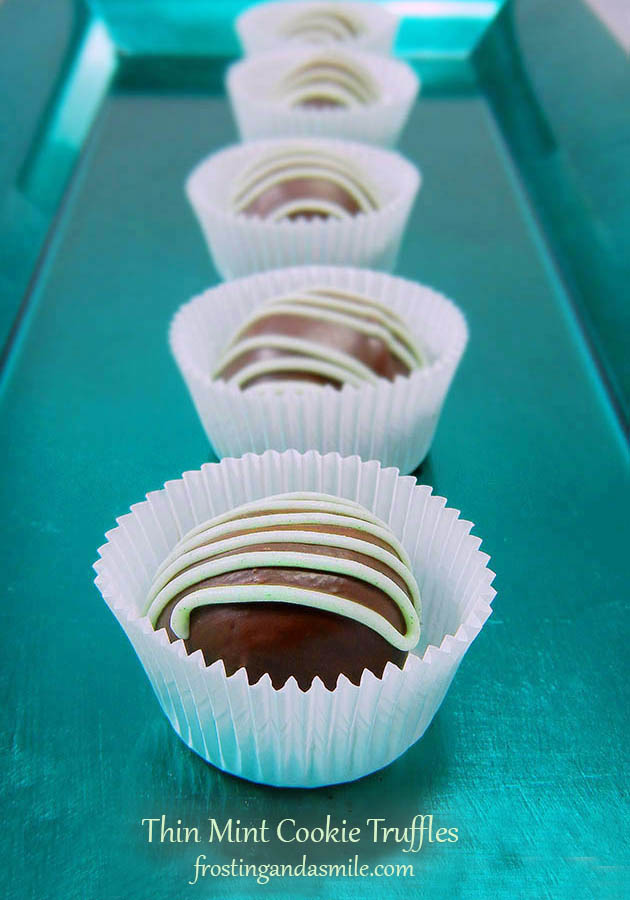 Thin Mint Truffles –
Cookies and candy in one luscious bite, dessert doesn't get much better than this! You snap through a smooth chocolate shell to reveal melt-in-your mouth chocolate filling highlighted with mint cookie flecks.
You may have noticed this is the second week in a row featuring a recipe made with Girl Scout Thin Mint Cookies. Plus, I previously shared Quadruple Thin Mint Cupcakes and Mini Thin Mint Cheesecakes. There will be one more Thin Mint recipe next week (Hint: You won't need an oven but you will need a freezer).
Why all the Thin Mint love?
1. Chocolate + Mint = True Love 4 Ever
2. Girl Scout Guerilla Tactics
The girls in my neighborhood hustle like crack dealers at a Charlie Sheen party.
Each week during cookie season, I pushed through -10 degree wind gusts toward my grocery store entrance. Bundled up scouts barricaded the door with their table of temptations. Pastel scarves bedazzled with glitter covered their mouths but I still heard them unleash the words, "Excuse me miss, would you like to buy some Girl Scout Cookies?"
How can anyone say no to that? If I ignored their Rudolph noses and bright eyes watering from the wind's sting I would feel cruel. So — I ended up with more boxes than I care to admit.
The good news is my cookie hoarding lead to some fun recipe experiments. This Thin Mint Truffle recipe is one of my favorites.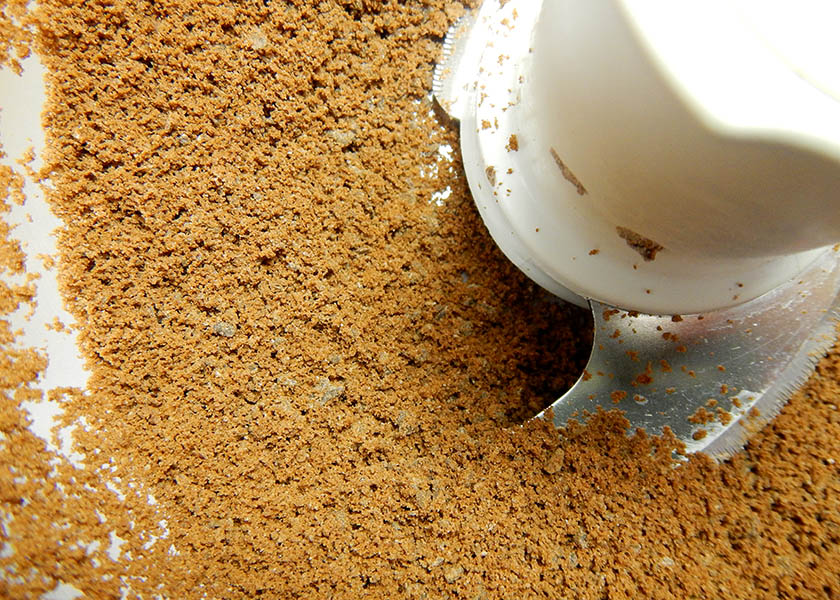 First we crush 14 cookies into fine crumbs. You can use a food processor, a hammer, a can of green beans, whatever you have on hand that would make a good smasher.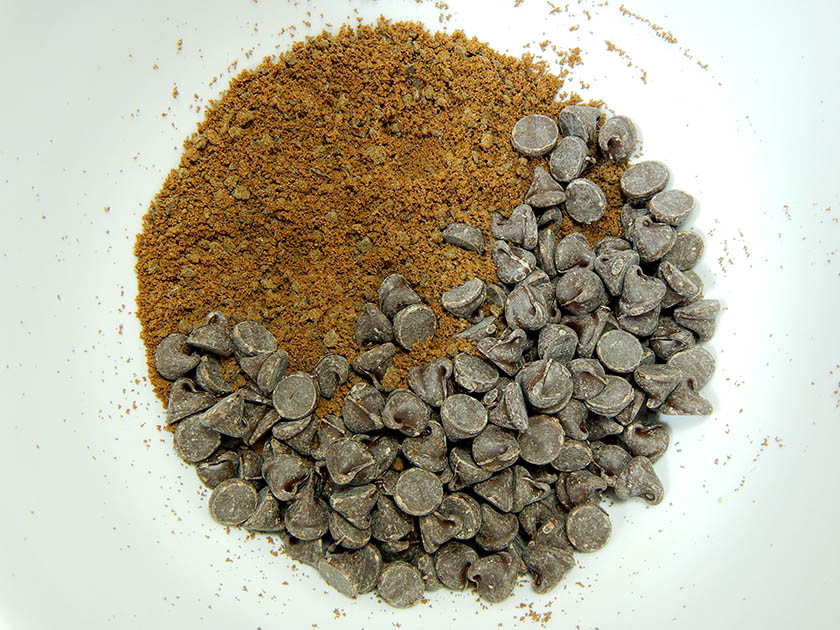 In a small bowl, combine the cookie crumbs and 1/2 cup semi-sweet chocolate chips. For the best results, use good quality chips. I like Ghiraldelli.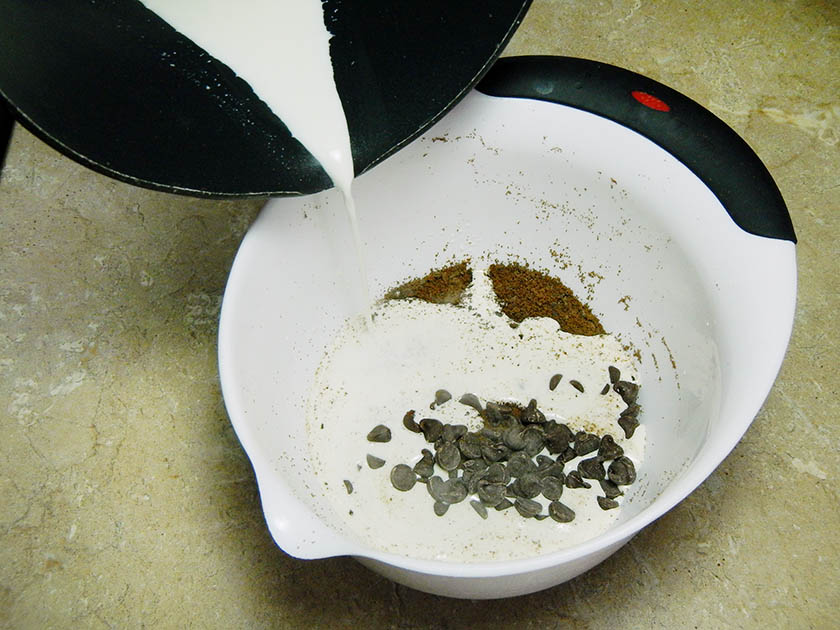 In a small saucepan heat 1/2 cup cream until it just starts to bubble. Please be careful when you do this. Cream is like a jealous lover; It boils over fast if you don't pay enough attention to it.
Pour the hot cream into the cookie crumb bowl. Let that sit for five minutes. Add 1/8 teaspoon of peppermint extract then whisk until it's smooth.
Now for the hard part. We put the Thin Mint Truffle Filling in the fridge and wait for it to set. When it comes to waiting for smooth-creamy-minty-rich-chocolate every second feels like an hour. It will probably take at least two hours to set. If I did that math right, it will feel like five days in chocolate waiting time.
Lock the fridge, go for a walk, read a book, do whatever you have to do to keep your tasting spoon out of there. Because once you start, you won't be able to stop. You want to have enough of this ganache to actually make some truffles with it.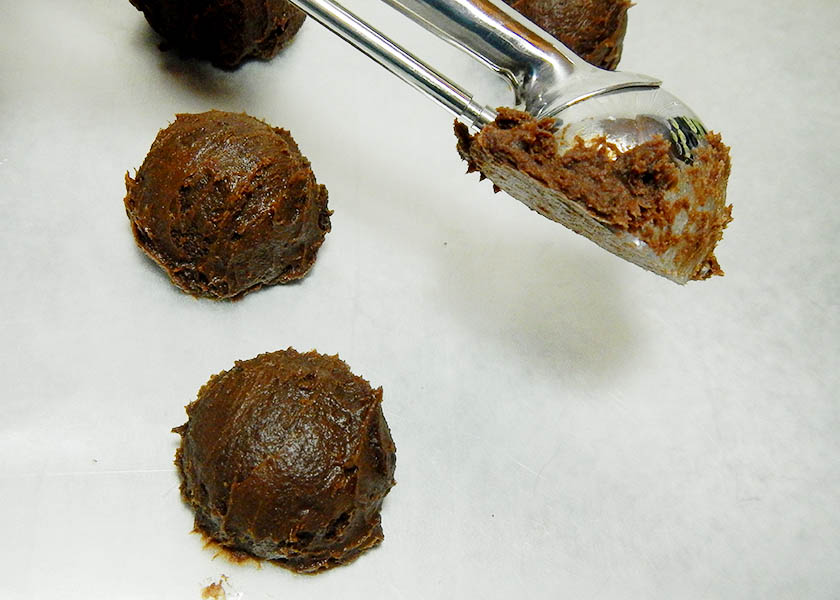 Once the Thin Mint Ganache is set, scoop it into tablespoon sized balls. A cookie scoop can be a hero here. Put the balls back in the fridge to chill for 15 minutes.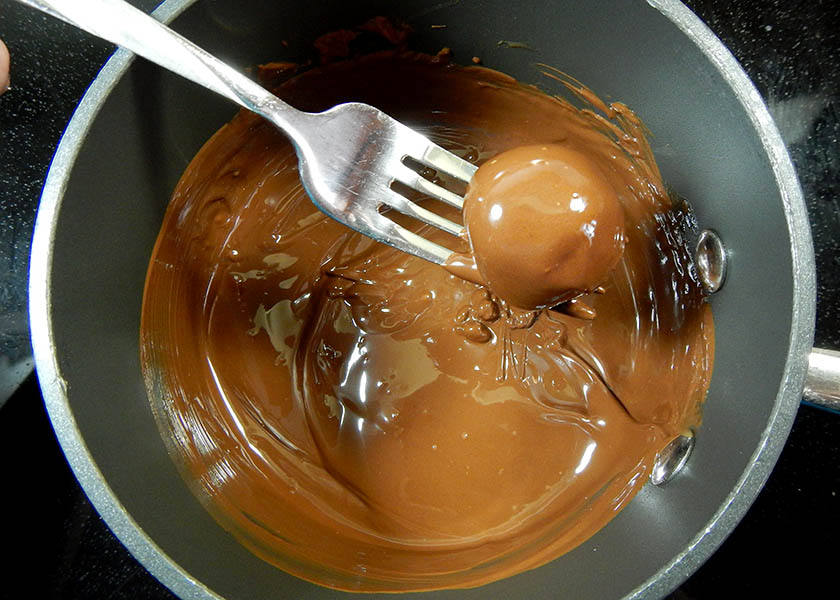 Now it's time to dip! Combine one teaspoon of vegetable oil and 1 1/2 cups semi-sweet chocolate chips in a small pot and melt over low heat. Stir often. Remove from heat and dip each truffle. Let the excess fall through your fork and then place on a wax paper covered pan to set.
If you're more advanced in the kitchen you could use tempered chocolate for this step.
If you'd like to keep it super-simple, you could use candy melts instead. You could also skip the dipping all together and roll the balls in crushed cookies.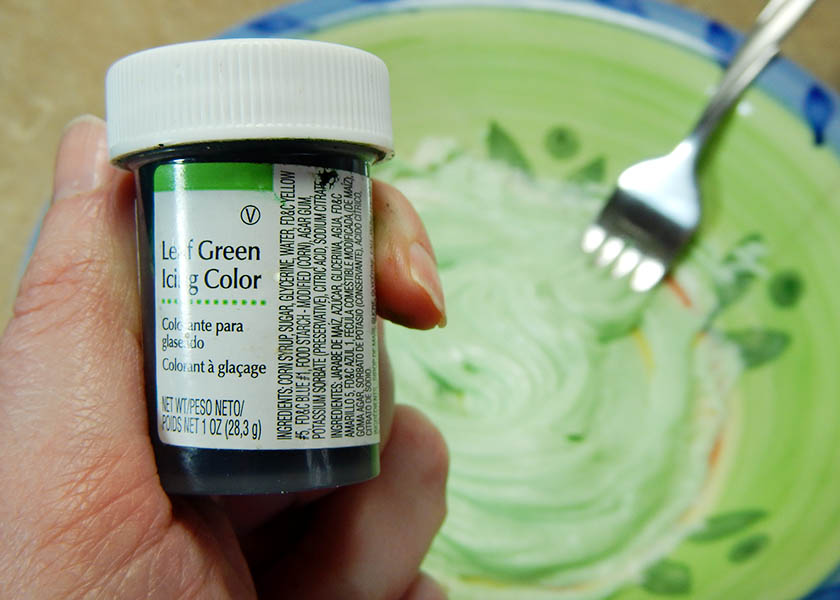 If you do dip, this is the next step. While the chocolate sets, make a pretty chocolate drizzle with white melted white chocolate chips or candy melts. You can buy pre-colored melts or dye your drizzle yourself with a few drops of gel color. I used Wilton Leaf Green.
Don't use liquid food coloring. That could cause your chocolate to seize.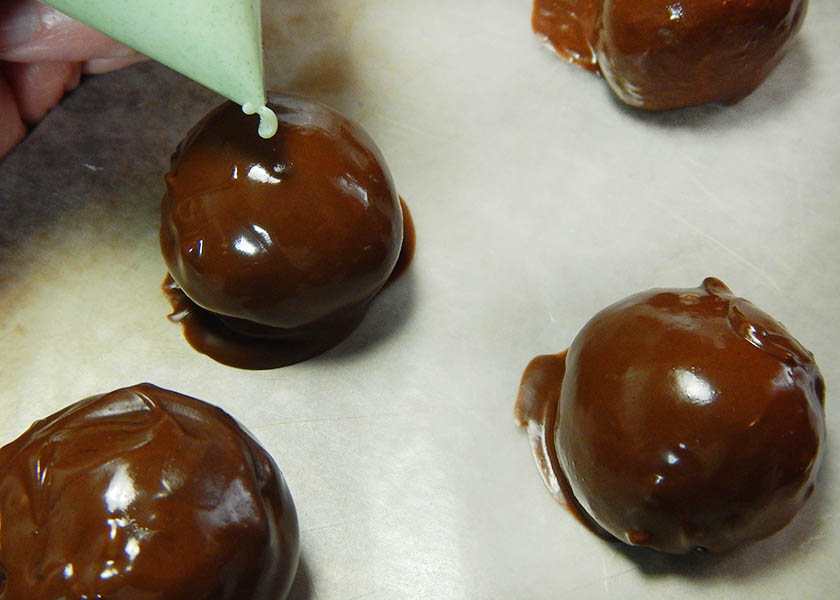 Drizzle colored chocolate onto each truffle. You can use a piping bag or just cut the edge off of a sandwich bag like I did here.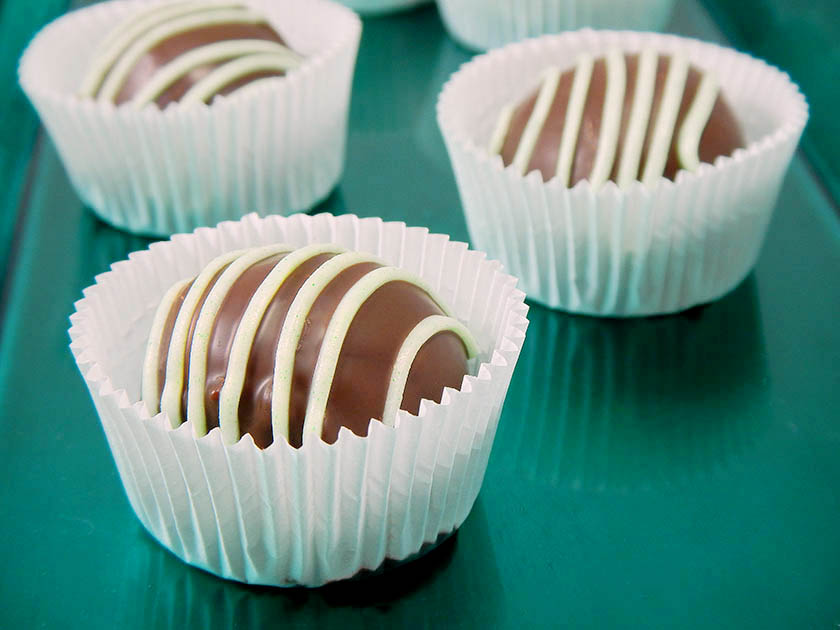 Now they're ready to serve! Aren't these little candy wrappers cute? You can find them in all kinds of colors at craft stores.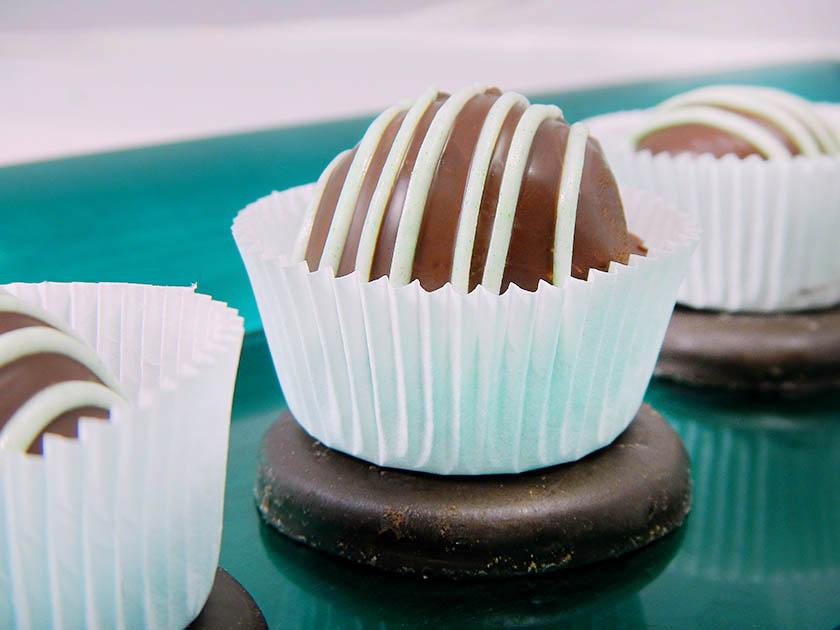 I had so much fun making candy out of cookies! Friends and family gave them great reviews.
It was tempting to eat them all myself before I shared them. If you're making gifts, make sure you get them out of the house quickly!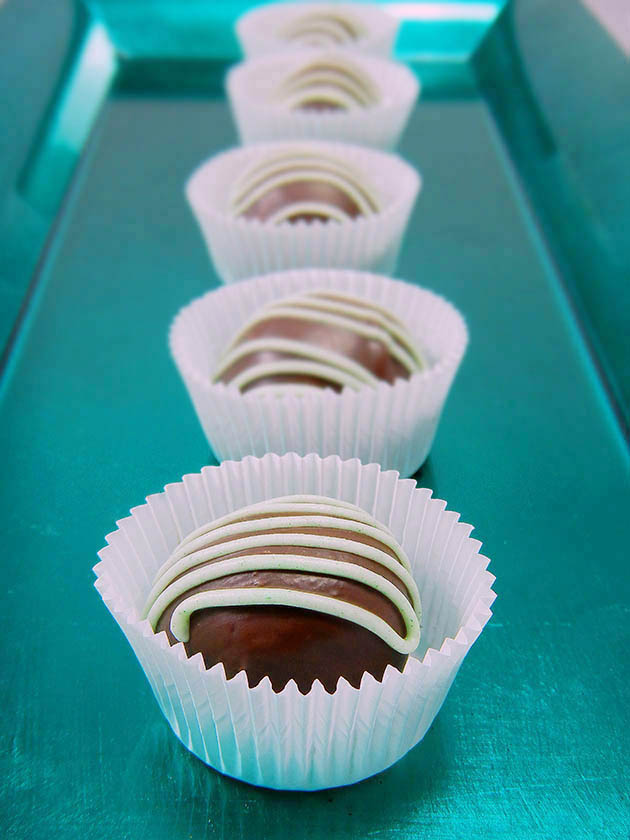 For more delicious recipes and fun kitchen ideas, you can follow me on Facebook, Twitter, or Pinterest. You can also sign up for a free email recipe subscription.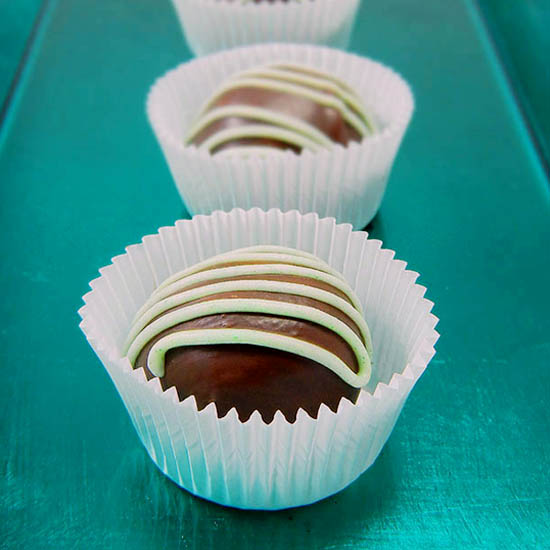 Thin Mint Truffles
2015-03-31 20:04:30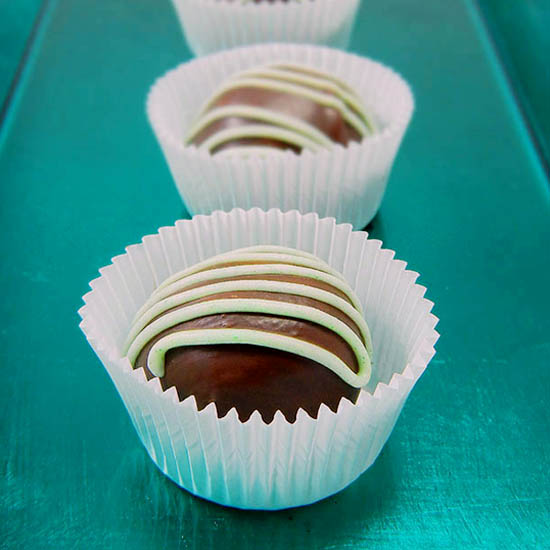 Luscious chocolate truffles filled with flecks of Thin Mint Cookies.
For the Centers
14 Thin Mint Girl Scout Cookies, crushed
1/2 cup (3 ounces) high quality semi-sweet chocolate chips
1/2 cup (4 ounces) heavy cream
1/8 teaspoon peppermint extract
For the Coating
1 1/2 cups (9 ounces) high quality semi-sweet chocolate chips
1 teaspoon vegetable oil
For the Drizzle
1/4 cup white chocolate or candy melts
3 drops green gel food coloring
Instructions
In medium bowl, combine crushed cookies and 1/2 cup semi-sweet chocolate chips.
In small saucepan, heat cream over medium heat until it just bubbles. Carefully pour hot cream over crumbs and chocolate chips. Let sit for five minutes. Add peppermint extract. Whisk until combined. Refrigerate until set, at least two hours.
Shape cooled mixture into tablespoon-sized balls. Place on wax paper lined cookie sheets. Chill for 15 minutes.
In small saucepan, melt 1 1/2 cups chocolate chips with 1 teaspoon of vegetable oil. (If desired, you could use candy melts or tempered chocolate instead of this mixture).
Dip balls into chocolate with a fork. Let excess chocolate drip back into pan. Place on wax-paper covered cookie sheets to set.
In small bowl, combine gel food coloring and white chocolate or candy melts. Drizzle over candies. Let set. Serve.
Notes
Best served at room temperature. Store tightly covered in refrigerator for up to two days.
You can substitute Keebler Grasshopper Cookies for Thin Mint Cookies.
You could replace the melted chocolate coating with candy melts or roll the truffles in crushed cookies.
Frosting and a Smile http://frostingandasmile.com/