How to Make Edible Cupcake Wrappers out of Chocolate –
We are about to embark on a journey to a magical place where you can have your cake and eat the container too. These edible chocolate cupcake wrappers are the first step toward the Ultimate Chocolate Peanut Butter Swirl Cupcakes. The wrappers look like the outside of peanut butter cups and they taste just as good. How fun is that!?
Of course you don't have to reserve them just for peanut butter cupcakes. You can pop just about any cupcake flavor you can imagine into these liners.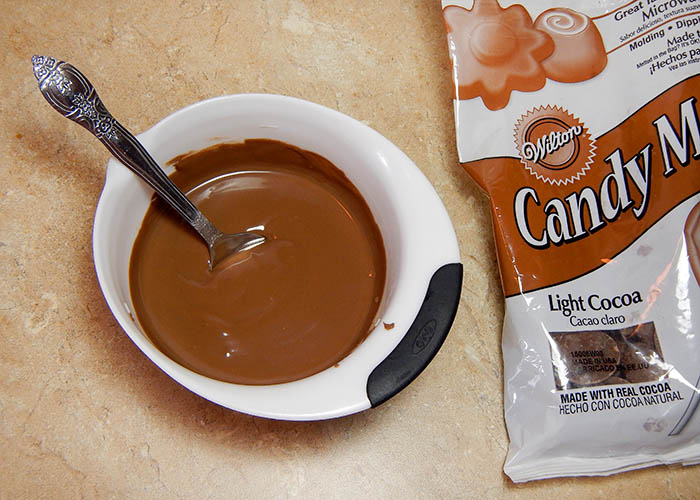 Wilton Candy Melts work perfectly for this project. You can get them in light cocoa, dark cocoa, white, and many other colors. One 12 ounce bag makes about 14 to 16 wrappers. It depends on how thick you spread the coating.
You can melt your chocolate on the stove top or in the microwave. I microwave mine on half power for thirty seconds at a time. Stir it after each thirty second interval. To avoid burning, don't melt it completely in the microwave. Let the last solid bits dissolve while you stir.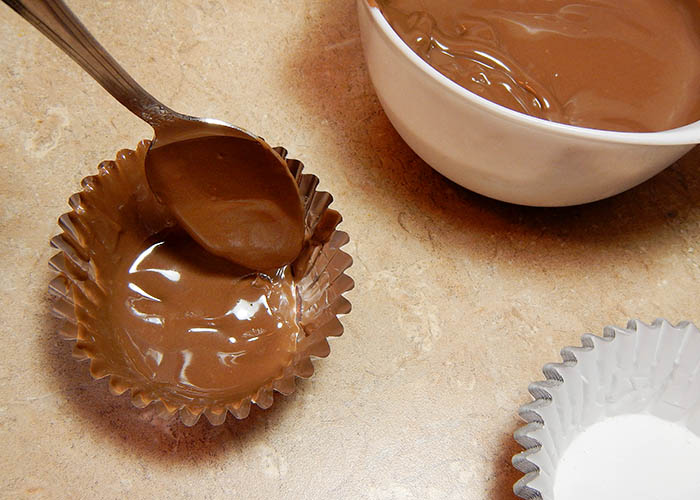 Use foil cupcake liners as a mold for your edible cupcake liners. Foil holds its shape much better than paper wrappers.
Just scoop a spoonful of chocolate into each liner. Then drag the candy up the sides of the wrapper. Press it into all the nooks and crannies right up to the top border. You want to cover the entire inner surface so you don't see any silver peaking through.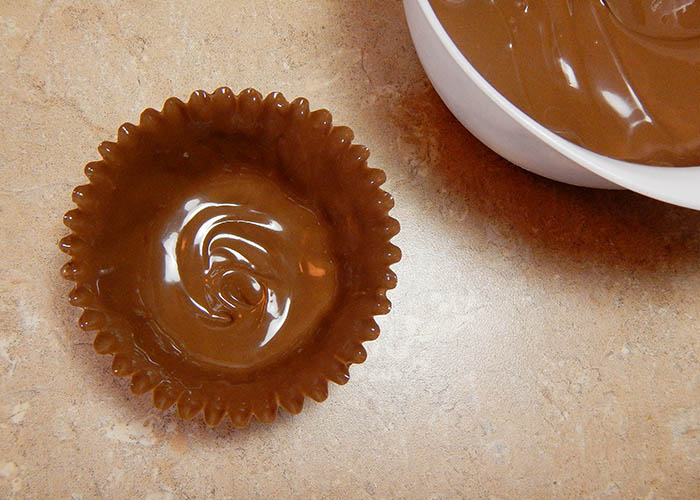 If you see any thin or bare spots, spread some chocolate from the bottom of the cup back toward the top to cover them.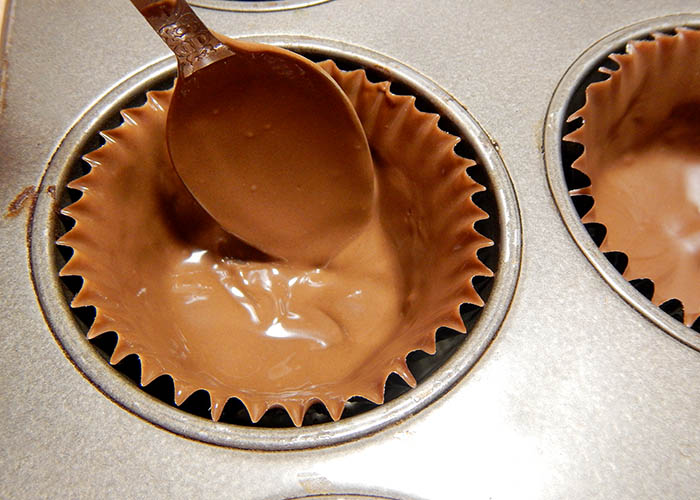 If you find the wrappers too flimsy to work with, you can put them in muffin tins for more stability. This will really help you press the chocolate into the side. Once they are all coated, let them set until solid. You can place them in the fridge to speed up the process.
I wish I had more hands to photograph this part for you. To peel an edible wrapper from the mold, hold it firmly from the base with your thumb on the outside and index finger inside. Try not to press the sides because too much pressure will shatter them.
Gently poke a knife into the bottom foil and slide in a circular motion to start peeling.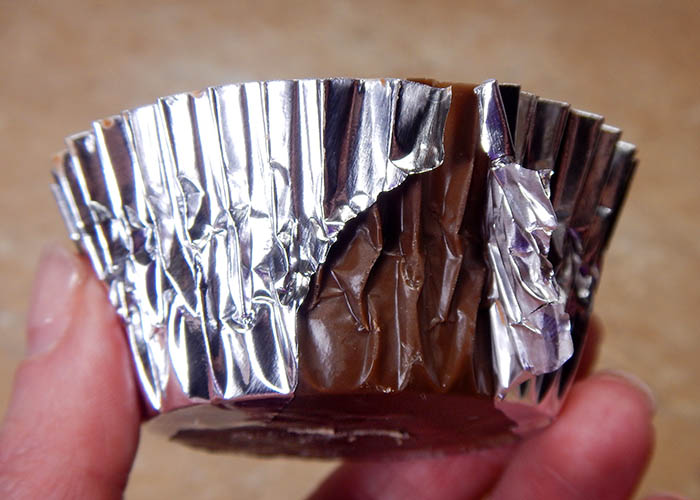 Carefully peel upward to reveal your creation.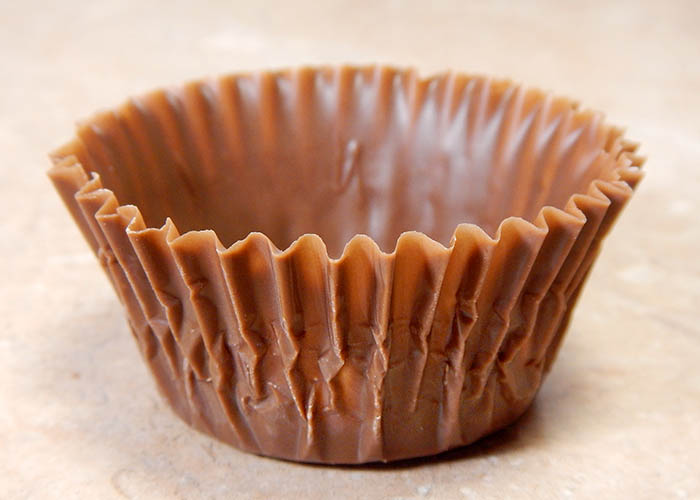 And there's your masterpiece, an edible candy cupcake liner.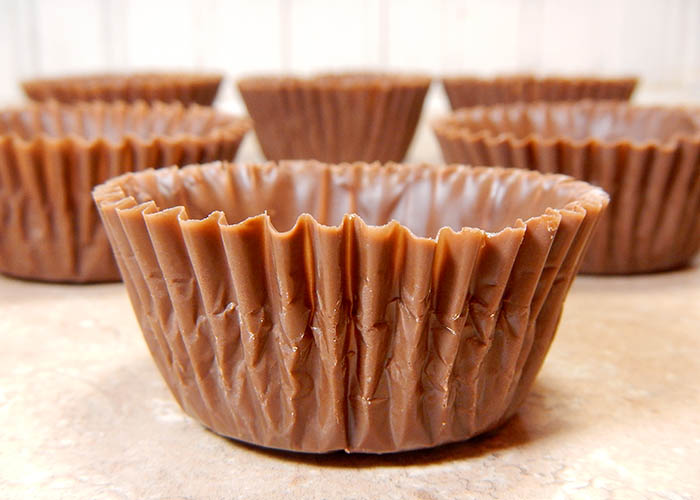 Just remove cupcakes from the paper wrappers you baked them in and pop the finished cakes into these.
A set of candy cupcake wrappers looks adorable on a dessert buffet.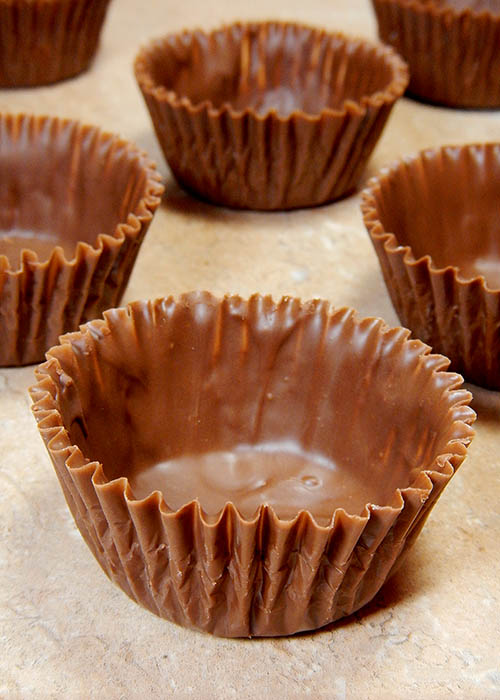 They're not just for cupcakes. You can fill your chocolate bowls with candy, pudding, fruit, ice cream sundaes, and more! Let your imagination run wild.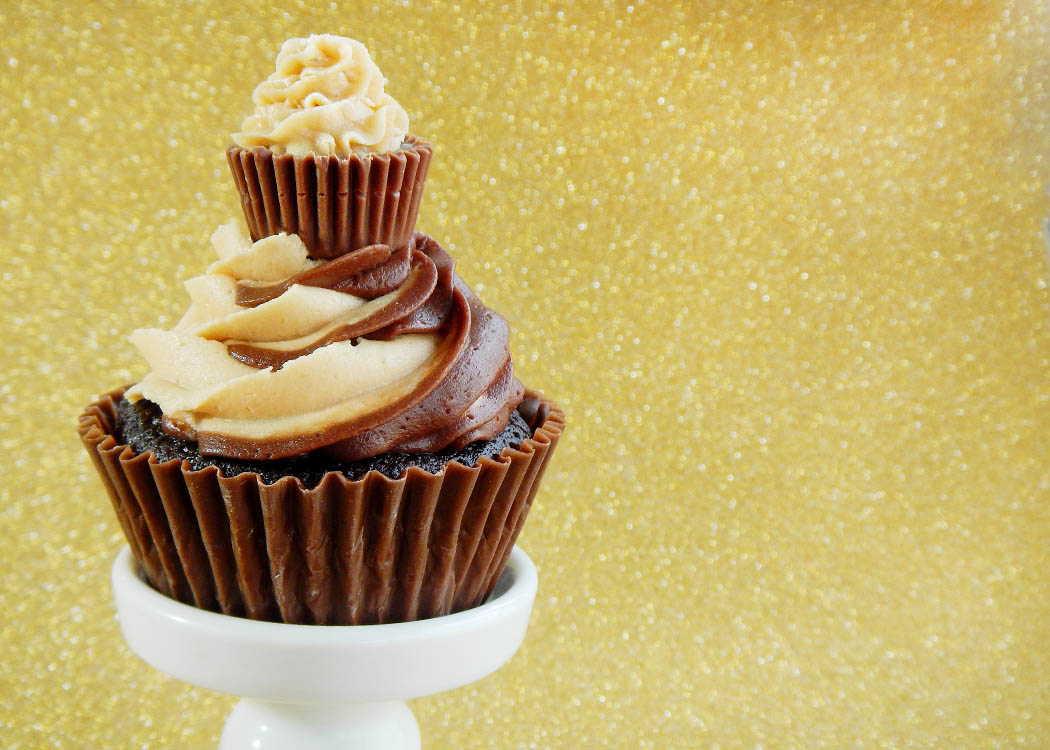 Here's how they look holding The Ultimate Chocolate Peanut Butter Swirl Cupcake.
To make sure you don't miss out on any of the fun dessert recipes or kitchen ideas, you can follow me on Facebook, Twitter, or Pinterest. You can also sign up for a free email recipe subscription.
I'd love to hear what you put in your edible cupcake wrappers. Let me know in the comment section at the bottom of this page!