Comments Off

on Cupcake Cake Toppers

Cupcake Cake Toppers –
If you want to get extra "oohs" and "aahs" when you make cupcakes, top them with these baby "cakes" made out of candy. Use mini peanut butter cups as the base of these miniature "cupcakes." They're fast and fun to make and look adorable crowning cupcakes or full-sized cakes.
I wasn't really sure what to call these. "Reese's peanut butter cup candy cupcake cake toppers" seemed to capture it all but that's a bit of a mouthful. Sure, it's a delicious chocolate peanut butter mouthful, but still a bit much to take in.
So, I settled on the shorter "cupcake cake toppers." I'd love to hear your creative name suggestions! Let me know if you have any ideas in the comment section at the bottom of the post.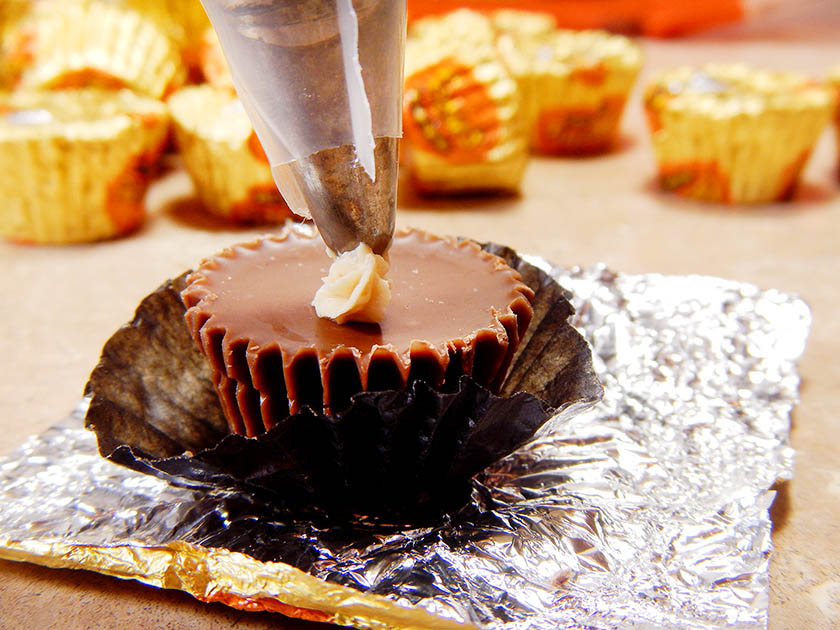 Homemade frosting works best for this project. I used leftover peanut butter frosting from my chocolate peanut butter swirl frosting recipe. Just for you, I wrote a recipe for a small batch of peanut butter frosting to go with these cupcake toppers. You'll find it near the bottom of this page.
My classic vanilla buttercream frosting or chocolate buttercream frosting would also work well.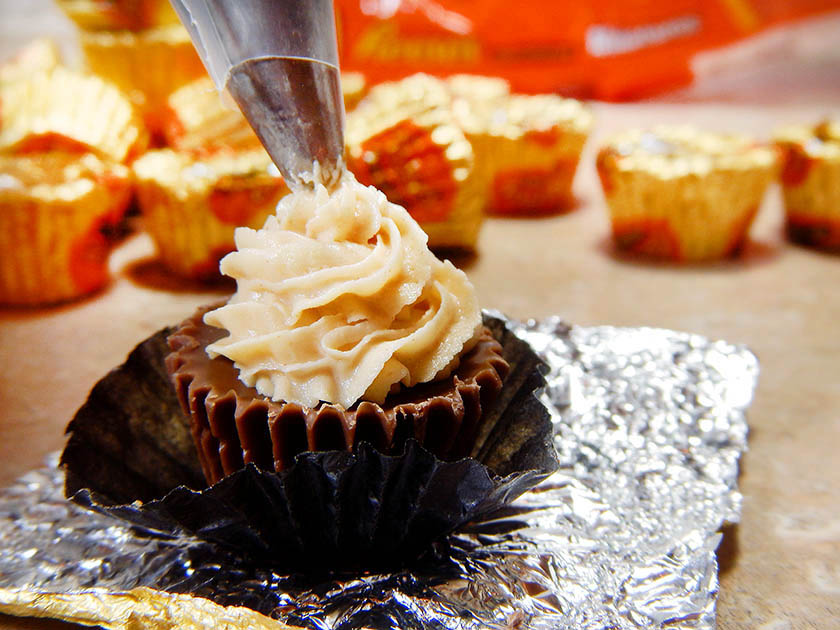 Pipe a swirl of frosting onto little peanut butter cups. I used a Wilton #18 closed star tip. Start in the middle. With steady pressure, pipe a circle around the center. Gradually overlap swirls of frosting until you have that classic cupcake shape.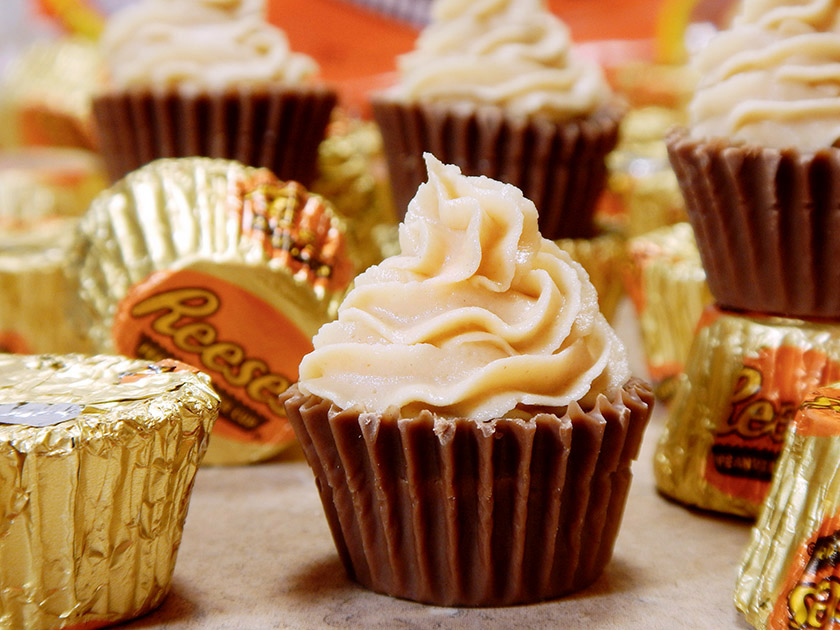 Isn't that adorable?! I just want to pinch its little cupcake cheeks.
While these are plain, you can certainly get creative. Try adding sprinkles, miniature chocolate chips, nuts, or even tiny cherry runt candies on top.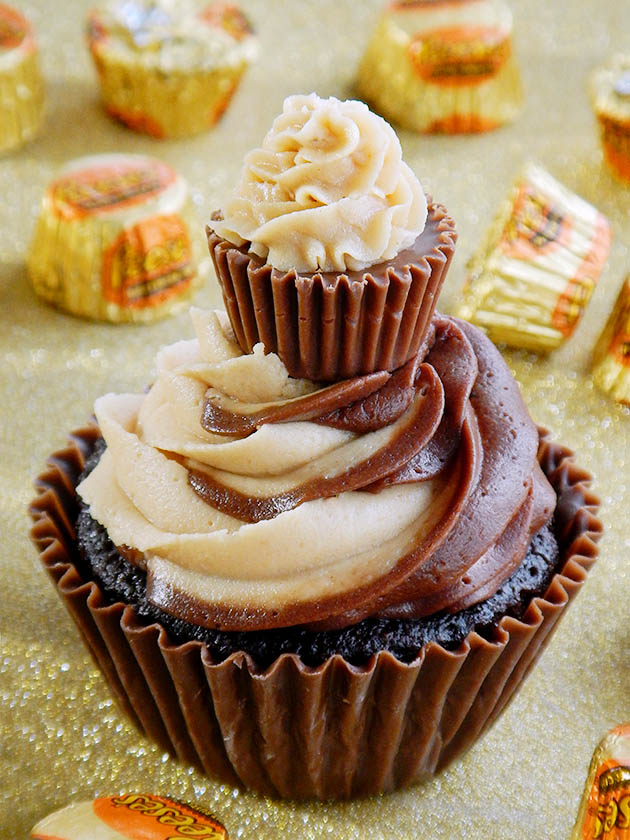 Here you see the candy cupcake toppers perched on my Ultimate Chocolate Peanut Butter Swirl Cupcakes. They are chocolate cakes tucked in edible chocolate cupcake wrappers with chocolate peanut butter swirl frosting.
To make sure you don't miss out on any fun recipes, you can follow me on Facebook, Twitter, or Pinterest. You can also sign up for a free email recipe subscription.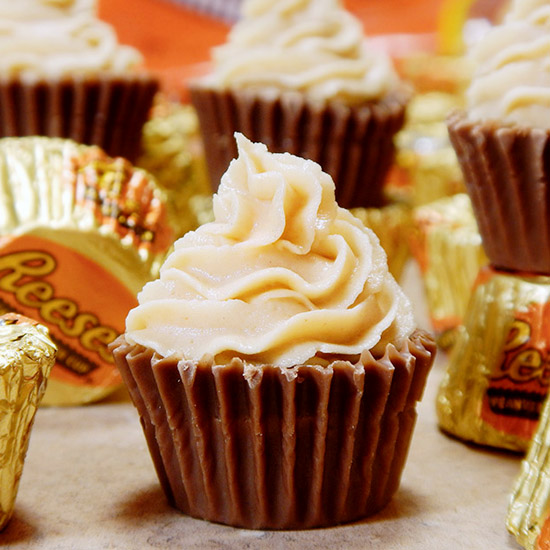 Small Batch Peanut Butter Frosting
2015-05-25 16:29:39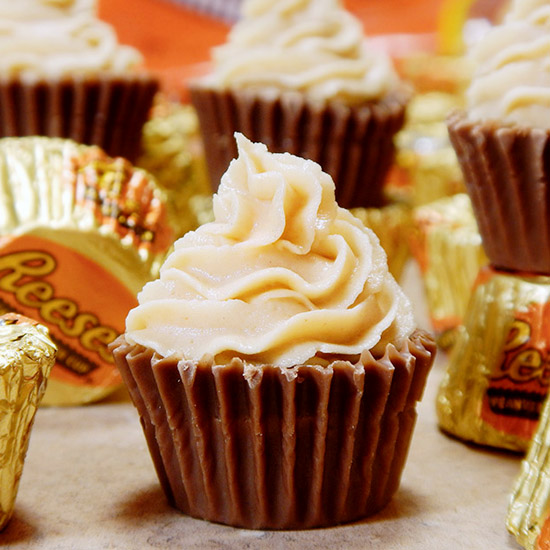 A small batch of peanut butter buttercream frosting. Use it to make peanut butter cups look like miniature cupcakes.
Ingredients
1/2 stick unsalted butter, softened
1/3 cup creamy peanut butter
1/2 teaspoon vanilla extract
1 cup powdered sugar
1 1/2 tablespoons heavy cream
Instructions
In medium bowl, beat butter, peanut butter, and vanilla extract until light and fluffy. Gradually beat in powdered sugar. Add heavy cream. Beat on medium speed for two minutes.
Frosting and a Smile http://frostingandasmile.com/