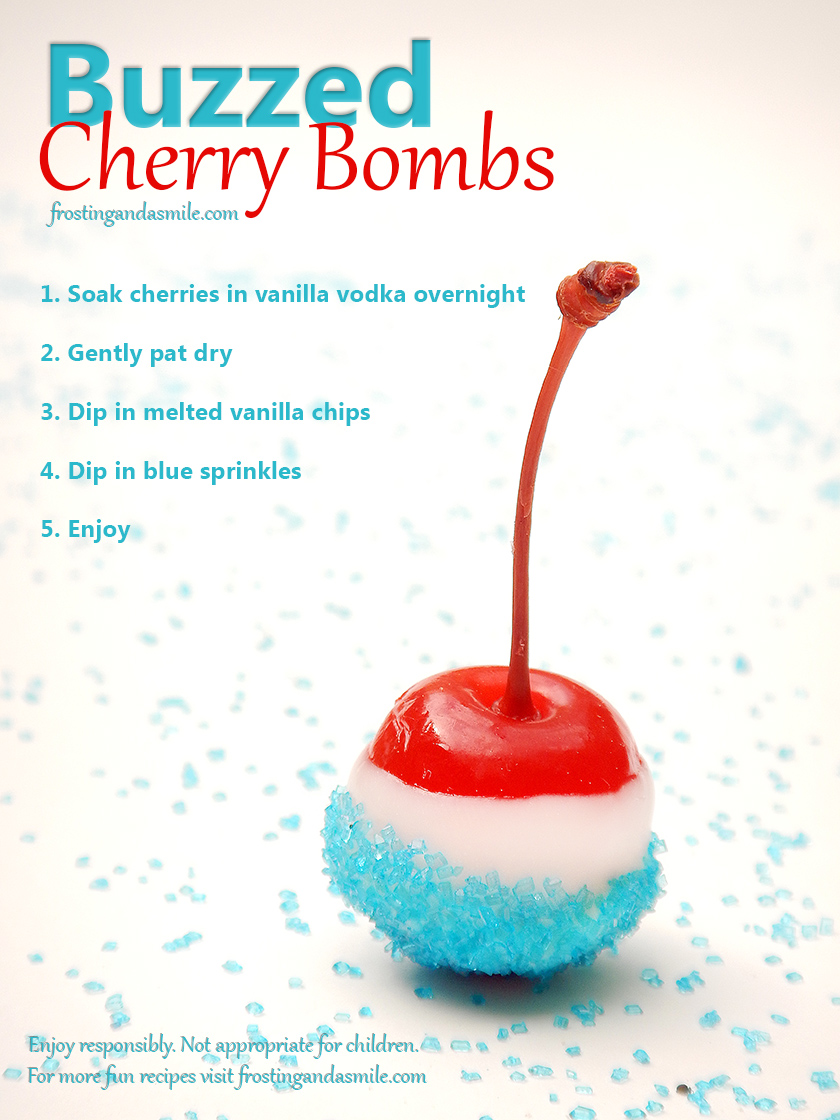 Buzzed Cherry Bombs –
Here it is by popular demand, a full post on how to make Buzzed Cherry Bombs. I originally posted the photo and instructions you see above on Facebook. Readers went gaga for them and shared the post more than 90,000 times. Thank you all!
My inbox has been full of questions. This step-by-step photo tutorial takes care of the most common ones. When you make these alcohol soaked cherries dipped in candy you'll be the most popular guest at your next barbecue.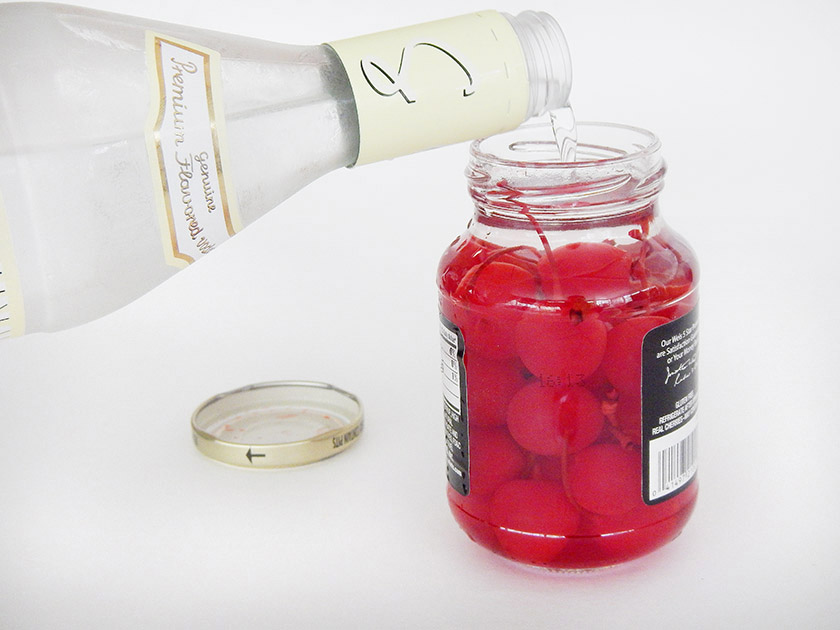 How do I soak the cherries?
Just drain the juice out of a bottle of maraschino cherries and replace it with vanilla vodka. You will taste the vodka in these so use a good quality brand. I like the smooth feel of Stoli. Pop the lid back on and let them soak. The longer they sit, the stronger they will taste. At minimum, soak them overnight. Last time I made these, I soaked them for 48 hours and got rave reviews.
What if I don't like vanilla vodka?
While this recipe calls for vanilla vodka, you can use any flavor you like; chocolate, whipped cream, cherry, absolutely anything you're into. If you're not into vodka, choose a different liquor. Spending time in the kitchen should be fun so let your inner bartender shine and get as creative as you want.
What if I can't have alcohol or want to serve these to kids?
You can make virgin cherry bombs! Instead of alcohol, add a teaspoon or two of vanilla to the jar with the cherries and cherry juice. Let that soak for 12-48 hours. Then dip them in vanilla chips and sprinkles as the recipe instructs. You'll get a nice cherry-vanilla flavor and the fun patriotic look without the buzz.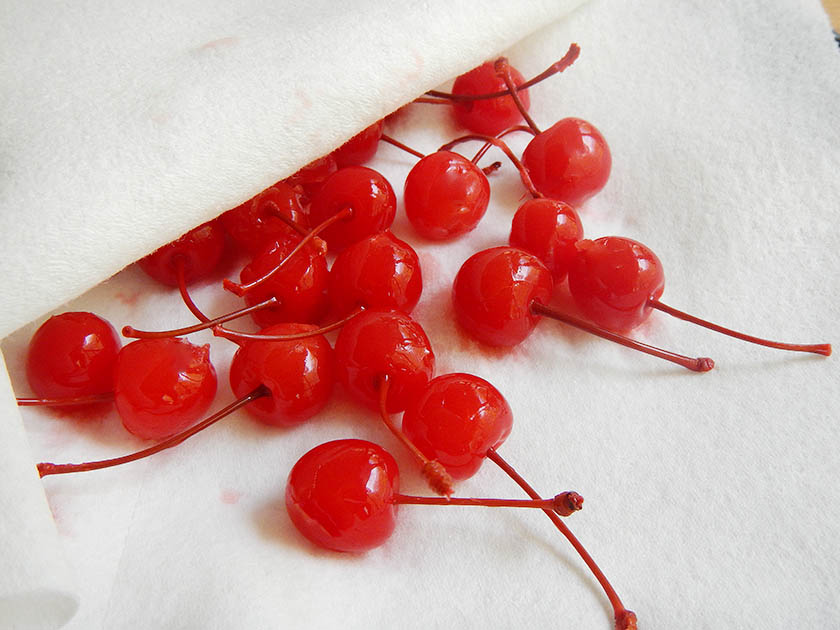 After your cherries have their buzz, it's time to get them out of the pool. Gently pat them dry. You just want to get the surface liquid off, not suck all the liquid out of them.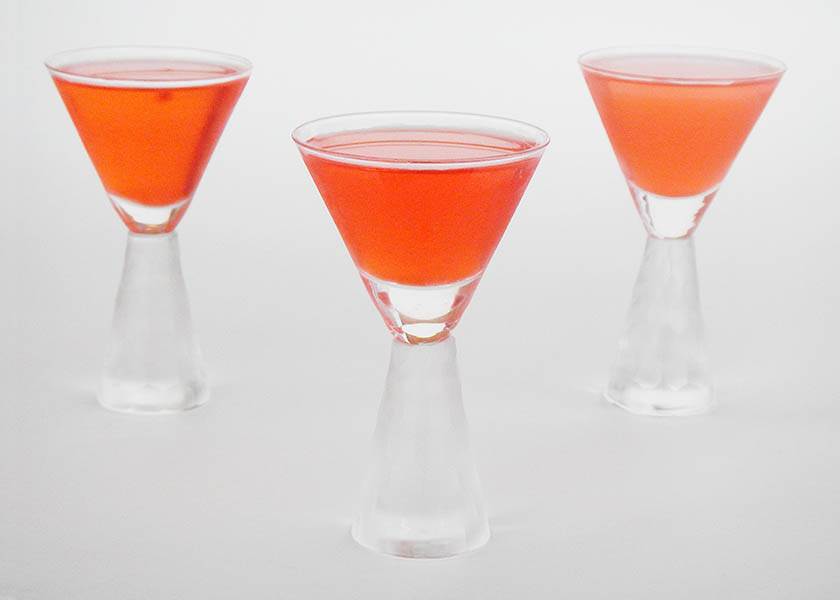 Speaking of liquid, you don't have to send the soaking liquid down the drain. You can save it! While the vodka infuses the cherries, the cherries also infuse the vodka. So, you end up with cherry vanilla martini shots for you and your friends to enjoy while you dip the fruit.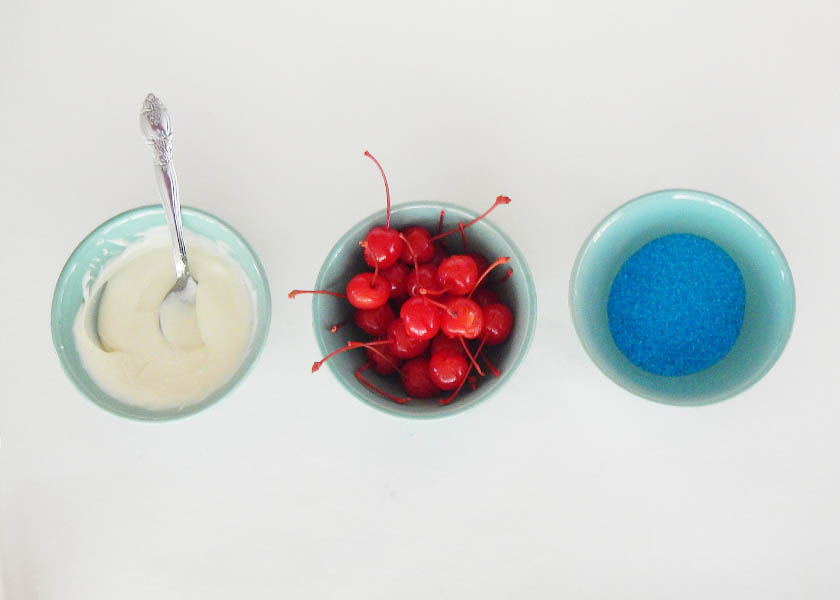 Next, set up a dipping station with your cherries, melted chips, and sugar.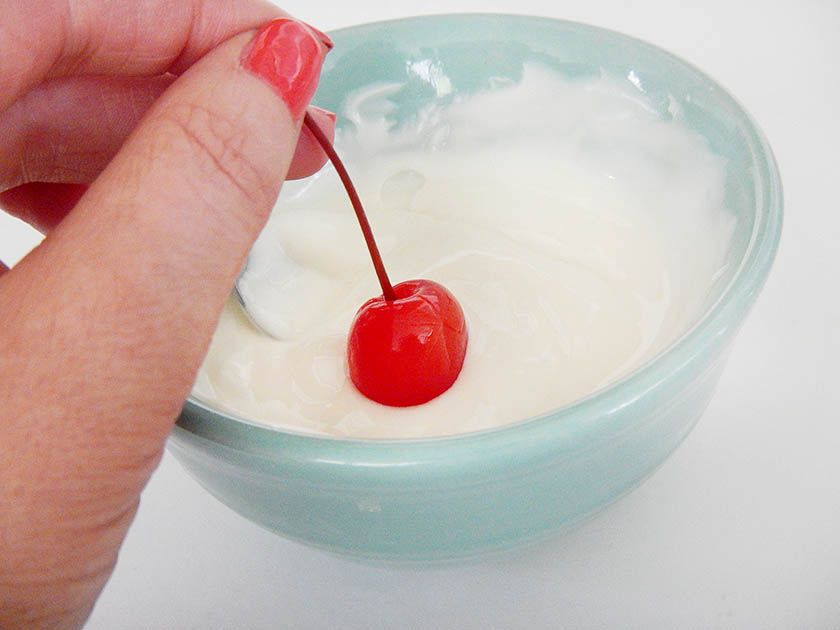 Dunk your cherries into melted vanilla chips. You just need a thin layer to make the sprinkles stick. If there's too much candy, the sprinkles get gloppy. So let the excess drip off. You can spin the cherry by the stem to speed things along.
What are vanilla chips? Can I use something else?
Vanilla chips are like chocolate chips without the chocolate. I used Hershey's baking pieces
. They have a nice vanilla flavor. I don't call them white chocolate because they're not made with cocoa butter. You could certainly use real white chocolate if you'd like. You can also use white candy melts.
Milk and dark chocolate dips also tastes great. However, the color of the sprinkles doesn't pop quite as well with those.
How do I melt the chips?
Place the vanilla chips in a microwave safe bowl. Microwave them at half power for thirty seconds. Stir well. Do this repeatedly until your candy is nice and smooth.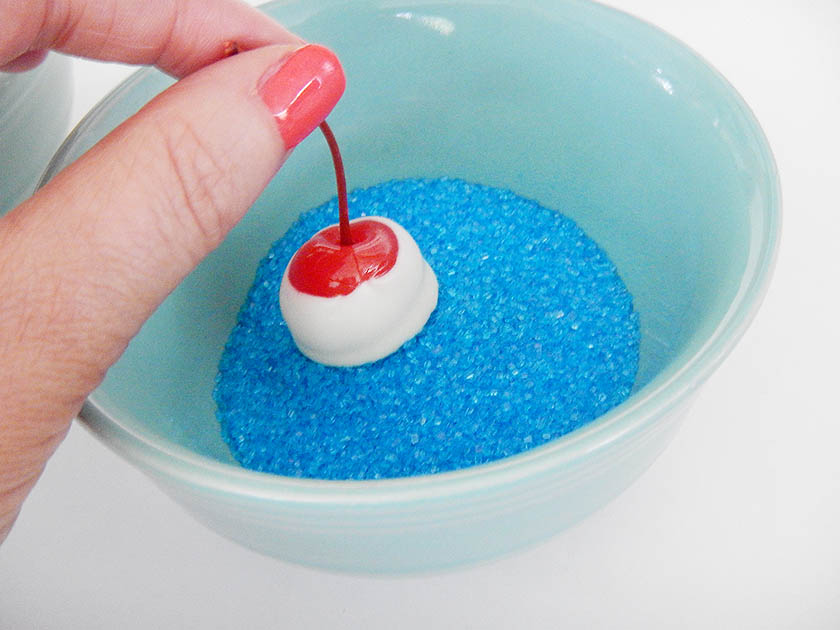 Dunk each cherry in blue decorating sugar.
Can I use different sprinkles?
Sure! You can use any type of sprinkles in any color you choose. The blue looks great for a Fourth of July picnic but you could switch it up to match any holiday (think green for Christmas) or even your favorite sports team or college colors.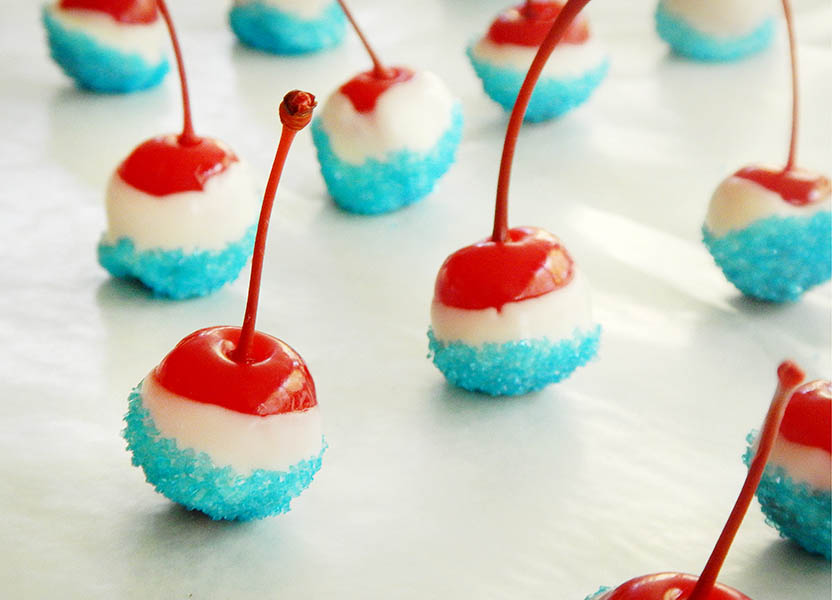 Cover a baking sheet with wax paper. Set the drunk cherries their to dry.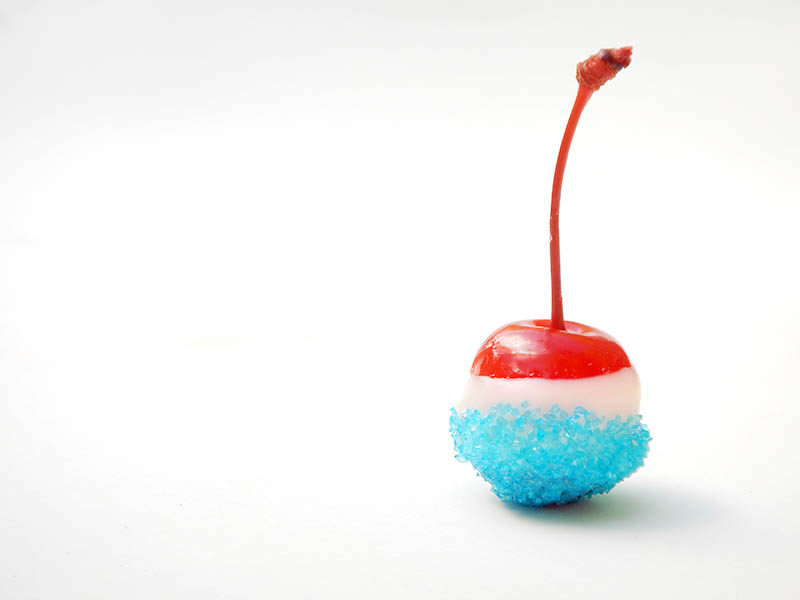 There you have it, a buzzed cherry bomb. It's an adorable red, white, and blue dessert shot that kind of looks like a Pepsi logo. That makes me wonder how these would taste soaked in cola. How do cherry cola bites sound? Might have to try that.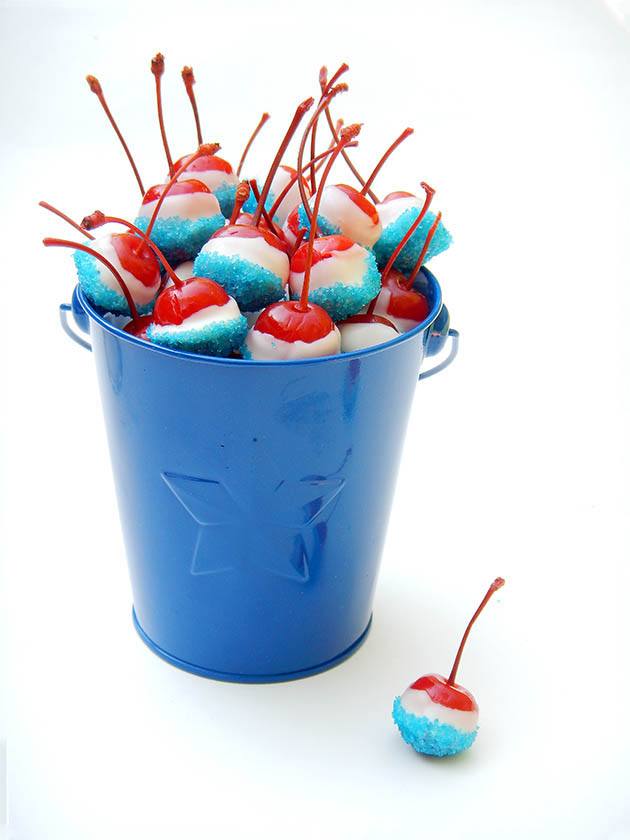 Now for the really hard part, try not to eat them all before you get to the party (or before your guests arrive if you're hosting).
Side note – I got that sweet little bucket in the $1 section at Target. I love Target! The only problem is I go in for one thing and leave with 15. Anyone else?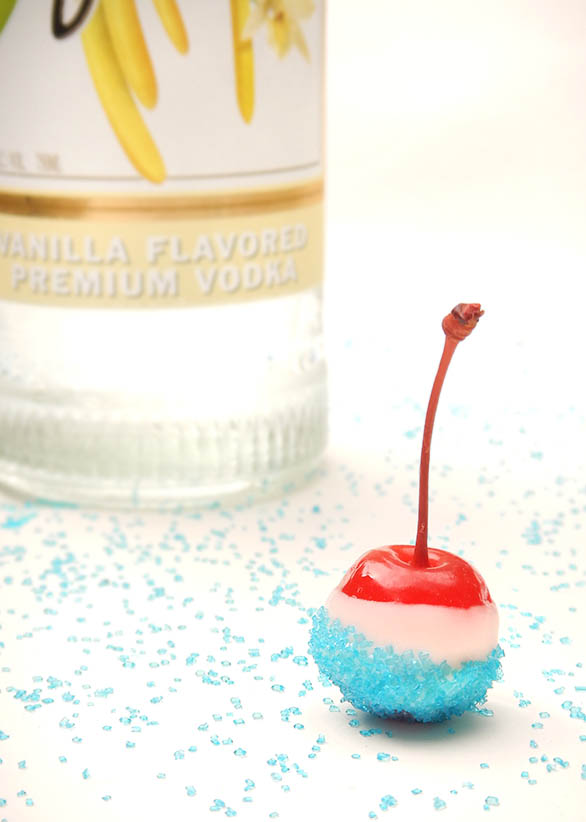 I don't like cherries. Can I use a different fruit?
Yes. You can soak all sorts of fruit in alcohol (you just wouldn't be able to call them cherry bombs). If you don't like maraschino cherries, you can use fresh cherries. They just won't have that bright red color.
Update: I now have a buzzed strawberry recipe posted for you.
If you're interested in trying something a little different you might also like my Chocolate Covered Champagne Strawberries.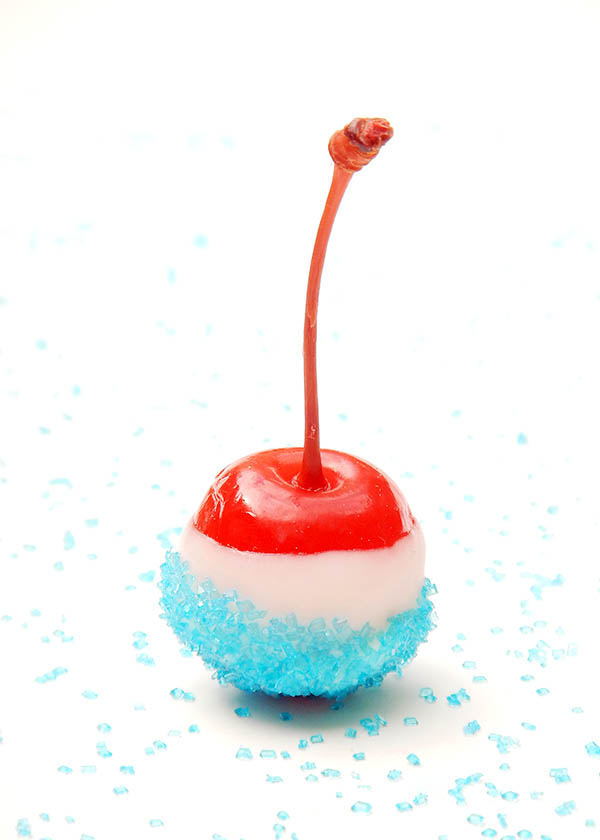 Cheers!
If you have a question I didn't answer, feel free to drop me a note in the comment section at the bottom of the page. That's also a great spot to share the flavor and color combinations you come up with.
If you like these, you might like some of my other recipes too! To make sure you don't miss out on any fun, you can follow me on Facebook, Twitter, or Pinterest. You can also sign up for a free email recipe subscription.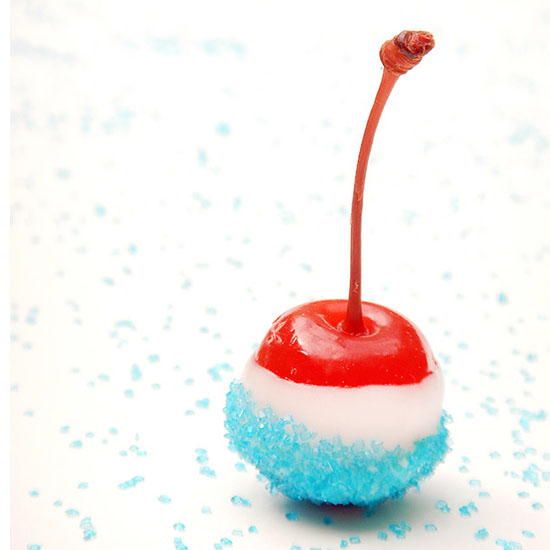 Buzzed Cherry Bombs
2015-06-06 17:37:13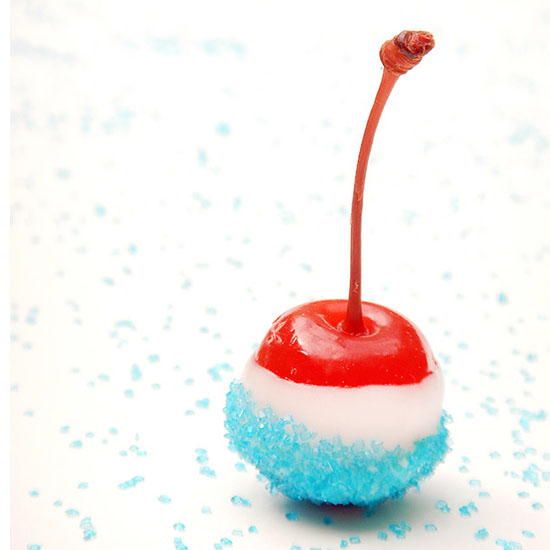 Be a picnic superstar when you bring these cherries soaked in alcohol then dipped in candy.
Ingredients
One (ten ounce) jar maraschino cherries
1 cup vanilla vodka
1 cup melted vanilla chips (you can also use white chocolate or candy melts)
1/2 cup blue sugar sprinkles
Instructions
Drain juice from cherries. Pour vodka over cherries in jar. Let sit 12-48 hours.
Gently pat cherries dry. Dip in melted chips. Dip in sprinkles. Places on wax paper covered baking sheet to set.
Serve within 24 hours.
Notes
The longer your cherries soak, the stronger the alcohol taste in them will be.
Frosting and a Smile http://frostingandasmile.com/