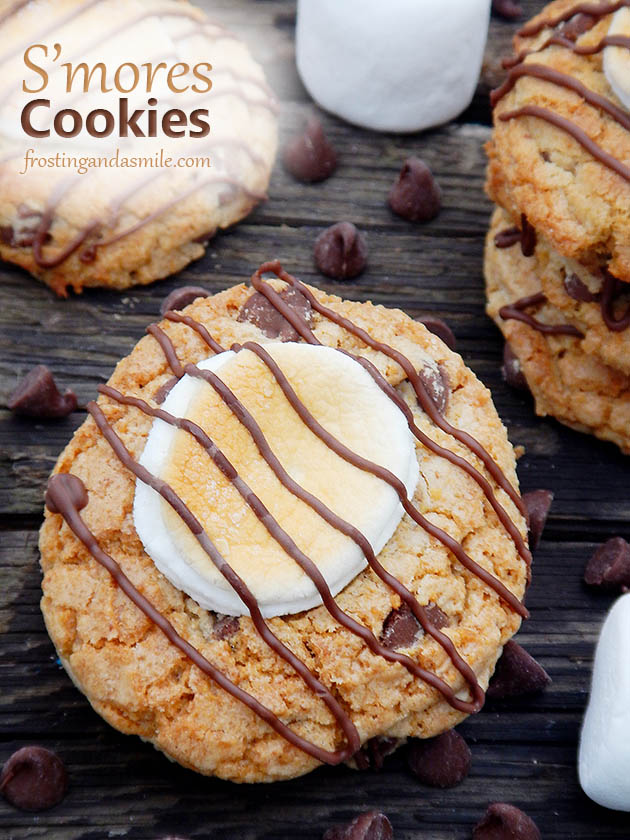 S'more Chocolate Chip Cookies –
These may just be the best cookies ever. You mix real graham cracker crumbs in with the flour to get that classic s'more taste. Milk chocolate chips dot the chewy base and oven toasted marshmallows give you gooey fire-side goodness without the fire. Mmm…I'm getting hungry just thinking about it.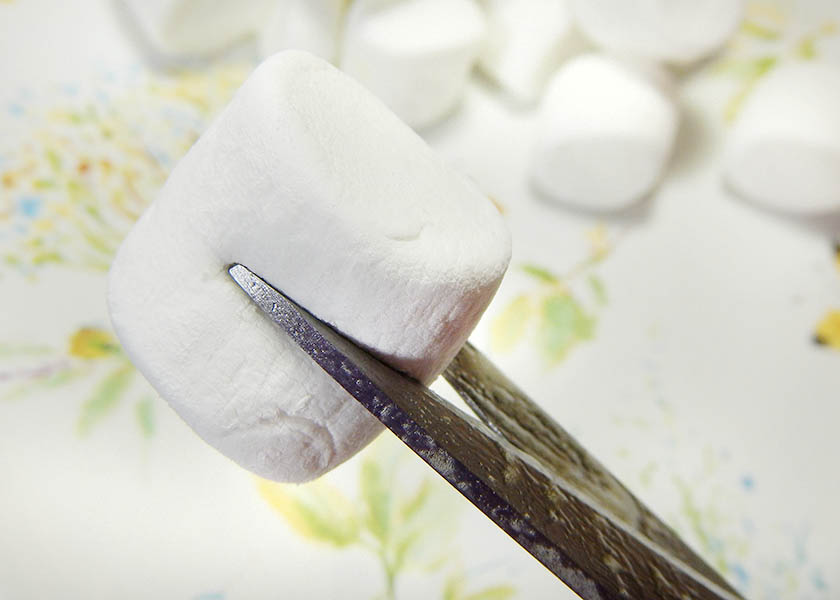 We start with marshmallows. Cut them in half with kitchen scissors. Non-stick cooking spray is your friend here! It helps the blades glide through the stickiness. Set those aside and we'll get started on the dry ingredients.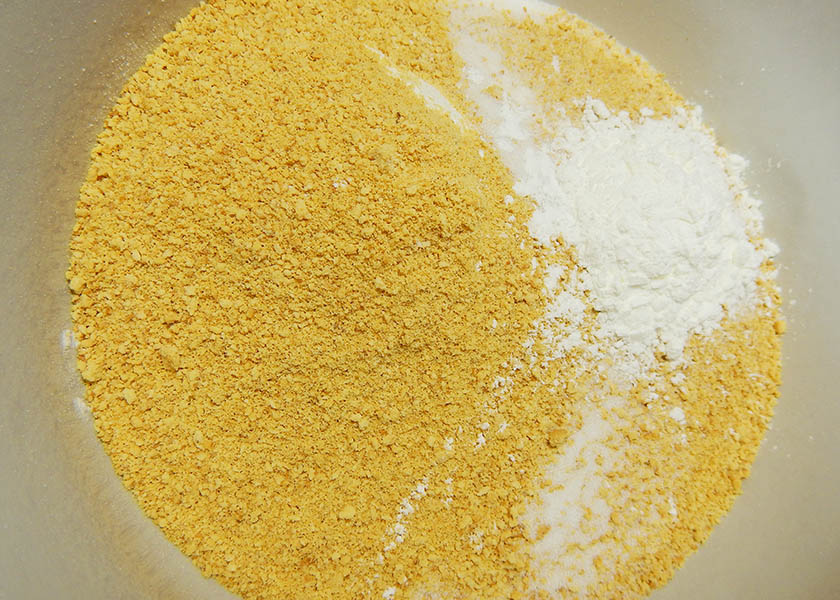 Combine graham cracker crumbs (the secret ingredient), with flour, cornstarch (the other secret ingredient), baking soda, and salt. The crumbs add real s'more flavor and the cornstarch helps these cookies stay perfectly soft and chewy.
You can grind your own graham crackers in a food processor or go the lazy efficient route like me and buy them already crushed in the baking section of the store.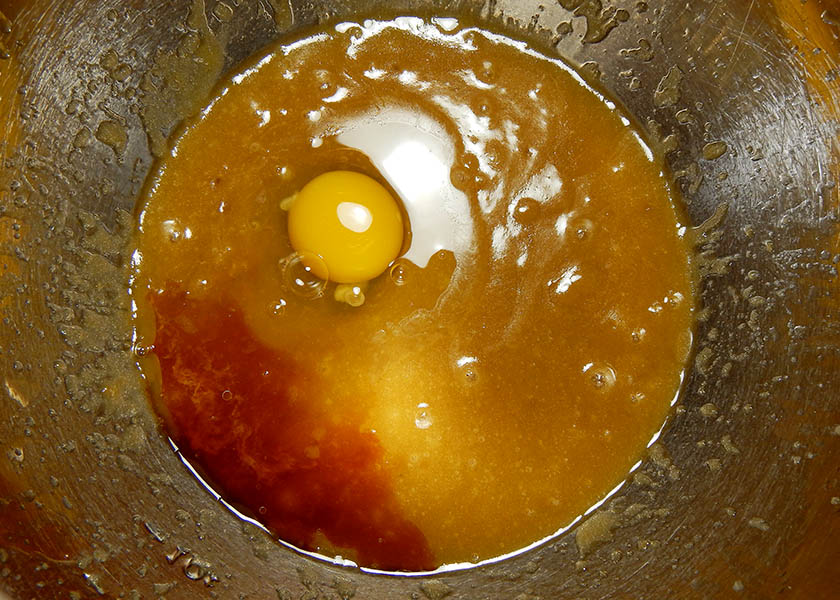 Next up, the kitchen all stars; butter and sugar. Beat them together until they're well combined. We're using melted butter because it ups the chewy factor.
Add vanilla, one egg, and one egg yolk.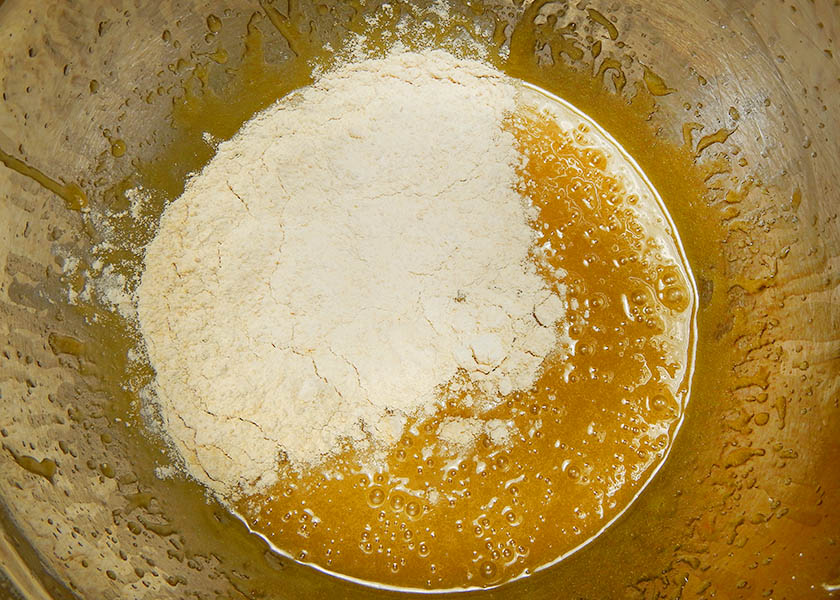 Stir in the dry ingredients and milk chocolate chips until just combined.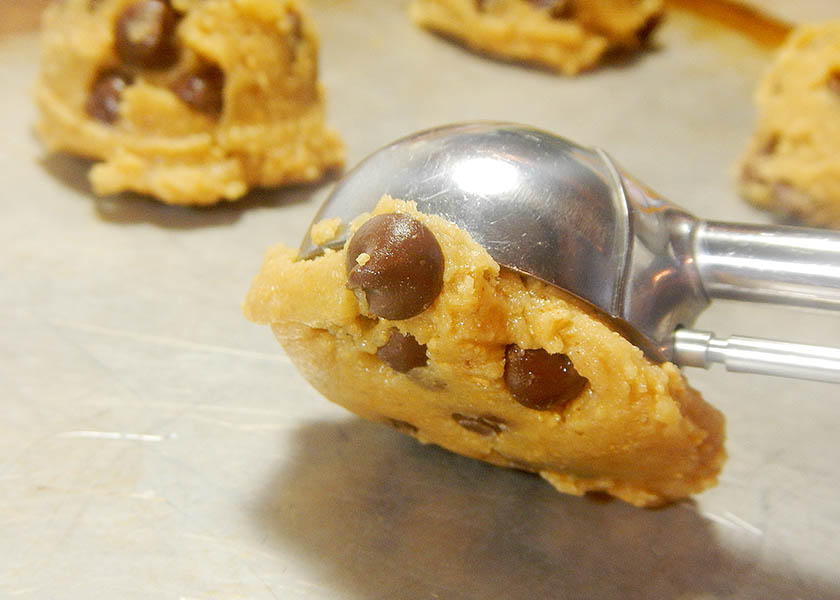 Spoon dough onto ungreased cookie sheets and send them on their first trip to the oven. The first time they bake at 350-degrees.
A cookie scoop makes this job so easy. This one is excellent
.

Take the cookies out of the oven. Turn it up to broil. Place cut marshmallows (cut side down) on top of each cookie then send them back in for a tan.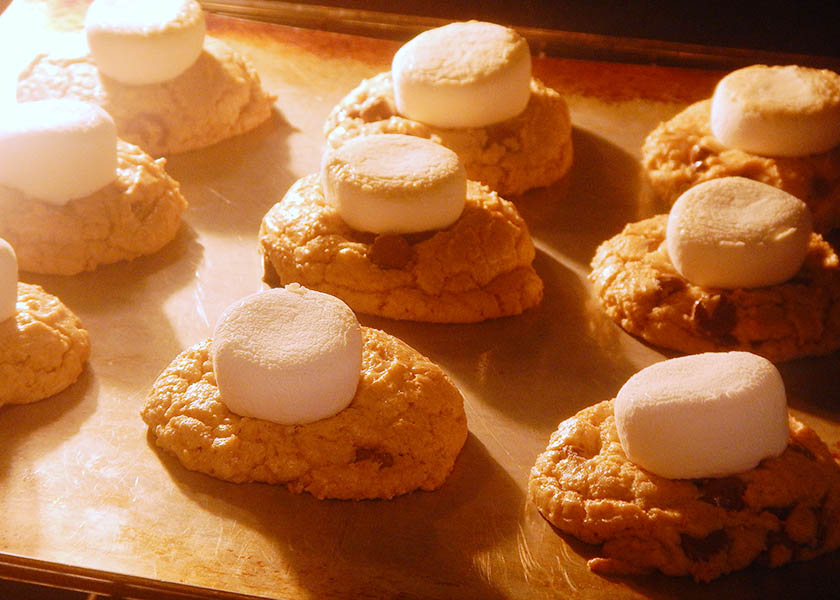 Within about a minute, they should be nice and toasty. Watch them closely though because they go from brown to burnt in a snap.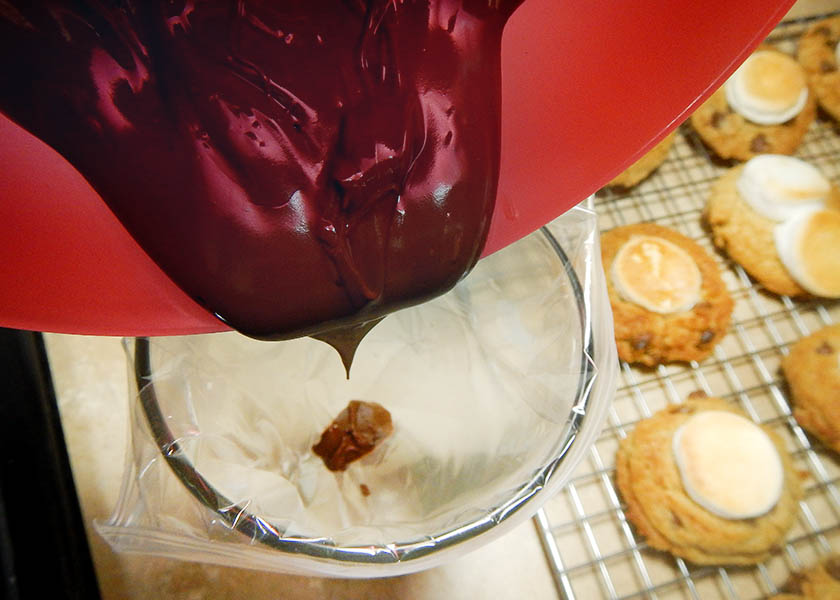 Cool them for a few minutes on cookie sheets then move them over to a wire rack to cool completely (or to cool just enough to enjoy the ooey gooey fresh s'more cookie taste without burning off your tongue).
While they cool, melt milk chocolate to drizzle on top. Pour the melted chocolate into a sandwich bag (placing the bag in a cup helps with this) and snip a small corner to turn it into a pastry bag.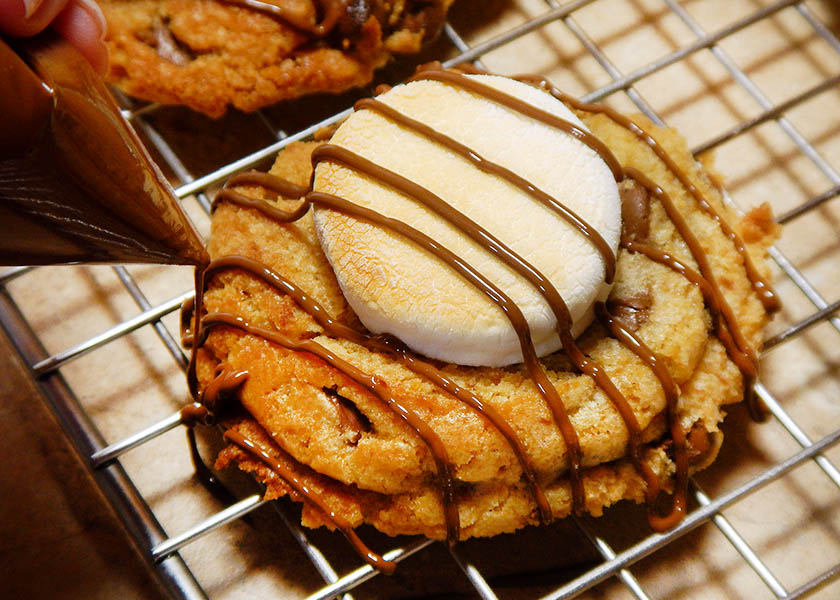 For a finishing touch (because I never really know when to stop) drizzle that melted chocolate on top of your s'more chocolate chip cookies.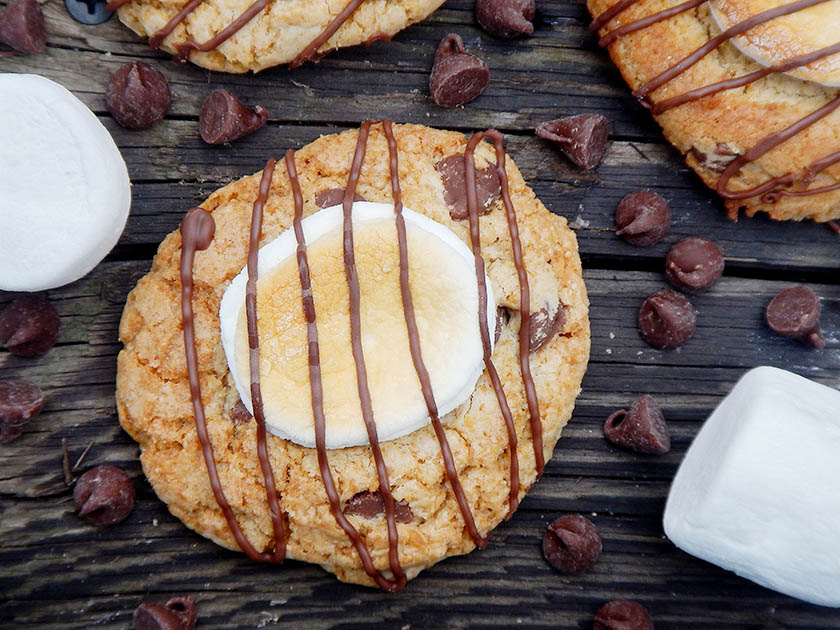 There you have it, all your favorite s'more flavors in a chewy, gooey s'more cookie. Since they remind you of great times with friends and family at cookouts, campouts, and parties, they're the perfect rainy day comfort cookies.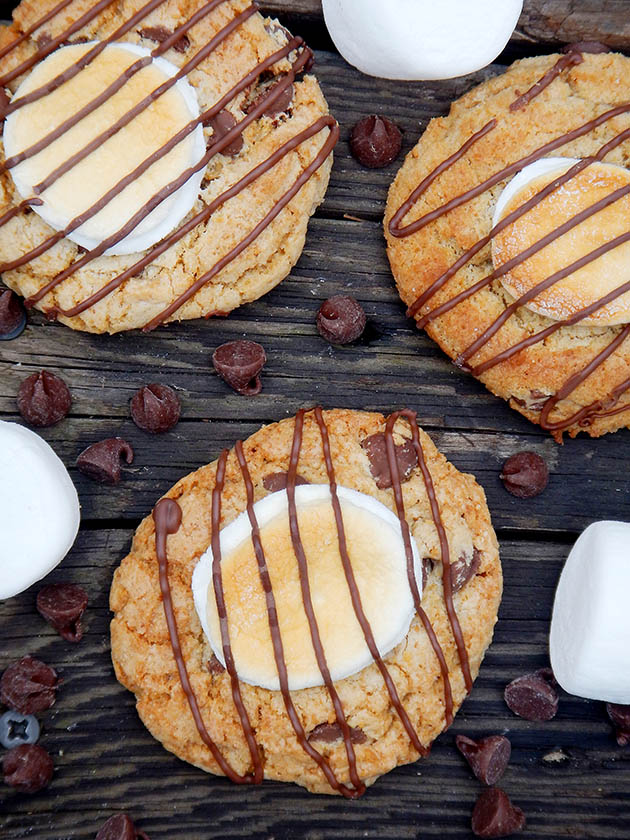 If you're still craving more s'mores, you might also enjoy S'more Thumbprint Cookies or the ridiculously easy S'more Snack Mix. If you'll be near a campfire, check out my seven fun twists on s'mores.
I post a new recipe every week. To make sure you don't miss out on any fun, you can follow me on Facebook, Twitter, or Pinterest. You can also sign up for a free email recipe subscription.
I originally created this recipe for Parade's Community Table.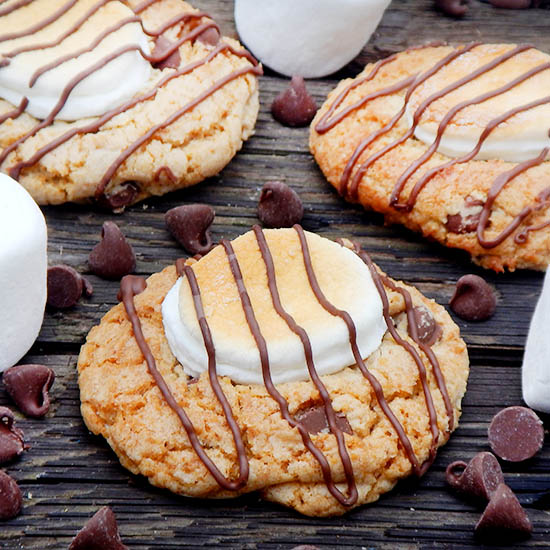 S'mores Cookies
2015-07-02 14:19:28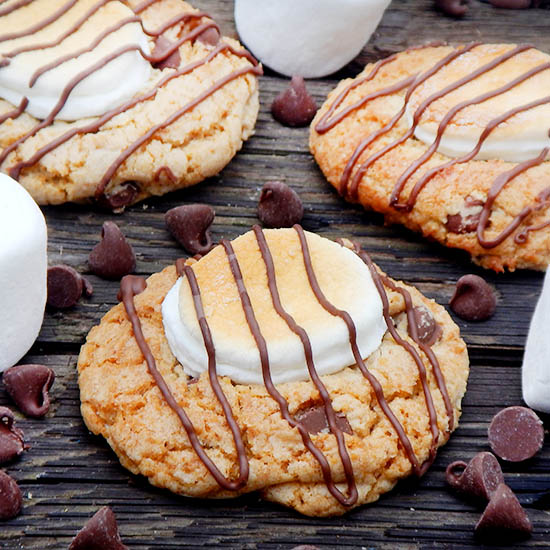 Soft and chewy graham cookies packed with milk chocolate chips, topped with toasted marshmallows and drizzled with more chocolate.
Ingredients
12 marshmallows
1½ cups all purpose flour
1 cup graham cracker crumbs
2 tsp cornstarch
½ tsp baking soda
½ tsp salt
¾ cup unsalted butter, melted
¾ cup brown sugar
⅓ cup white sugar
1 tsp vanilla
1 egg
1 egg yolk
2 cups milk chocolate chips, divided
Instructions
Preheat oven to 350. Cut marshmallows in half with kitchen scissors. Set aside.
In medium bowl, whisk together flour, graham cracker crumbs, cornstarch, baking soda, and salt. Set aside.
In a large bowl, beat melted butter, brown sugar and white sugar. Add vanilla. Add whole egg. Beat well. Add egg yolk. Beat well. Gradually beat in flour mixture until just combined. Stir in 1 ½ cups chocolate chips.
Scoop dough into 2 Tbsp. balls . Place two inches apart on ungreased baking sheets. Bake for 10 minutes. Remove from oven. Turn on broiler. Place marshmallows cut side down on cookies. Place under broiler for 1-2 minutes until marshmallows are golden brown. Watch closely so they don't burn. Remove from oven. Let cool for 3 minutes on pans. Remove to wire racks to cool completely.
In small bowl, melt ½ cup chocolate chips. Carefully pour melted chocolate into plastic sandwich bag. Snip small corner off of bag. Squeeze chocolate onto cookies. Let cool.
Notes
To ease marshmallow cutting, coat scissors with non-stick cooking spray.
Store tightly covered for up to three days.
Frosting and a Smile http://frostingandasmile.com/