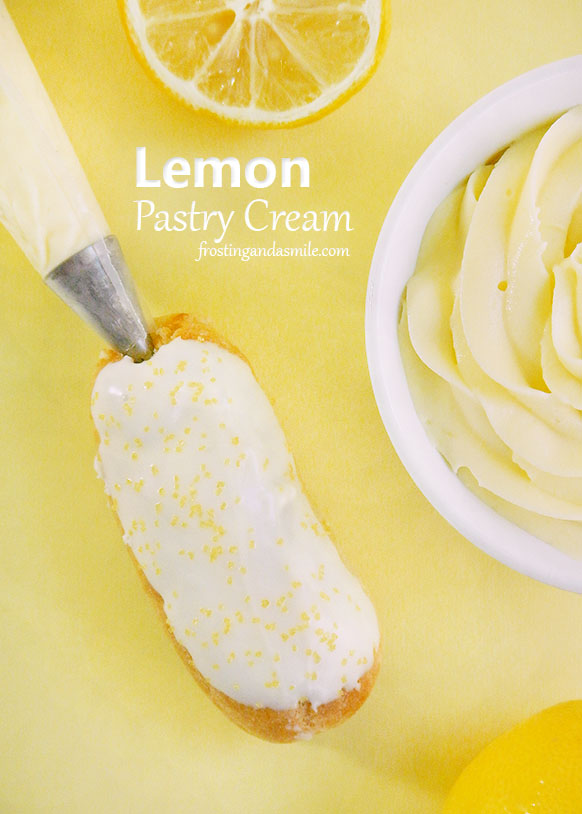 Lemon Pastry Cream –
A delicate lemon flavor perfumes this rich cream. It's the perfect citrus complement to the white chocolate glazed éclairs in the picture above (recipe coming next week).
My mom inspired this recipe. Last Mother's Day she requested "something lemon." I usually go straight for chocolate when I bake, so this was an opportunity to play with some new ideas.
As usual, I couldn't decide and went a little overboard on the lemon desserts. So Mom ended up with lemon éclairs (filled with this lemon pastry cream), vanilla cupcakes with lemon buttercream, and lemon shortbread cookie hearts. Are you lips puckering yet?
I'll be sharing all of those recipes over the next month. You can sign up for a free email recipe subscription if you don't want to miss any.
Lemon Pastry Cream Recipe –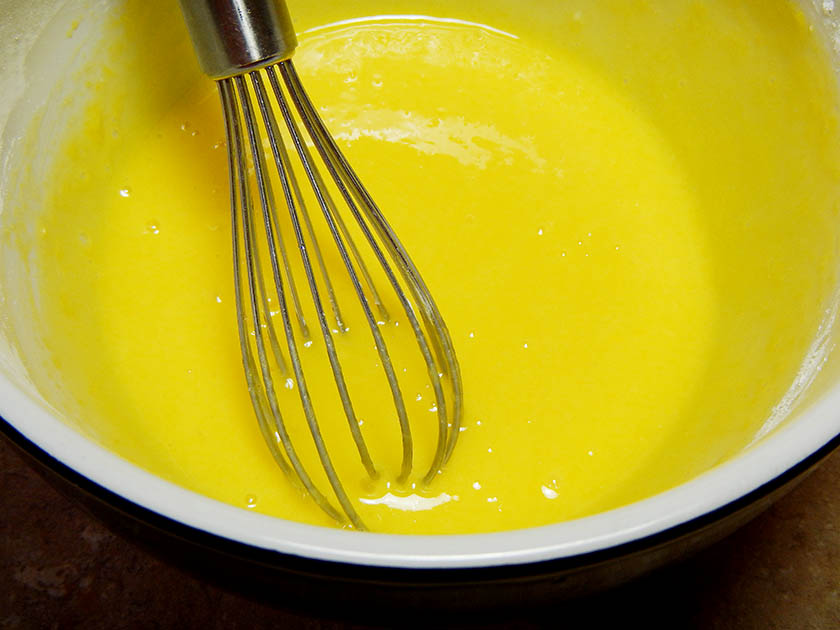 In a medium bowl, whisk together five egg yolks, 1/2 cup sugar, 1/4 cup cornstarch, and 1/8 teaspoon salt. It already looks so lemony and we haven't even added the lemon yet!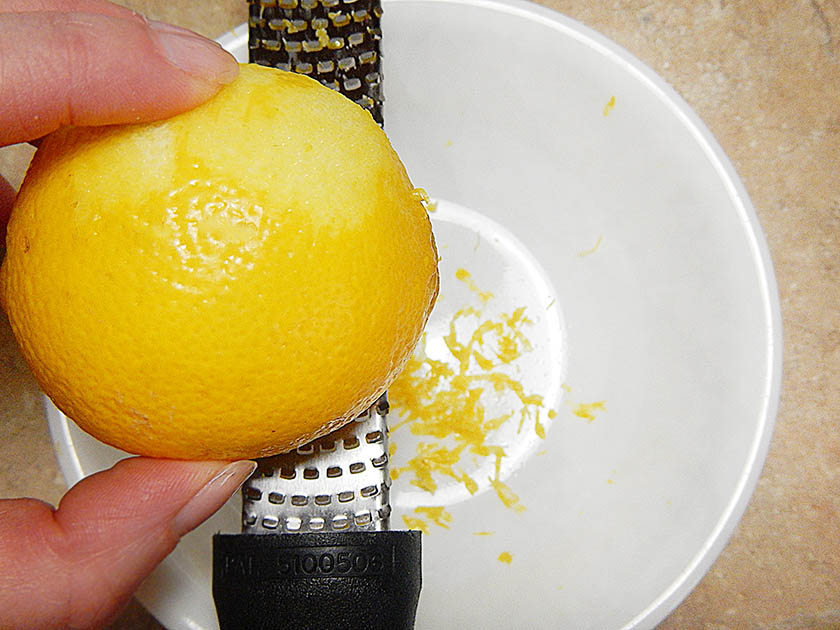 Here's that lemon. We'll need the zest and juice of one small fruit.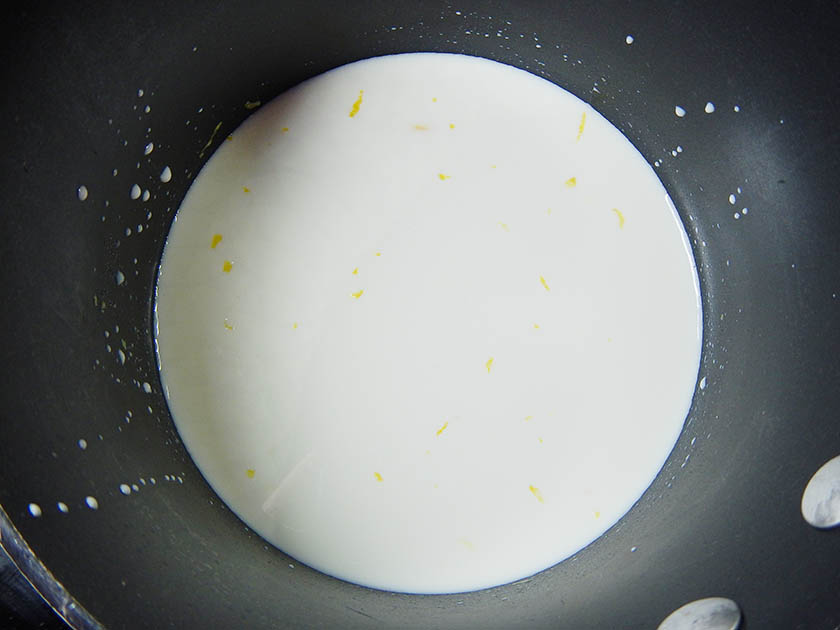 Combine the lemon zest with two cups of half and half and cook that over medium heat just until it bubbles.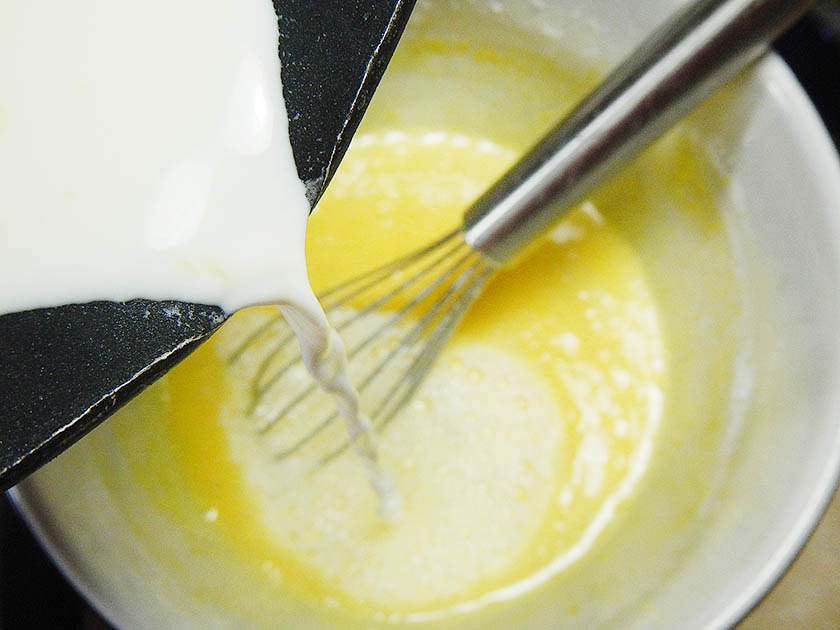 Ever-so-carefully pour a thin stream of the hot cream into the egg yolk mixture. Whisk constantly while you do this so you don't scramble the eggs.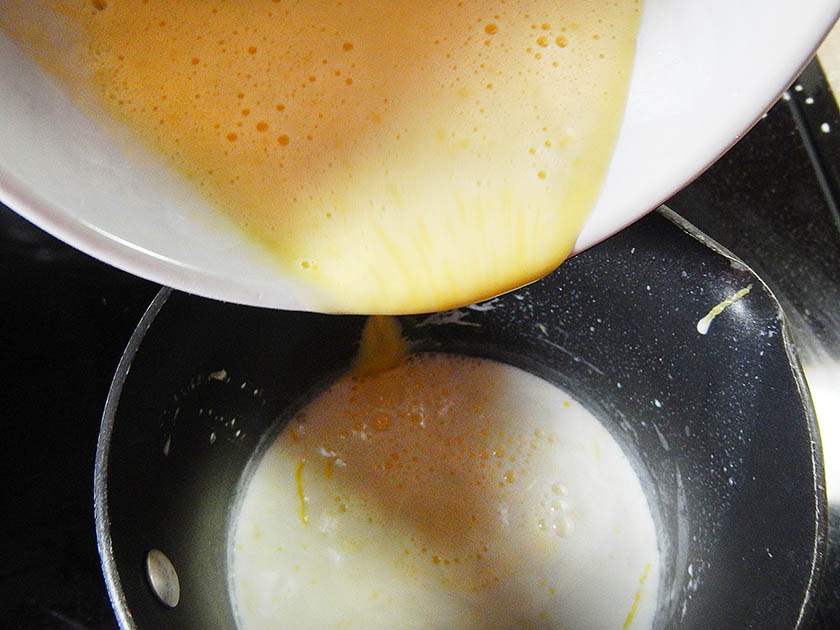 Pour it all back into the saucepan.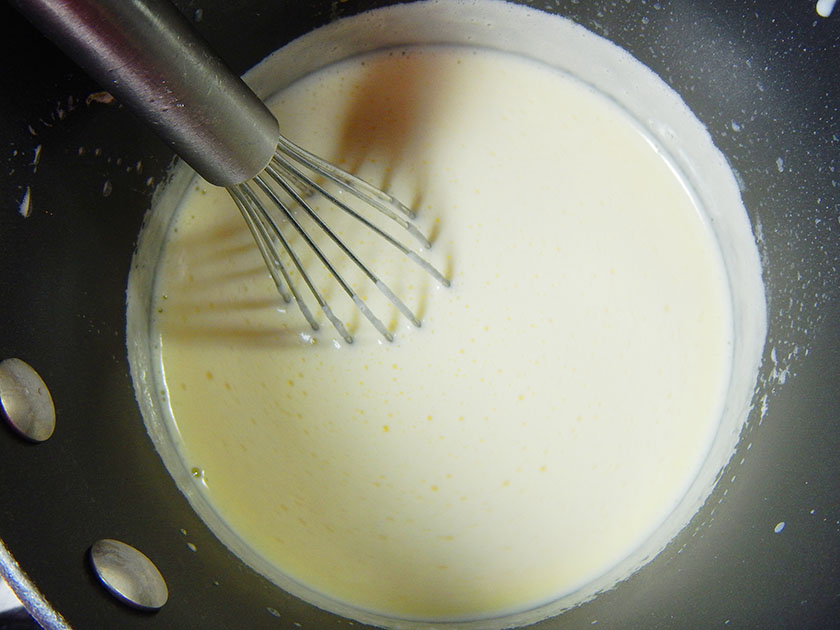 Whisk constantly until the cream just starts to bubble. Whisk for one more minute.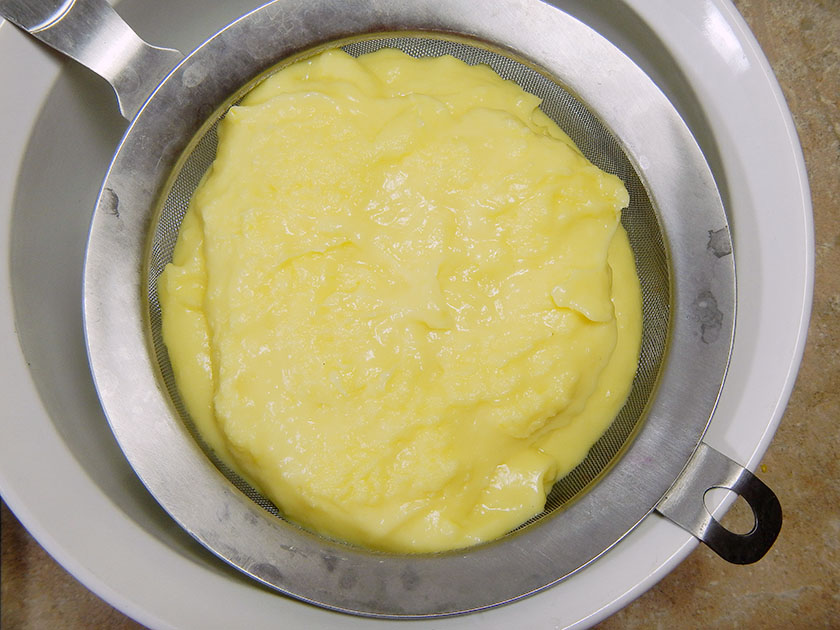 Strain into a clean bowl.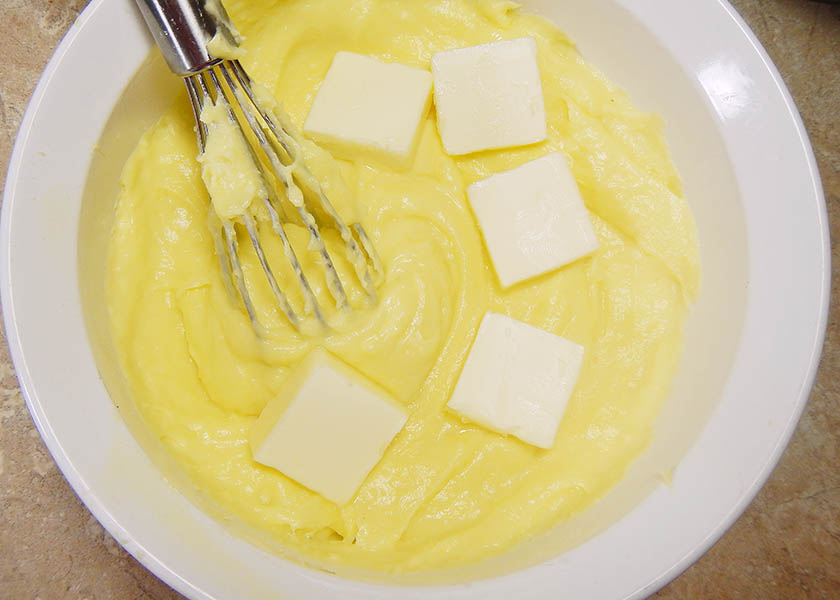 Whisk in 4 tablespoons of unsalted butter, 2 tablespoons of lemon juice, and 1/2 teaspoon vanilla extract.
Press plastic wrap directly on top of the finished pastry cream and pop it in the fridge. The plastic will prevent a skin from forming on top.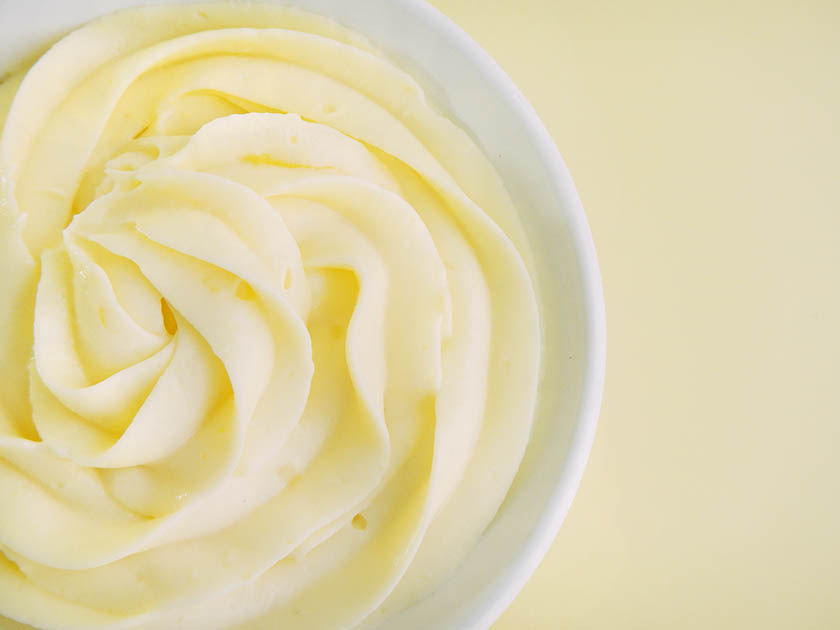 This is a delicately flavored pastry cream. If you prefer more zip, you can add an extra tablespoon of lemon juice and more lemon zest.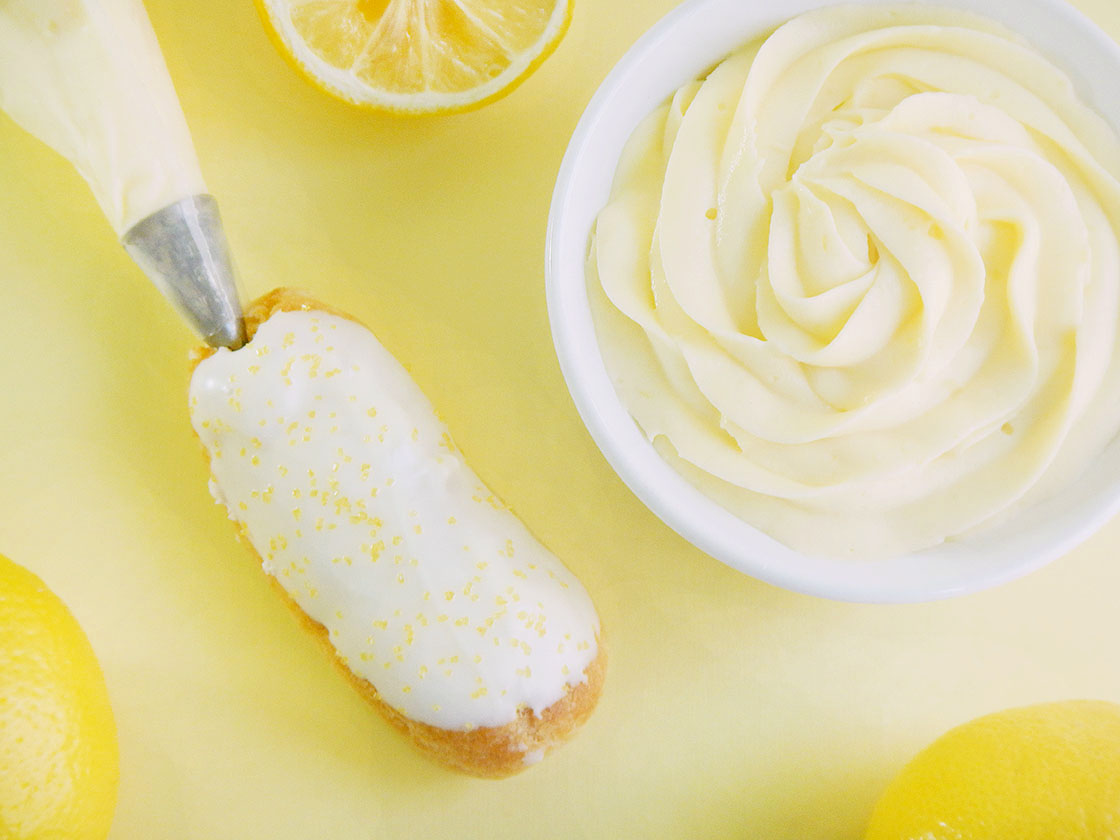 Lemon pastry cream is the perfect filling for éclairs. You can check out my post on how to make éclairs and replace the vanilla cream with this lemon version.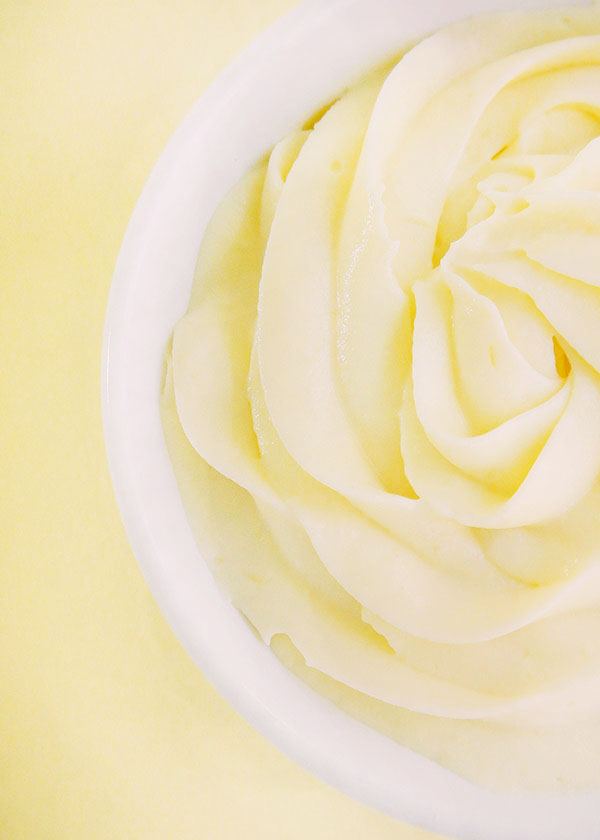 You can also use this lemon pastry cream as a pie filling, cake filling, or doughnut filling. You can layer it in trifles or serve it on its own in pretty dishes topped with homemade whipped cream. There are so many possibilities! You can let me know what you come up with in the comment section under the recipe.
I have a bunch of refreshing lemon recipes ready for you to try. I post a new recipe every week. To make sure you don't miss out on any fun, you can follow me on Facebook, Twitter, or Pinterest. You can also sign up for a free email recipe subscription.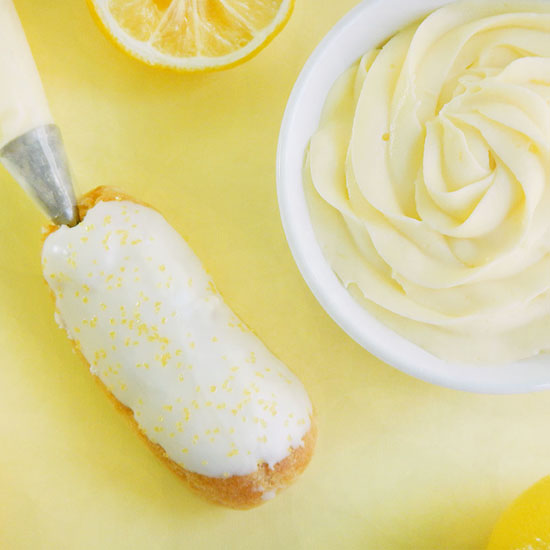 Lemon Pastry Cream
2015-07-16 17:43:32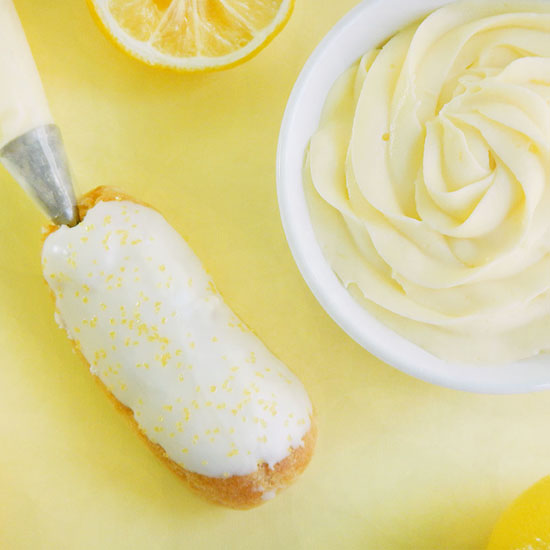 A luscious lemon cream perfect for filling cakes, pies, and more.
Ingredients
5 egg yolks
1/2 cup sugar
1/4 cup cornstarch
1/8 teaspoon salt
2 cups half and half
1/2 tablespoon finely grated lemon zest (from one small lemon)
4 tablespoons unsalted butter
2 tablespoons lemon juice (from one small lemon)
1/2 teaspoon vanilla extract
Instructions
Place strainer over medium bowl. Set aside.
In medium bowl, whisk together egg yolks, sugar, cornstarch, and salt. Set aside.
Place half and half and lemon zest in medium saucepan. Cook over medium heat, stirring occasionally until it just bubbles.
Pour a thin stream of half and half into egg yolk mixture while whisking constantly. Be careful not to pour too quickly or you will scramble the eggs.
Pour the mixture back into the sauce pan. Whisk constantly over medium heat until the liquid bubbles and thickens. Whisk one more minute.
Pour cooked cream through strainer into bowl. Whisk in butter, vanilla, and lemon juice.
Place plastic wrap directly on top of cream. Refrigerate until set, at least two hours.
Notes
Store tightly covered for up to two days.
This recipe provides a delicate lemon flavor. If you prefer more zip, use three tablespoons of lemon juice instead of two.
Frosting and a Smile http://frostingandasmile.com/