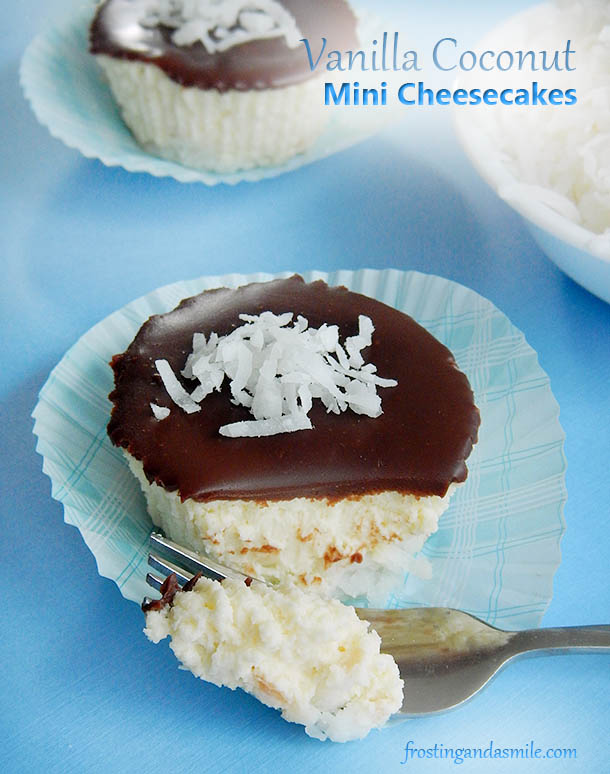 Coconut Vanilla Cheesecakes –
I accidentally discovered the secret to luxuriously silky cheesecake during a rushed trip to the grocery store. Now I'm sharing it with you. These are the creamiest cheesecakes you will ever make. The texture is almost custard-like. The coconut macaroon crusts add a welcome chewy bite and a shiny ganache glaze provides a nice contrast to the vanilla.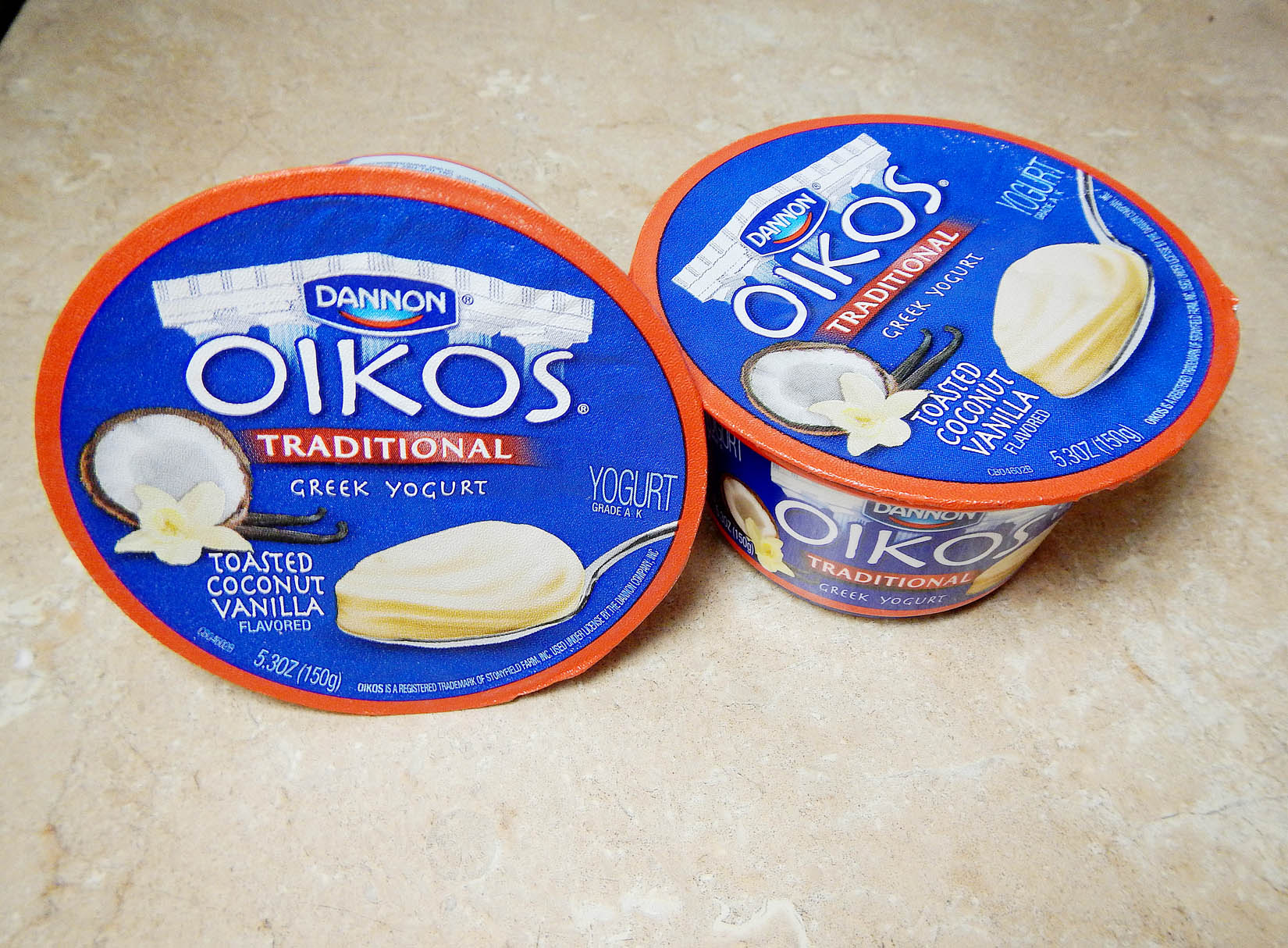 Yes, that's a picture of yogurt. The best yogurt I have ever tasted! The yogurt company isn't sponsoring me or this post, I just really like this stuff.
I thought I tossed fat-free Greek Yogurt into my cart but I grabbed the traditional version. I didn't think there would be much difference between this and my usual yogurt but when the spoon hit my mouth, the luxurious texture captured me. Plus the toasted coconut and vanilla flavors wrap around each other perfectly.
You've heard of "light bulb moments." This was more like a "Fourth of July fireworks extravaganza moment." I knew I had to bake with it.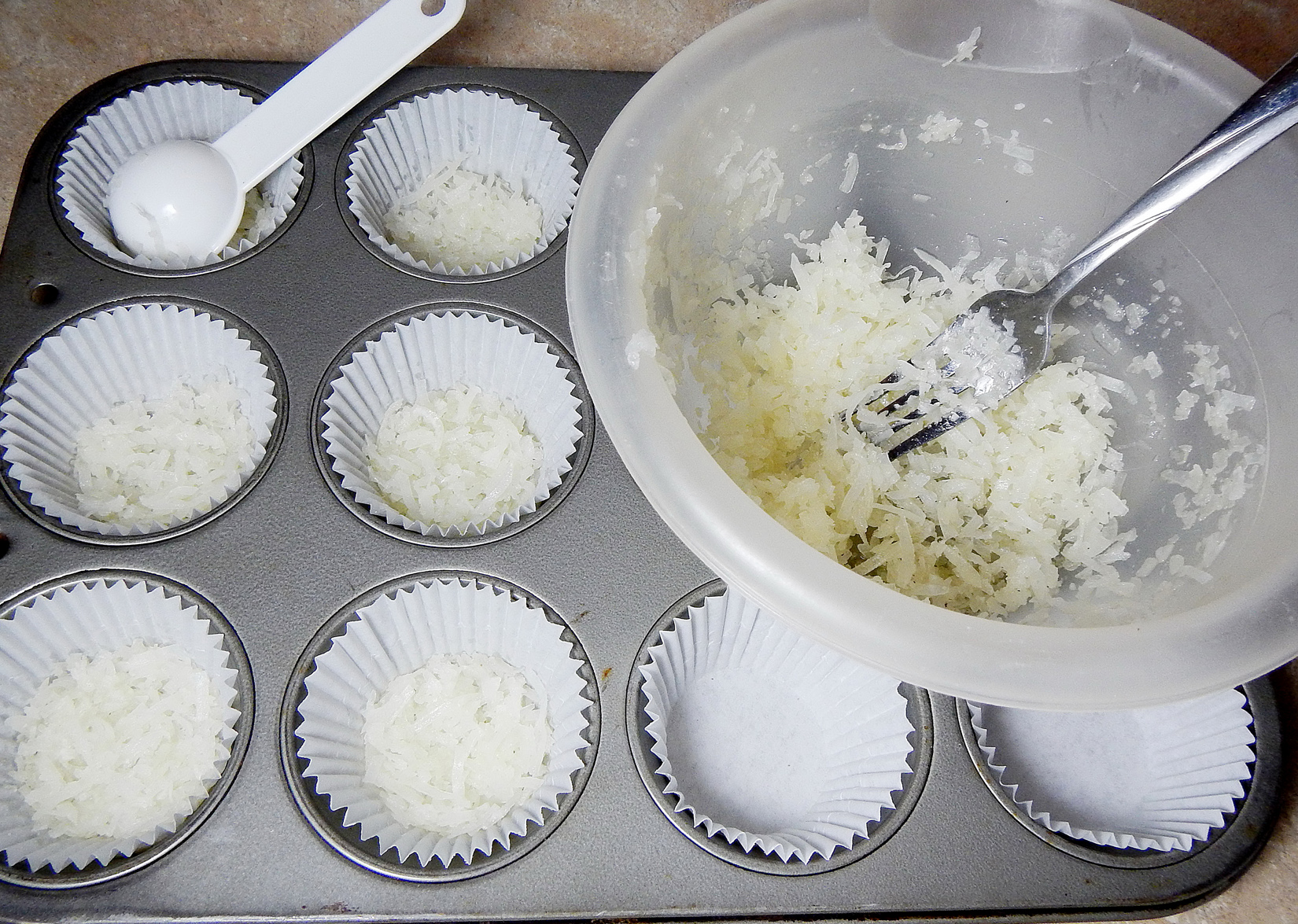 Another grocery situation led to this crust recipe. I originally planned to make a coconut cookie crust but the grocery store was out of coconut cookies. I never knew they were in such high demand! So I improvised and went with a pure coconut crust.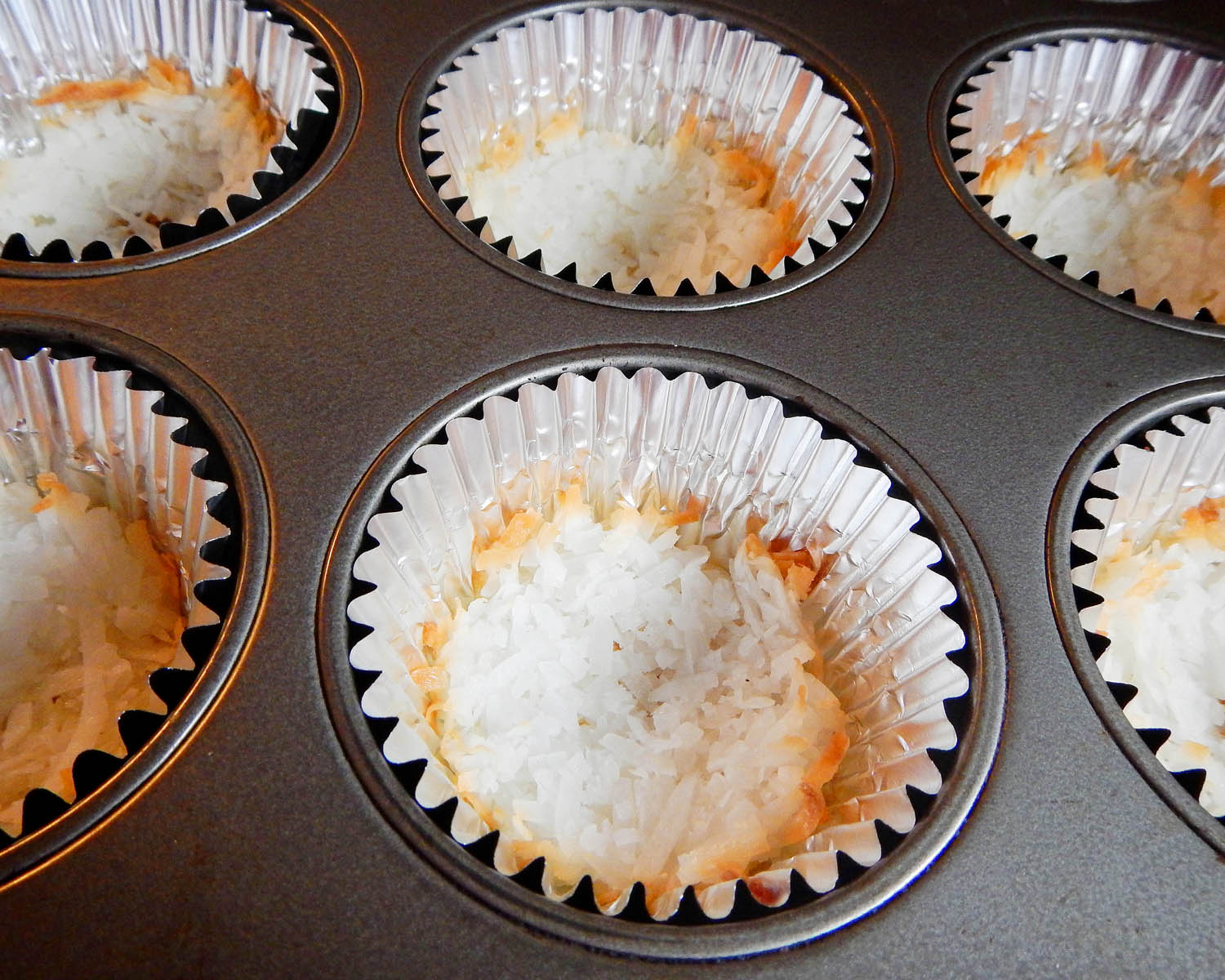 You just mix sweetened coconut with an egg white then bake for about ten minutes. You end up with sweet and chewy crusts that taste like coconut macaroons. I could eat these all by themselves or dipped in chocolate. Isn't just about everything better dipped in chocolate?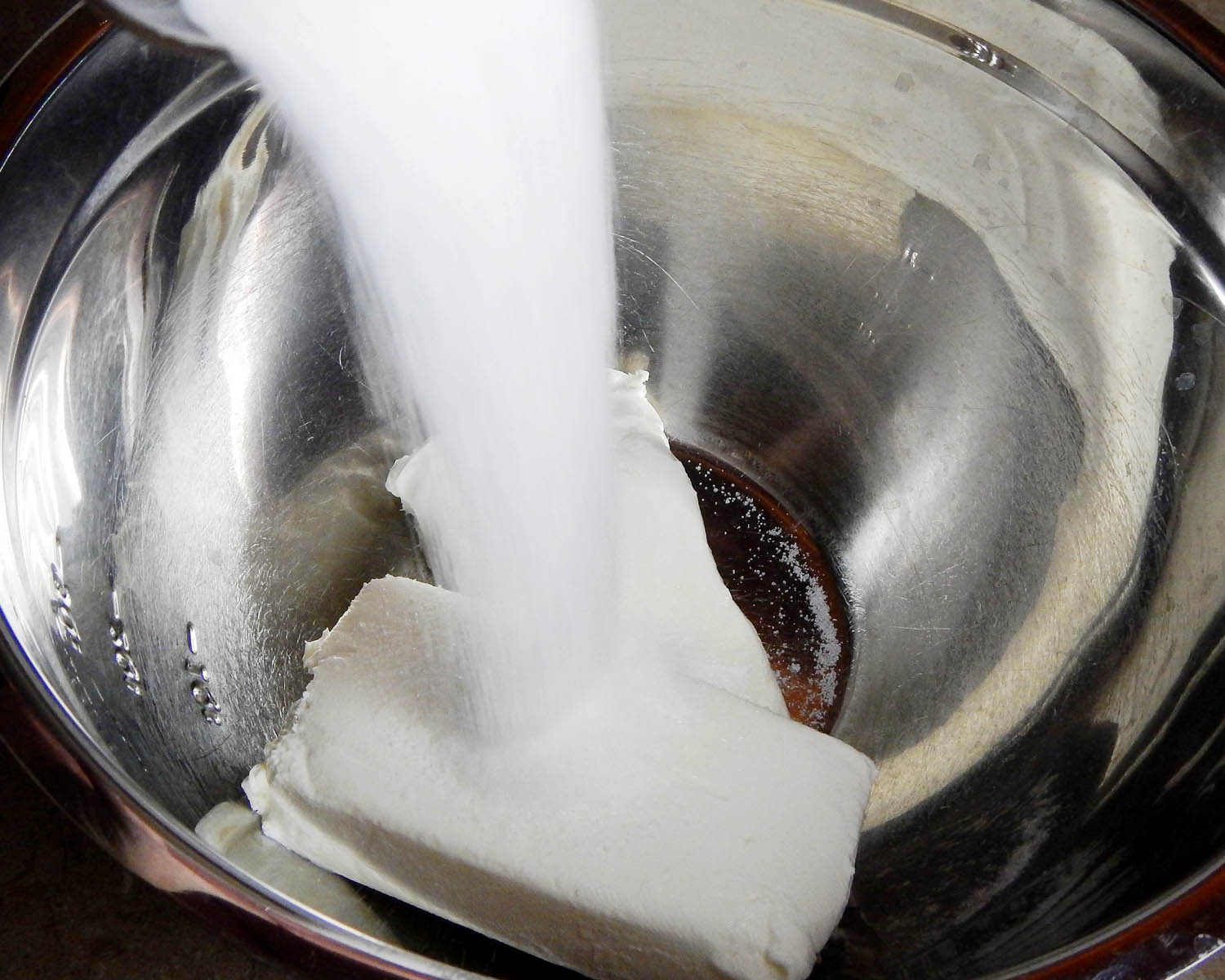 For the filling mix sugar, cream cheese, and flavorings until smooth.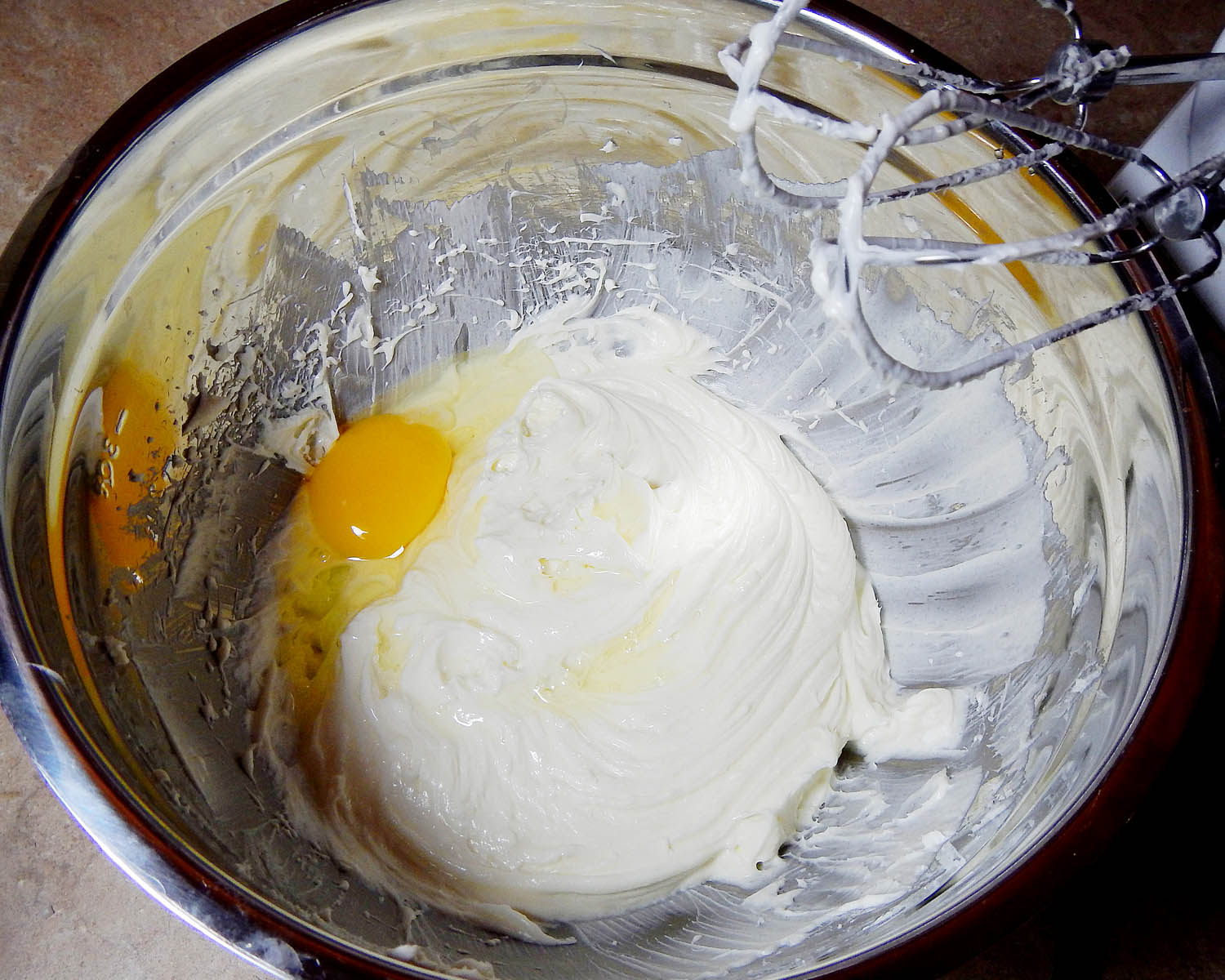 Beat in the eggs one at a time. This recipe has two eggs and one egg yolk. The extra yolk adds to the creamy texture.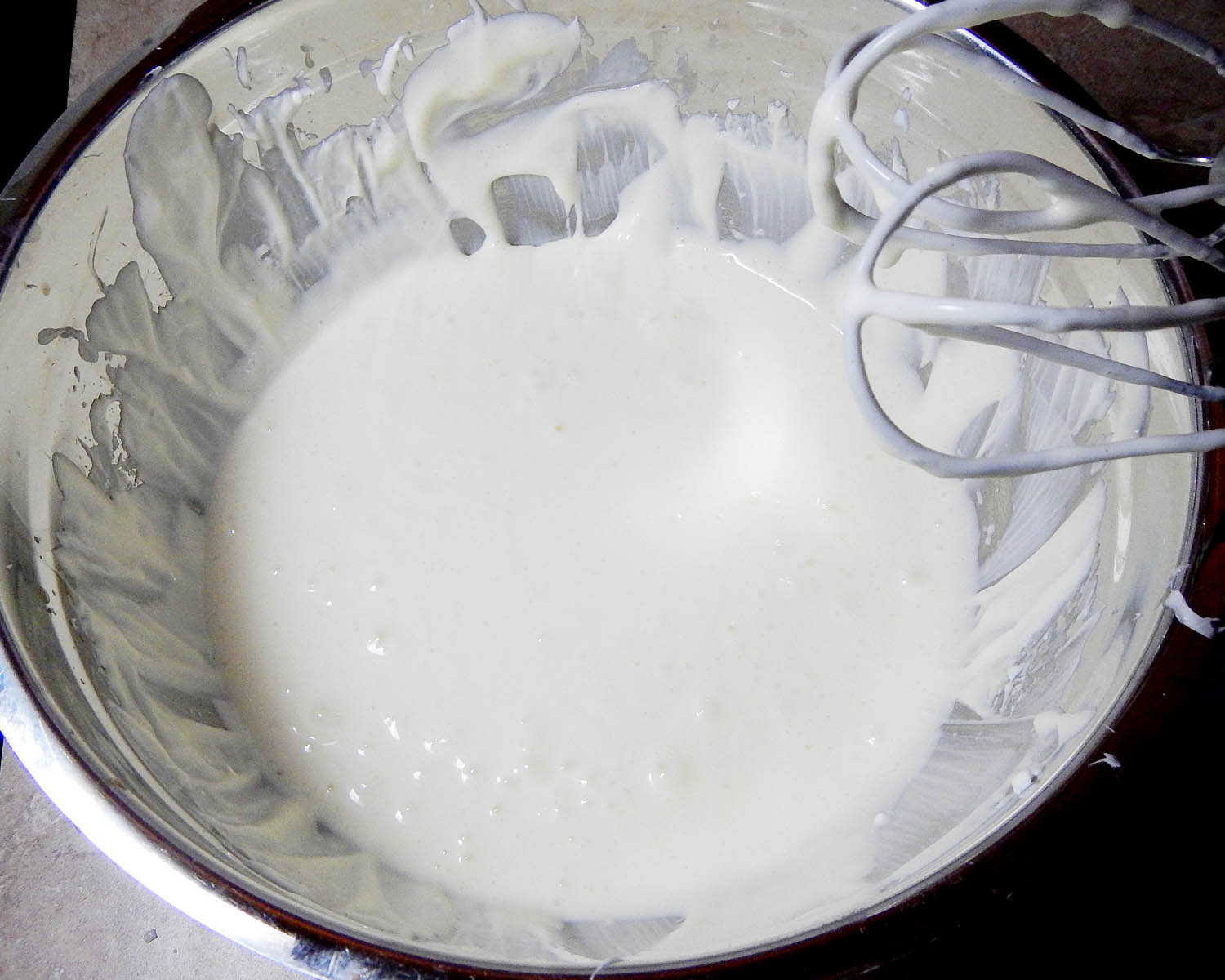 Now for the secret ingredient! If you can't find Coconut Vanilla Greek Yogurt you can use one container of vanilla and one container of coconut. Can't find coconut either? You can use vanilla, then just add an extra half teaspoon of coconut extract to the recipe. I recommend traditional style Greek Yogurt rather than the non-fat version.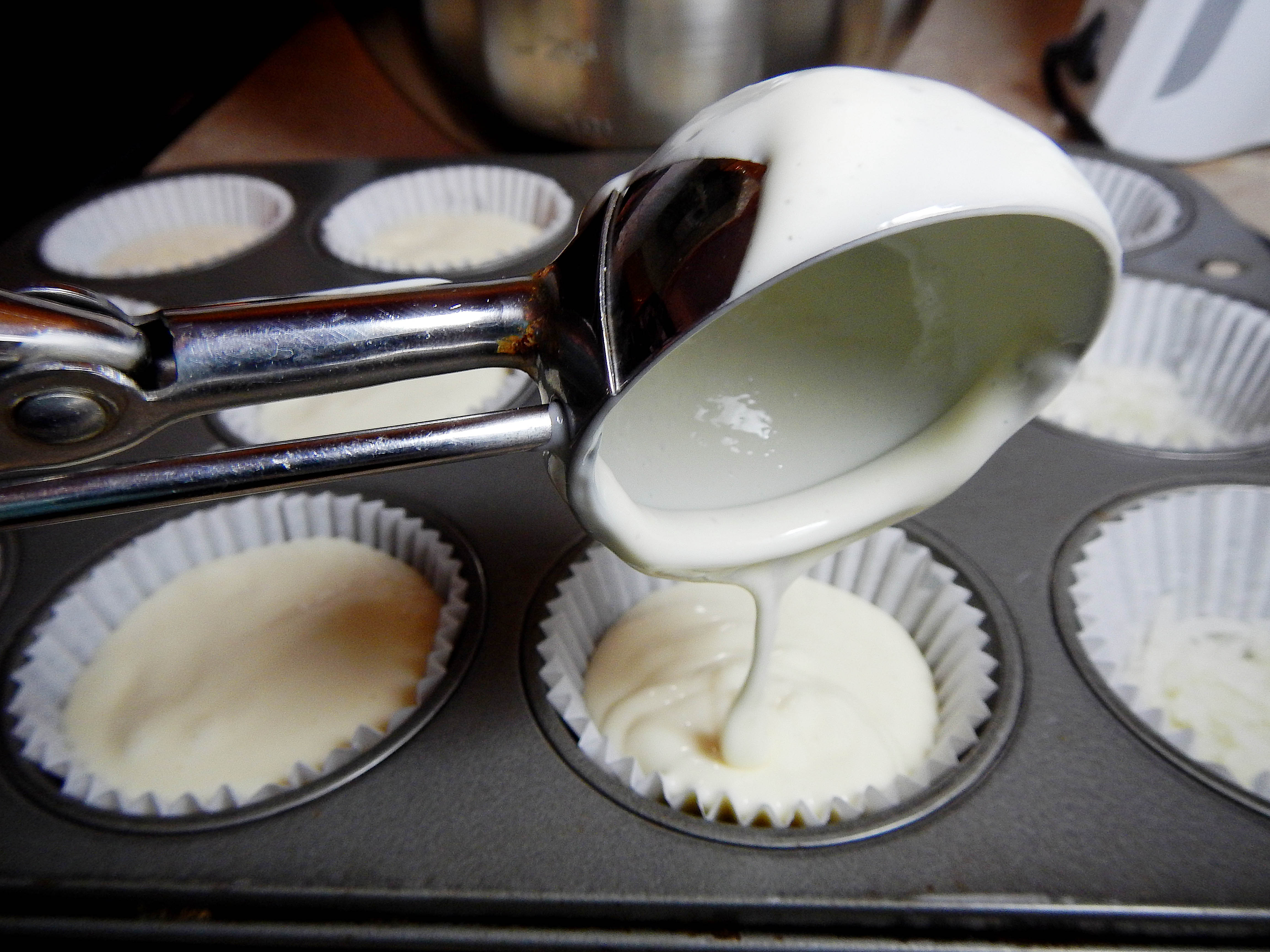 Pour batter onto each crust. An ice cream scoop will help you fill the cups cleanly and make sure they all have the same amount of batter so they bake evenly. Bake these for 15-18 minutes. They won't look done. The edges will be set but the center will be slightly wobbly. I know it seems scary to take them out when they don't look ready but they continue to cook after you remove them from the oven.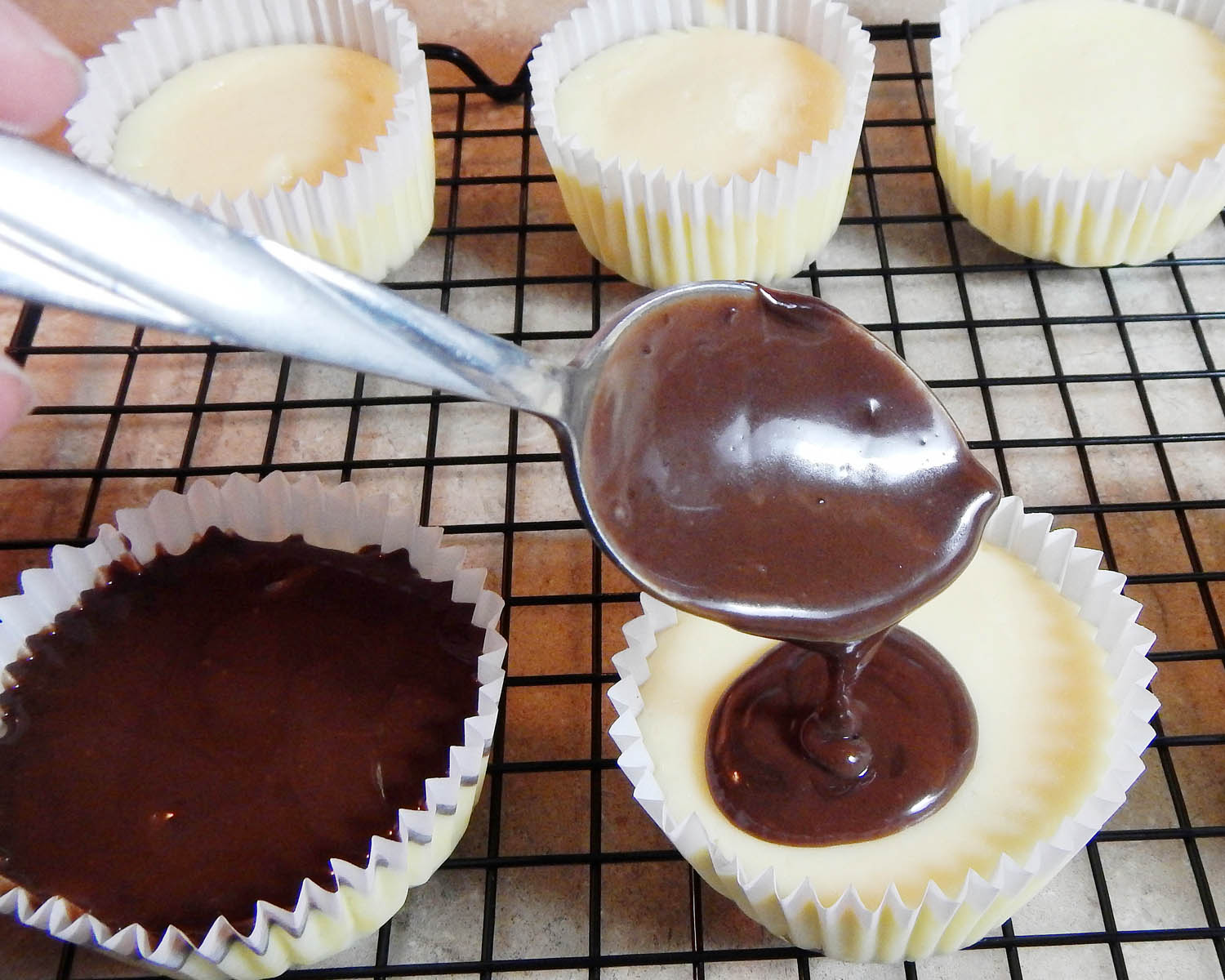 You can see I used paper wrappers here. I've made these since, and found I prefer foil wrappers. They help the filling hold up better.
Let the cakes cool while you make chocolate ganache. It's equal parts heavy cream and semi-sweet chocolate. I add a teaspoon of corn syrup for extra shine. If you don't have any, it's no problem.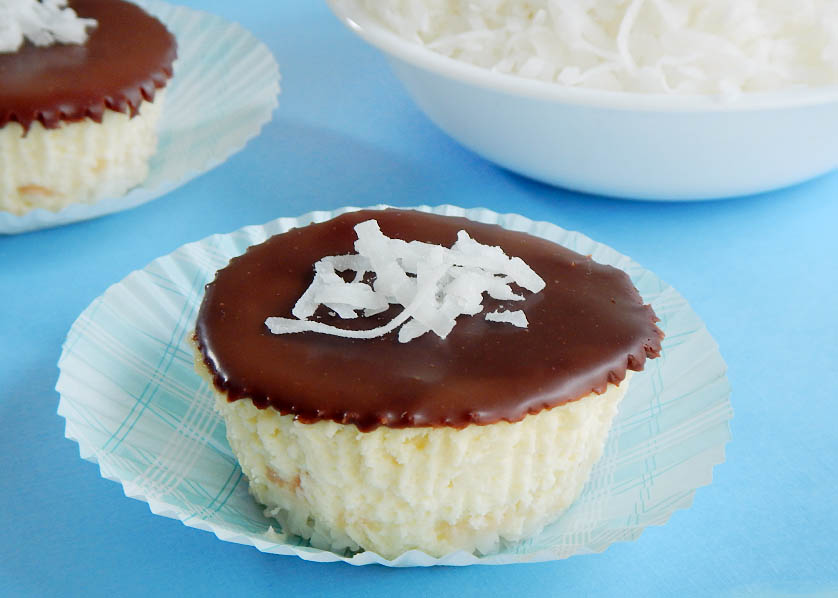 Add a sprinkle of coconut on top for decoration. For an extra special touch, you could top your cheesecakes with homemade vanilla whipped cream.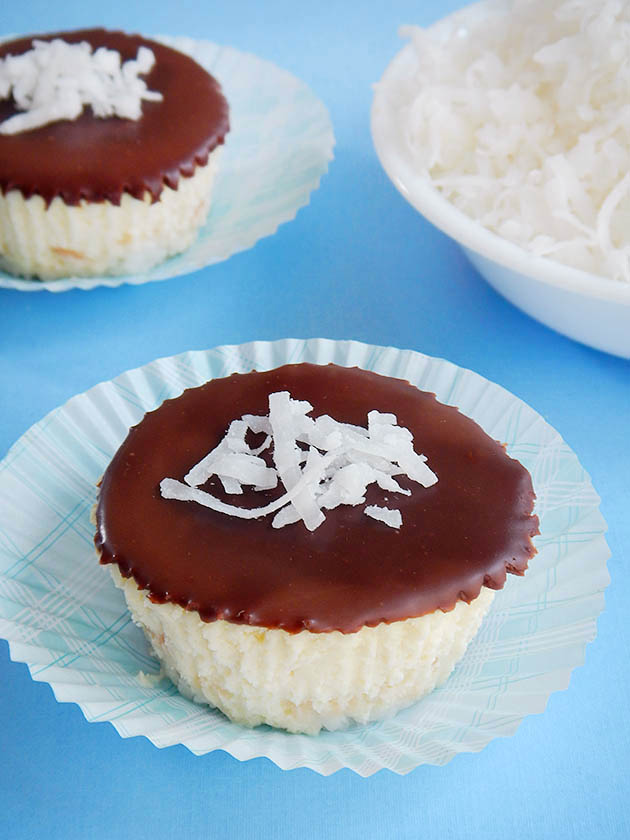 I'm happy these luxurious little bites of cheesecake bliss came from my grocery store mishaps! Did you ever have a mishap turn into something great? You can tell me about it in the comments.
Don't miss out on any sweet secrets. Follow me on Pinterest, Facebook, or Twitter.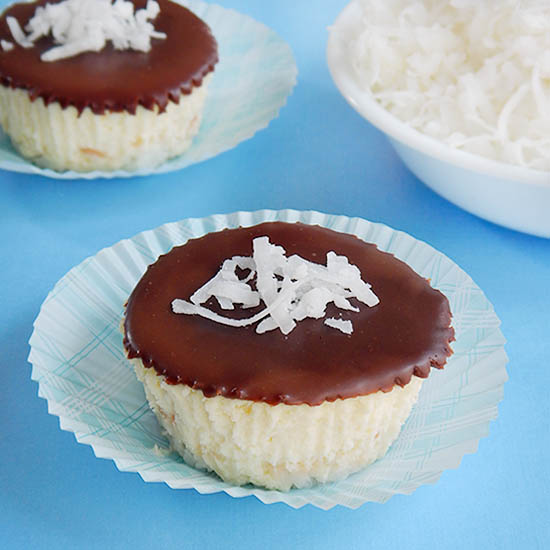 Coconut Vanilla Cheesecakes
2014-01-16 16:56:06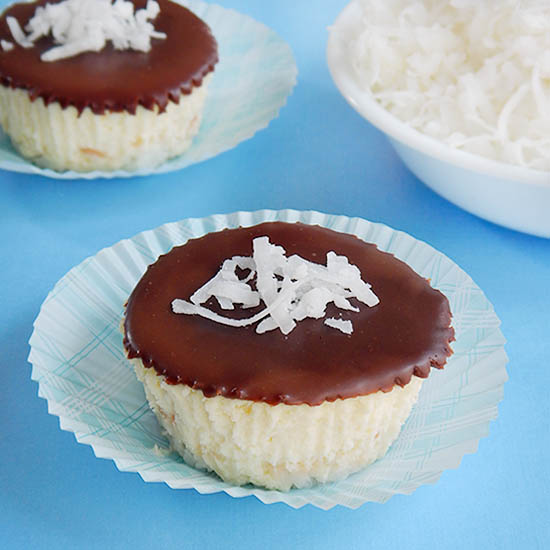 Serves 15
Miniature cheesecakes with a secret creamy ingredient. They have chewy coconut crusts and chocolate ganache glaze.
For the crusts
1 and 1/2 cups sweetened coconut
1 egg white
For the filling
2 (8 ounce) packages cream cheese at room temperature
2 whole eggs
1 egg yolk
2/3 cup sugar
1 teaspoon vanilla extract
1 teaspoon coconut extract
2 (5.3 ounce) containers Traditional Toasted Coconut Vanilla Greek Yogurt
For the glaze
1/2 cup (four ounces) heavy cream
1/2 cup (four ounces) semi-sweet chocolate chips
1 teaspoon corn syrup (optional)
For the whipped cream
1 cup heavy cream
3 tablespoons powdered sugar
1/2 teaspoon vanilla
For the crusts
Preheat oven to 350 degrees.
Place cupcake wrappers inside standard size muffin or cupcake tins.
Combine sweetened coconut and egg white. Scoop one tablespoon of mixture into lined muffin tins.
Bake 8-10 minutes until edges are lightly browned.
For the filling
Beat cream cheese, sugar, vanilla extract, and coconut extract until smooth and fluffy. Add eggs and egg yolk one at a time. Beat until combined and scrape the sides of the bowl after each addition. Add yogurt. Mix until smooth.
Scoop filling over each baked crust. Fill almost to the top.
Bake at 350 degrees for 15-18 minutes until edges are set but centers remain slightly wobbly.
Remove pans from oven. Let cakes cool 20 minutes. Remove from pans.
For the glaze
Heat heavy cream over medium heat until it just boils. Pour hot cream over chocolate. Add corn syrup.
Let mixture sit for five minutes. Stir until smooth. Let cool for one hour.
Pour ganache over cooled cheesecakes. Let cool completely.
Top with whipped cream.
For the whipped cream
Beat cream, sugar, and vanilla until the mixture holds firm peaks.
Notes
Make sure to line your baking pans with cupcake liners.
Cheesecakes should be stored in the refrigerator. They should be unwrapped just before serving.
If you can't find the toasted coconut vanilla flavor, you can use one container of vanilla and one container of coconut.
If you can only find vanilla, use two containers of vanilla then add an additional 1/2 teaspoon of coconut extract to the recipe.
Frosting and a Smile http://frostingandasmile.com/