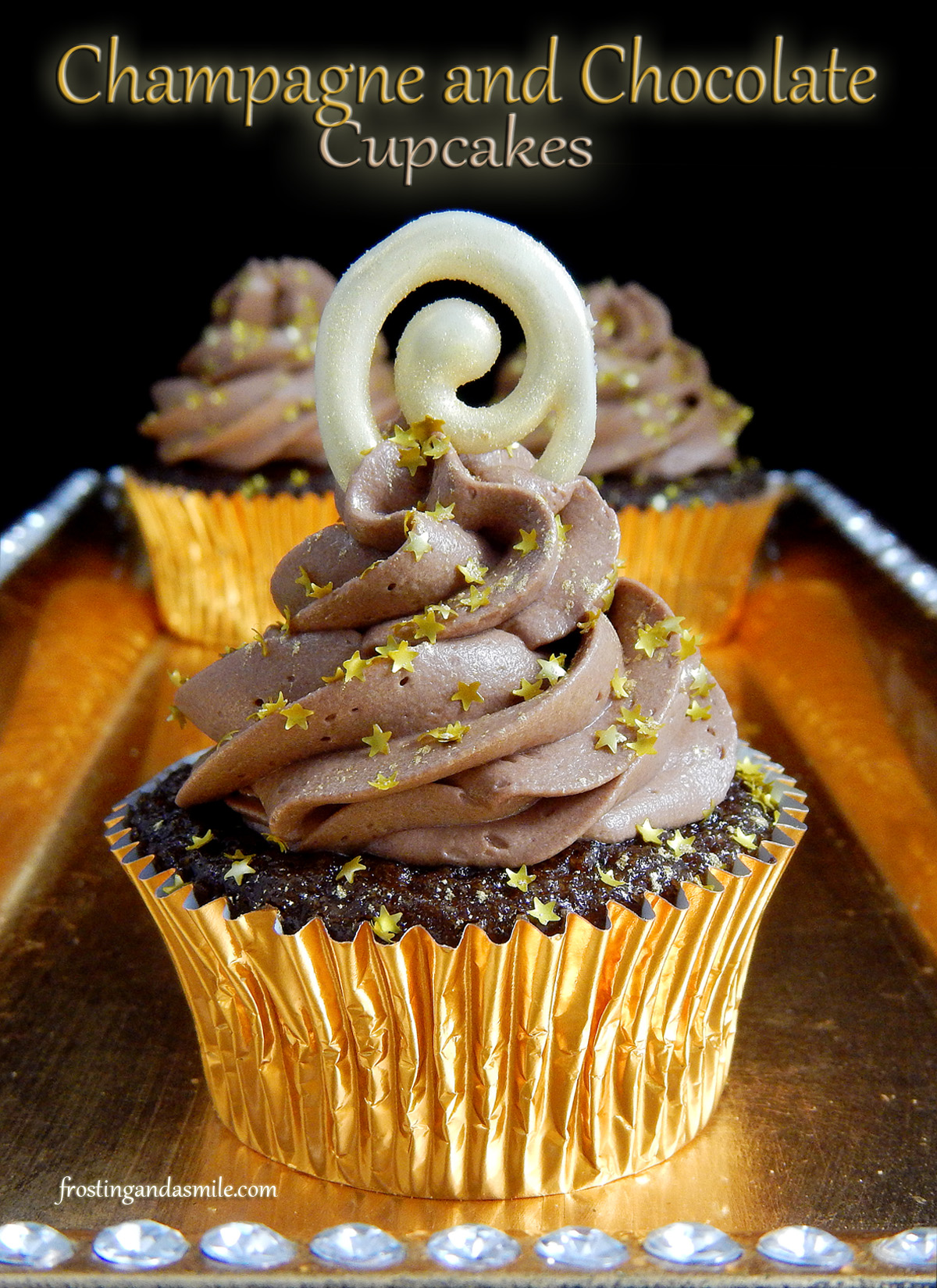 Chocolate Champagne Frosting –
The festive pop of the cork, bubbles racing to the top of your glass, nothing says "celebration" like Champagne. If Champagne brought a date to a party it would have to be chocolate. They are the perfect pair!
They are also the perfect way to celebrate a pair of special occasions in my home. My husband's birthday is New Year's Eve. I always make him something special. Since our son joined the family three years ago, we have celebrated at home. If you have ever tried to get a babysitter on December 31st, you understand.
This frosting is decadent way to toast a romantic night in. It's also an impressive way to treat your friends during a big night out.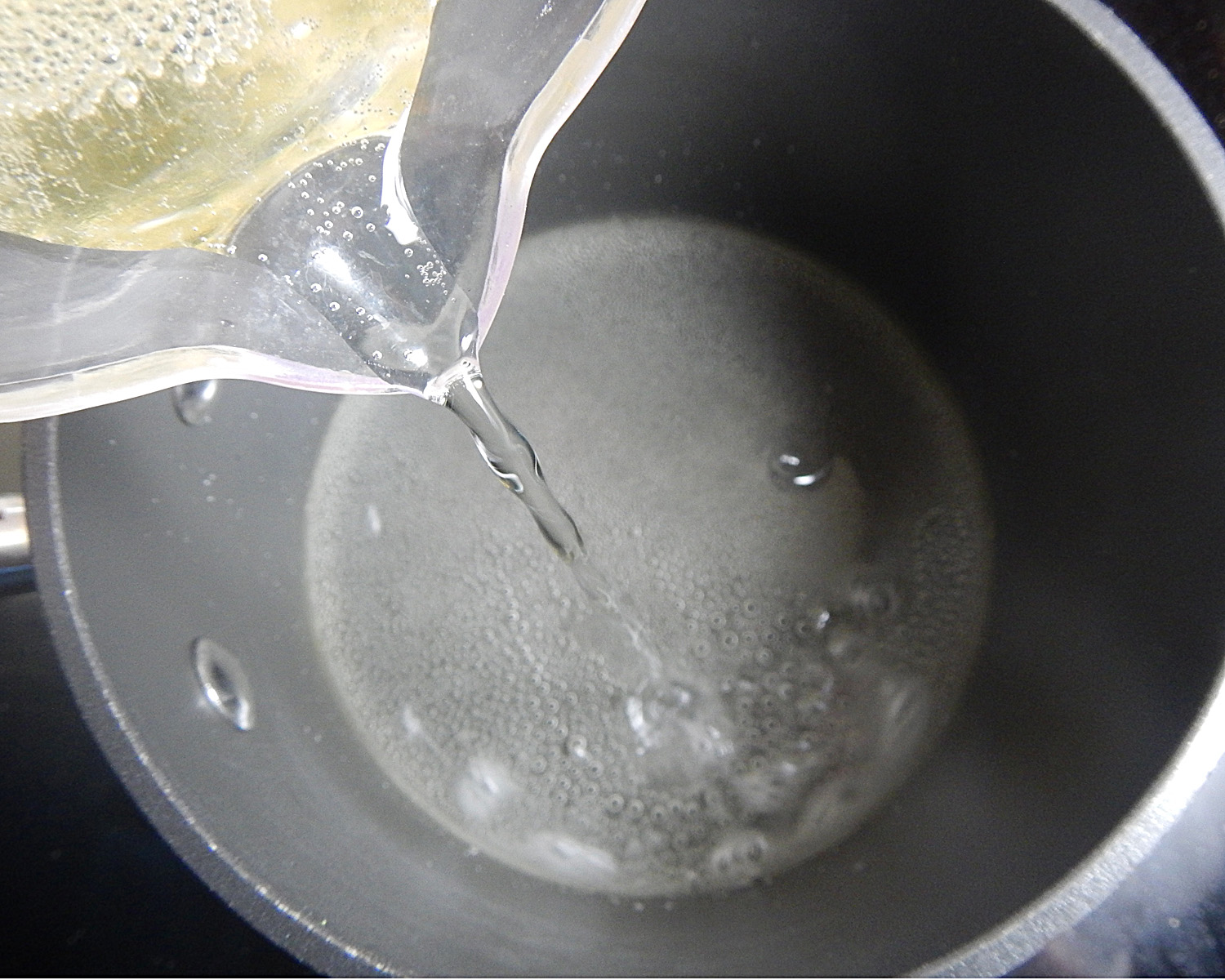 You can use any Champagne or semi-sweet sparkling wine you like. Since too much liquid makes runny frosting, we will concentrate the Champagne flavor.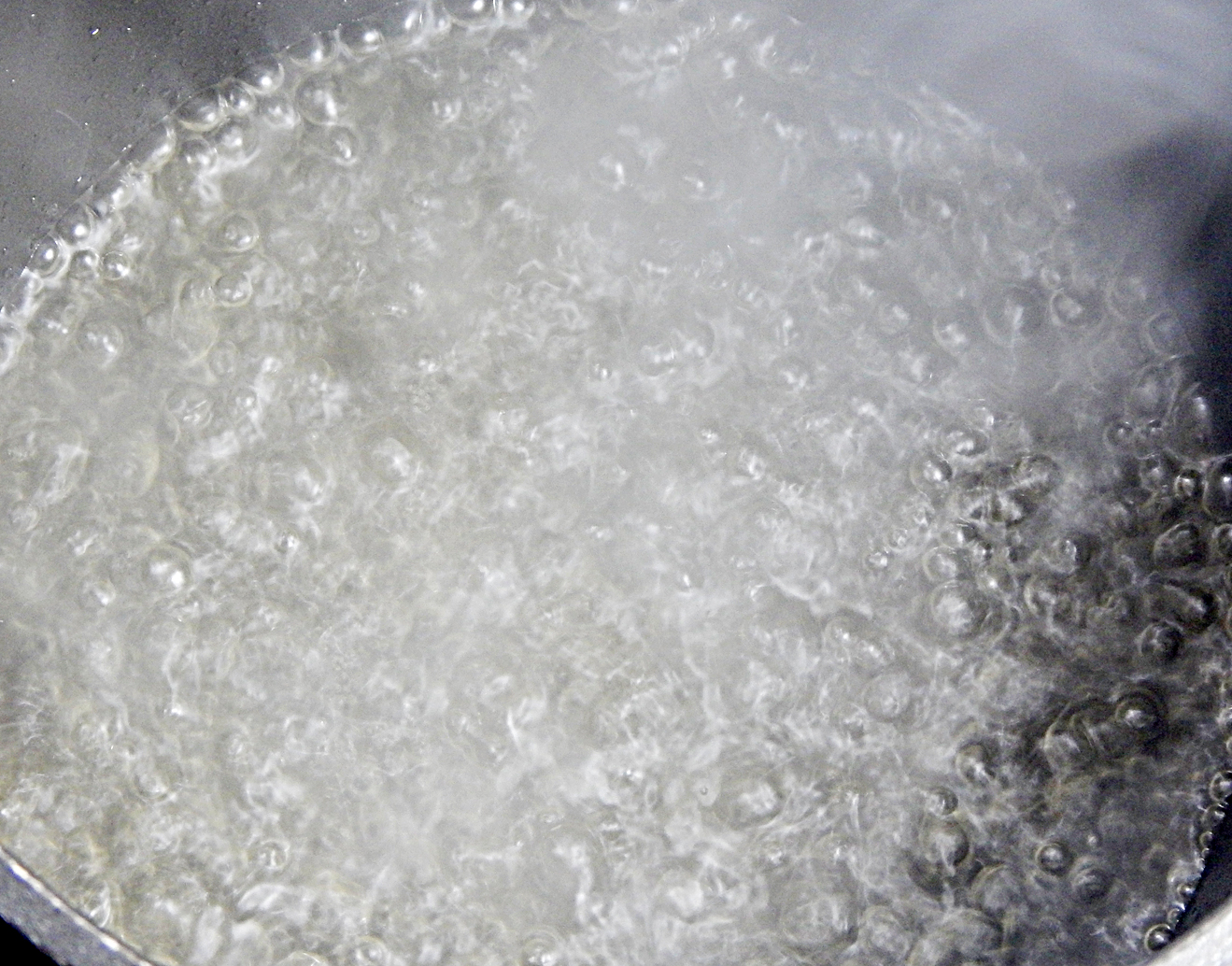 It looks like a party in a pot! It smells like a party too. You know how some scents transport you back in time? This brought me right back to my wedding toast and the laughter that followed when some guests toasted a little too much.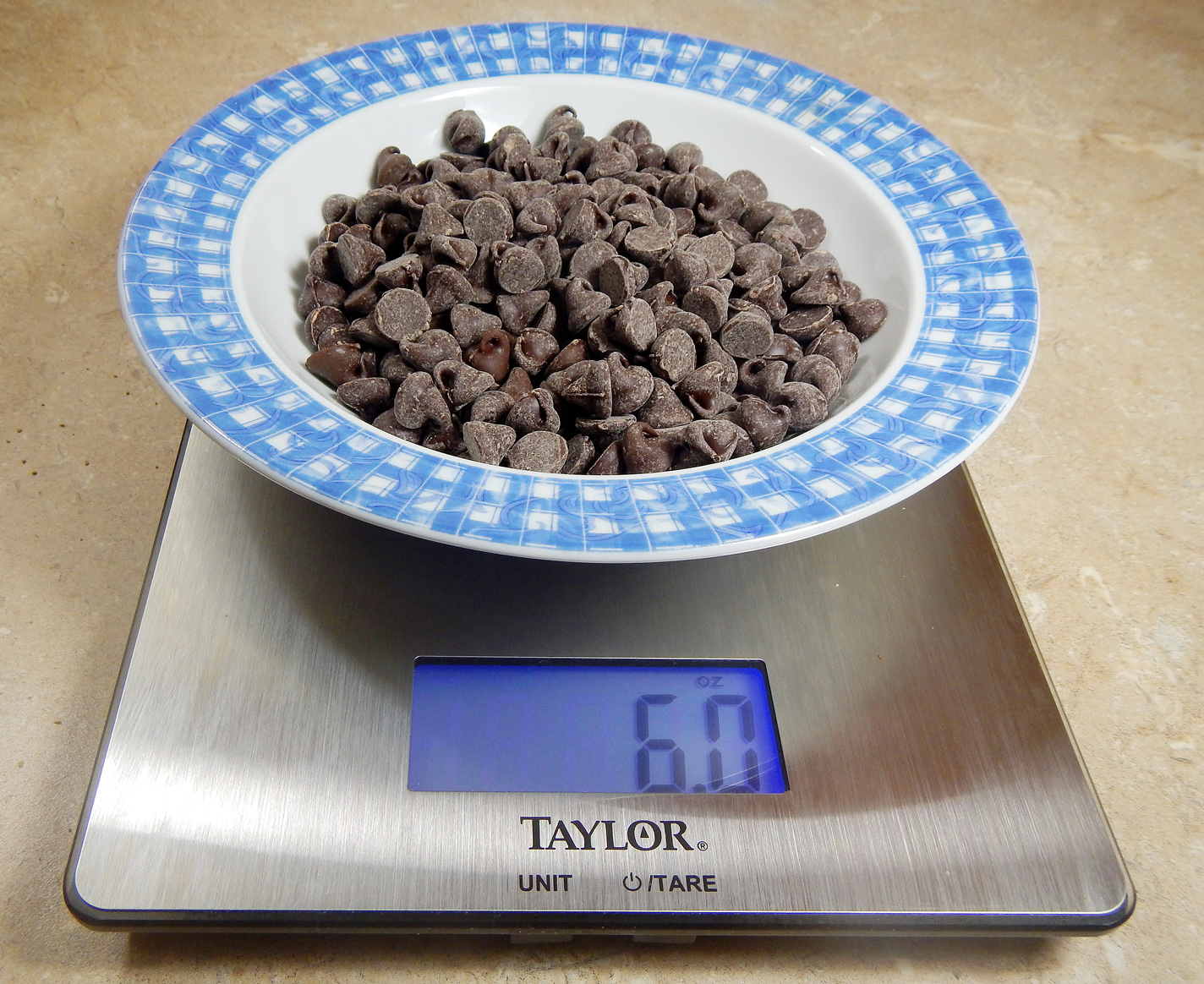 While your Champagne reduces, prepare your bittersweet chocolate. You will get more consistent recipe results if you weigh ingredients. You can melt chocolate chips or melt a chocolate bar chopped into small pieces. The better quality chocolate and champagne you use, the better your frosting will taste.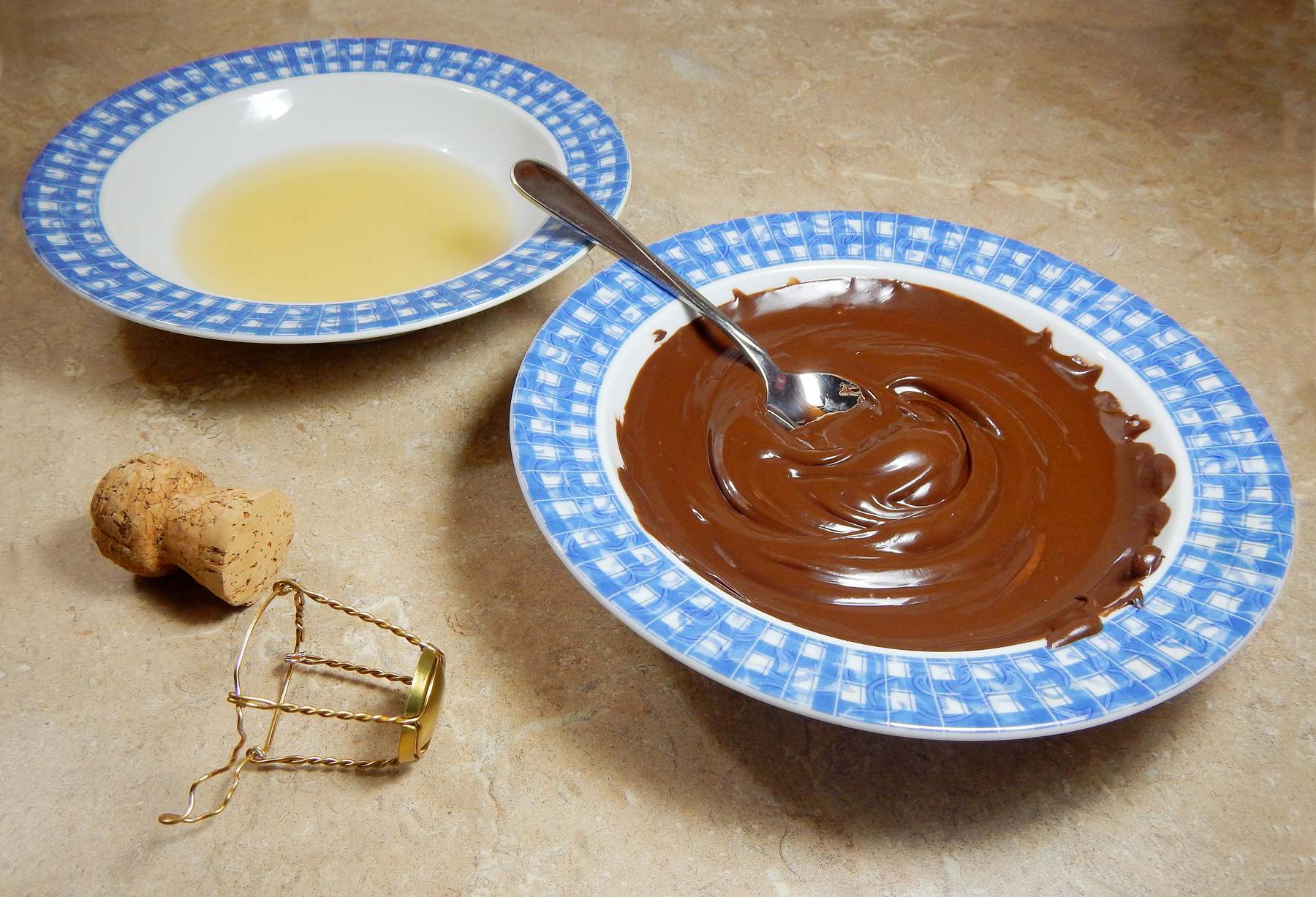 Let your chocolate and Champagne cool while you work on the buttercream base.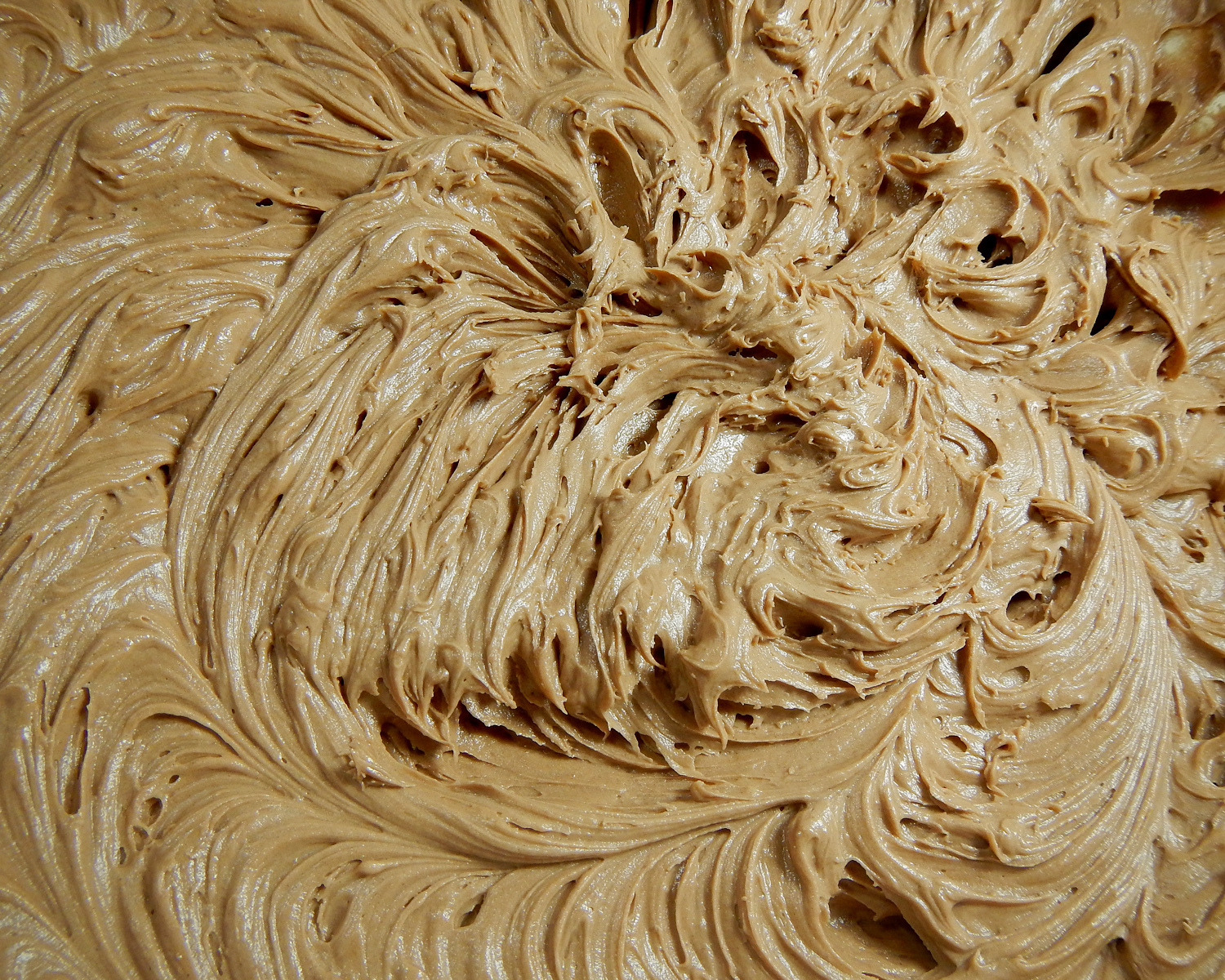 Beat unsalted butter with the melted chocolate. That could put me in a delicious hypnotic state. It's so beautiful I just want to dive right into the bowl.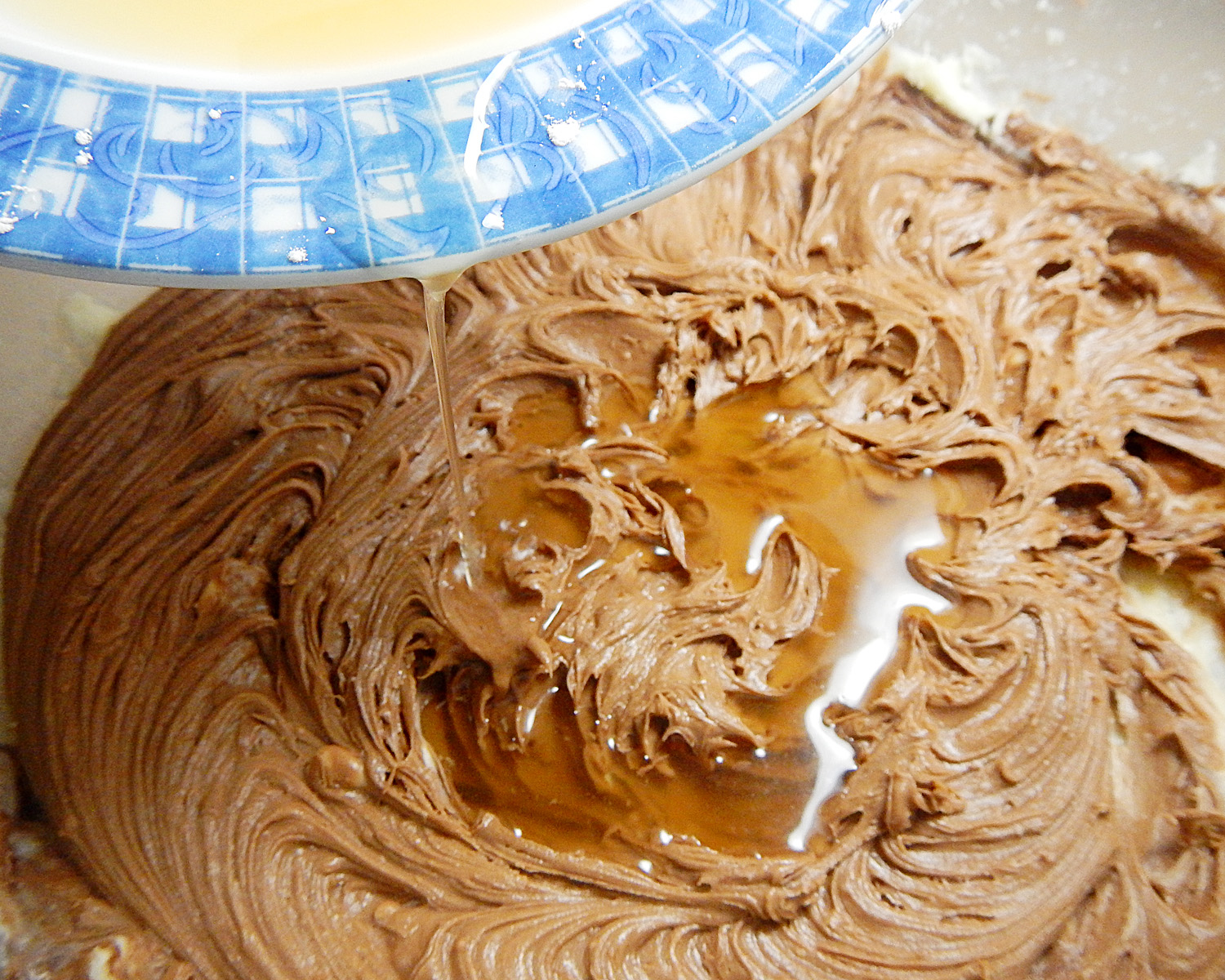 Then the Champagne joins the party. Beat until the mixture becomes smooth and fluffy.
Gradually add the powdered sugar. You can sift it to make sure it has no clumps. That will help you get an even fluffier frosting. Start your mixer on low so you don't end up with a sugar explosion. Once the butter and sugar are incorporated, turn that mixer up and beat the mixture until smooth.
If it seems runny, you may not have cooled your chocolate or Champagne long enough. Place it in the refrigerator for 30 minutes and it will be just fine.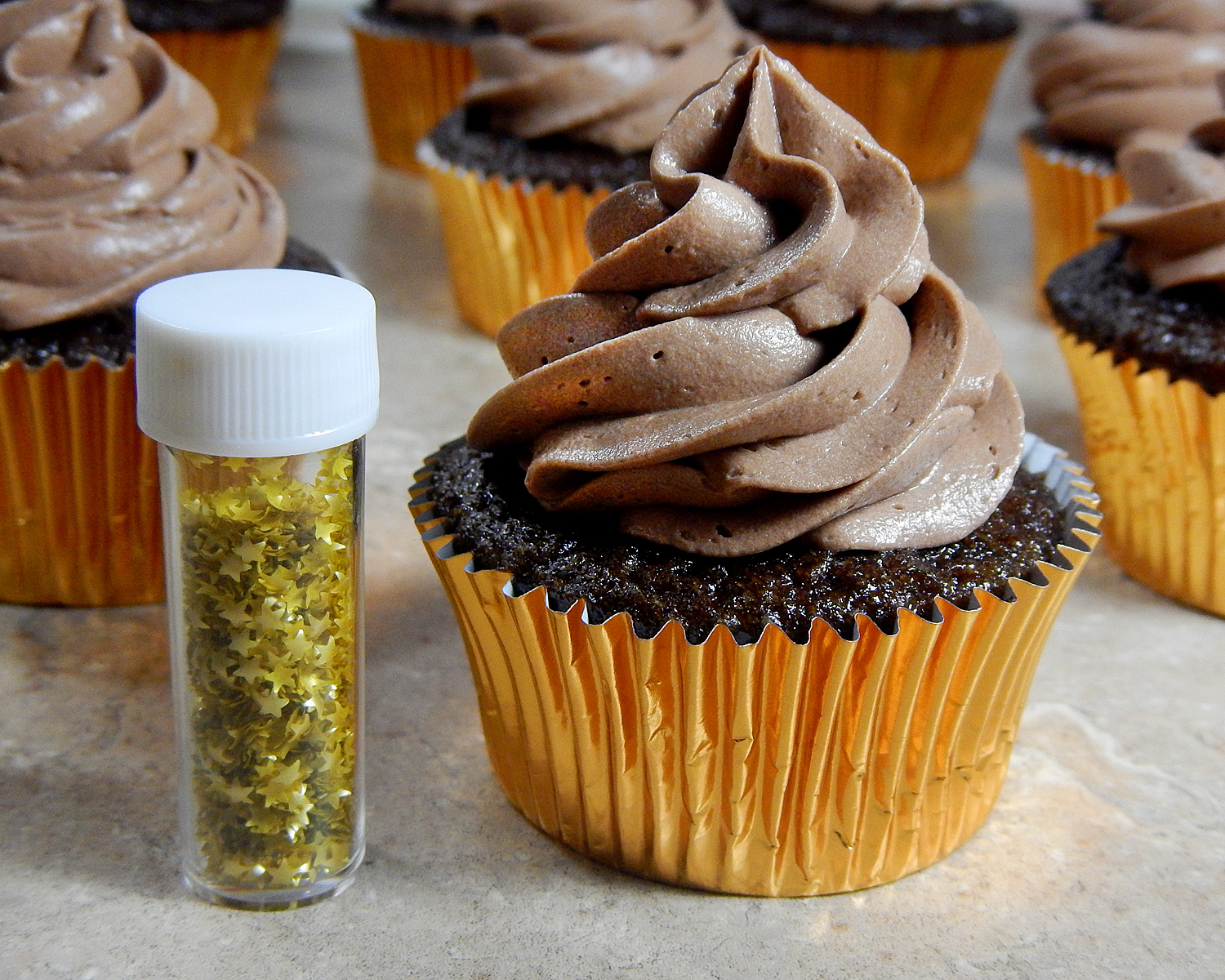 I used a Wilton 1M tip to frost my cupcakes.
If my husband and I were spending New Year's Eve in, I'd serve them just like this. Let's be honest. I would probably just break out two spoons and we would eat the frosting out of the bowl in our pajamas, while we watched the Times Square ball drop on TV.
But if we were going to a party, I'd pile the frosting high on chocolate champagne cupcakes wrapped in gold foil, then accessorize them with edible glitter stars and a white chocolate swirl.
That's perfect!
The white chocolate swirl is easier to make than you might think.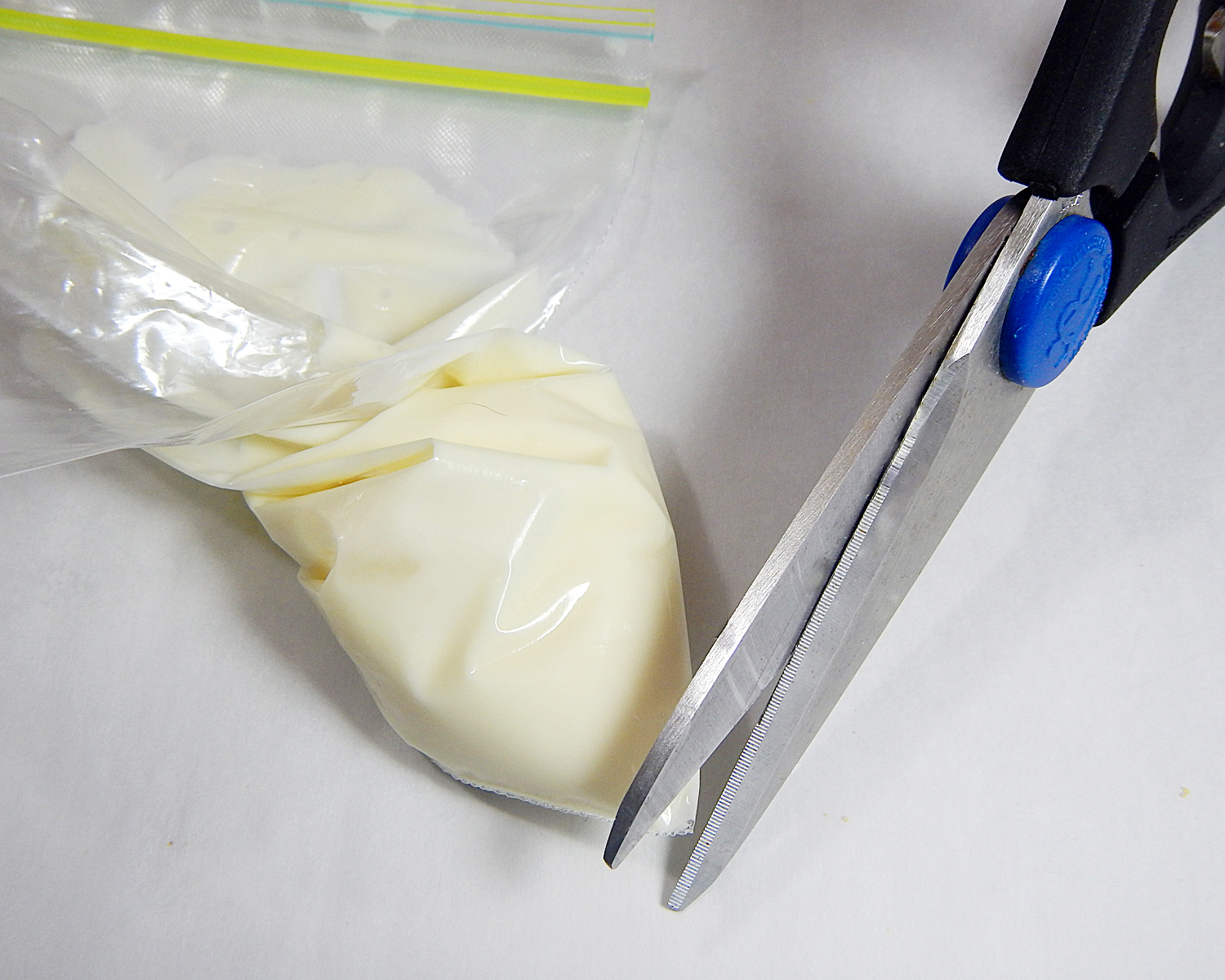 Melt half a cup of white chocolate with two teaspoons of vegetable oil. Put it in a squeeze bottle or a sandwich bag with the corner snipped.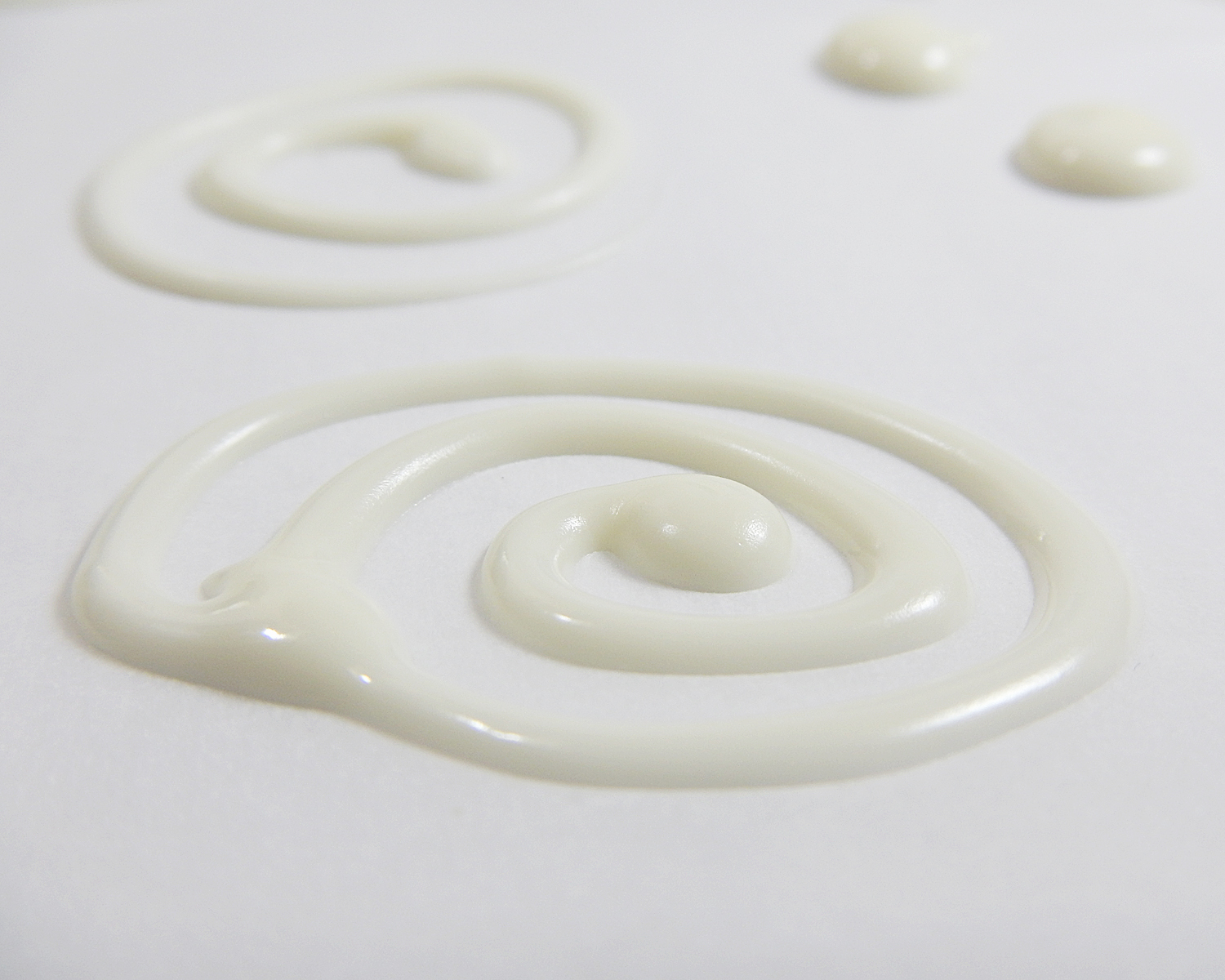 Pipe swirly shapes onto a cookie sheet covered with parchment paper or wax paper.
You can make all sorts of shapes. For New Year's you could write out the year. Hearts would be perfect for Valentine's Day. If you're celebrating a milestone birthday or anniversary, draw the numbers like "21" or "50."
Make more than you need because some might break. Cool completely. You can put the cookie sheet in the refrigerator or freezer to speed up the process.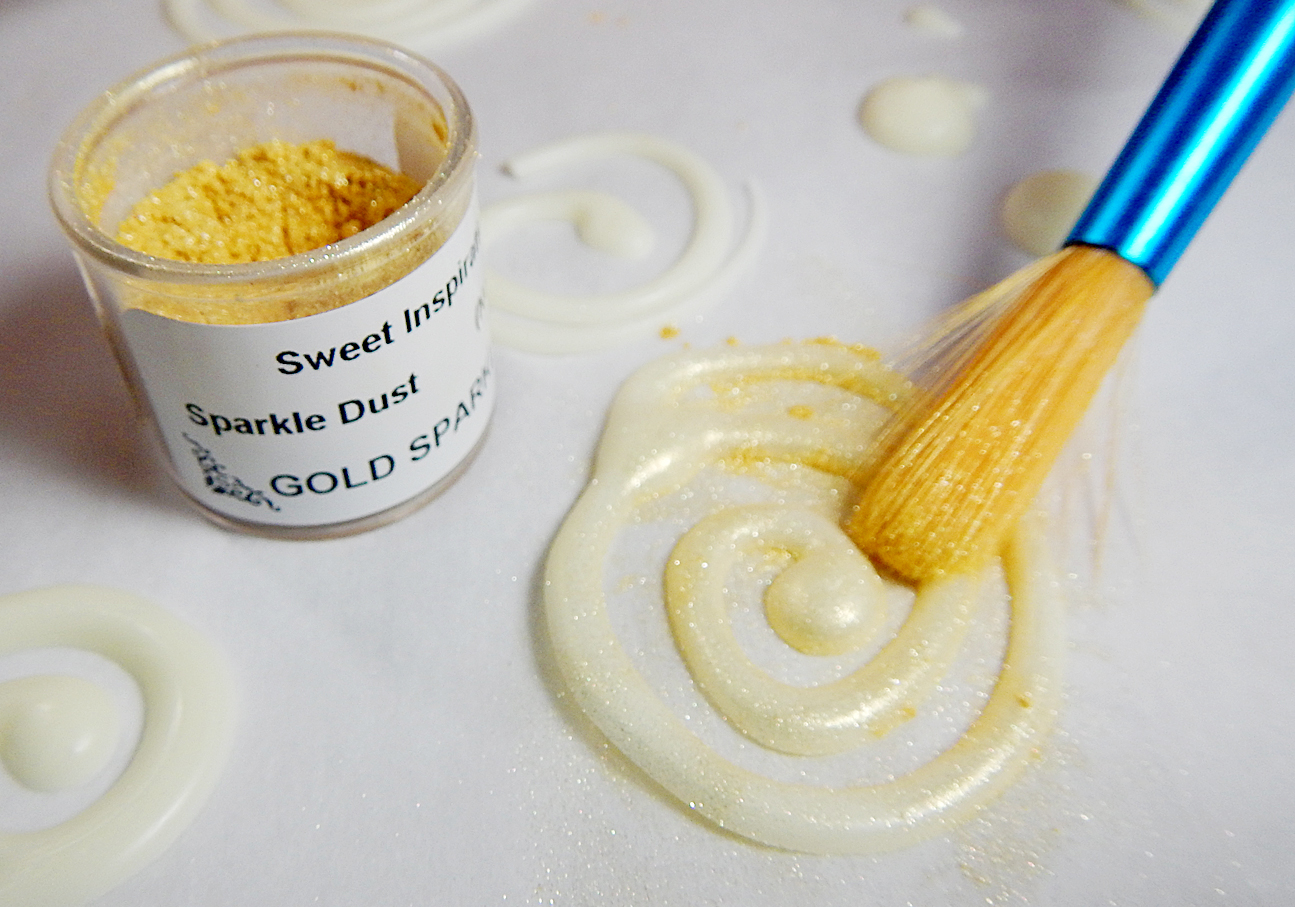 Once the chocolate shapes cool, dust them with edible sparkle dust. You can get it in craft stores or specialty cake shops. I used gold to match the gold foil wrappers. You could use red for Valentine's day. You can choose the guest of honor's favorite color, birthstone color, or any shade you like to match a party theme.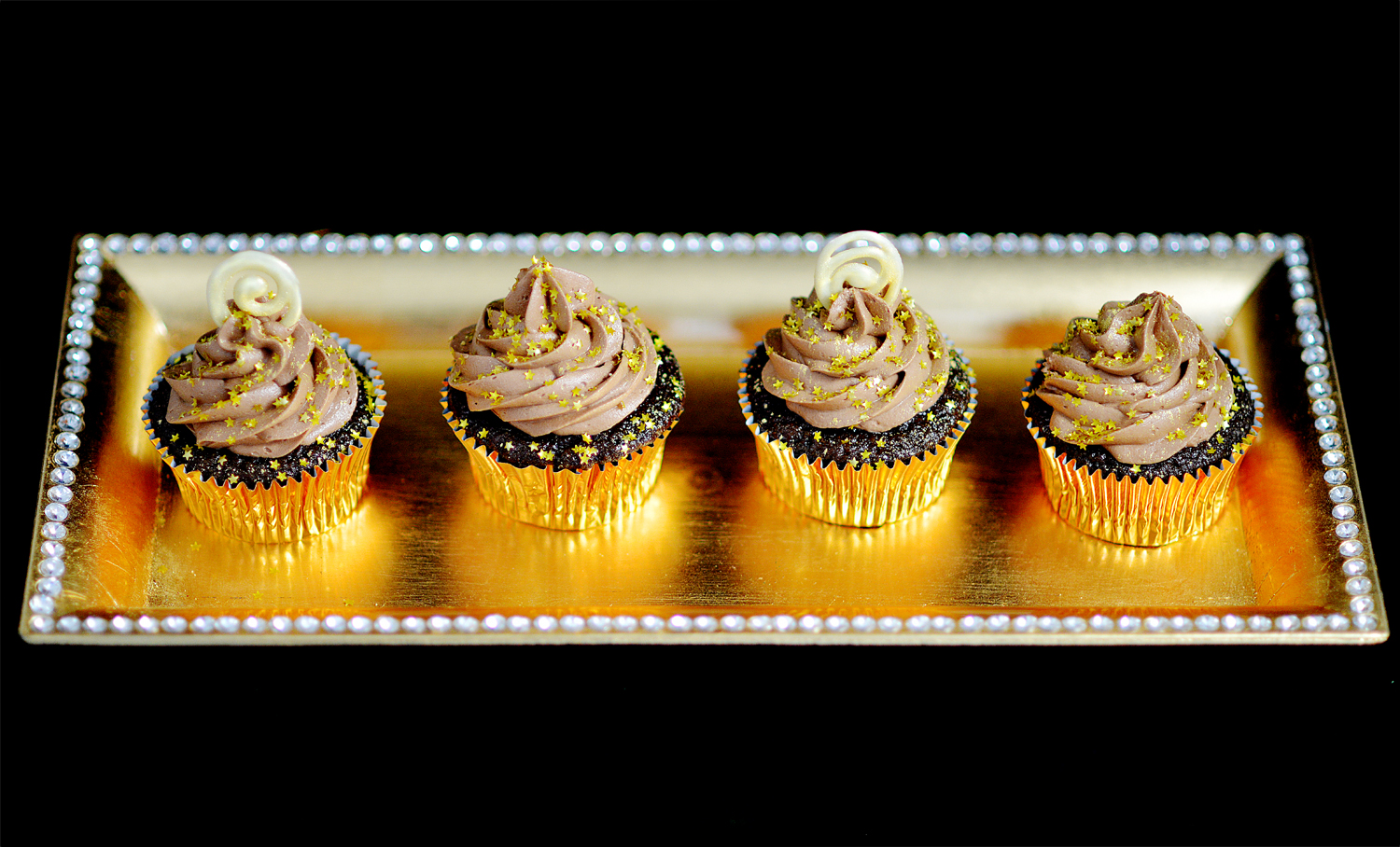 Chocolate Champagne frosting pairs perfectly with Chocolate Champagne Cupcakes. You can infuse your favorite chocolate cupcake with Champagne flavor. Just replace the water in the recipe with Champagne. I infused the chocolate cake from cakebatterandbowl.com.
When you deliver rich chocolate cakes swirled with champagne-infused frosting, party guests will toast to you!
This also tastes amazing on basic chocolate cake. Try swirling some on strawberry or vanilla cupcakes for a special twist.
Don't miss out on more sweet recipes like this. Follow me on Pinterest, Facebook, or Twitter.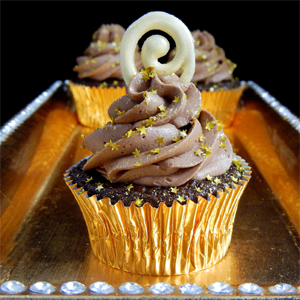 Chocolate Champagne Frosting
2013-12-26 14:08:13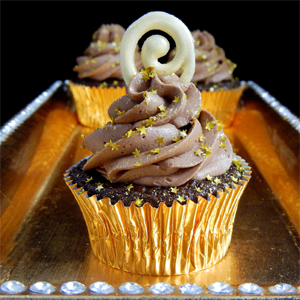 A luscious buttercream with rich chocolate flavor and a bright slightly fruity pop of champagne.
Ingredients
1 cup plus 2 tablespoons (9 ounces) semi-sweet Champagne or sparkling wine
3/4 cup (6 ounces) bittersweet chocolate
1 cup (8 ounces) unsalted butter, softened
3 cups (13 ounces) powdered sugar
Instructions
Bring one cup (8 ounces) Champagne to a simmer over medium heat.
Simmer on medium heat for 15 minutes. It will reduce to less than 1/4 cup.
Remove from heat. Cool completely.
Melt chocolate. Let cool.
Beat softened butter on medium speed for two minutes until fluffy.
Beat in melted chocolate.
Beat in Champagne concentrate and 2 tablespoons (1 ounce) Champagne.
Beat on medium speed for one minute until smooth.
Gradually add powdered sugar and beat well between additions.
Beat on medium speed for two minutes until light and fluffy.
Notes
This icing is soft. It's best swirled on a cupcake or slathered on a cake. It is not made for intricate piping work, like flowers.
This recipe frosts 20-24 cupcakes or one 8 inch cake.
Frosting and a Smile http://frostingandasmile.com/