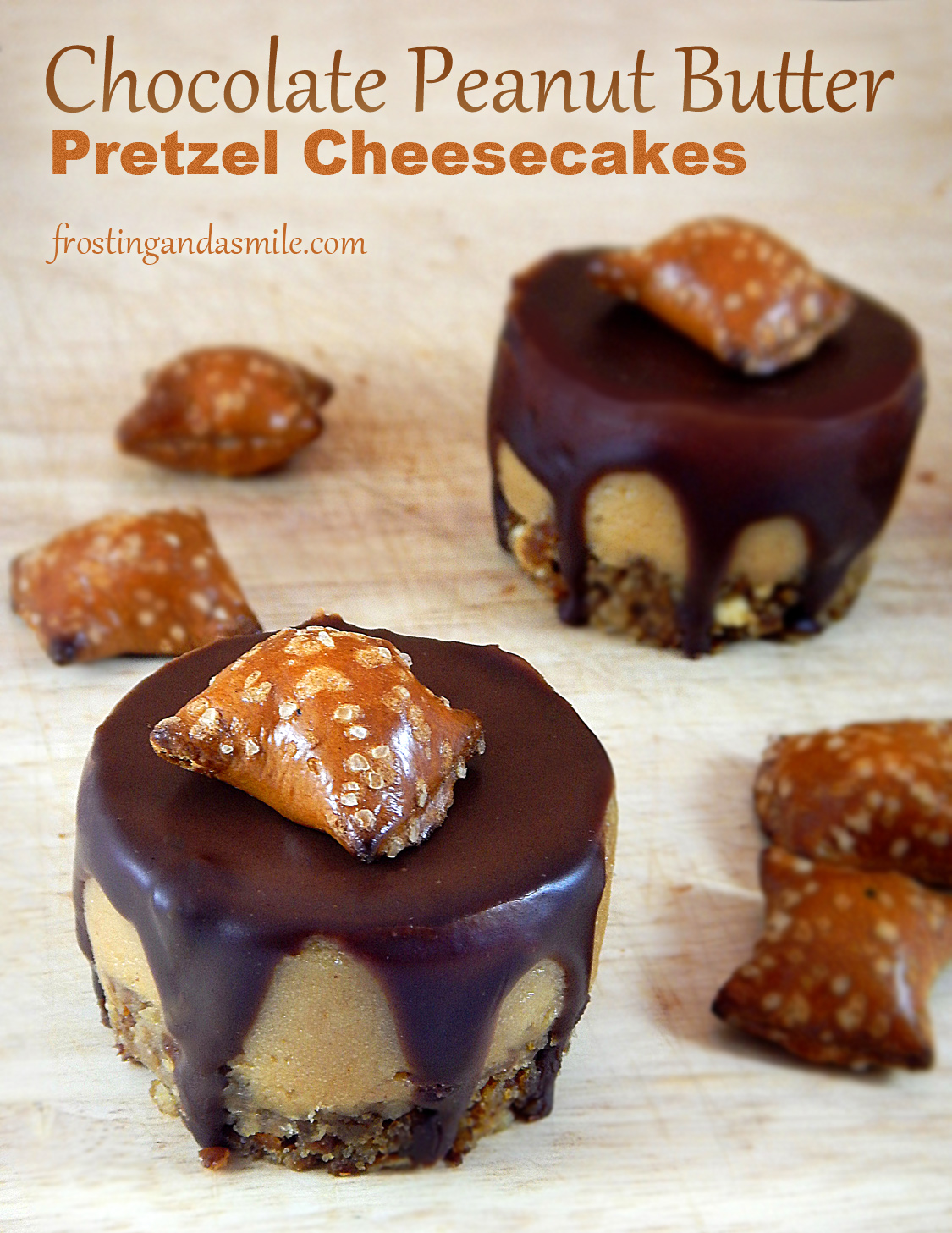 Chocolate Peanut Butter Pretzel Cheesecakes –
Sweet. Salty. Creamy. Crunchy.
Chocolate Peanut Butter Pretzel Cheesecakes combine all of my favorite snack groups in one delicious bite.
The melt-in-your mouth peanut butter cheesecakes sit on a crunchy pretzel crust. Poured chocolate ganache adds a kiss of sweetness.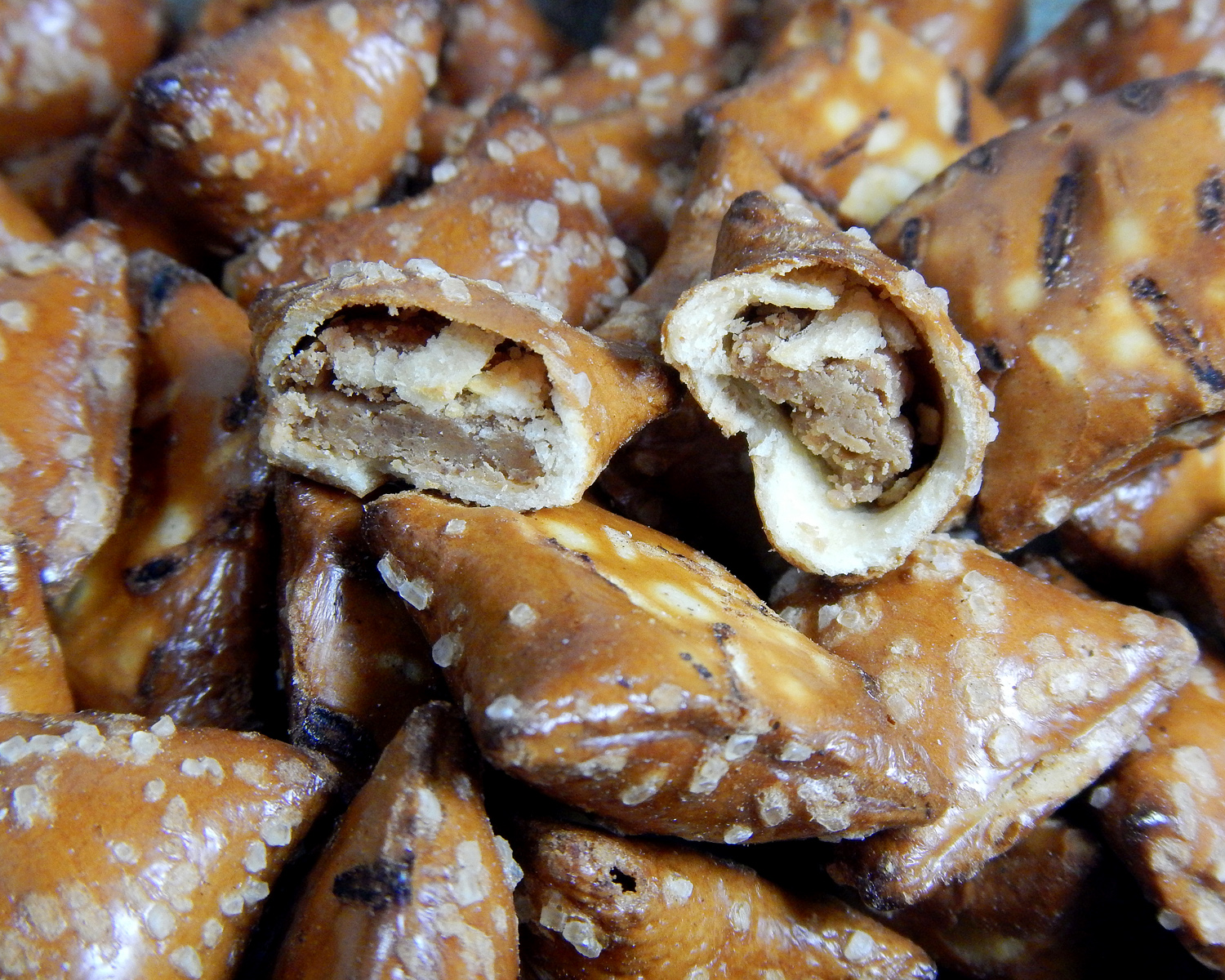 Every year my husband, Jason, asks me to make him mini cheesecakes for his birthday. Last year one of his favorite snacks inspired this twist. Jason inhales peanut butter filled pretzel nuggets. They disappear almost as soon as I bring them in the house. These cheesecakes disappear even faster.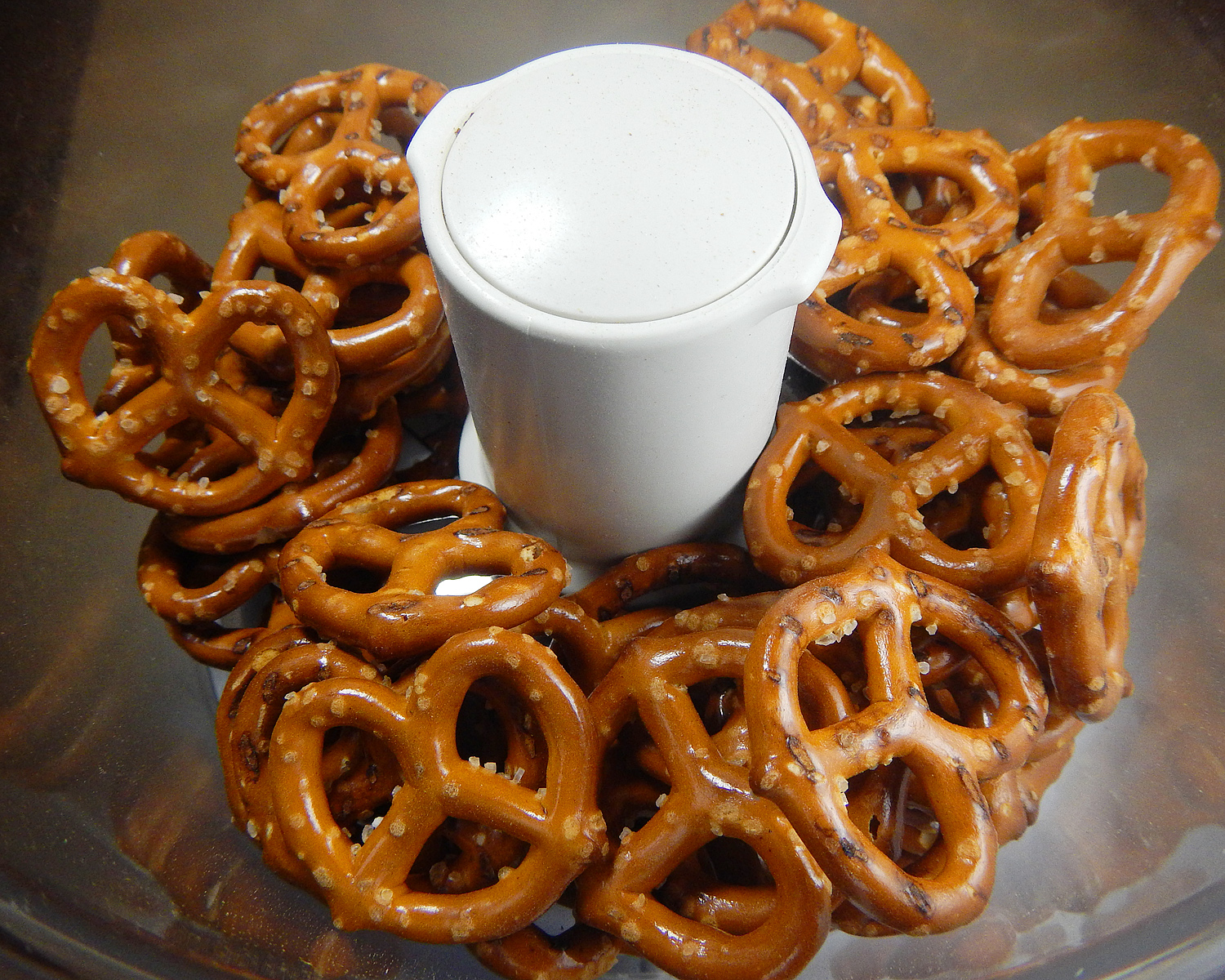 We start with a crushed pretzel crust. I crush mine in a food processor. If you don't have one, you can put your pretzels in a plastic bag then smash them with a rolling pin or meat mallet. Don't have those either? Just grab a can from the pantry and use it as a hammer.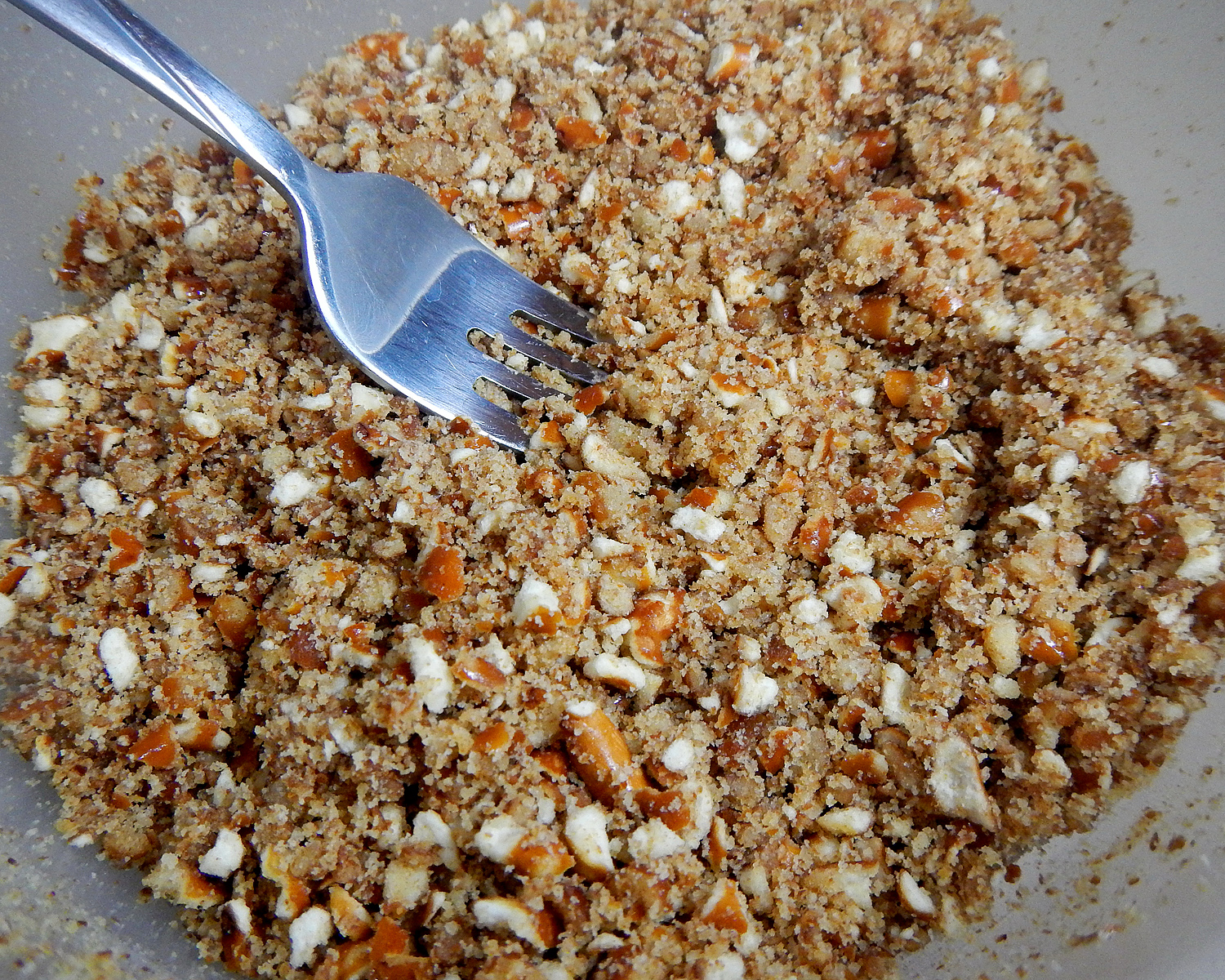 I like to leave some larger pieces in the mix for added texture and crunch.
Mix the pretzels with brown sugar, butter, and an egg.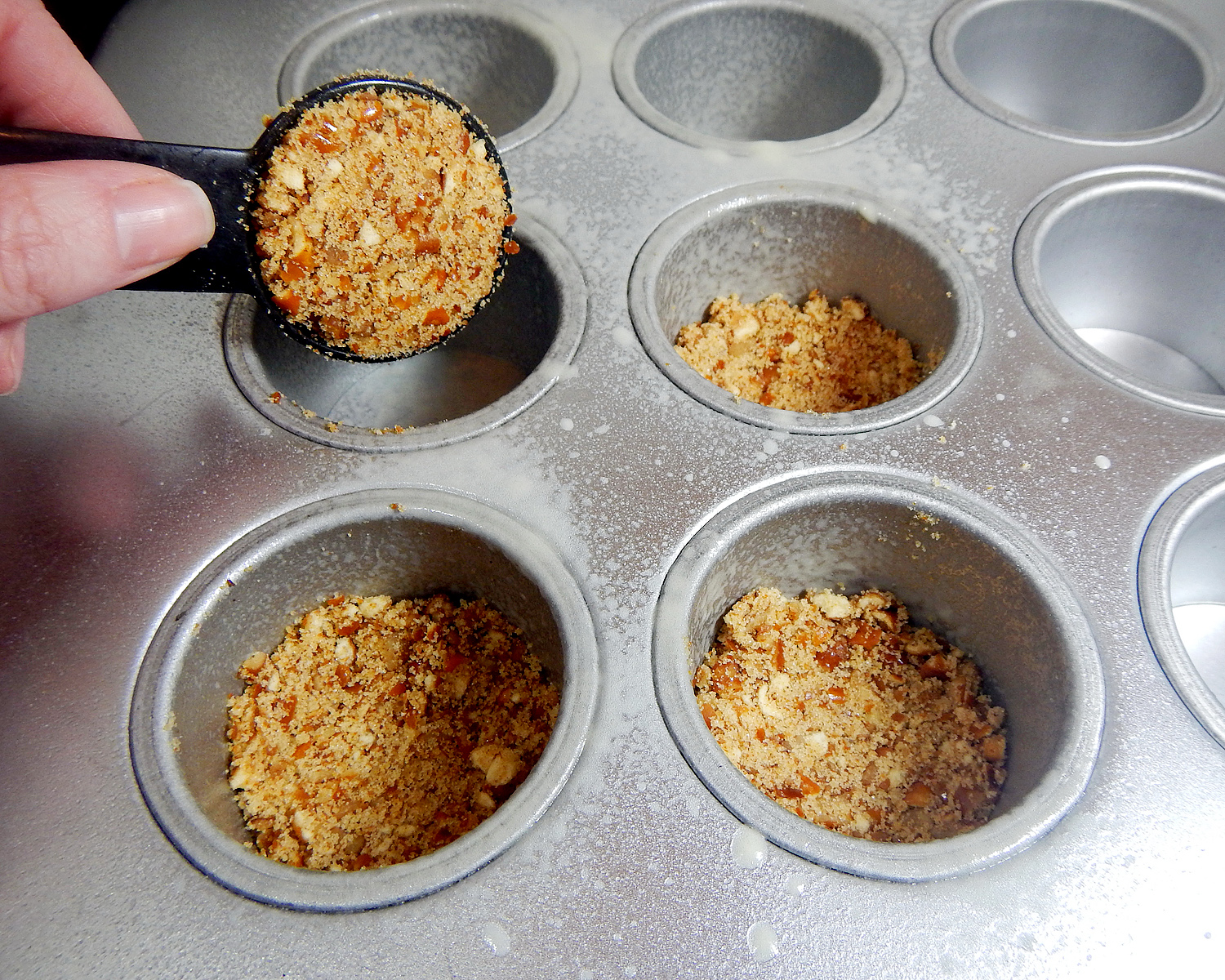 Spray mini cheesecake pans with cooking spray. I recently discovered these pans and they are amazing. The cheesecakes pop right out with no problem. They hold 12 cakes each, so if you're making larger recipes, you might want to get two pans.
If you don't have a mini cheesecake pan, you can use standard size cupcake/muffin pans with paper liners.
Press one tablespoon of crust mixture into each well.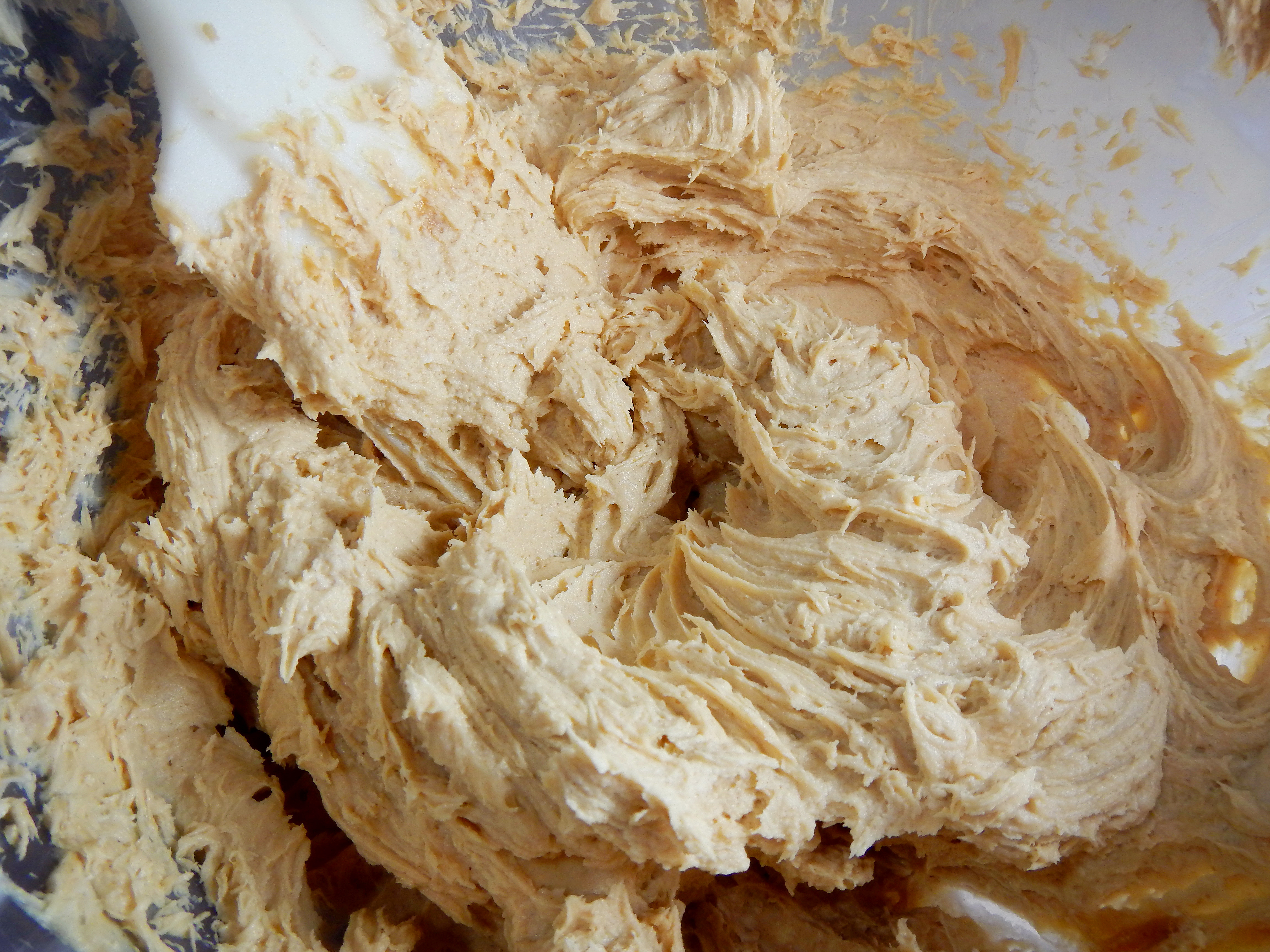 Beat the cream cheese and peanut butter until smooth. Then beat in brown sugar and vanilla until light and fluffy. The brown sugar adds nice depth of flavor.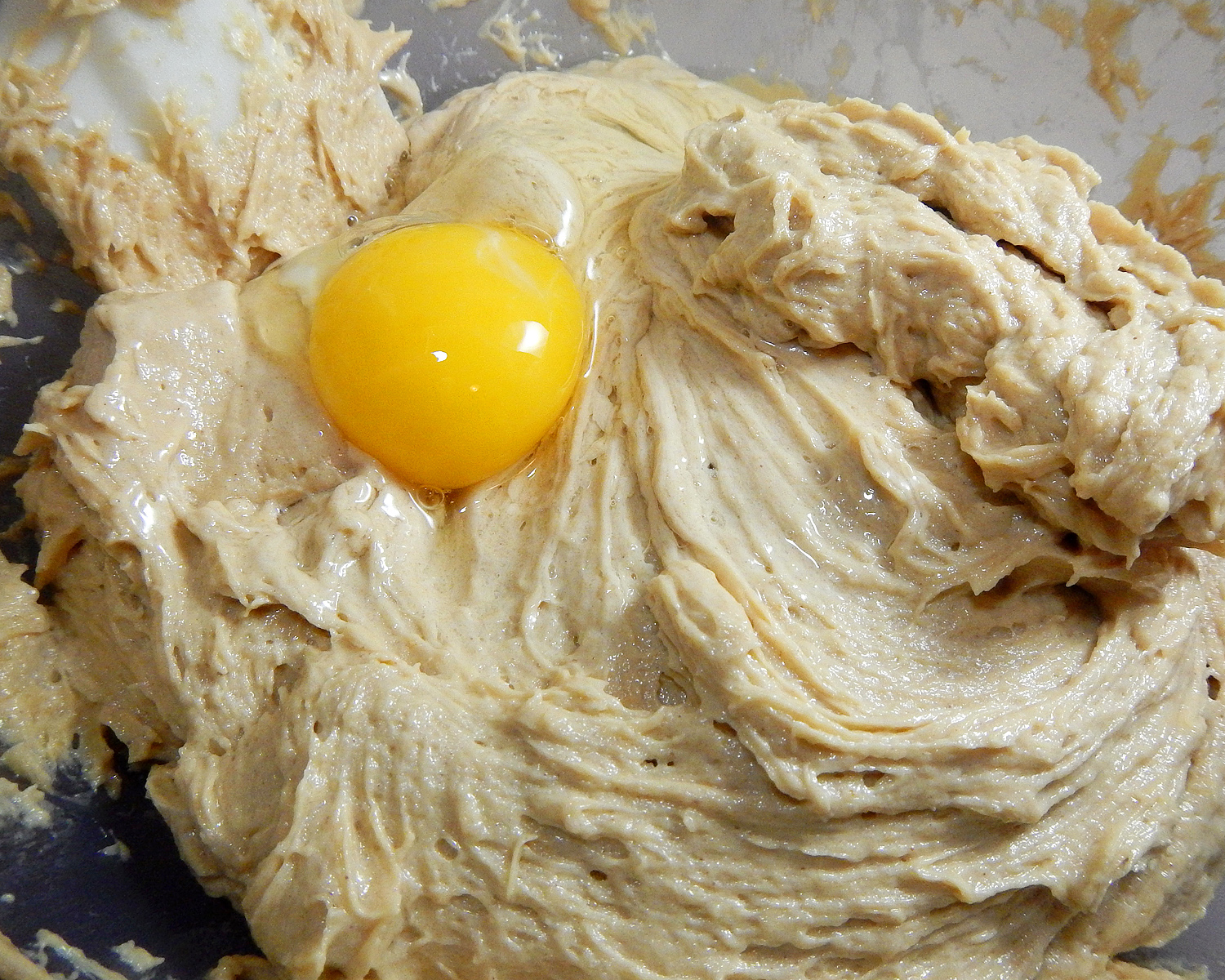 Add eggs one at a time. Mix well between each addition.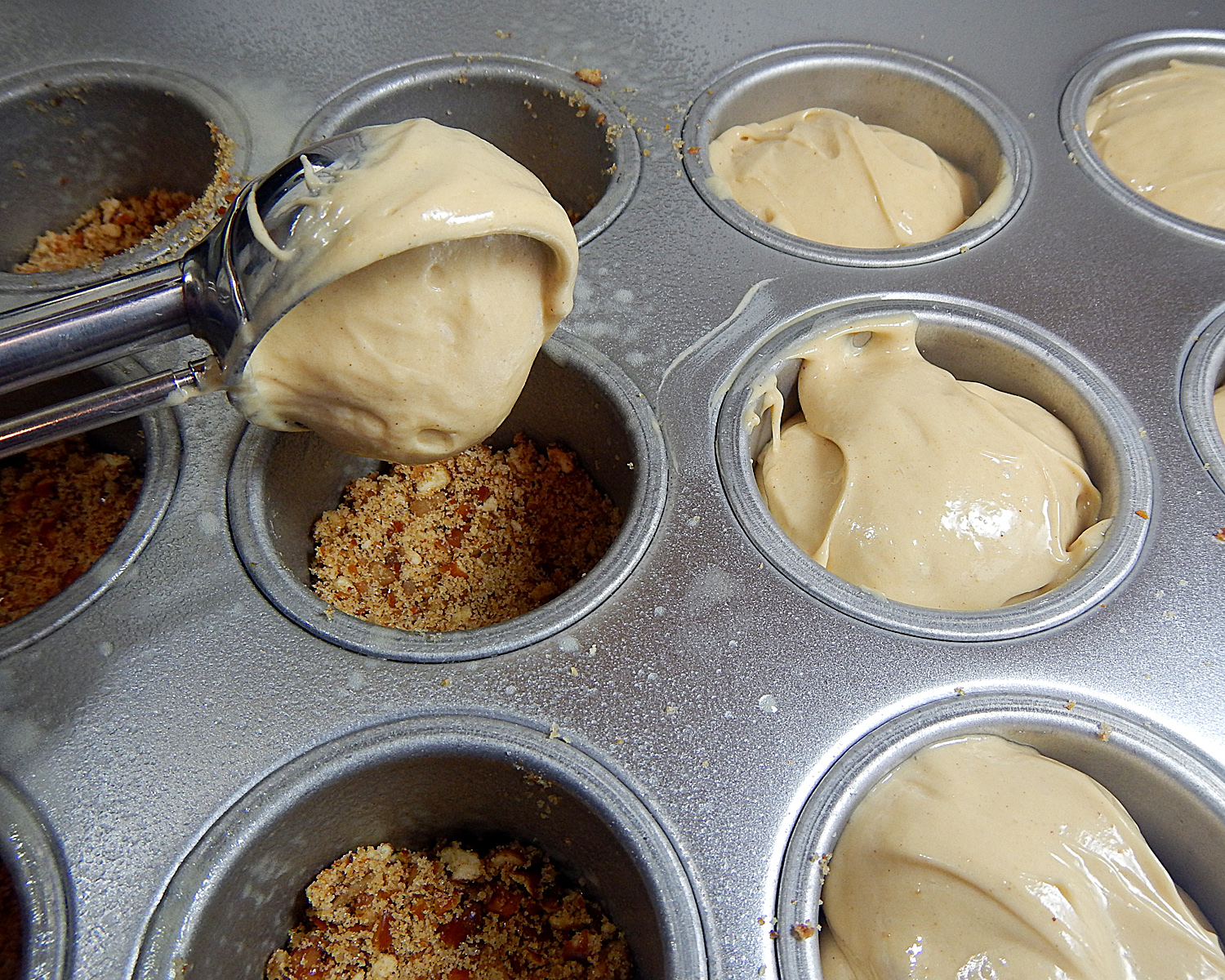 Scoop batter over crust.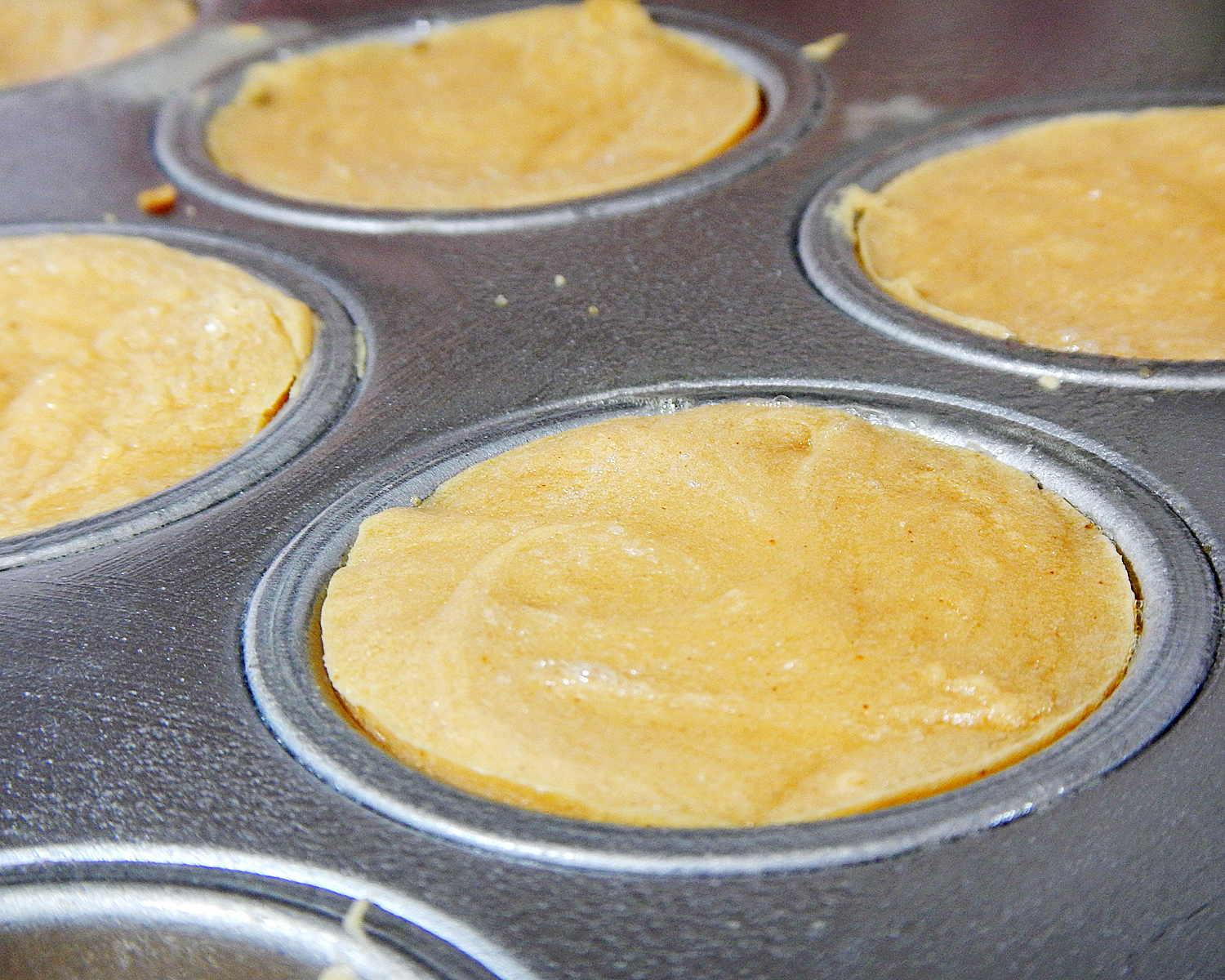 Bake at 325 degrees for 8-10 minutes. Your cakes won't look done when you pull them out of the oven. They will continue to cook as they cool. You should remove the pan from the oven when the edges are set but the center is still slightly jiggly.
I know they smell delicious, but we have to let the cakes cool completely before we remove them from the pan. I got impatient and tried to take one out after an hour. It collapsed into a pile of peanut butter goo. It still tasted great for me to snack on, but it wasn't something I'd want to present at a party.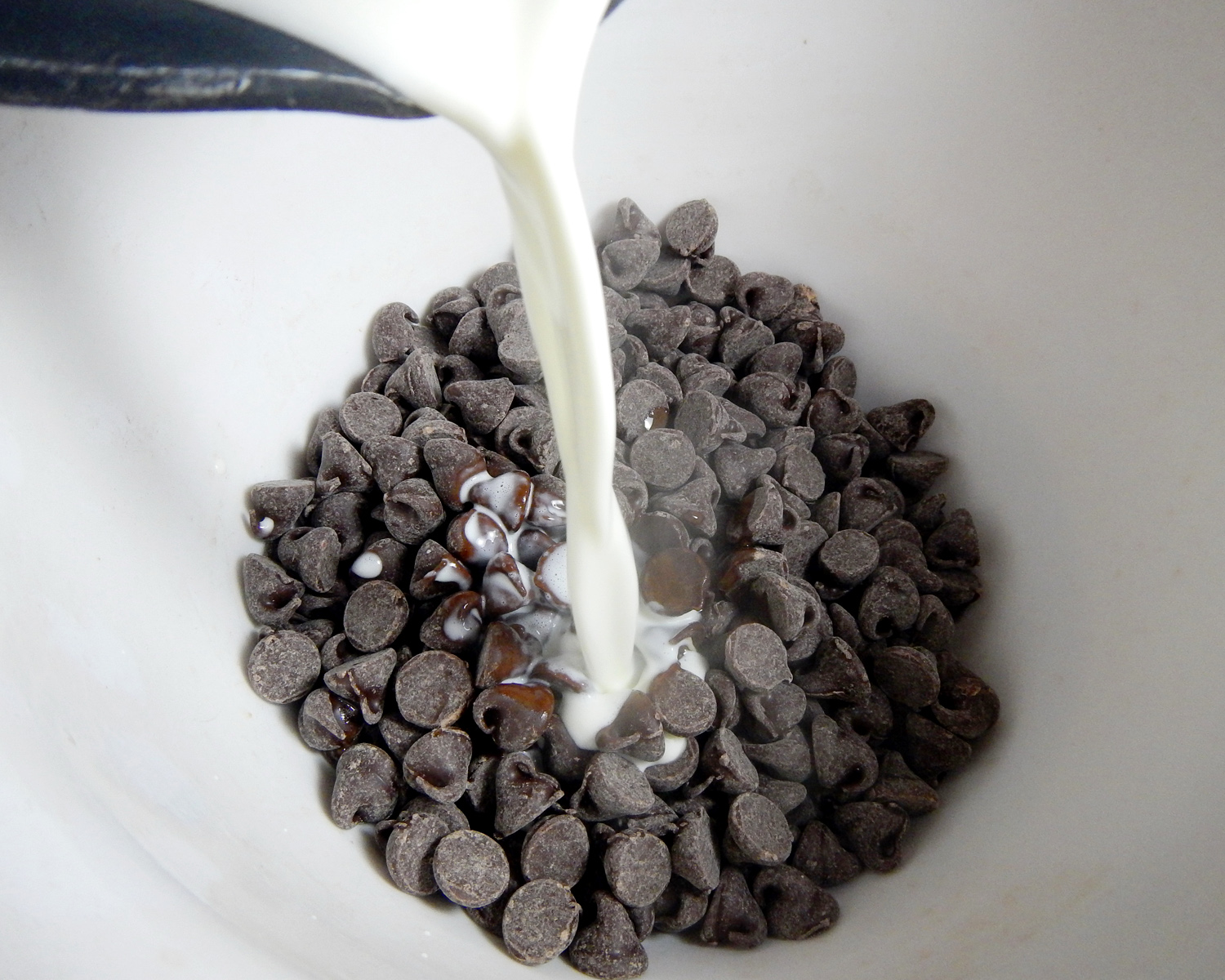 You don't have to wait around impatiently drooling over the pan as it cools. You can get started on your ganache glaze. Pour hot heavy cream over semi-sweet chocolate. Let the chocolate melt a bit then gently stir until combined.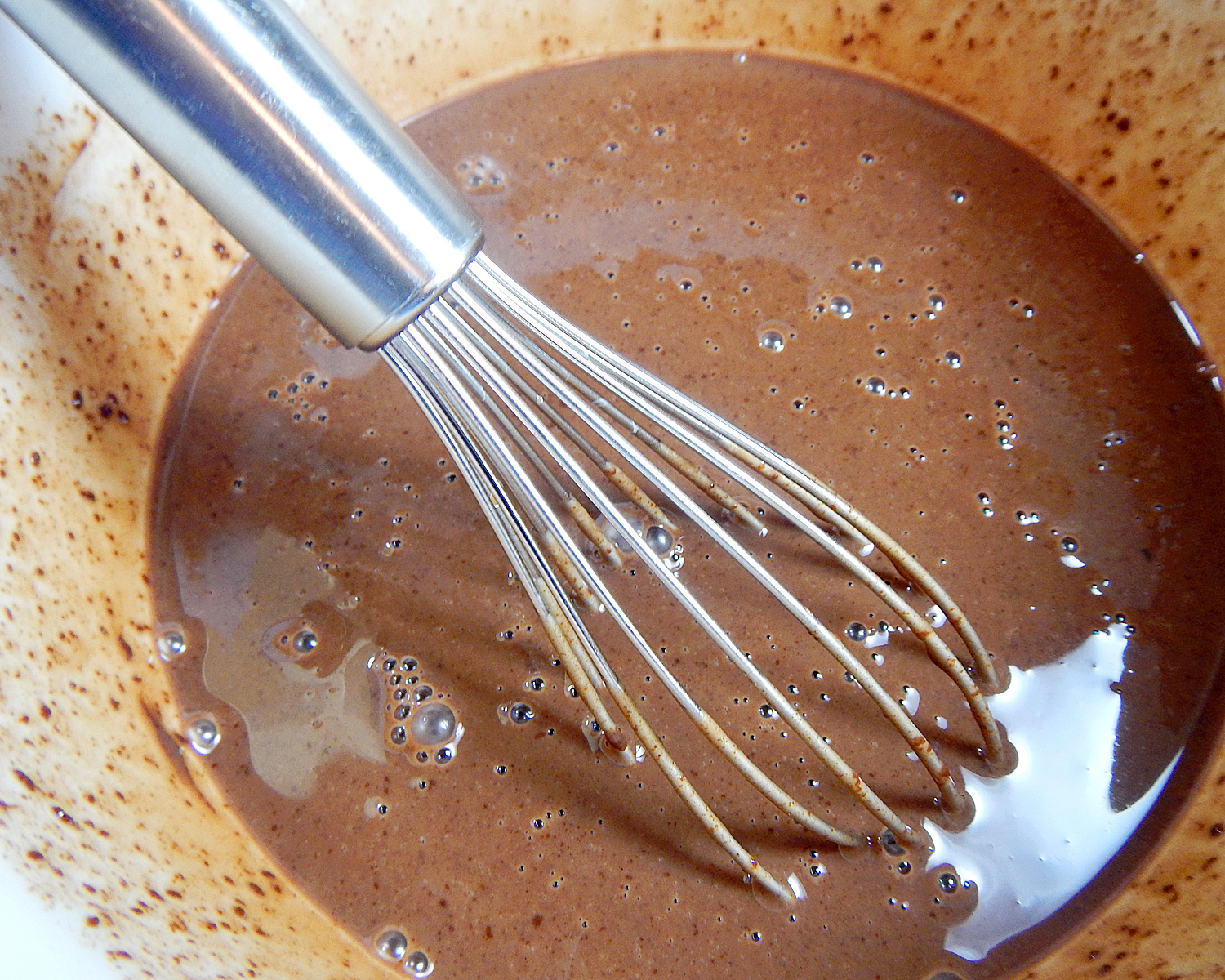 Let your ganache cool for at least one hour. If you pour it too soon, the coating will be thin.
I see those big sad puppy dog eyes staring at the screen and sense that "more waiting?" whimper. Trust me, it's all worth it. Plus, the cooling gives you time to do the dishes! Or you can learn more about this ingredient by visiting my post about how to make chocolate ganache. Or you can whip up easy homemade vanilla whipped cream to serve on the side.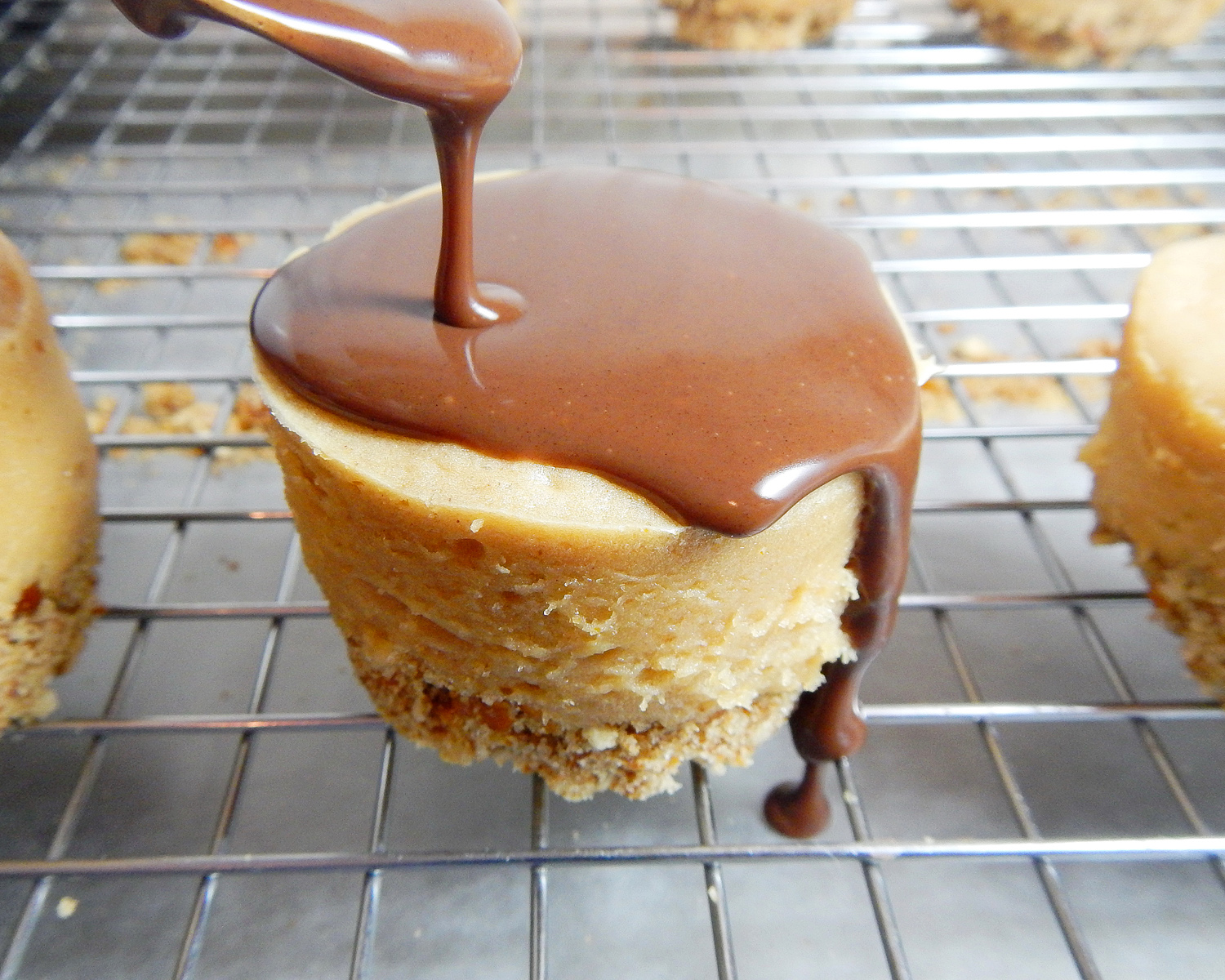 Now the cheesecakes get a chocolate shower.
Place parchment paper or wax paper on a baking pan with sides. Put a wire rack on top of the pan. Place cheesecakes on the rack.
Spoon the ganache onto the center of the cakes. The chocolate will drip down the sides of the cakes onto the crusts. The chocolate cascade almost makes me want to lick the screen.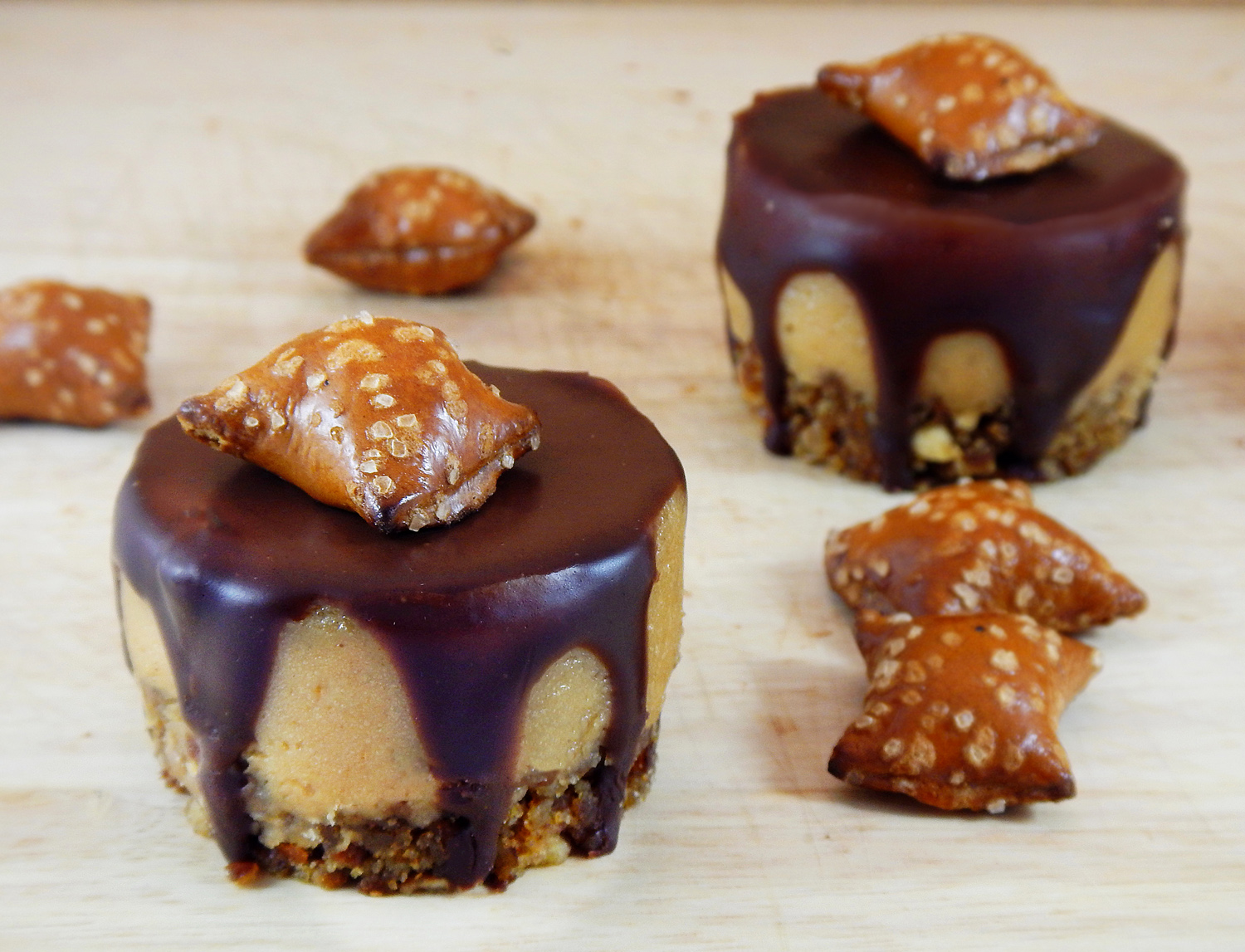 Let cool until the ganache is set. Garnish with a peanut butter pretzel nugget. Let them chill in the refrigerator for at least an hour before you serve them.
Your sweet, salty, creamy, crunchy dessert is now party ready. I won't tell if you keep a few at home for yourself!
Don't miss out on more fun recipes like this one. You can follow me on Pinterest, Facebook, or Twitter.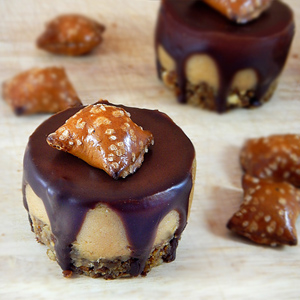 Chocolate Peanut Butter Pretzel Cheesecakes
2013-12-30 18:53:34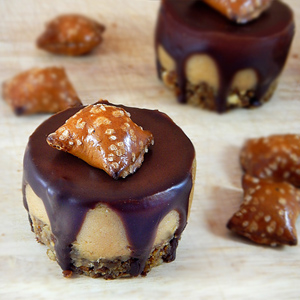 For the Crust
3 cups (5 1/2 ounces) small pretzels
4 tablespoons (2 ounces) butter melted
2 tablespoons (1 ounce) brown sugar
1 large egg (1.5 ounces)
For the Cheesecake
2 (8 ounce) packages cream cheese
1 cup (9 ounces) creamy peanut butter
2 cups (14 ounces ) packed brown sugar
2 teaspoons (1/3 ounce) vanilla
3 large eggs (5 ounces)
For Ganache Topping
1/2 cup (4 ounces) heavy cream
1/2 cup (4 ounces) semisweet chocolate
1 teaspoon vanilla
Instructions
Preheat oven to 325 degrees.
Spray mini cheesecake pan with cooking spray or line standard size muffin/cupcake tins with foil liners then spray the liners.
Prepare crust
Crush pretzels. In medium bowl, combine pretzels, melted butter, egg, and brown sugar. Place one tablespoon of crust mixture into prepared pans.
Prepare Cheesecake Filling
In a large bowl, beat cream cheese with peanut butter until combined. Add sugar and vanilla.
Beat until light and fluffy. Add eggs one at a time. Mix after each addition.
Pour cheesecake mixture onto crust. Fill nearly to the top.
Bake at 325 degrees for 8 to ten minutes until the edges are set but the centers wobble slightly.
Cool completely. Refrigerate for at least two hours. Remove from pan.
Prepare ganache while cakes cool
Place chocolate in medium bowl. Heat heavy cream over medium heat until just boiling. Pour hot cream over chocolate. Add vanilla. Let sit five minutes. Gently stir until combined. Cool one hour. Pour ganache over cooled cheesecakes. Let set.
Serve cheesecakes cold.
Notes
These were prepared in a 12 cup mini cheesecake pan with 2-Inch by 1.6-Inch cavities.
You can also use standard size cupcake/muffin pans with foil liners. If you use cupcake pans, fill them almost to the top with batter and increase baking time. Start checking them at 18 minutes. You will get about 20 cakes.
Frosting and a Smile http://frostingandasmile.com/