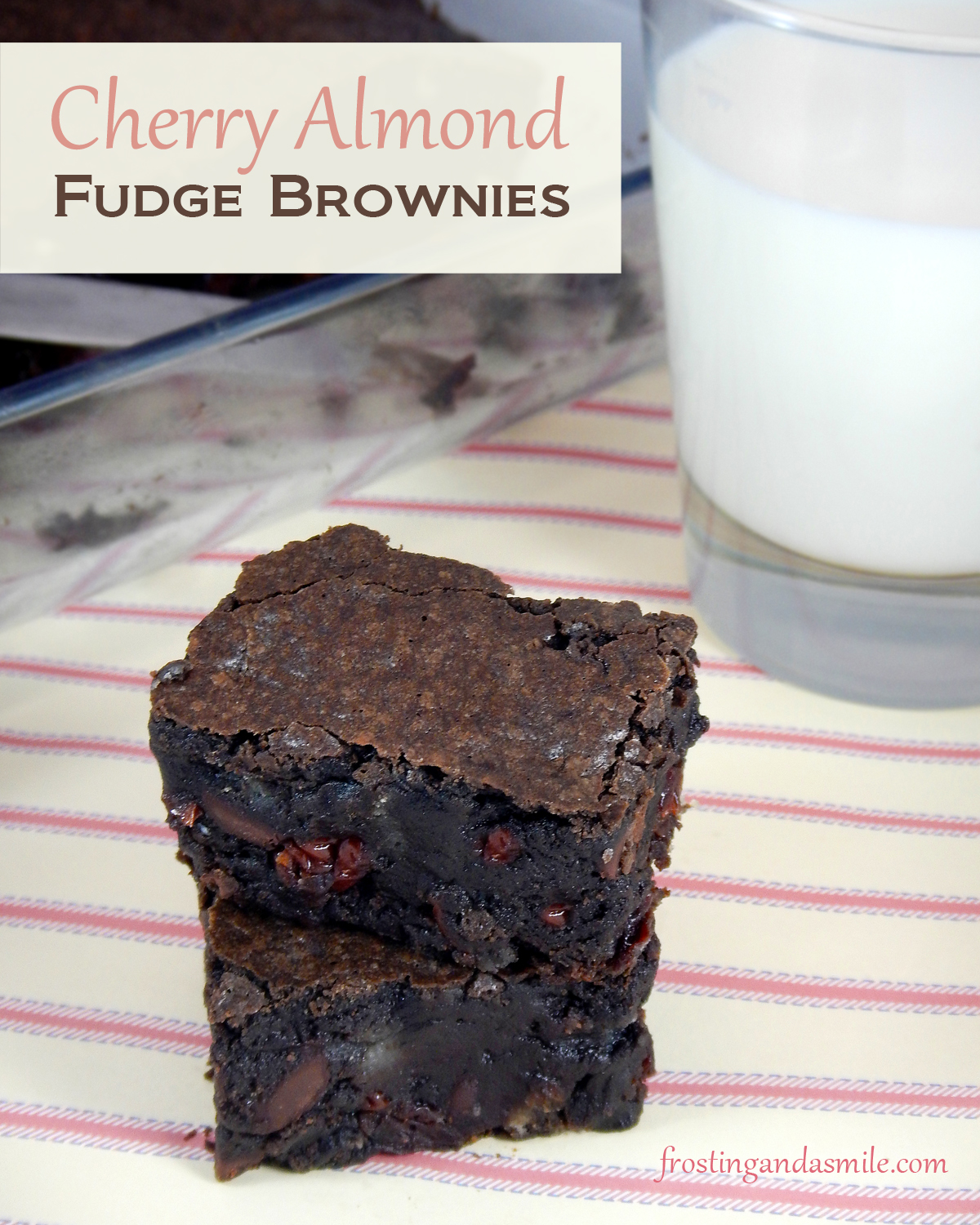 Cherry Almond Fudge Brownies –
These brownies include the starting line up of flavors on my Dessert All-Star Team. Cherry, chocolate, and almond all vie for the top spot on my list of favorite flavors. As great as they taste alone, I love them even more together and I think you will too!
When you bite into these brownies you break through a crispy thin top and sink your teeth into a center that reaches just the right balance between chewy and fudgy. Dark chocolate chips give a welcome texture and sophisticated flavor. The cherries add a tart touch while the almond paste carries a delicate nuttiness. After a bite, the flavor lingers just enough to leave you wanting more.
From a box mix
To make these from a box, prepare your favorite brownie mix for a 13 x 9 inch pan. Stir in one cup of chopped dried cherries, half a cup of grated almond paste, and half a cup of bittersweet chocolate chips. Bake as directed on the box.
From scratch
If you have time, the recipe from scratch is even better. The brownies are about twice as thick and much richer than the box. Plus, there are no added chemicals and preservatives.
If the thought of baking from scratch makes your palms sweat, don't fear! I know you can do this. I've included photo illustrated instructions below. Baking your own brownies will build your kitchen confidence and impress your friends.
I adapted this recipe from America's Test Kitchen's Chewy Brownie Recipe.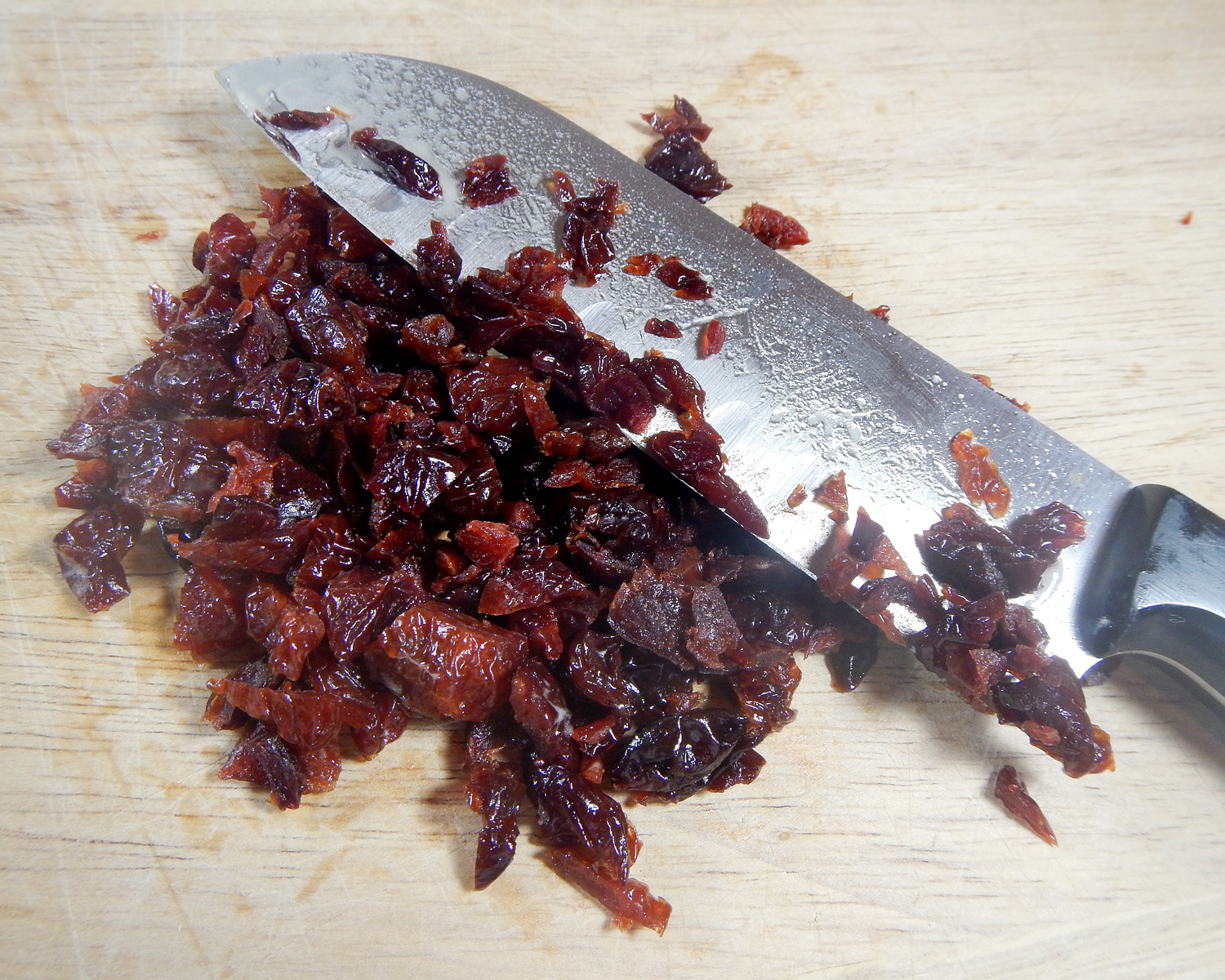 You start with dried cherries. You can find them near the raisins in the grocery store. The first few times I chopped dried cherries they clung to the knife in a giant berry blob. I eventually figured out if you spray the knife with cooking spray you can cut through more easily.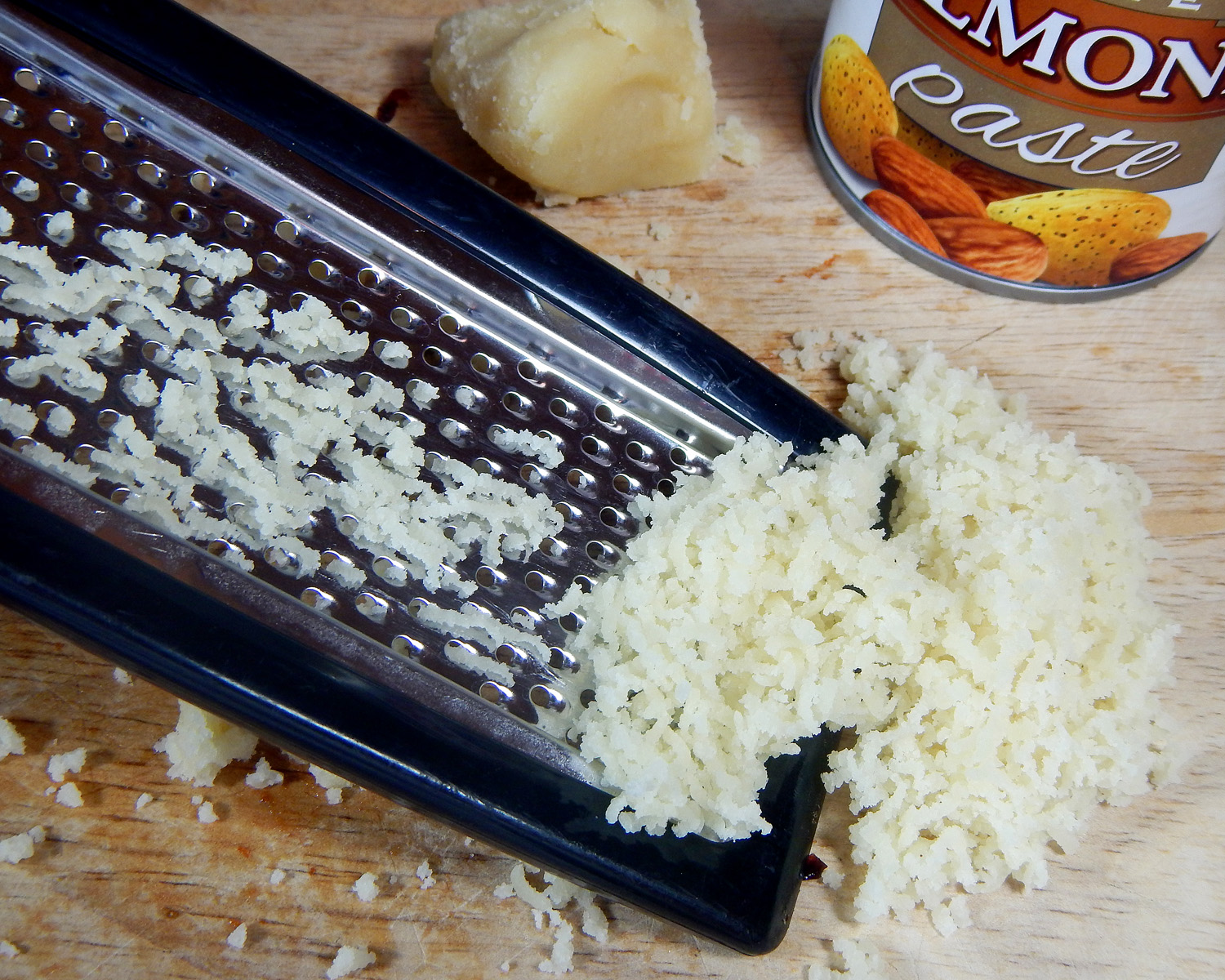 Then you grate the almond paste. You find this in the grocery store near the pie fillings. You can grate your almond paste in a food processor or by hand with a cheese grater. If you do it by hand and the paste starts to turn soft you can put it in the fridge to firm up for a few minutes.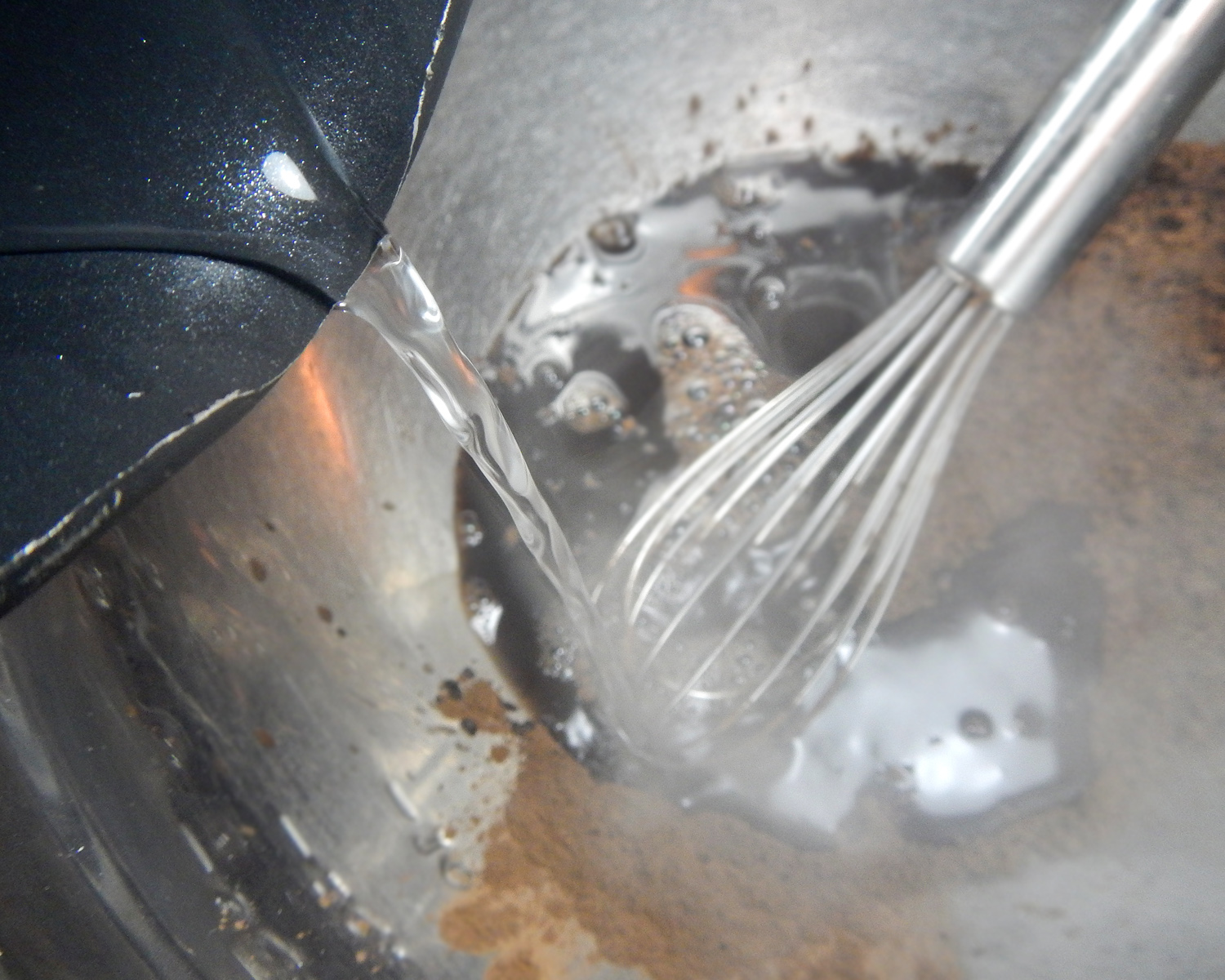 Now for the brownie batter. Dissolve cocoa in boiling water.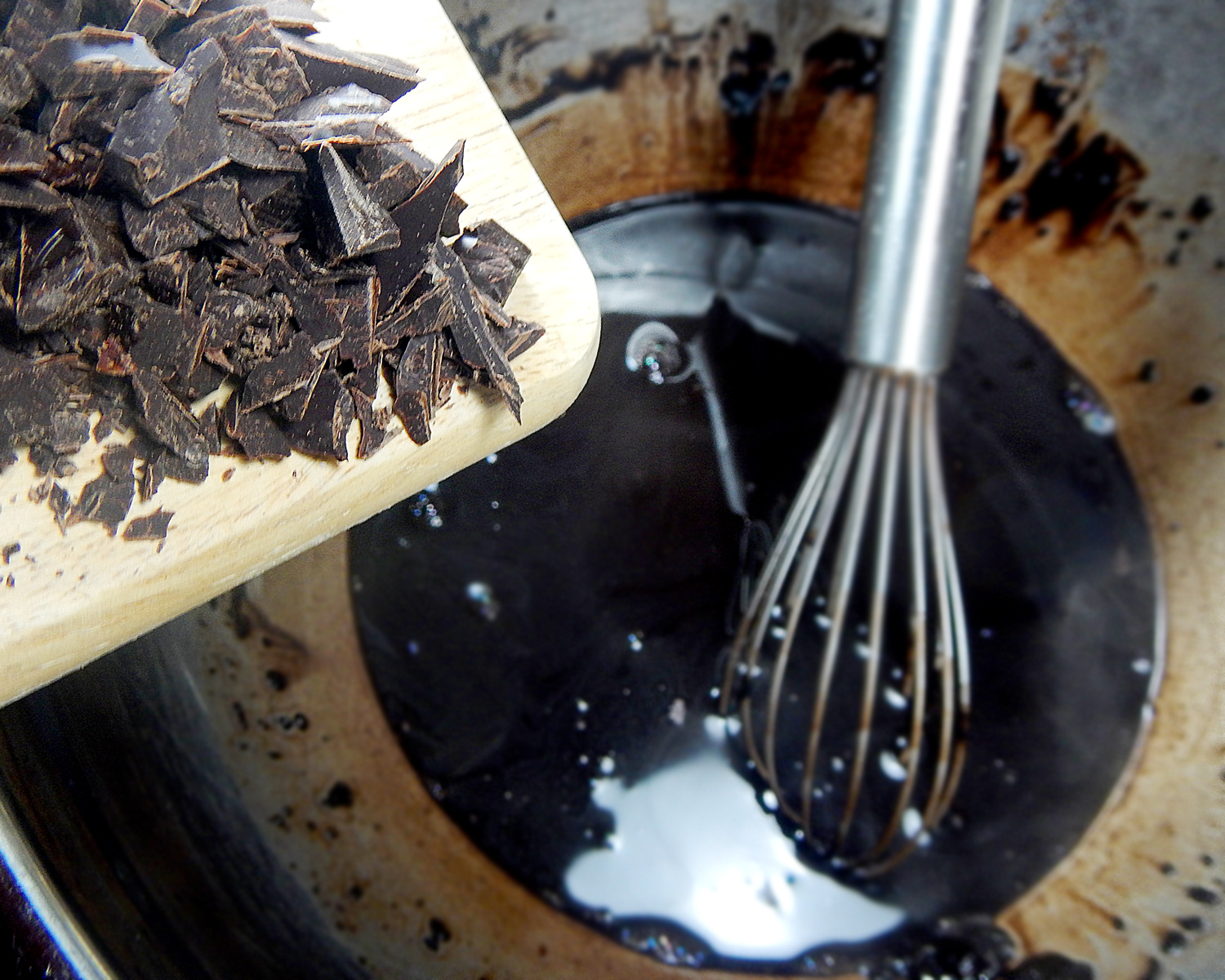 Whisk in chopped chocolate. The better quality your chocolate, the better your brownies will taste.
Then the oil and butter join the party.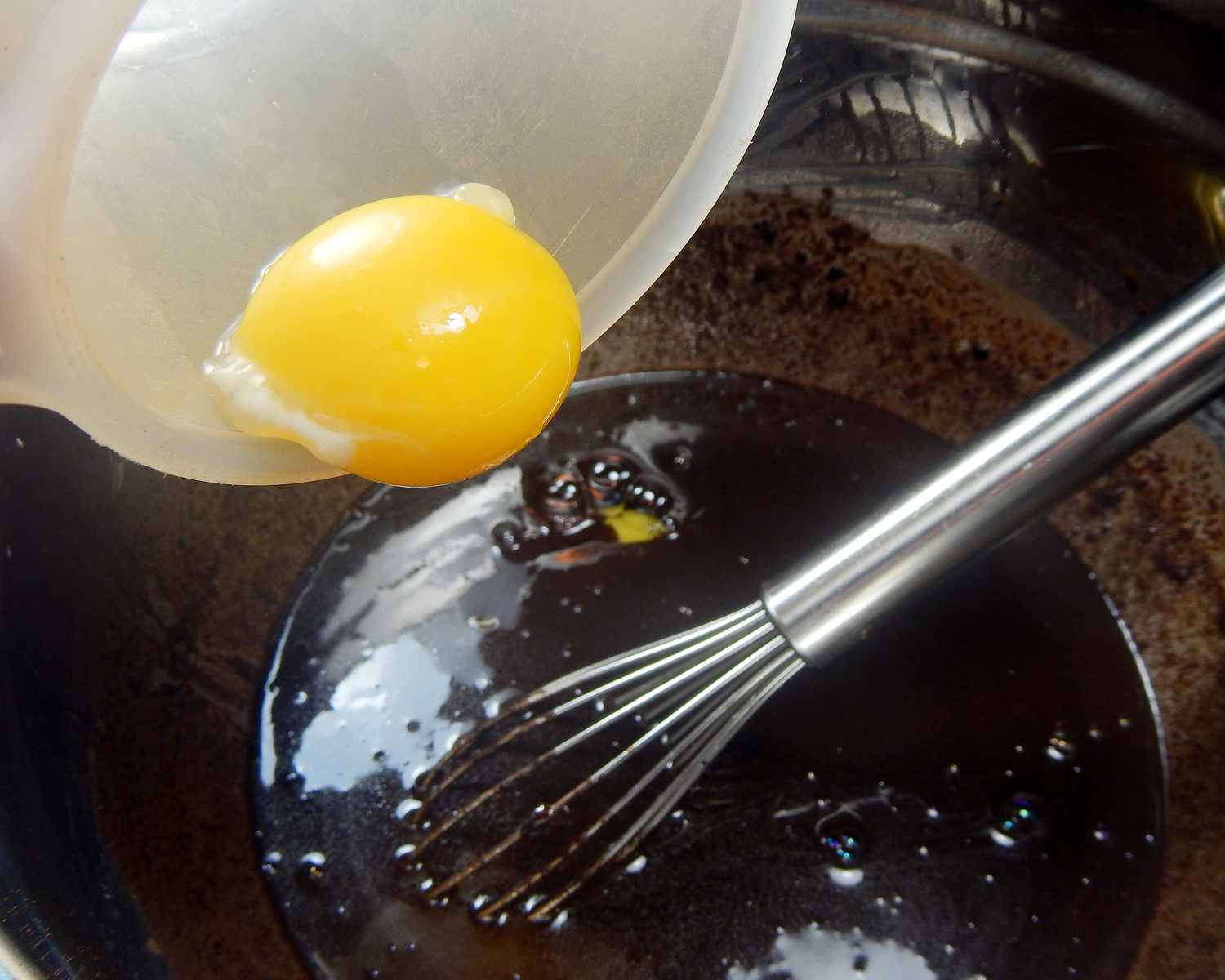 Add eggs and vanilla. A combination of eggs and egg yolks adds to the chewy texture and rich flavor.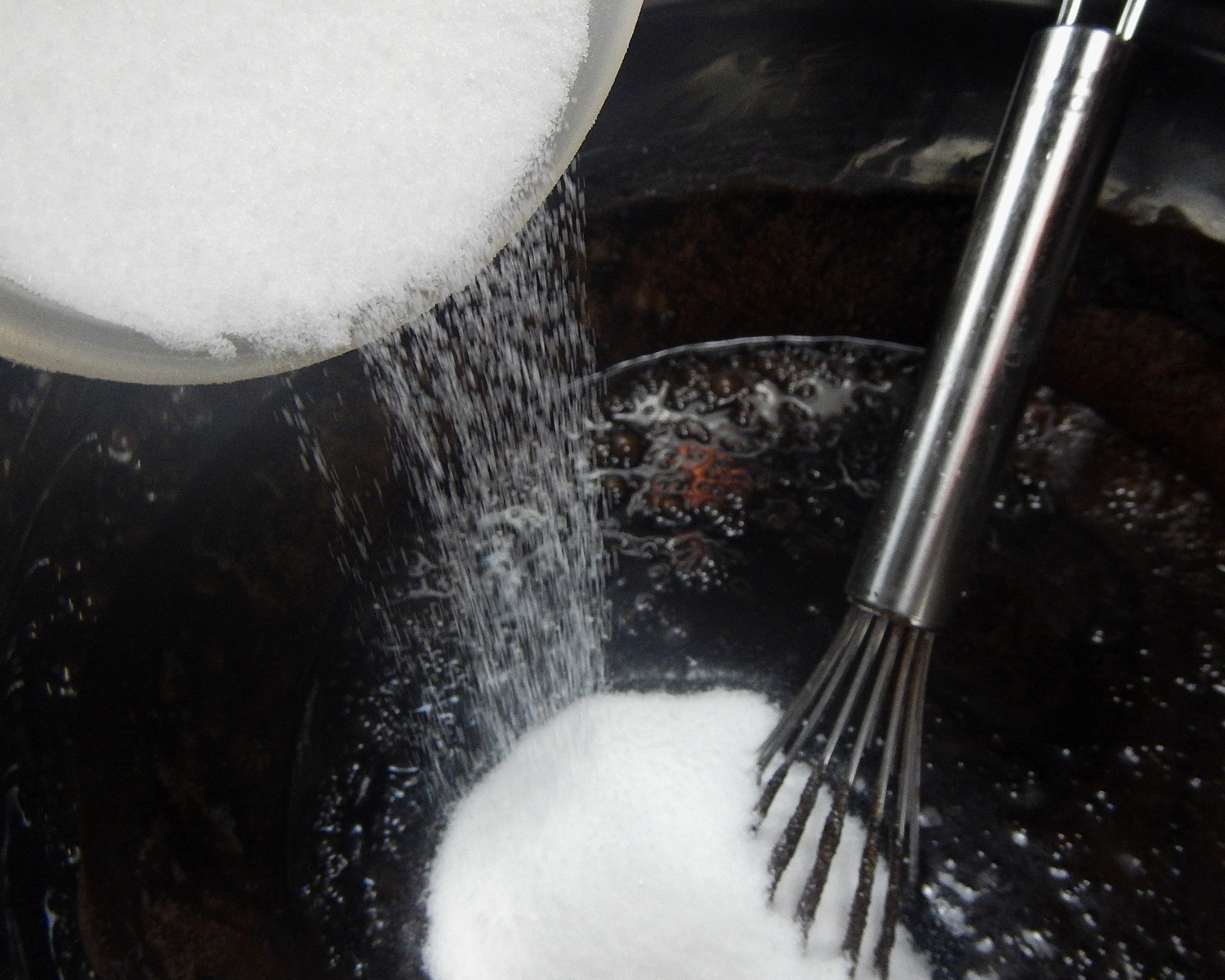 Pour in the sugar.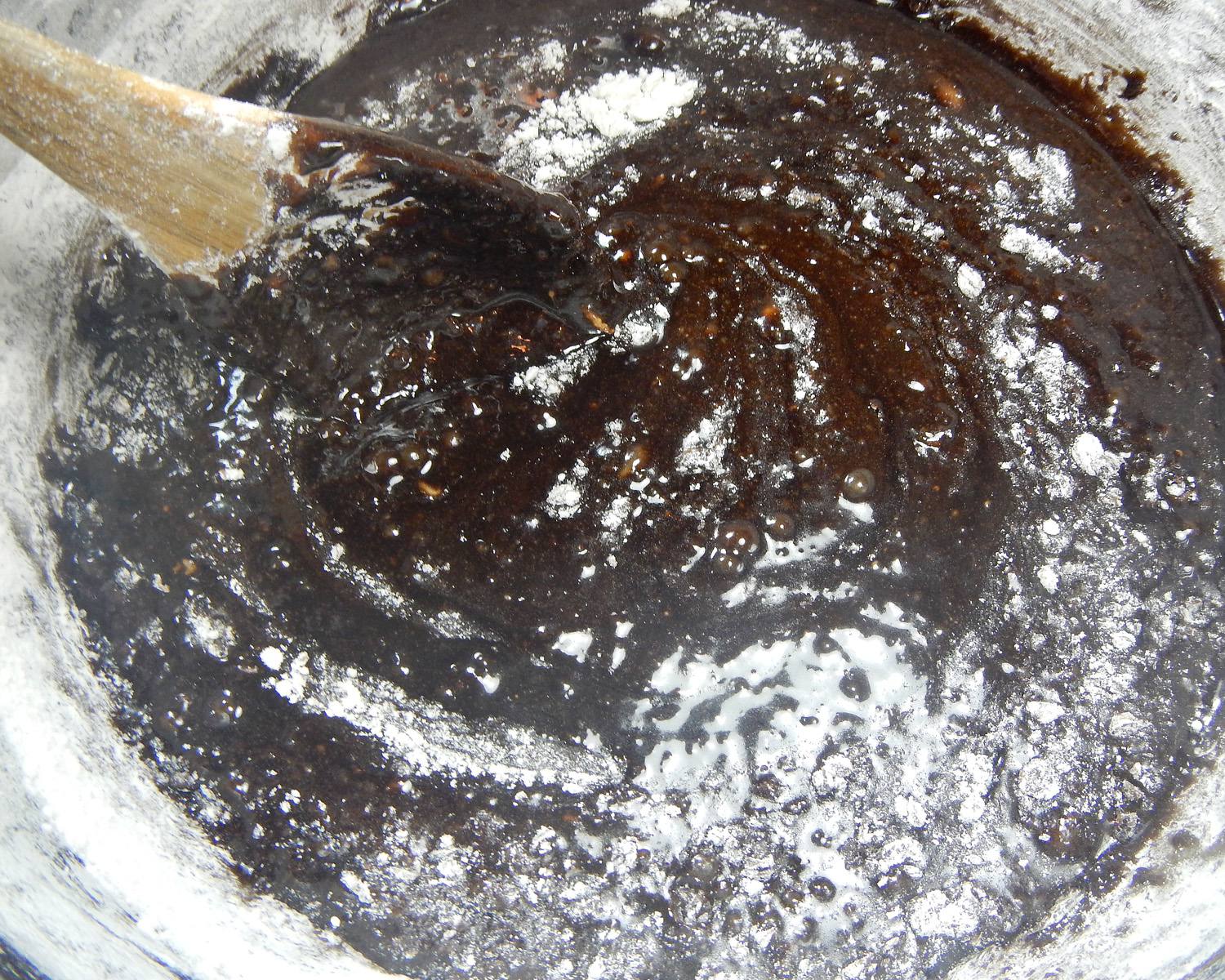 Gently stir in the flour. I love how brownies come together without any special equipment. All you need is a wooden spoon.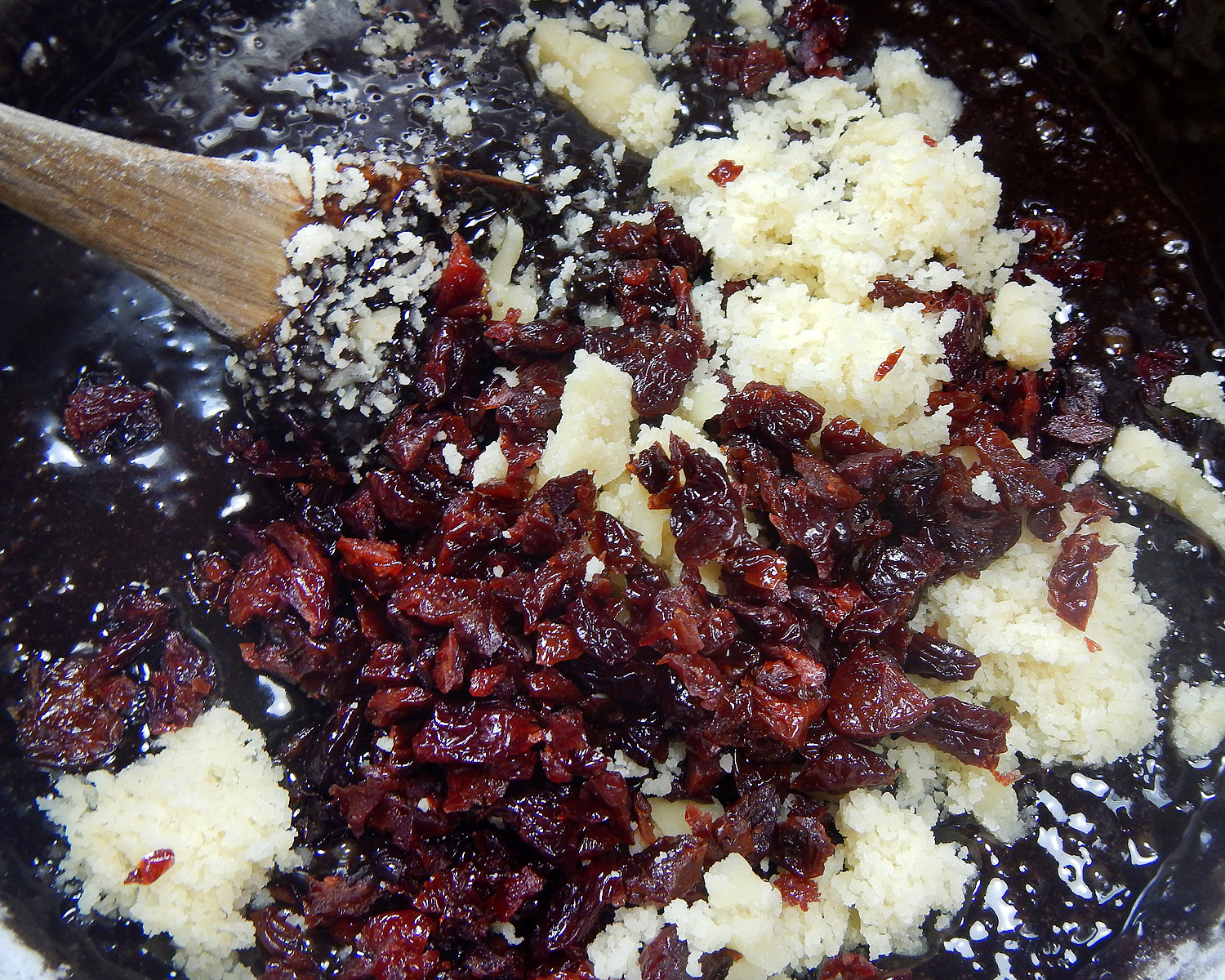 Gently stir in the cherries, almond paste, and chocolate chips until just combined. If you over mix your batter the brownies could turn out tough. Then pour the batter into a greased baking pan and bake at 350 degrees for 30-35 minutes. Test them with a toothpick. When it comes out with just a few crumbs sticking to it, the brownies are done.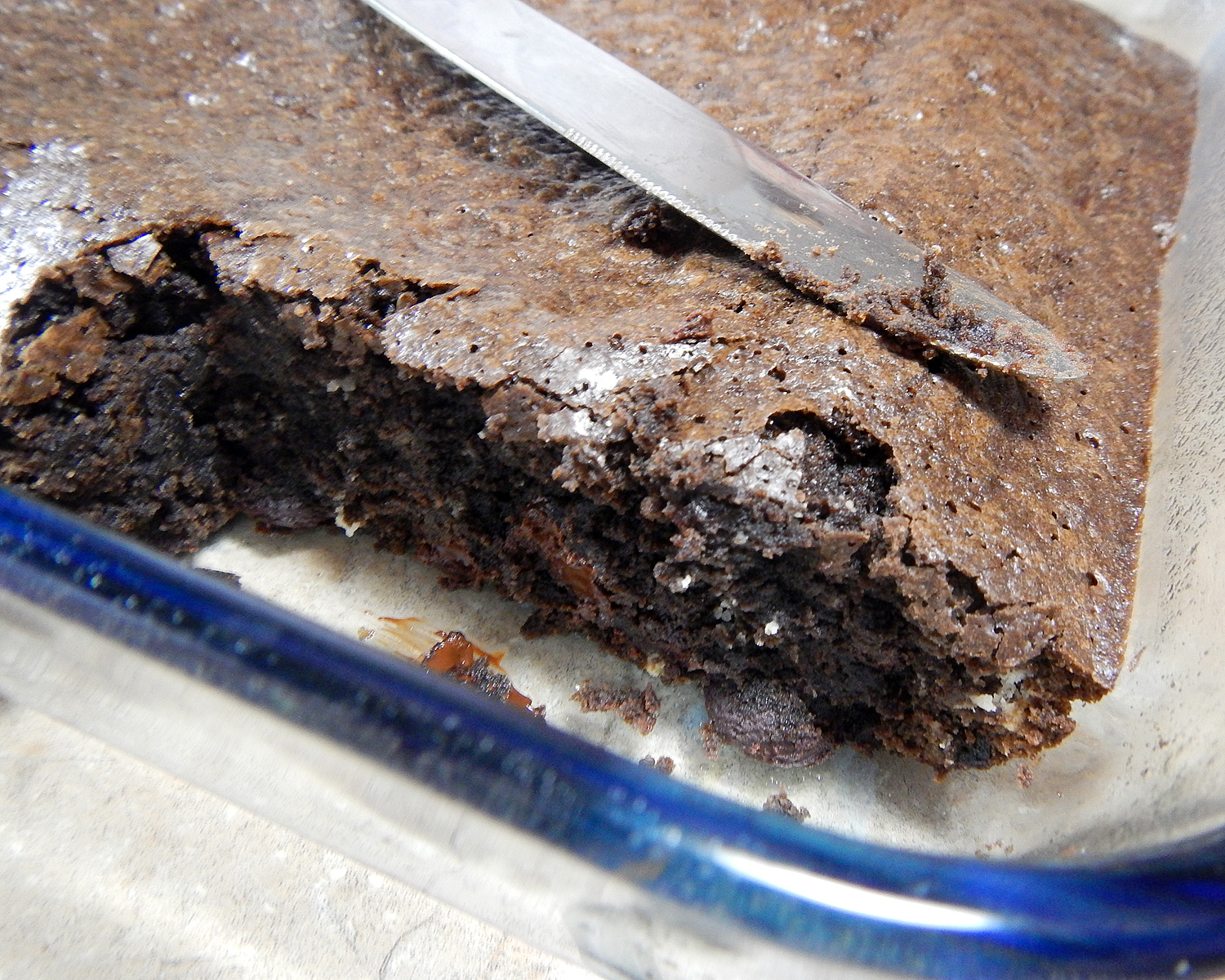 These smelled so good baking that I couldn't resist digging in before I could even get a picture of the finished pan! Try to let them cool completely before you cut them. I know it's hard, I feel your pain. They will look better if you wait though. To cut brownies cleanly, run your knife under warm water between cuts.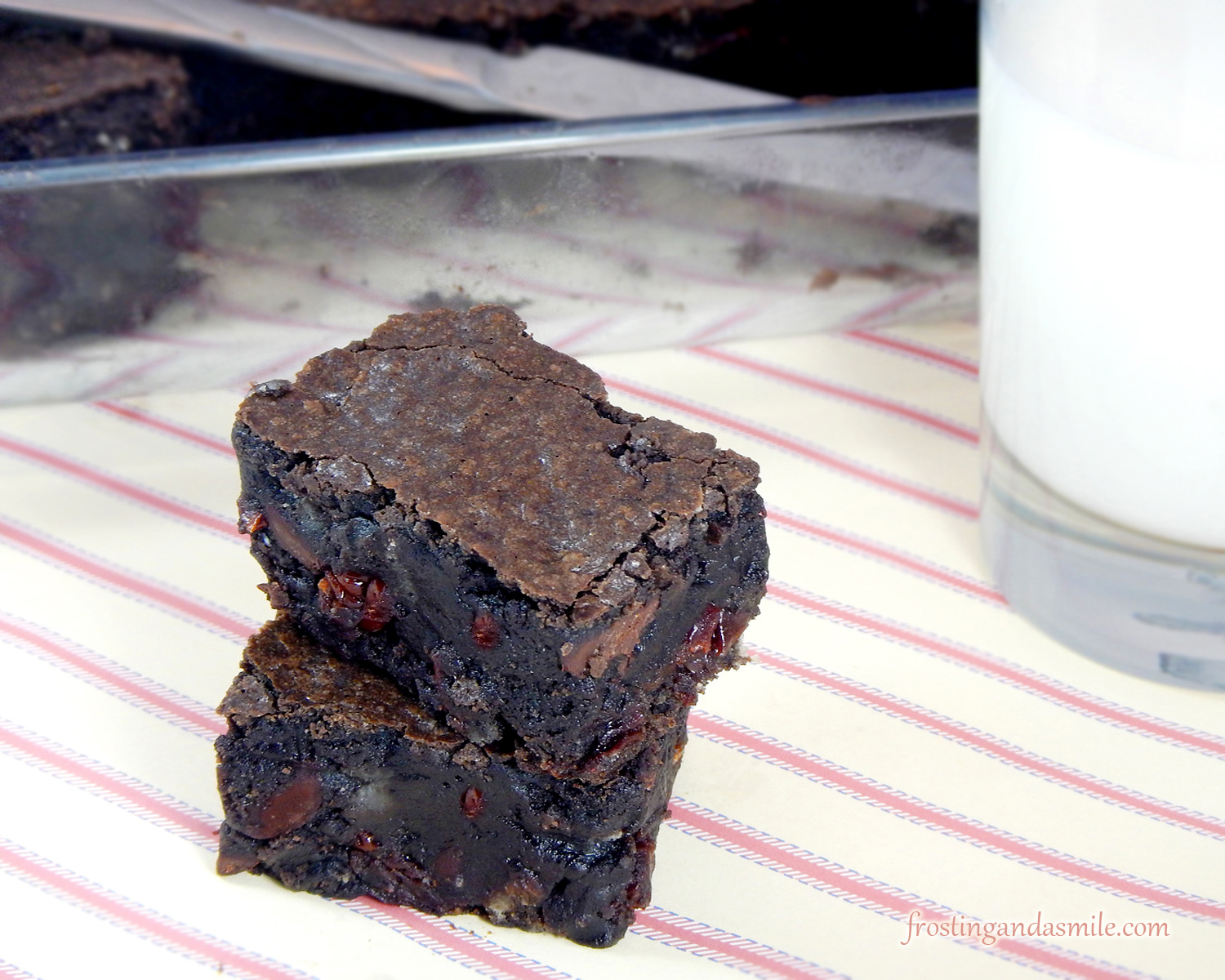 These go great with a big glass of milk. You might want to make two batches, one to share and one to keep home.
That's how I use three of my favorite flavors, tell me about your flavor All-Stars in the comments.
Don't miss out on more sweet treats. You can follow me on Facebook, Pinterest, or Twitter.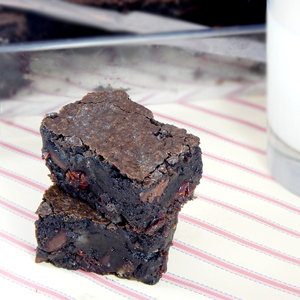 Cherry Almond Fudge Brownies
2014-01-22 17:38:50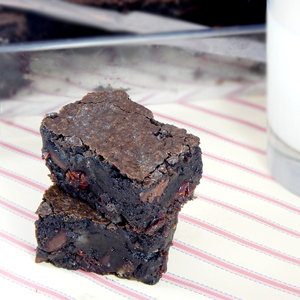 Rich chewy brownies filled with cherries, chocolate chips, and almond flavor.
Ingredients
1/3 cup (1.2 ounces) cocoa
1/2 cup plus 2 tablespoons (5 ounces) boiling water
1/4 cup (2 ounces) unsweetened chocolate, chopped
4 tablespoons (1/2 stick) unsalted butter, melted
1/2 cup (4 ounces) vegetable oil
2 large eggs
2 large egg yolks
2 teaspoons vanilla extract
2 1/2 cups (17 1/2 ounces) sugar
1 3/4 cups (8 3/4 ounces) flour
3/4 teaspoon salt
1 (5 ounce) package dried cherries, chopped
1 (8 ounce) container almond paste, grated
3/4 cup (6 ounces) bittersweet chocolate chips
Instructions
Preheat oven to 350 degrees.
Spray a 13 by 9-inch baking pan with cooking spray.
In large bowl whisk cocoa, and boiling water until smooth. Add unsweetened chocolate. Whisk until melted. Whisk in melted butter and oil. Add eggs, yolks, and vanilla. Whisk until smooth. Whisk in sugar until combined.
Add flour and salt. Mix with rubber spatula or wooden spoon until just combined.
Fold in chopped cherries, grated almond paste, and bittersweet chocolate chips.
Scrape batter into prepared pan and bake until toothpick inserted halfway between edge and center comes out with just a few moist crumbs attached, 30 to 35 minutes.
Cool completely.
Cut into 2-inch squares and serve.
Notes
Tip: To cut brownies easily run the knife under hot water and carefully wipe blade with a towel between cuts.
Adapted from America's Test Kitchen
Frosting and a Smile http://frostingandasmile.com/