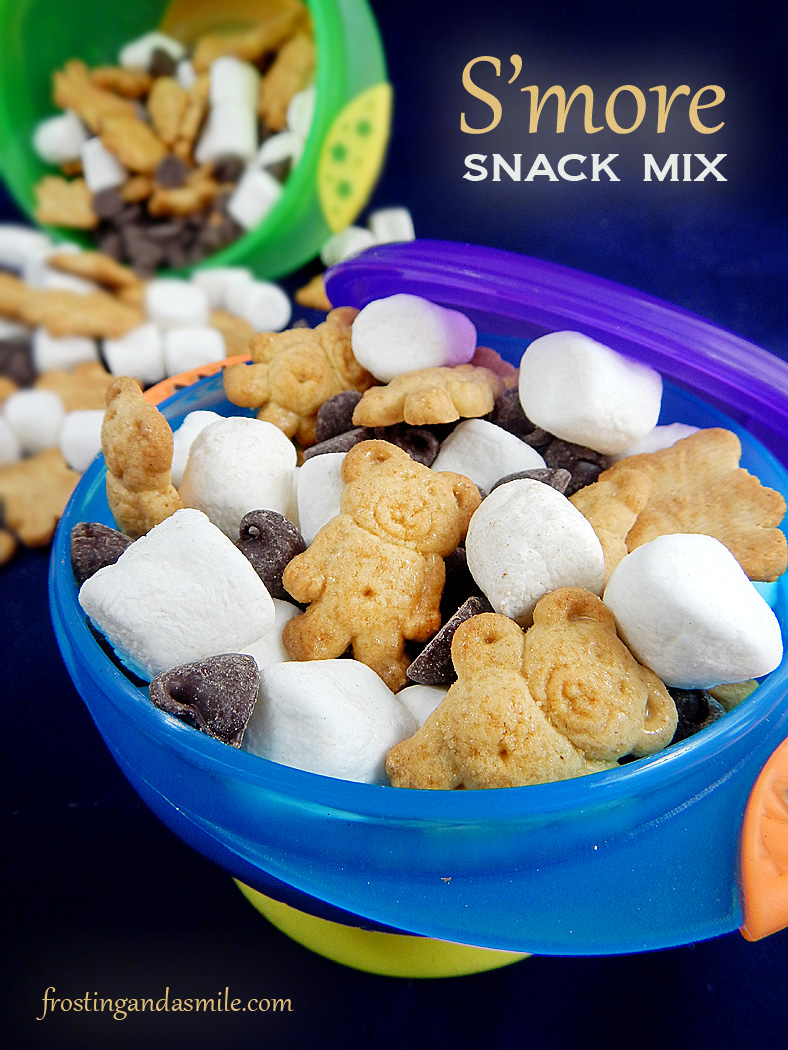 S'more Snack Mix –
This recipe is so easy a three year old can make it, literally. The Polar Vortex froze outdoor fun for a while here in Pennsylvania. So I found a way to bring a taste of summer into the house and occupy my energetic three year old, CJ.
S'more Snack Mix is an easy and fun lunch box treat. Kids gobble it up and I must confess, I snagged a bag for my own mid-afternoon office snack. Shh. Don't tell CJ! The crunchy cookies, chewy marshmallows, and creamy chocolate give you that classic S'more flavor without the campfire.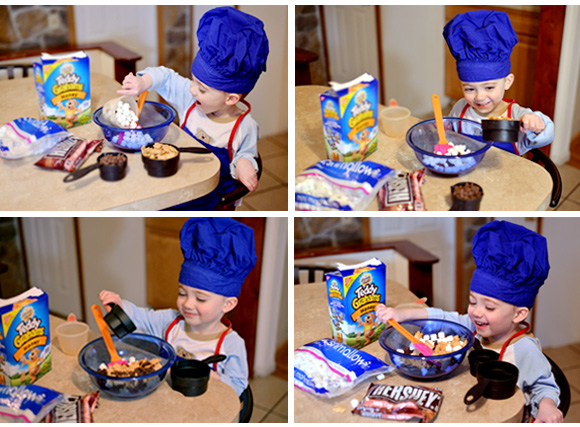 I often call CJ my Baking Buddy. He likes to stand on his little stool and help me mix ingredients. This time he got to do an entire recipe all by himself. Look how happy he was making his own special snack! I love that little face.
All you do is mix one cup of marshmallows, one cup of Teddy Grahams, and half a cup of milk chocolate chips.
This is a fun way for little ones to practice measuring and mixing ingredients. You can give older kids a little hands on math practice with fractions when they measure the half cup of chocolate.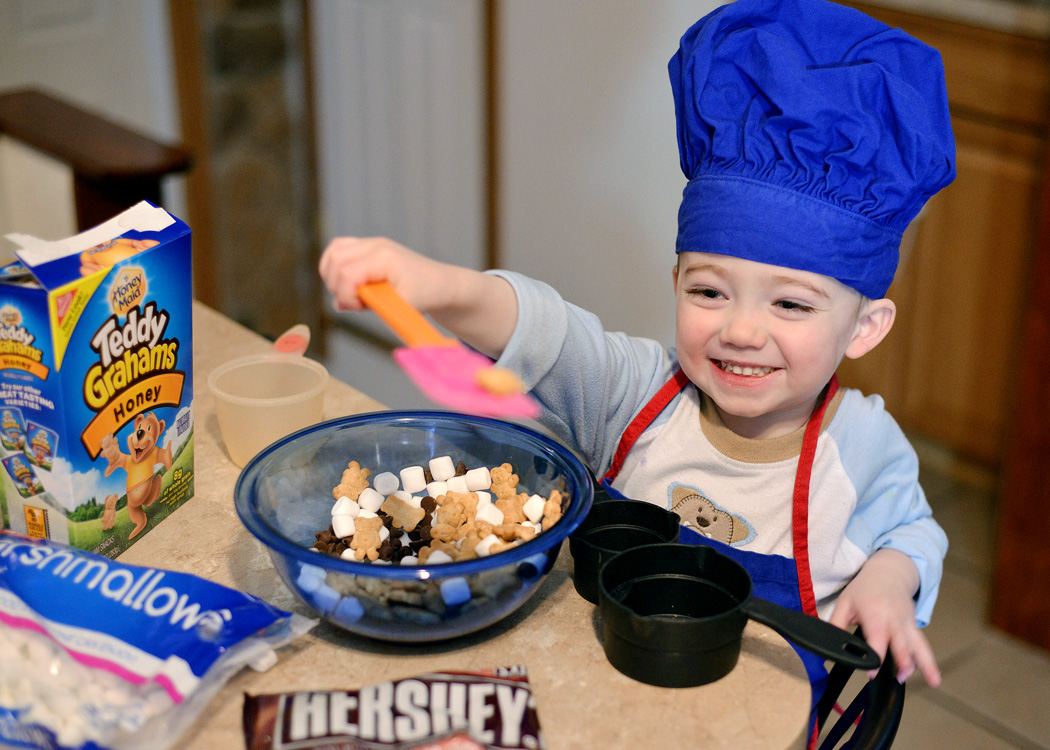 CJ couldn't wait to share as he giggled, "Here Mommy you have some!" He also filled a sandwich bag for a friend. When he delivered it he proclaimed, "I made this!" It warms my heart to see how he wanted to share.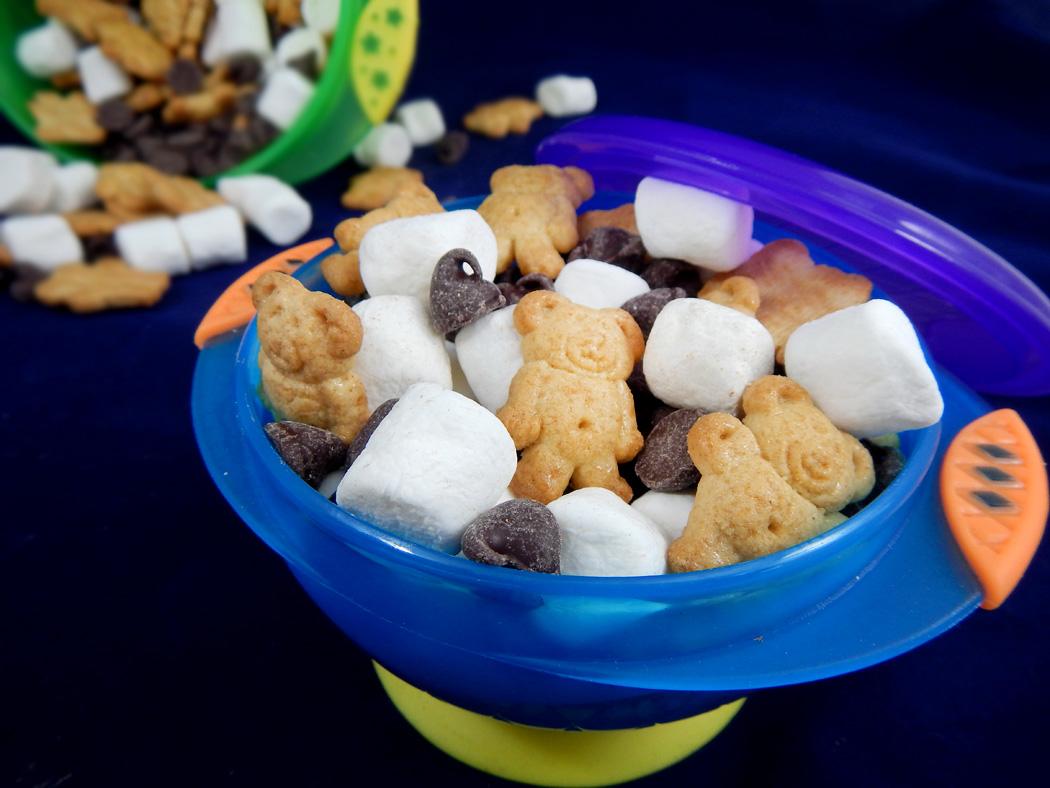 This mix earned the Baking Buddy seal of approval, "It's "deeeeelicious."
Your kids will love creating their very own treat. And you will enjoy sampling their creation. This quick recipe is surprisingly addictive. I may even have eaten a handful, or two, while writing this post.
Making treats to share helps build social skills and confidence. Tell me about some of the things you like to make with your children in the comment section at the bottom of this page.
You can follow me on Pinterest, Facebook, or Twitter for more fun recipes.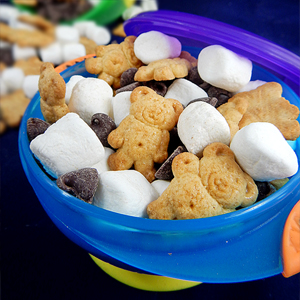 S'more Snack Mix
2014-02-02 14:05:16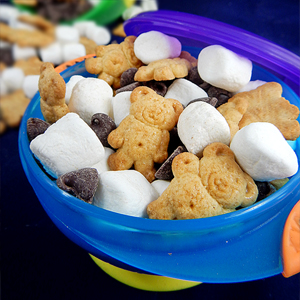 This is an easy recipe for children to make. Teddy Graham crackers, marshmallows, and milk chocolate chips let them enjoy S'mores right from their lunchboxes.
Ingredients
1 cup Honey Teddy Graham cookies
1 cup mini marshmallows
1/2 cup milk chocolate chips
Instructions
Combine all ingredients in a medium bowl. Serve.
Notes
Try different cookie flavors or semi sweet chocolate chips for new twists.
Frosting and a Smile http://frostingandasmile.com/