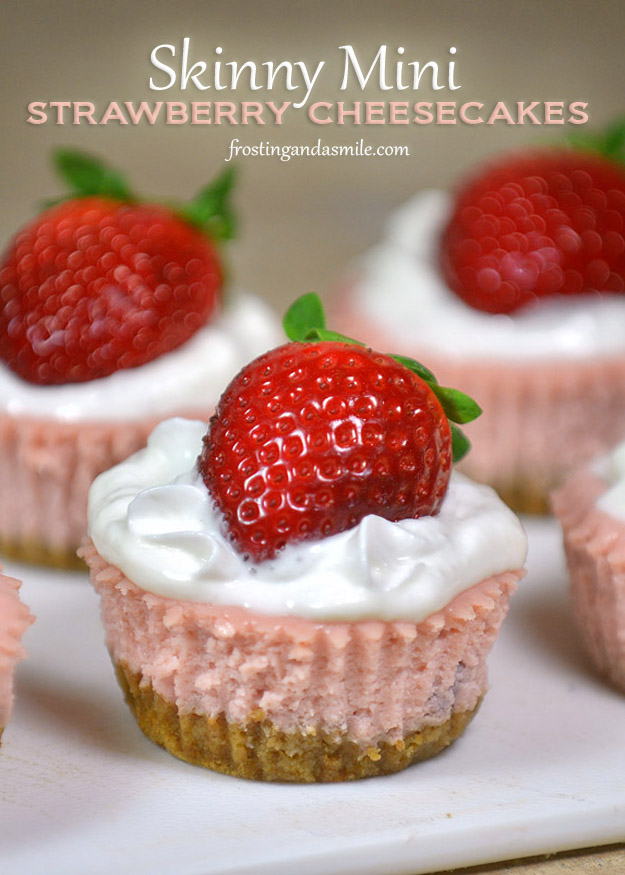 Skinny Mini Strawberry Cheesecakes
You can make less-fat cheesecake that still tastes good! I cannot believe I just typed that because low-fat desserts are not usually my thing. I'm a bring-on-the-butter type. But when I posted my Coconut Vanilla Greek Yogurt Cheesecakes many of you asked about lighter options. You inspired me to experiment. The final results surprised me and several unsuspecting taste testers.
One person said, "OMG! That's pretty darn cool! I couldn't tell." When I told someone else the secret ingredients, she wrote, "Whaaat? It was sooo good."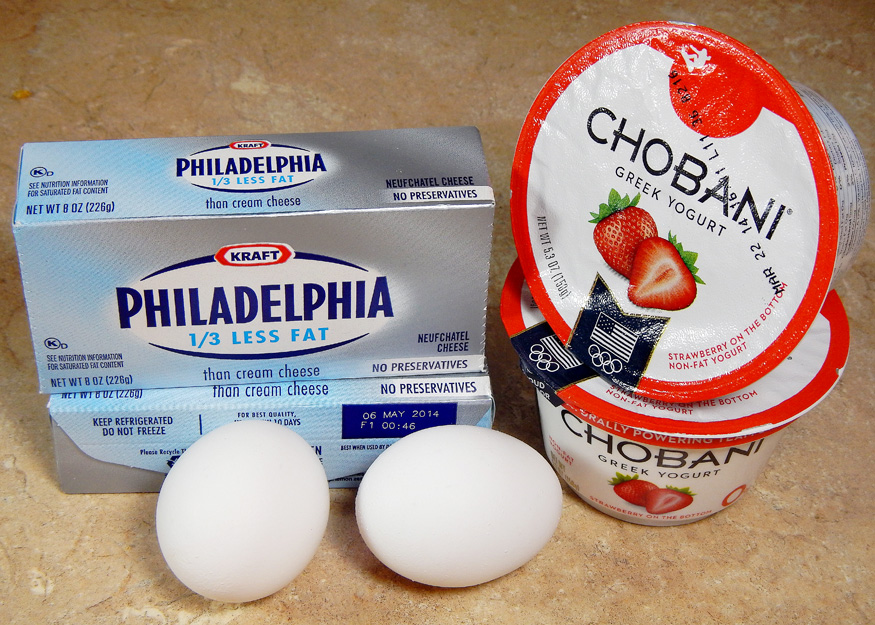 So here's the secret…fat-free Greek yogurt. It adds flavor and richness without adding excessive calories. My mini cheesecakes usually include three packages of full-fat cream cheese. In this recipe I replaced two of the packages with 1/3 less-fat cream cheese. I replaced one of the packages with two containers of Greek yogurt. The changes cut about forty percent of the calories and nearly half the fat from the traditional recipe. As you can tell from the testers' reactions, they taste so rich and creamy no one will know unless you tell them.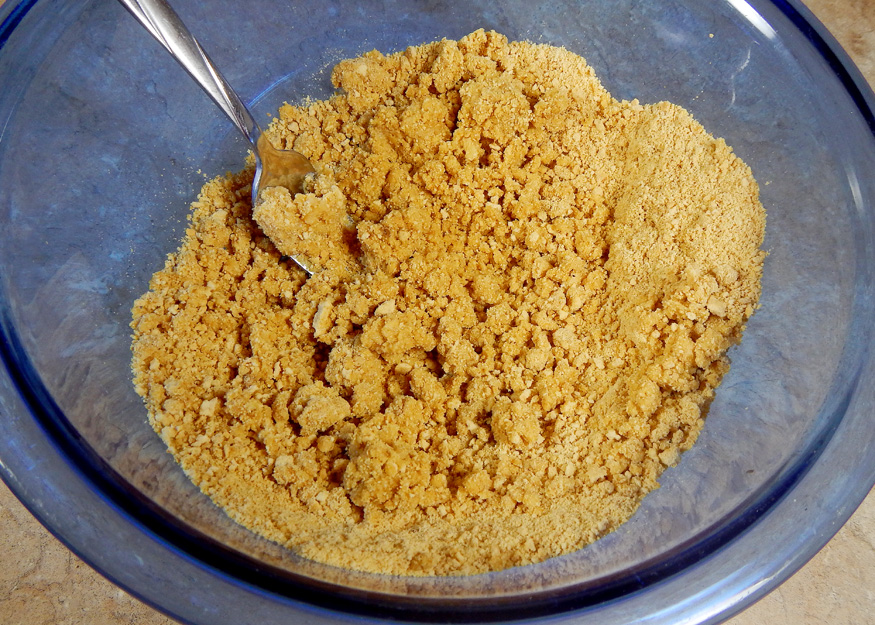 For the crust, mix graham cracker crumbs, sugar, and butter. I hear you out there saying, "Butter? In a less-fat recipe?" Yes, butter! I know it sounds crazy. I experimented with healthier options like egg whites but nothing had the right texture or that wonderful buttery flavor. Since it's just half a stick, the butter adds 27 calories to each cake.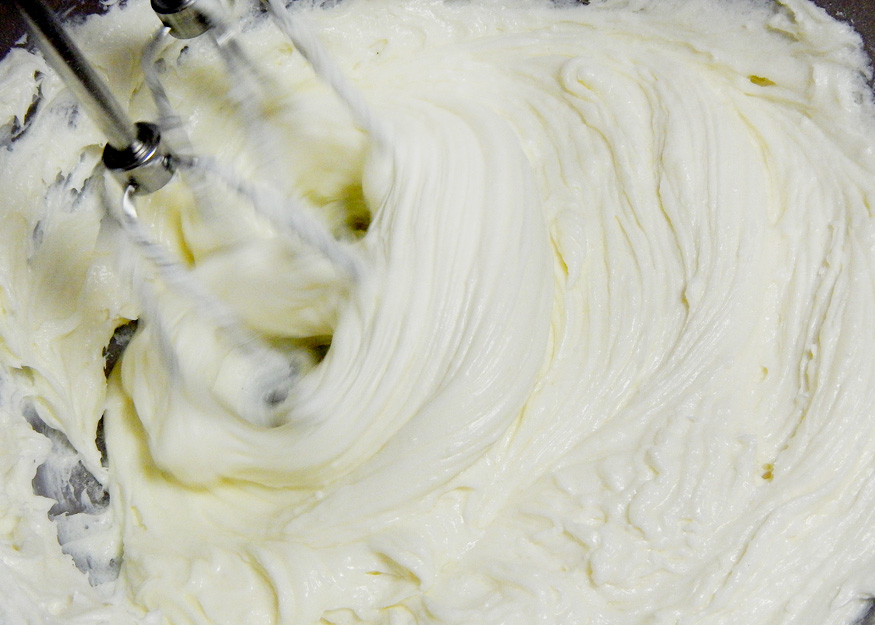 Beat the cream cheese with sugar, cornstarch and salt.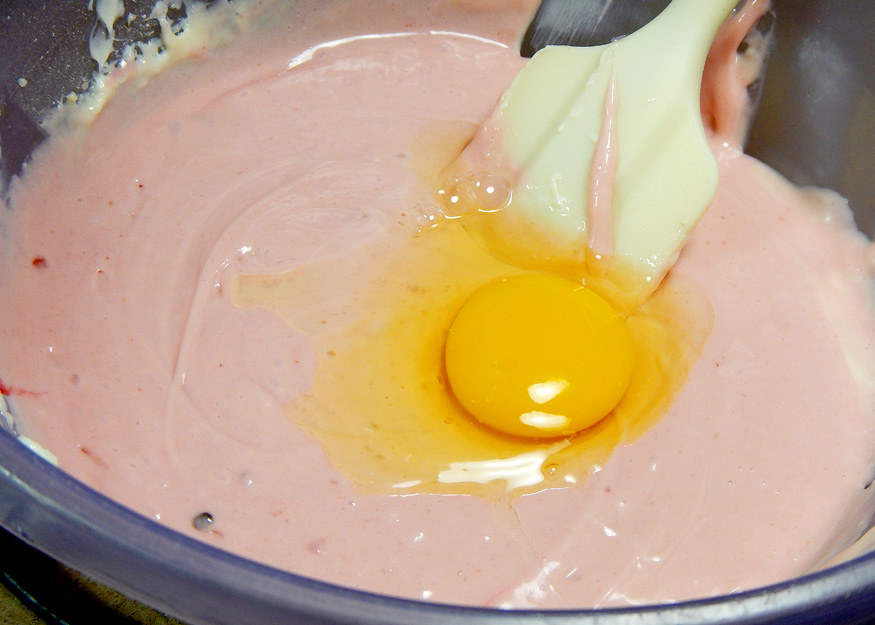 Mix in the jam, vanilla and food coloring. Then add the eggs one at a time. Scrape the bowl well between additions. Finally, stir in the yogurt.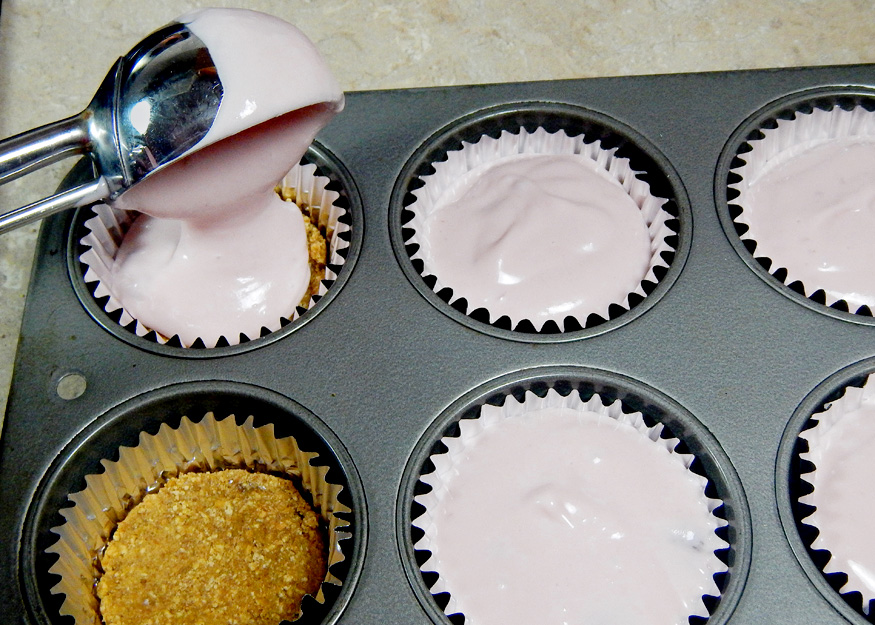 Scoop your batter over the crusts. Fill each liner almost to the top. Bake until the edges are set but the centers are still jiggly. My spell check says "jiggly" isn't a word. But I like it and it's fun to say. "Jiggly!"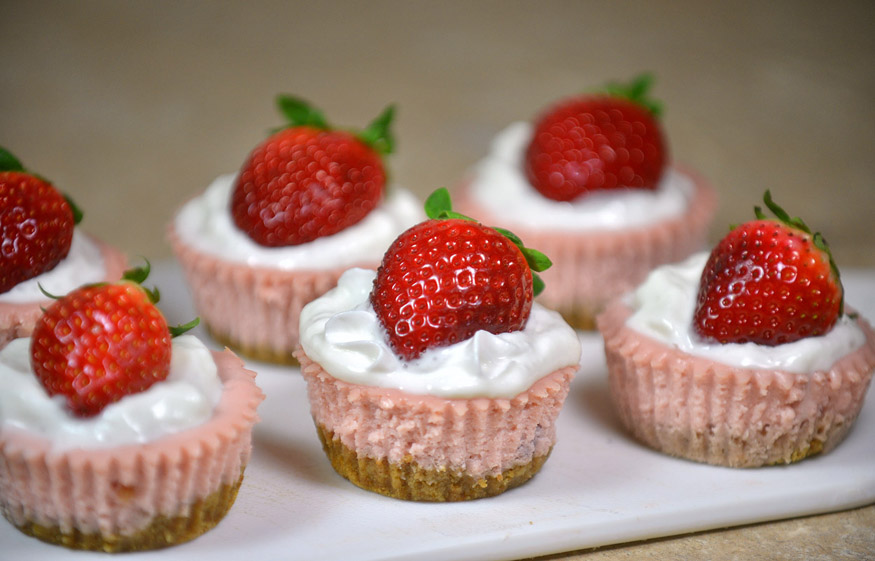 These look pretty topped with low fat whipped cream and strawberries. Some people have asked, "Since these are less-fat does that mean I can eat two?" I say dig in and enjoy!
For more sweet recipes you can follow me on Facebook, Twitter, or Pinterest. If you want to be the first to get new recipes you can subscribe by email.
I originally created this recipe for Parade.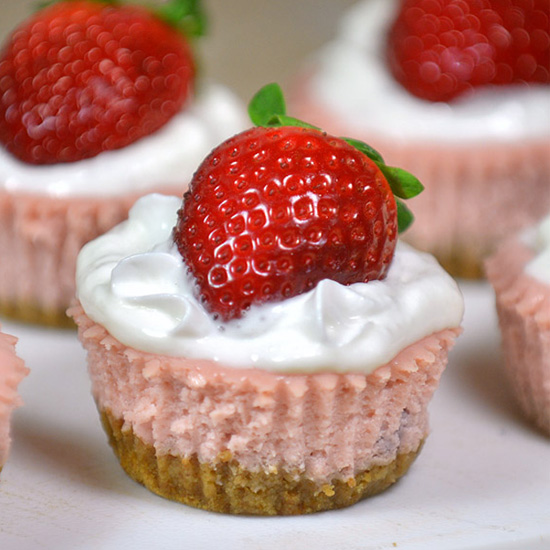 Skinny Mini Strawberry Cheesecakes
2014-02-26 12:33:48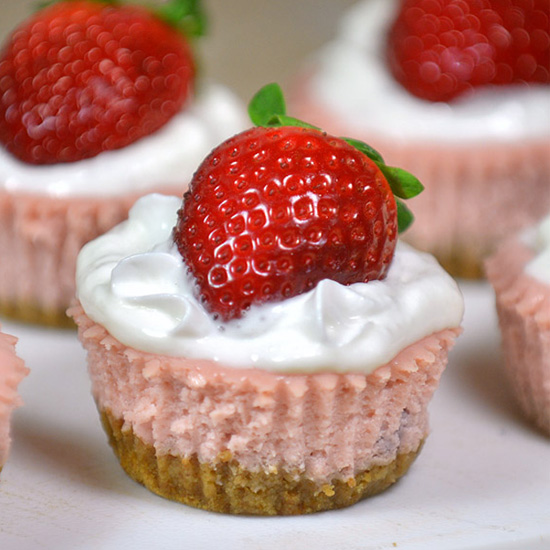 You won't believe these cheesecakes have less fat than most. They are made with 1/3 less fat cream cheese and fat-free Greek Yogurt.
Crust
1 cup graham cracker crumbs
¼ cup unsalted butter, melted
1 tablespoon sugar
Filling
2 (8-oz) packages 1/3 less-fat cream cheese
⅔ cup sugar
1 tablespoon cornstarch
½ cup seedless strawberry jam
¼ teaspoon salt
1 teaspoon vanilla
5 drops red food coloring
2 eggs
2 (5.3-oz) containers strawberry Greek yogurt
Topping
1 cup fat-free whipped cream or whipped topping
15 strawberries
For the Crust
Preheat oven to 325 degrees. Place foil liners in standard size muffin/cupcake pans.
Combine graham cracker crumbs, melted butter, and sugar. Press 1 tablespoon of the mixture into each liner.
For the Filling
Beat cream cheese with cornstarch, sugar, and salt until light and fluffy. Add strawberry jam, vanilla, and food coloring. Mix until combined. Add eggs one at a time mixing well after each addition. Mix in Greek yogurt.
Pour cheesecake mixture over crusts. Fill each liner nearly to the top. Bake for 20-22 minutes until the edges are set but the center remains wobbly.
Cool in pans for one hour. Place in refrigerator. Chill at least four hours before serving. Top with light whipped cream and Strawberries.
Notes
For best results use room temperature ingredients.
Nutrition information for one mini cake
213 calories/24 g carbohydrates/10 g fat/4.9 g protein/19 g sugar
Frosting and a Smile http://frostingandasmile.com/