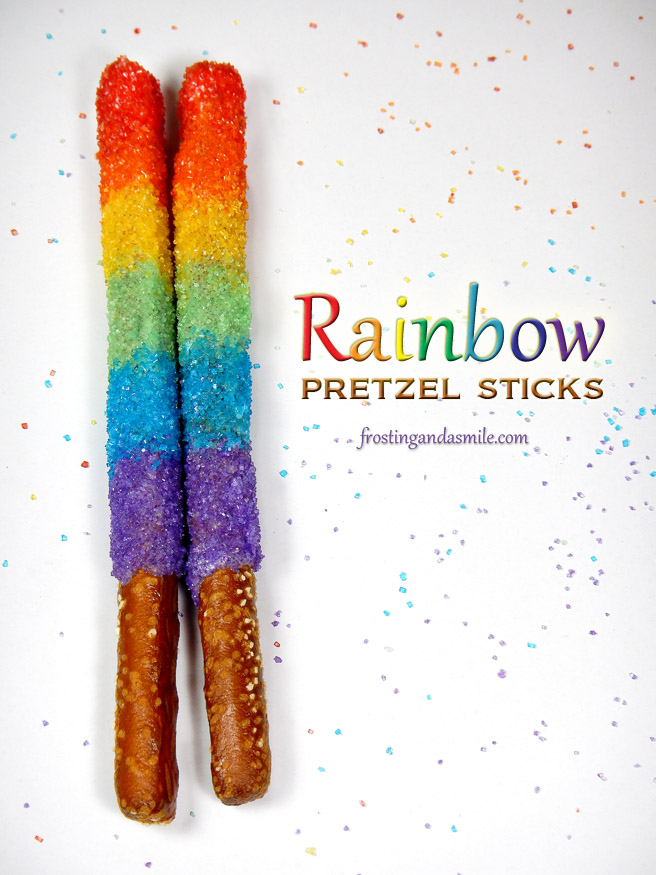 Rainbow Pretzel Sticks –
Sometimes I wish I could just reach out and grab a rainbow. I know there's about as much of a chance of that happening as there is me finding a pot of gold. But with this edible craft, everyone can hold a rainbow in their hands.
There's just something about that arch of color that makes people happy. My first rainbow memories come from the Rainbow Bright cartoon back in the 80s. Do you remember that one? Twink and Starlight would definitely enjoy these pretzel snacks. Murky and Lurky, not so much. I know, I'm dating myself here.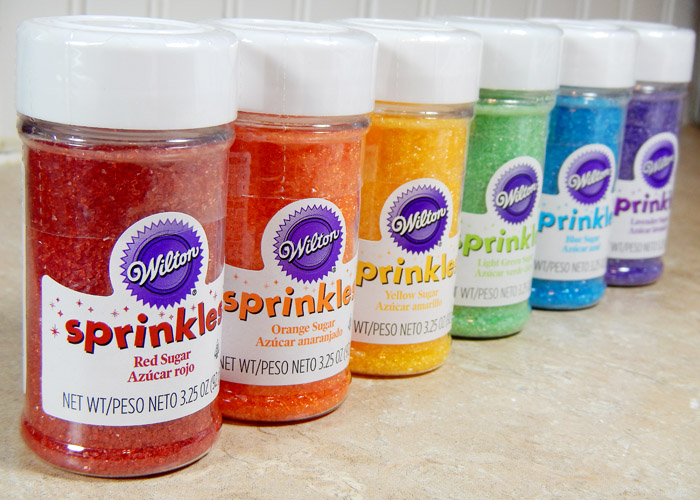 My three year old, CJ, pointed out there are seven colors in the rainbow and I only bought six. "Mommy, where is indigo?" Indigo? I didn't know we learned about indigo in preschool. He only goes once a week but he sure sucks up information. The store didn't have any dark blue but these turned out beautiful without it.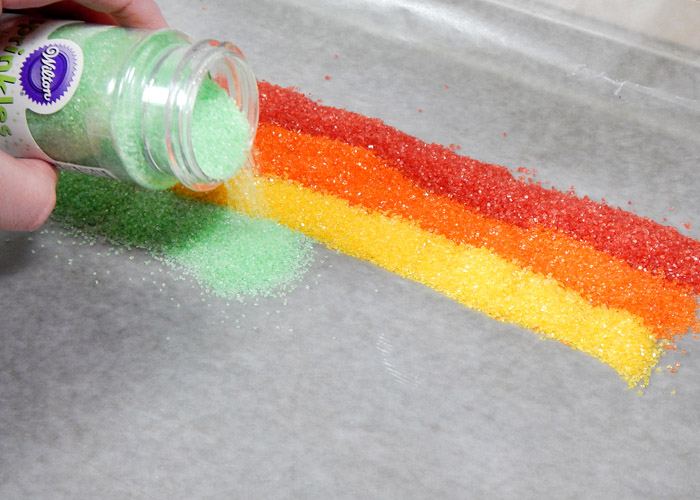 To start, line a baking sheet with wax paper or parchment paper. Pour sugar about 1/8 inch deep and one inch wide across the length of the pan.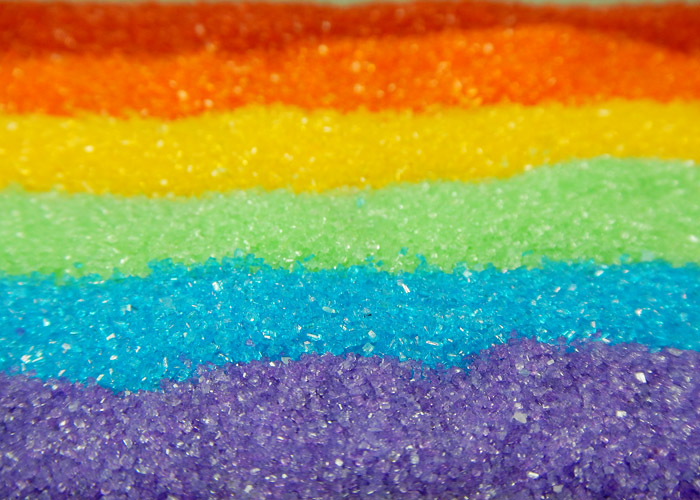 Isn't that gorgeous? You can see your lines don't have to be perfectly straight. It's pretty when the colors overlap a little bit so try not to drive yourself crazy as you pour the sugar.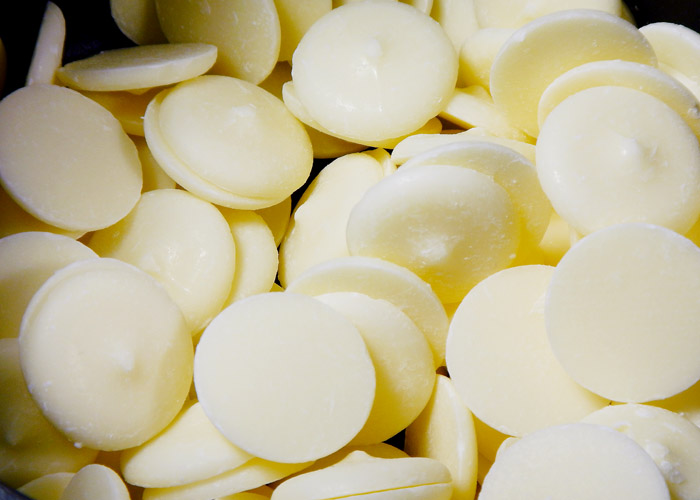 Melt white candy melts or white chocolate in a small pot. You can also melt it in the microwave. I like the white because it helps the colors pop but you can experiment with other chocolate colors.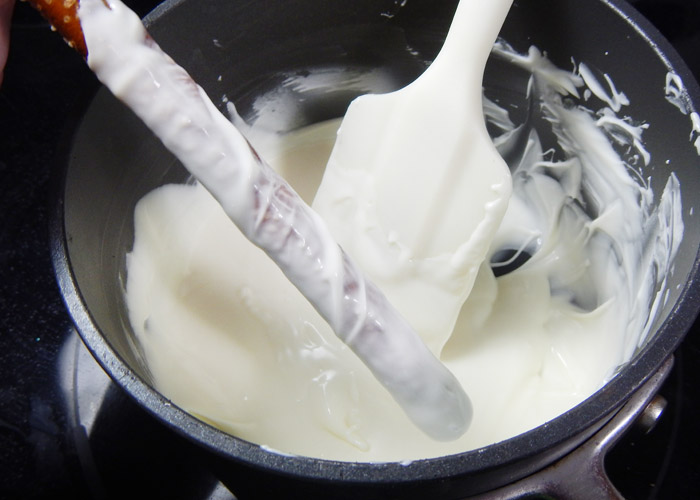 Dip about two-thirds of the pretzel into your melted chocolate. Let the excess drip back into the pot. You may even want to scrape some off with a spoon or rubber spatula. You want a thin coating. I learned if I put the chocolate on too thick the sprinkles didn't stick right. Plus the chocolate dripped into the sprinkles and made a gloppy (Is that a word?) mess.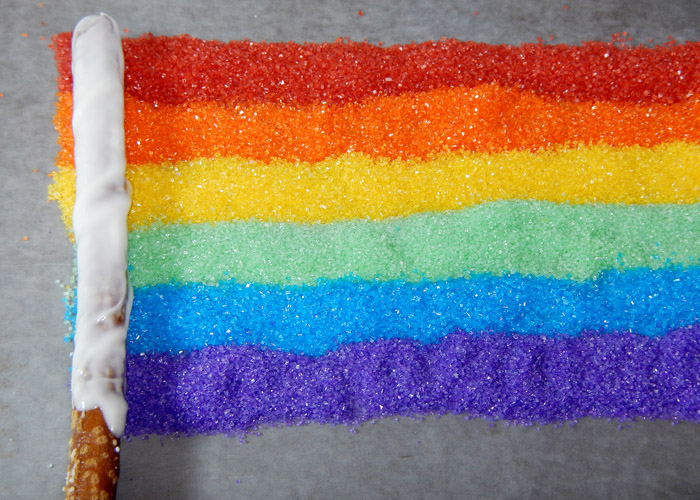 Place a chocolate covered pretzel at the edge of the sprinkle rectangle. Press firmly as you roll the pretzel across the sparkles.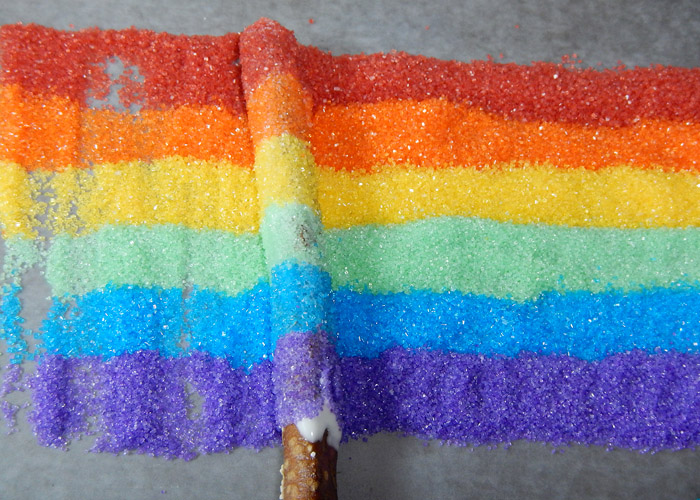 Roll until all sides are covered. Place the pretzel rod on clean parchment or wax paper to dry completely. After a few rolls, you may need to replenish your sprinkles.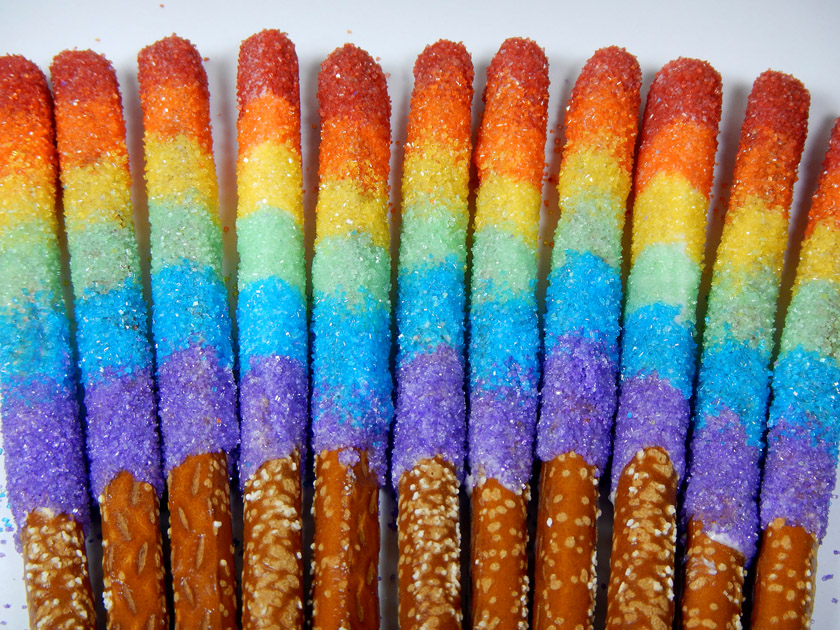 I brought these to a Bible study group. I wasn't surprised the kids went crazy for them. After all, they're colorful and sparkly. But I was surprised how much the adults loved them too. I guess there's still a bit of little kid spirit inside of all of us.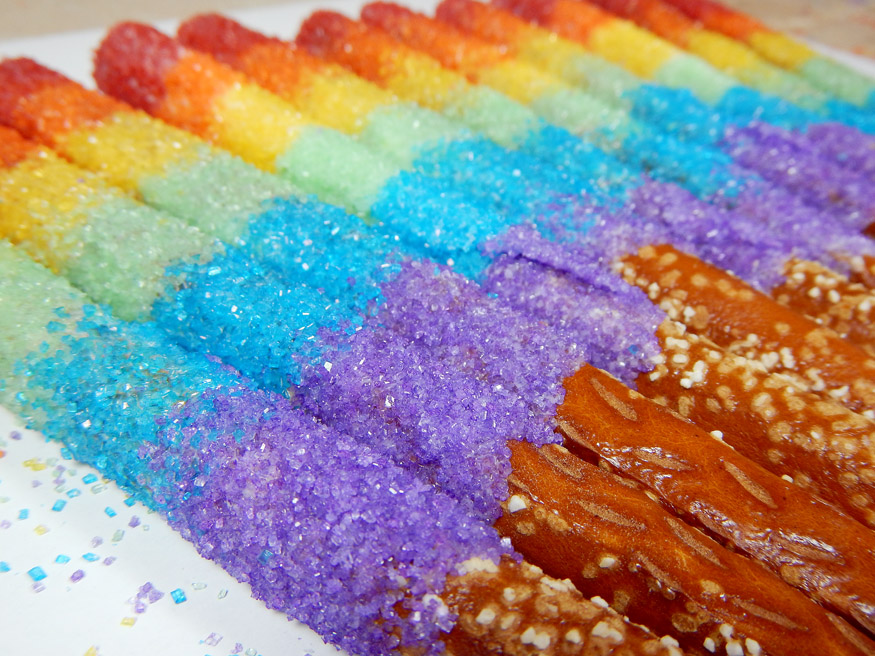 You can put your own stamp on these Rainbow Pretzel Sticks with any colors or special sprinkles you like. School colors or team colors would work great for a bake sale. You can also match them to a party theme. If you make something special, send me a photo so I can show off your creativity on Facebook.
Want more fun recipes and kitchen craft ideas? You can follow me on Facebook, Twitter, or Pinterest. You can also sign up for a free email subscription.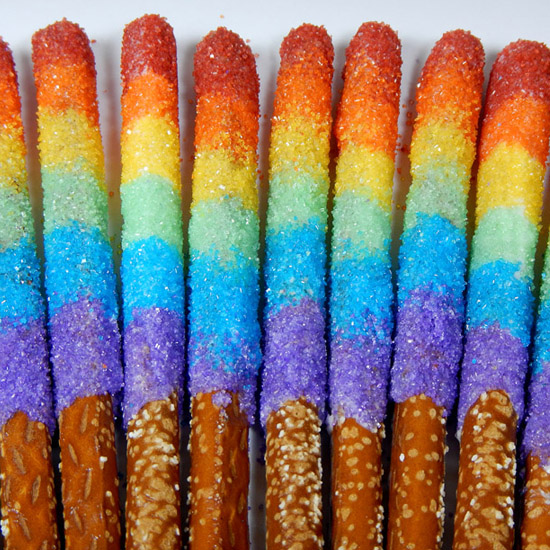 Rainbow Pretzel Sticks
2014-03-12 16:45:31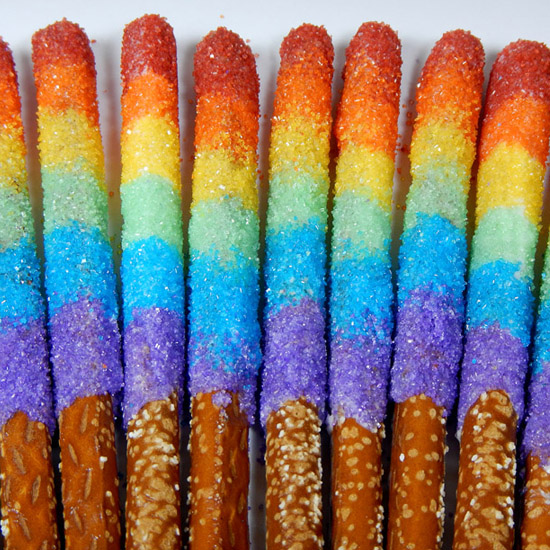 Pretzels dipped in white chocolate and rolled in rainbow sprinkles.
Ingredients
1 (8 ounce) package of pretzel rods
1 (10 ounce) package of Candy Melts or white chocolate
1 ounce red sanding sugar
1 ounce orange sanding sugar
1 ounce yellow sanding sugar
1 ounce green sanding sugar
1 ounce blue sanding sugar
1 ounce violet sanding sugar
Instructions
Line a baking sheet with wax paper or parchment paper. Pour sanding sugar on paper in approximately 1 inch wide and 1/8 inch deep rows. The rainbow order is red, orange, yellow, green, blue, and violet. The rows should touch each other.
Melt chocolate. Coat two thirds of the each pretzel with a thin layer of chocolate. Let excess drip back into pot or dish. Lay pretzel on top of sprinkles. Press firmly as you roll the chocolate coated pretzel across the sprinkles. Place on wax paper to dry completely.
Notes
Dip and roll one pretzel at a time. You will likely have to replenish your sprinkles a few times as you work.
Frosting and a Smile http://frostingandasmile.com/